It's a fucked up world out there, and lately it seems to be getting worse by the day. The economy is crashing, the war seems never-ending, and Washington D.C. seems as silly and out of touch as ever. Maybe I'm more obsessive than most, more indignant too perhaps, but if you're like me, I recommend a heavy dose of lighthearted tunes to put you in a better state of mind. Everybody needs to escape occasionally, and music has always been a means to do so. Last Wednesday, Stephen Kellogg and the Sixers brought their carefree, good time music to the Fox Theatre in Boulder, CO, keeping the mood light and festive. For a few hours, they managed to take my mind off the heavy stuff. It was a small crowd at the Fox Theatre, being Wednesday night after all, but the people who did show up were in high spirits, dancing, drinking, singing, and smiling along. Stephen Kellogg's folksy, down to earth, cheerful demeanor, and ear-to-ear grin were contagious.
In addition to the singing, songwriting Stephen Kellogg, the Sixers are made up of Boots Factor on drums, banjo, and mandolin and Kit Karlson on bass, keys and a few other instruments that didn't make any appearances on Wednesday night. Quite a few songs they played were off the band's latest, 2007's Glassjaw Boxer, which has been getting good reviews, including "4th of July", "Father's Day," and "Milwaukee." Some old favorites were thrown in as well, like "See You Later, See You Soon," and "Sweet Charade." Another song of the new album, "Hearts in Pain," which will be appearing in an upcoming episode of the TV show One Tree Hill, also made the set list, and proved to be a fan favorite. I haven't heard the album in its entirety, but if the songs played on Wednesday night were any indication, it should be a good one, both rockin' and emotional, and laced with Stephen Kellogg's insightful, clever lyricism.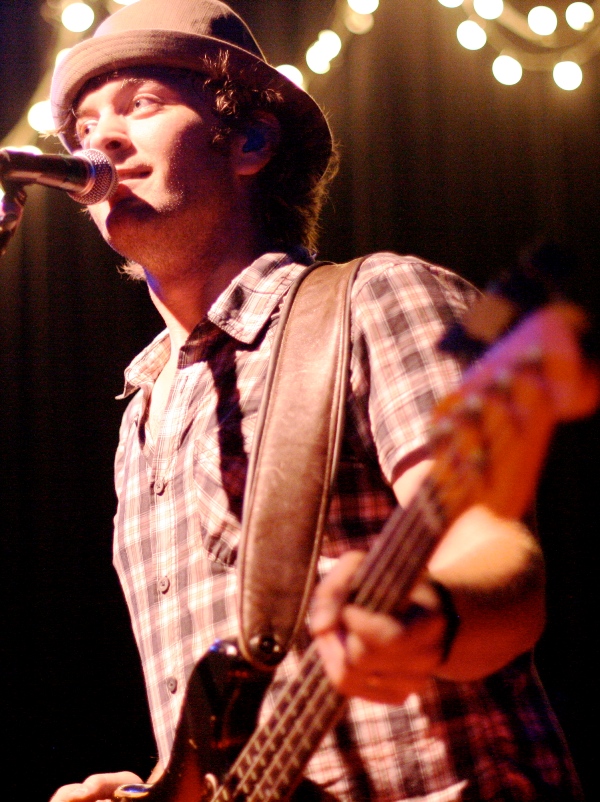 This tour marks a milestone for Stephen Kellogg and the Sixers, celebrating five years together, and the likelihood of many more to come. The band was positively glowing too, obviously pleased and ready to kick back and have a great time. How could the guys not be in a good mood with something like a five-year anniversary under their belts? Boulder was the first stop on a multi-city tour of Colorado, with dates following in Aspen and Denver. "We're not a groovy band," Stephen Kellogg said at one point, "but we love to come to Colorado 'cause people in Colorado love to dance, and that makes us feel groovy!" The band played a few drinking songs to really get the crowd going, including "Start the Day Early" ("you bring the cup and I'll bring the moonshine!"), as well as a few covers, among them tunes by Hanks Williams and Kiss. During "Rock and Roll All Night," the band went into all out rockstar mode. Stephen Kellogg jumped around madly, swinging his guitar about haphazardly, while Kit Karlson dropped to the floor and played bass from his back while he scooted across the stage. Late in the set, Erin McKeown, the small woman with big skills who opened the show, came out a played guitar with the Sixers for a few songs, while Stephen switched to the keys.
After a long set and a brief break, Stephen Kellogg and the Sixers came back out to play a few more songs from the cuff, that is, without an encore set list, or any plans at all really. During the encore, they jammed it up a little, fooling around and mixing it up by telling jokes. "A bear is pooping in the woods and a squirrel walks by. The bear stops the squirrel and asks him, 'do you ever have a problem with shit sticking in your fur?' 'No, not really' says the squirrel, so the bear picks him up and wipes his ass with him!" Ba dum bump! And as we all know, serious times don't mean that we can't make fun of politicians, hence, Sarah Palin jokes. "I'm just like Sarah Palin," Stephen Kellogg said, I can't remember in reference to what unfortunately, "I'm 44, I'm sexy, and I'm inexperienced!" That's all you need to know about the joke anyway, because that's really all there is to Sarah Palin. There were also quotes from the movie The Princess Bride thrown in for laughs. Hilarious.
In a smallish venue like the Fox, and with an earnest, unpretentious band like Stephen Kellogg and the Sixers, the atmosphere was already intimate. But to cap it all off, the band got down off the stage and climbed, somewhat dangerously I might add, onto the wide railing in the center of the Fox Theatre to play their last song completely acoustically, up-close and personal with the Boulder crowd. It was just the kind of unusual stunt that I love to see during a live show, and despite the lack of volume, nothing was plugged it remember, the crowd loved it too, and when the lights were on again and the band was gone for the night, the good feelings poured out into the street.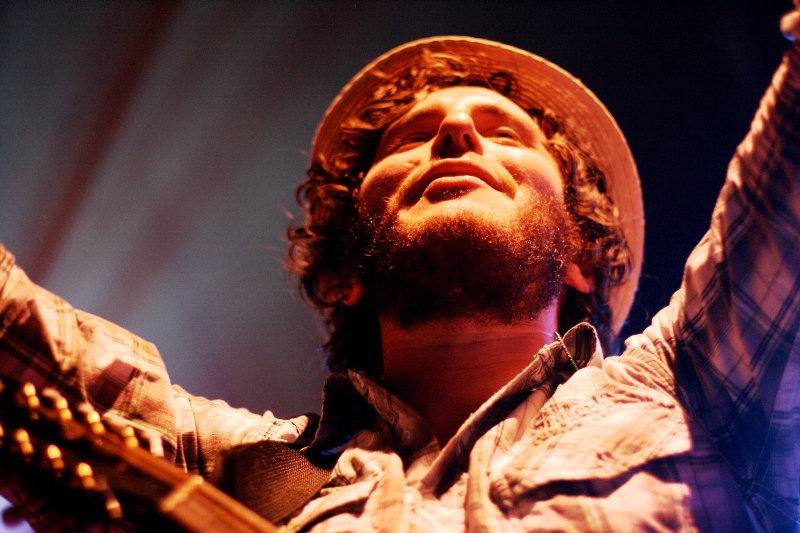 Incidentally, I had the opportunity to speak with Boots Factor while the band was touring through Colorado last week, about politics, plane crashes and the band's big accomplishment. Check out the interview right here on the Grateful Web!
To see more photos from the show, including yours, please visit the Gallery.