Tracorum
Submitted by mike on Tue, 06/09/2009 - 06:18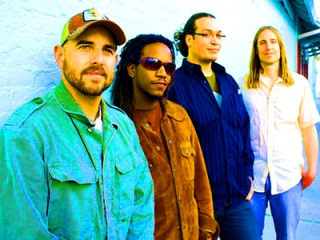 Tracorum draws inspiration for their uniquely original songs from the hard hitting stage bands of the 60's n 70's and pride themselves on consistently delivering energy charged live shows. Roots music mixed with an urban sensibility draw a diverse group of music lovers to their heart felt music. Original song writing serves as the creative springboard to explore many styles of music, from Rock, Gospel, Funk, Rhythm & Blues, to Latin, New Orleans, Caribbean and Soul. Tracorum's instrumental prowess coupled with rich vocal harmony creates an eclectic landscape of soul-inspired music and lyrics. The music has been described as piano based Cosmic Gospel Thunder Funk with a little Cajun, Creole Seasoning. Honest stories about life are at the root of this contagious music. Tracorum is a band that evokes the spirit of music to move the unmovable. Guaranteed to get the people grooving, Tracorum always keeps the dance floor bumpin, the kegs flowing, and the feel good music rocking till the wee hours.
Upcoming Gigs:
Wed June 17th Elbo Room San Francisco,Ca JFJO (Jacob Fred Jazz Odyssey), TRACORUM 9 pm - $8/$10 - adv. tix: www.brownpapertickets.com Supporting Jacob Fred Jazz Odyssey Showtime 9pm Come out early and support us supporting JFJO
Thur June 18th@ Tioga Gas Mart Lee Vining, Ca 6pm till..
Fri June 19th Telluride Bluegrass Festival "NIght Show"@ Las Montanas 100 W Colorado Ave Telluride, Co Showtime 10pm
Sat June 20th Telluride Bluegrass Festival "Night Show"@ Tommy's Telluride, Co 1030pm
Thur June 25th Dulcineas 100th Monkey Denver, Co 9pm Headlining for the good people of Denver
Fri June 26th Owsley's Golden Road w/ Jacob Fred Jazz Odessey and Fareed Haque "Flat Earth Ensemble" 9pm
Sat June 27th The Mangy Moose Jackson Hole, Wyoming 9pm
Wed July 1st Pangea Quincy,Ca 9pm High Sierra Music Festival Wednesday Pre Party
Fri July 10th Iron Door Saloon Groveland,Ca 9pm California's Oldest Saloon. We will be recording a live album for two nights inside this amazing wooden building. Great time of year to visit Yosemite and it's surrounding beauty. Plan a weekend and be a part of our historic recording.
Sat July 11th Iron Door Saloon Groveland,Ca 9pm Visit this "Crossroads of America" Since 1851 Tracorum recording a live album for two nights
Sun July 12th The Independent San Francisco, Ca supporting Big Sam's Funky Nation Doors 8pm Showtime 9pm Tickets are $15 Advance Purchase Tickets on Sunday June 7th
Thur Aug 6th Tioga Gas Mart Lee Vining, Ca 8pm