Trey Anastasio | The Palace Theater | Albany, NY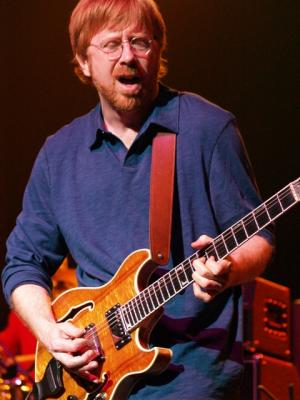 Trey
exorcised a lot of demons in 5 short days. He began a headlining tour for the first time since getting sober, in the city at the center of the universe, no less. He returned to his adopted home state, the prodigal son coming full circle, back to the city the he and his band mates put on the map as the musical Mecca of the northeast in the early 90's. And, sandwiched in between these two epic occasions was one equally important show in the backyard of where
Trey
spent the last 14 months as a guest of New York per the requirements of his sentence.
Trey
made good use of his time in the Saratoga Springs area, sharpening his spatial awareness, getting in touch with his new neighbors and, perhaps most importantly, writing new music. Last Saturday night, he paid homage to his topographical muse with a very emotional, very intimate show at
The Palace Theater
in downtown Albany, a short hike from where
Trey
put the pieces back together- which is one of the main reasons this show felt so distinctive. After all, as
Trey
stopped to tell us early in the first set, "any new music you hear tonight, or later from that other band, was written in your backyard."
The Palace
is one of those theaters that made it through the years intact with all of its ornate detail and artistic charm from the early industrial revolution in the United States. The ceilings are covered in frescoes, the woodwork has hand-carved detail and the stage seems close to every seat in the house. There are no theaters being constructed like this anymore. Find a show at a venue like this and it will make the show better, no doubt about it.
From the moment,
The Trey Anastasio Band
of yesteryear, or
Classic TAB
as they are called on the tour posters, took the stage, the musical vacuum that comes with a
Trey
lead band was switched on. He begins by slowly sucking more and more positive energy out of each player, projecting that onto the crowd so that our musical hope and anxiety builds and builds, always waiting for that release. Yet
Trey
rarely lets that climax come, and that is what keeps people interested. It is in these intentionally slow builds that
Trey
lives, taming his fear of our satisfaction by continually dangling it in front of us like a carrot, only the carrot gets bigger and bigger and our hunger drives us into a frenzy where the only thing that we can do is dance and dance and scream and smile until finally he plucks a string and holds that note and runs down a scale and the orgasmic pleasure runs all over you. After
Trey
releases this fulfillment, he quickly changed directions, so you do not become over satiated. You have to always remember that
Trey
is control. He needs you to know that. Everyone has a role in
Trey's
symphony of life and, when things are going in a good direction like they were this night in Albany, we all get what we need in the end.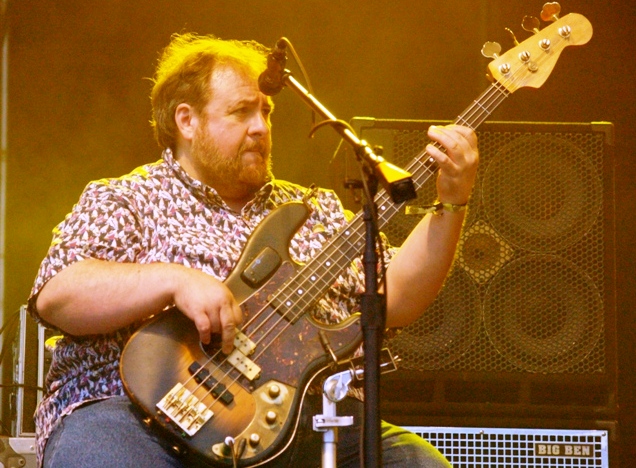 The obvious subtleties of '
Drifting
['s]' lyrics were not over anybody's heads that night, not even those in the upper balcony. Still, we all were happy to hear him tell us that his "fog had lifted, we got the moon and the stars above." And yet, the songs title would lead you to believe that, even in this sober state,
Trey
is still adrift. Themes of dark and light collide in this slower ballad; themes that continued to arise as the night wore on.
After getting the mood set,
Trey
figured it was time to unveil a little of that music that he had been working on in Saratoga Springs. Unfortunately, the first new song of the night sounded like adult contemporary
Phish
, like most of the songs off of the bands last two albums. People stopped to talk. The mood changed. I was disappointed. A sober-ish
Trey
wrote
Rift
and
Picture of Nectar
caliber tunes, not this. One thing this song did do was allow me time to appreciate the musical differences between
Phish
and
TAB
. The instrumentation in the bands is identical, with those household names on drums, bass and keys being replaced by
Russ Lawton
,
Tony Markellis
and
Ray Paczkowski
, respectively. But the differences are not just in personnel, they are in what each player's role is. While
Phish
has the ability to exist on four separate plains all within the same jam and reunite to bring a song home,
TAB
has a rhythm section that holds a steady, no-frills low end. If you played back a recording of any of
TAB
's songs and edited out the keys, guitar and vocals, you would hear the strongest straight ahead rhythm section since the days of bands lead by the likes of
Thelonius Monk
and
John Coltrane
. And what these guys lack in improvisational dynamics, they make up for with ability and creativity in the design of their repeated sound.
Tony
will dance on the edge of rock and funk, in a land known as fusion while
Russ
can create a sound that seems far too complicated to just be a repeating 12 bar progression. Yet there they are, as tight as a deejay's beat with the same ability to create something that you want to listen to over and over. Trance junkies eat you heart out. What
TAB
's rhythm section gives up compared to their counterparts in the area of ad-libbing is more than made up for by the constant creating of
Ray Paczkowski
. The measures he fills are like snowflakes, full of space and beauty and purity and, of course, no two are alike.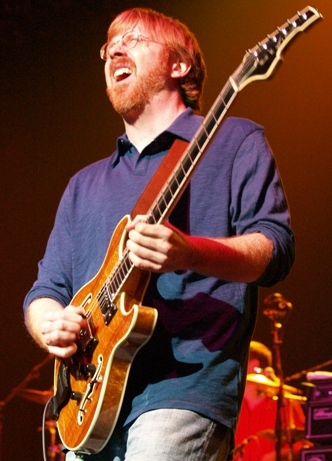 When
TAB
dissed the lighthearted music of the new tune and stomped their funky foot down on '
Cayman Review
', it was
Ray
, not
Trey
who was the messiah of funk we were all bowing to. This song is straight twelve bar blues, but
Ray's
tickled ivories gave it a pleasant outlook, unlike most dirty, swamp funk you hear these days on the jamband circuit. '
Burlap Sack and Pumps
' kept the funk going and, after the first chorus, the band dropped into the depths of a groove like something off of a 70's
Herbie Hancock
record- and me without my afro wig.
Trey
was waiting in the weeds, playing a steady rhythm guitar riff, letting the energy build around him. Yeah, he may do this on every song and yeah, the modus operandi may feel a bit formulaic at times, but the fucker rips. When he took the second solo, he brought it all the way back down, forcing all of the energy once again into its bottle, a feet not unlike putting two dogs into a bathtub. Nonetheless, once he had orchestrated this impossibility and spent twelve bars letting the room take a deep breath, he began to build slowly, allowing his notes to bring the others back up again. The audience and the band were together on a wild ride and
Trey
held the broken brake petal in his hand. And he was smiling. All aboard. This train was bound for glory.
Is it me or does
Trey
get off messing with the minds of the audience? He had us in the palm of his hand and he came back with
Shine
- the
Bouncin
' of
Trey's
solo career. Okay. I'm regressing to 1994 when my whole existence was defined by how many of the "in-the-know"
Phish
culture quirks I could spout off. I am no longer a tour snob and I am sorry. I will tell you that the crowd sang along and everybody, well almost everybody, loved
Shine
.
The second new song, a
Roger Waters
style slow jam, was a huge improvement over the first new song of the night. I can't tell you the name of it, but as this article is coming out a little over a week after the show, I am sure there are countless phreaks who have posted the setlist so go find out for yourself. One thing about this song is for sure, you will hear it again when the boys reunite next year. '
Push On Till The Day
" finished an impressive first set and for the first time, I recognized what this song really is. It's a montage of tour moments that
Trey
experienced over the years. A lot more sober than I used to be, I was continuing to be amazed by the pessimistic outlook expressed in so many of
Trey's
upbeat songs.
The dark themes continued to surface right out of the gates in the second set. Again, I do not know the name of this new song but will defer to my brethren. You know who you are. Chances are you are reading this article just because it mentions the Crimson Dego in the title. Impressed that I know he is called the Crimson Dego? Help me out. Post the setlist in the comments section so those of us who are not enlightened can put a name with a lyric. Speaking of lyrics, the first song of the second set dealt with a character that was caught in a rainstorm and couldn't get out of it. As if this poetry wasn't obvious enough,
Trey
went on to talk about "the ropes around your neck." Troubling.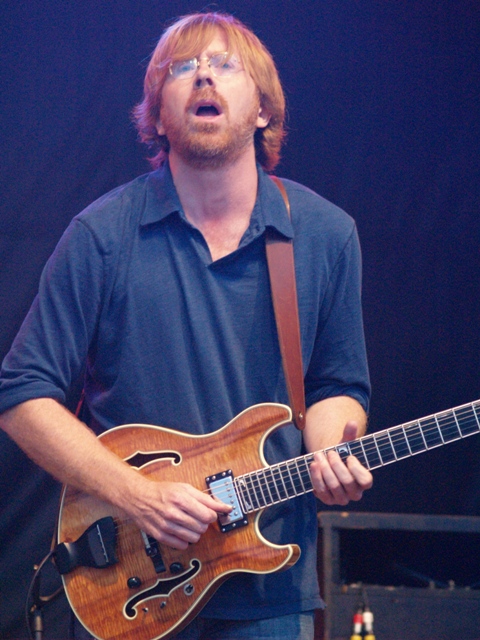 The set wound through old and new. A fresh sounding new song about Alaska was far and away the best new one of the night. There were little known covers and even a noticeable mistake, as
Russ
seemed to play right through a tight stop halfway through the second set, leaving the rest of the band, and eventually
Tony
solo to find his way to an amicable finish. Fortunately, this lead to the whole band leaving stage and
Trey
quickly returning with nothing but an acoustic guitar. The intimacy of this old music hall could not have been better exemplified as the whole audience held their breath.
Trey
could have played without amplification and the people in the top row would have heard his crisp finger work. He ran through a few
Phish
songs, starting with nods to the New York crowd telling us
"
this one for you" and that he is "back on the train". Even '
Farmhouse'
had a local feel to it, especially as a newly transplanted resident of The North Country who has finally seen the stars so bright and who is constantly dealing with cluster flies. And when we thought he wasn't going to give us anything else, '
Bathtub Gin
' gave us a chance to give back to him, singing the verses and keeping the "do, do, do, do, do, do" going long after he left the stage. Actually, after
Trey
waved goodbye, the audience kept it going, but picked up the tempo until, with the clapping, it sounded like a '
Bathtub Gin
' techno remix.
The entire band retook the stage and ended this bizarre crowd participation by launching right into a straightforward '
Bug
'. And just like that, the night was over. As a long time
Phish
fan, I am happy to tell you that, it looks like
Trey
is back. No he does not have the same mind as a hungry young virtuoso writing
The Man Who Stepped Into Yesterday
, but he is back. He is keeping his demons in check and does not feel some Darwinian need to dominate all other players on the stage. He is confident in the player and, may I be so bold as to say, the man that he is and the community will welcome him back with open arms. We missed you
Trey
, but we are glad to follow you once again.