T.V. Mike and the Scarecrowes release "Out at Sea" + Tour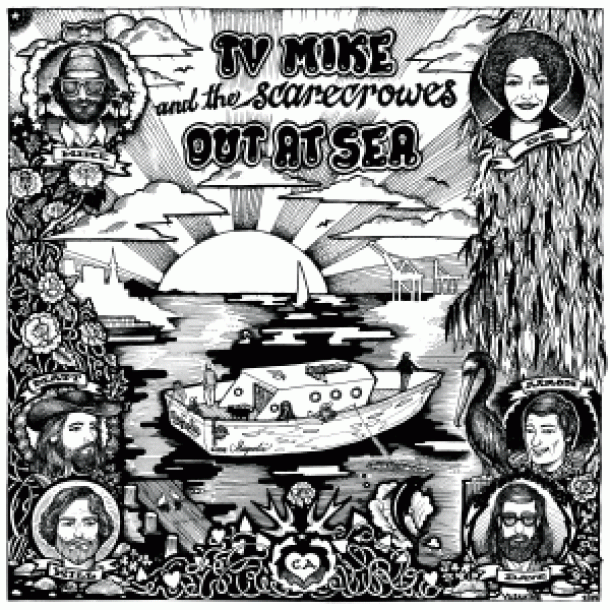 Oakland California's Cosmic Twang Rockers, T.V. Mike and the Scarecrowes, are back with a brand new EP of island tinged tunes. The group had a great year last year touring in support of their second full length Weeks to Days playing 70 shows in 7 states with highlights of headlining Hickey Fest in Northern California, performing live at Relix Magazine, and performing at WARM Fest in Indianapolis, and receiving a SF Chronicle Pick of the Week. They shared the stage with exceptional bands last year, including several gigs with The Donkeys and Rose Windows. Out at Sea is the first in a series of three EPs the group will be releasing and was recorded at Wildwood Studios in Oakland, California by Mike Walti on an Ampex 16 track two inch tape machine through an MCI board. No Pro Tools were used in the recording and the mix down was to a Fostex ½ inch machine.
T.V. Mike and the Scarecrowes have released two full length albums previously with Spittin in Cursive (2009) and Weeks to Days (2013). Both releases took years to record and promote through an aggressive show schedule. The band moved over 700 cds of the first album and cracked the CMJ 200 at #163 with the second album. After studying classic albums like Naturally by J.J. Cale and listening to alot of country funk, the band decided to take away the options to layer and focusing on making the songs sound raw and personal. The EP was written, arranged, and tracked in a 8 week span. The tracks weave snapshots of people in beautiful places with everyday problems. Out at Sea is just the first glimpse of seeing T.V. Mike and the Scarcrowes settle into their their skin and start composing more tunes. The group will be recording two more EPs this year with Mike Walti on the same equipment.
T.V. Mike and the Scarecrowes will be out on the road promoting Out at Sea in the Midwest in May, including a headlining slot at WFHB Acoustic Roots Fest in Bloomington, IN and recording a Daytrotter Session. Following that the band will be supporting Dead Winter Carpenters at The Mint in LA on June 1st and The Independent in SF on June 6th The group will also be performing at Hickey Fest in Northern California in June with a West Coast Tour to follow. Out at Sea will be released June 10th.
Check them out in these fine cities in May:
5/6/14 Lafayette Brewing Company, Lafayette, IN 6-8PM Free
5/7/14 WFHB Local Live @ Primary Sound Recording Listen at wfhb.org, Bloomington, IN
5/8/14 Instore @ Indy CD and Vinyl 7-9PM, Indianapolis, IN
5/9/14 The New Vintage, Louisville, KY
5/10/14 Salt Creek Brewery, Bedford, IN w/Otto Mobile and the Moaners
5/12/14 The High Note, Pekin, IL
5/13/14 Daytrotter Session, Rock Island, IL
5/13/14 Rozz Tox Cafe, Rock Island, IL
5/14/14 The Frequency, Madison, WI
5/15/14 The Township, Chicago, IL5/16/14 White Rabbit Cabaret, Indianapolis, IN5/17/14 WFHB Acoustic Roots Festival +HEADLINING+ @ Upland Brewery,
Bloomington, IN
5/31/2014 Deer Lodge Ojai, CA
6/1/2014 The Mint Los Angeles with Dead Winter Carpenters
6/6/2014 Out at Sea EP Release @ The Independent, San Francisco, CA
w/ Dead Winter Carpenters and Hillstomp