There's a lot of music floating around out there these days that falls under the greater umbrella of rock and roll, but doesn't really subscribe to any specific genre therein. Bending and blending genres has almost become a genre unto its self. Not that I'm complaining, and not that it hasn't always been this way to some extent in the world of music. But being where we are in history, there is more music behind us than there ever has been in the past, meaning there are more possible sources of influence than ever before too. This, of course, should be obvious, since every moment in time has more past behind it than the moment before. Years from today, there will be even more history to draw upon then there is now, and sounds we haven't even heard yet will influence music of the future. Sounds exciting.
But I digress, and anyway, this is the present. And in the present there are bands like Umphrey's McGee. It's not the music of our grandparents' generation, or even our parents', and yet, elements of a great many generations' cumulative accomplishments are seamlessly incorporated into their style. Umphrey's McGee is a mix of everything, like Sound Tribe meets the Grateful Dead, Phish meets Del McCoury, or Tool meets Genesis. Umphrey's have been around for longer then you might think, a little over ten years now, but only in the last 4 have they really become anything resembling well known. Still somewhat less than popular on a world-wide scale, Umphrey's McGee have earned an avid and sizable following here at home, are playing bigger and bigger shows, and are having a great time doing it. On Labor Day, coming off an opening gig for Gov't Mule at Red Rocks, Umphrey's played a solo show at the Fox Theatre in Boulder, CO. It was a special all-acoustic show, and the band was in good form. Relaxed and still glowing from the night before, Umphrey's McGee made themselves right at home at the Fox Theatre, with their personal mini-bar set up on stage, comprised of vodka, ice, orange juice, beer and several other items. It was time to kick back.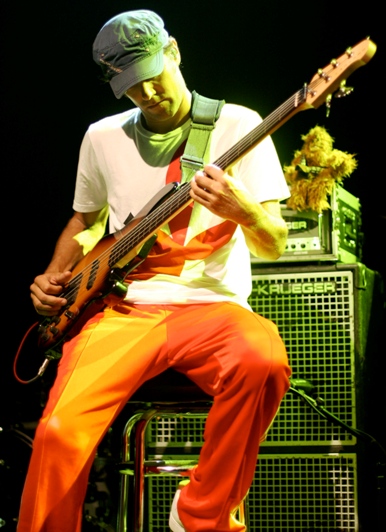 Since it was a fan-club show, tickets being mostly available only to registered fan club members, and part of a two-night ticket set that included the Gov't Mule show at Red Rocks, the best possible audience was present. When everyone in the crowd is an uber-fan, the possibility of letting them down barely exists, unless the band sucks on the night, which UM did not. It has to make the band feel good too, to see so many people go ape-shit over them. The guy next to me was wearing an Umphrey's hat, with Umphrey's pins in it, and an Umphrey's tee-shirt, probably, although this is unconfirmed, with matching Umphrey's boxer shorts. The guy behind me talked about every UM show he's ever been to, and the list was extensive.
Improvisation is the law of the land, in as much as doing things on the fly can be considered a law. And improvisation extends into nearly every facet of the band. Set lists are different night to night, usually there are a few cover songs thrown in, which also vary widely, and of course, each song is played differently night to night. And then sometimes there are acoustic shows, which are a whole different animal from the electric Umphrey's experience. On Monday night, Umphrey's McGee played two sets and an encore to its Boulder legios, and from what I heard, everyone found the performance to be phenomenal. Personally, I have only a limited tolerance for improvisational jam bands, mostly because I find that all too often, the songs all sound too much a like, so that the concert feels like one really, really long song. But I've found Umphrey's to often be an exception to the rule. Firstly, I like singers (UM's got two), I like songs with words (most UM songs do), and I like to hear a few covers. Although lyrics aren't the main selling point for UM, they do have them, running the gamut from serious to lighthearted to downright silly. And as far as covers go, there were certainly some good ones. During the first set they played a "Crazy Fingers" by the Grateful Dead, apparently for the first time ever. Midway through the second set they dove into a high-octane version of "That's All" by Genesis, and to close the encore, they played back to back covers of "Can't Find My Way Home" by Steve Winwood and "Night Moves" by Bob Seger.
Umphrey's McGee is an egalitarian type of band, and everyone gets his time in the spotlight. The two guitarists, Brendan Bayliss and Jake Cinninger, trade off strumming and picking duties, occasionally dueling in harmony. Ryan Stasik, the bass player and "bar tender" for the band, rolled through a few heavy solos of his own, and played a minimalist duet of Duck Butter with Jake Cinninger. Joel Cummins had an extended piano solo in the second set (a grand piano was wheeled out for the acoustic show), and Kris Myers (drums) and Andy Farag (percussion) had several opportunities to show off their beat muscles. During the second set, Dave Murphy, who plays bass for Sound Tribe Sector 9, came out on stage and replaced Ryan Stasik for an extended jam session, coming as close as could be expected with acoustic instruments to an electronica dance party. Sound Tribe is in town to play shows Thursday night in Boulder, and at Red Rocks on Friday and Saturday nights, and the two bands have played together extensively this past summer. When the session was over, Ryan Stasik came back out and poured himself and Dave Murphy each a large drink, which they toasted to the crowd and downed.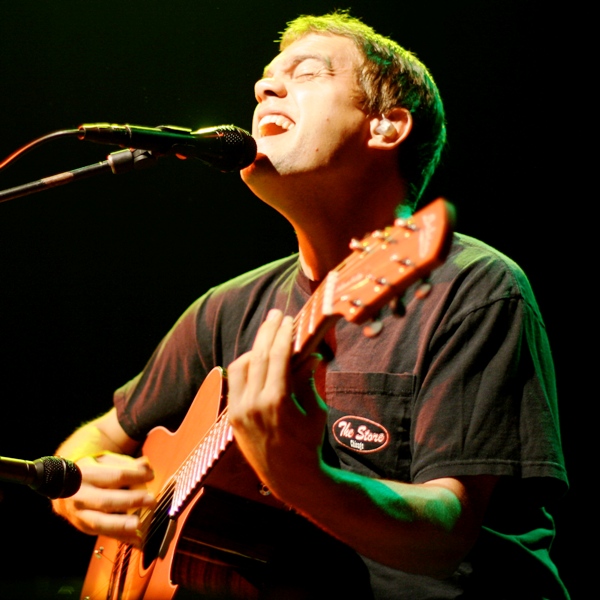 Although they didn't get sloppy, the band got silly-drunk during the late stages of the second set. "It's a good thing you don't to take a breathalyzer to get on an airplane!" Brendan Bayliss said at one point, slurring his speech a little. But the band stayed on track, apparently unphased by the booze. Then again, I imagine this drinking on stage thing is fairly common since a fan in the crowd wielded a sign reading "Pour Me A Drink Stasik!" I guess you could say they've had practice, evident especially when Bayliss picked up the bottle of Vodka and used it as a slide for his guitar.
I don't envy the hangover these guys must have had the next day, but I suppose they've had practice with that too. It was all in good fun, and the band was definitely in high spirits throughout, as was the crowd. UM even shared a few drinks with some lucky fans in the front row. It was quite the synergy to behold.
Umphrey's McGee will be touring North America extensively over the next few months. Check out their website for dates.
To see more photos from this show, including yours maybe, please visit the Gallery.