The World According to Rob Arthur
As a musician, Rob Arthur played with Five For Fighting, Joan Osborne, Kate Pierson of the B52s, and many others.  He's currently the keyboardist/guitarist for Peter Frampton.  Most recently, he played in the house band at the Rock and Roll Hall of Fame Gala to support music education, for the 3rd year running.
I imagined, therefore, when I asked him what works of art inspired him, he would begin listing songs. Instead, he began with Venice, describing it as a masterpiece we can walk through and participate in. He seems, in fact, to see the world this way. He conveys this perception by painting what he describes as the photographs he can't take with his camera, developing them with watercolors and paper in lieu of film. The final products, he says, are snapshots of his imagination.
Not surprisingly, the lens of his minds eye not only captures what he sees but translates sounds into images as well. Fluid watercolors are manipulated in his paintings as he describes chords are manipulated in a piece of music, to effect subtle changes that culminate in powerful results.  Sometimes his brushstrokes ripple colors quietly, introspectively, like notes played in a minor key. With equal frequency, they skip a bold Charleston across the page, tracking vibrant splashes of footsteps.
For example, his portrait of Thelonious Monk exemplifies the jazz greats' music; discordant elements combine to create a cohesive whole. Dominant blues and reds are cacophonous but the picture is sonorous. When we see it, it is as though we are seeing Monks' songs where, as Arthur describes, opposites combine in free, expressive leaps, absent of boundaries. To achieve this, he poured paint onto the page, letting it bleed together in some areas, masking to prevent it from overflowing into others.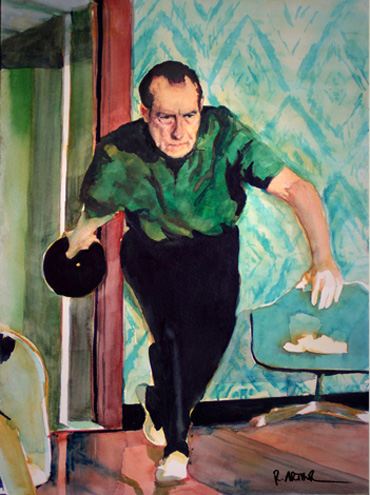 Contrastingly, he painted Sinatra in a more controlled way, using only one or two brushes. The resultant figure is cool, relaxed, yet precise, alert, as if he slid from the blank void of paper then focused with a Technicolor snap. The crooner seems, like Goyas' portrait subjects, to have been caught unawares though he is obviously posing. It is as though Arthur interrupted him mid-performance, captured his expression at that moment, and then finished the tune with his brush.
Arthur doesn't just convey integral sounds when painting musicians. He depicted Nixon bowling, for example, using a poster he saw in the movie, "The Big Lebowski" as a model. The image broadcasts the tragi-comic din of Watergate. The former president gets a ball rolling which will, of course knock down carefully stacked pins with a crashing clatter. The observer knows and hears what Nixon, at the moment of action, doesn't, that the boom of failure rather than the riot of success echoes as pins fall. His expression is fixed, serious, as though he's struggling to concentrate amidst the noise of the falling pins of players close to him, ridiculously striving to make sure his own follow.
Arthur hears the voice of places and things as well as of people and events. In his paintings of Venice, for example, water, buildings and gondolas breathe through the page in vibrant bursts. In, "In Brooklyn", slants of light hum softly as if they hope to lull the stylized corners of intrusive, jabbing buildings.
Arthur achieves this undoubtedly because, in his creative life, music and painting intersect. When I asked him which he finds more fulfilling, he said that one reminds him of the other, pointing out that the essential elements of his creative process for both are the same. Comparing executing a painting to recording a piece of music he said:
"The biggest mistake you can make is to try something five times until you get it perfect. Your first impression is usually best. It is what will communicate the most what elements of it have life. You have to be careful not to over-cook a piece, to stand back and let it sit for a second. You have to not be afraid stop before you think you're finished."
Similarly, when viewed as a whole, his work is something like a list of songs he'd choose for an album, or a set list he'd create for a gig. "People don't want to hear the same thing over and over", he said of music, "the best show or album is the one in which you express all the moods you have. Uplifting, heartfelt, silly, as long as it's honest. If you encompass everything, it makes it interesting." His paintings achieve this, communicating a wide range of emotions and experiences rather than reflecting one tone.
But, to Arthur, process is almost more important than product. It is what seems to intrigue him most in his own work and in the work of artists he admires. Something of a bibliophile, he expands and refines his painting techniques in part by reading about the creative process of others.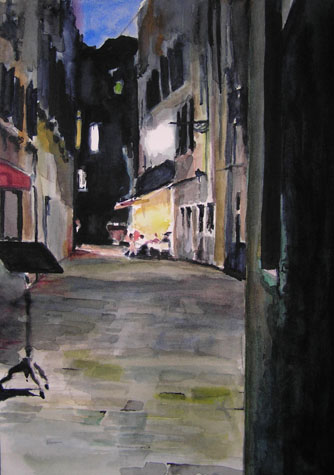 He has carefully examined the methods of masters like Winslow Homer, John Singer Sargent, and Edward Hopper. As he has evolves as a painter, he says he incorporates their techniques less and less consciously. Although quiet undertones of master works can sometimes be identified in his pieces, his emerging style is, like Arthur himself, fiercely individual.
His work is influenced not only by the creative processes of great painters, but those of others who have reached creative fulfillment as well. "Whenever people talk about how they put something together, they're talking about creating something", he said. "Reading about Orson Wells is as inspiring as reading about Miles Davis. They're doing the same thing essentially, trying to reach a creative goal."
If he thinks a piece looks good when he feels it's complete, he's delighted. If he doesn't, he's still delighted. Arthur pointed out that it's the innocence of discovery; the attempt to capture light, color, shape and shadow that holds him in thrall. "It doesn't help to try to be the greatest", he said. "It is more important to learn not to be afraid to not be the greatest. The point is to be an artist in life."
Rob has a new CD, Anywhere but Home, to which Peter Frampton and Allen Toussaint, along with many other talented artists, lend their remarkable talents. He's currently writing songs for the next one.