Xmas In The Smokies Bluegrass Fest. Features All Star Line Up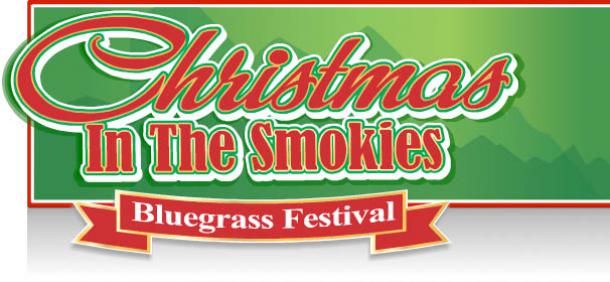 Christmas in the Smokies announces their 2012 festival with special guest Doyle Lawson & Quicksilver. The festival will be December 12-15th, 2012. Enjoy all the bright and colorful Christmas decorations located in downtown Pigeon Forge and help enjoy in the wonderful Christmas spirit. Workshops will be held on all instruments for only $25. Contact Josh Goforth more information about the workshops. Wednesday December 12, 2012 Christmas in the Smokies will feature workshops, square dance, jamming and free concert.
Doyle Lawson & Quicksilver presents gospel at its finest, with instrumentals and harmony like none other. Do not miss this pure old time gospel sound that is paired with an excellent presentation, they are headlining the festival on Thursday, December 13th.
Marty Raybon, former frontman of Shenandoah, will surely not dissapoint this Christmas with his amazing bluegrass vocals. With his backup band and Raybons traditional tenor sound his performance is astounding. He will be performing Saturday night December 15th.
Goldwing Express will be headlining the festival Thursday and Saturday night with their Native American heritage shown in each show. Each appearance is one to remember and is favored throughout the United States and Canada. It is a experience that should not be missed while Goldwing Express rocks the house with country, soulful gospel and comedy as well.
Bobby Osborne & The Rocky Top X-press will be featured Friday and Saturday night of the festival. Bobby Osborne is known as an amazing mandolinist and his hit song "Rocky Top" throughout bluegrass and has worked with Jimmy Martin and Lonesome Pine Fiddlers. He displays his music the way bluegrass should be with high spirited energy and timeless joy.
The Annual Christmas in the Smokies will feature 15 talented artist including: Carolina Road, Your Host Band; Doyle Lawson & Quicksilver, Marty Raybon, Goldwing Express, Ralph Stanley II, Bobby Osborne & Rocky Top X-Press, Gary Waldrep Band, Jerry Butler & The Blu-J's, Remington, Ryde, Bluegrass Mountaineers, The Larkins, Reno Tradition, Mountain Faith, Hart Brothers and Bluegrass Gentleman.
TICKETS AND INFORMATION
Advance Tickets for Artist Circle are $34 for One Day, $68 for Two Days and $90 for Three Days. Reserved Seating are $28 for One Day, $56 for Two Days and $75 for Three Days. General Admission prices are $23 for One Day, $46 for Two Days and $60 for Three Days.
The show on Wednesday, December 12, 2012 is FREE to all Christmas In The Smokies ticket holders. You must at least purchase a one (1) day ticket to the festival to obtain a free ticket for Wednesday. For more information on tickets, call 919-779-5672.Children Under 12 are FREE.