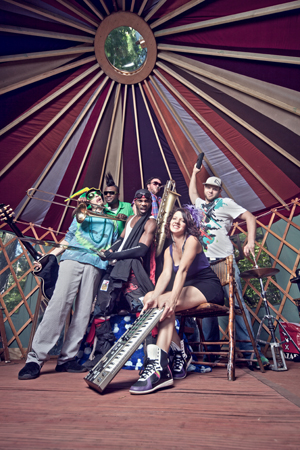 Yo Mama's Big Fat Booty Band unleashed a promotional trifecta this week in support of their new album, Re-Doin' It Hard, a remix of their March, 2012 studio release: Doin' It Hard. Armed with the new album, a beautifully produced music video, and a brand new website to boot, the six-piece powerhouse is currently touring the US, stopping in key cities including Athens, Los Angeles, Austin, Phoenix, New Orleans, St. Louis, Dallas, and San Francisco among others before returning home to Asheville, NC.
Re-Doin' It Hard features some of the band's favorite DJ's and musicians including Agent 23 (GFE and Secret Agent 23 Skidoo), DJ leSpam (Spam Allstars), Paper Tiger, and Lee "InstaFunk" Allen (Booty Band and Eymarel) adding their distinctive perspectives to select tracks. The album travels from Hip Hop to Miami Bass, briefly delving into heavy, club-inspired dance. Add in the sultry, soulful vocals of Mary Frances (Booty Band and Eymarel) and Molly Kummerle (Paper Tiger) and you have a well-rounded and highly palatable listening experience.
"I really have to give it up for all the artists who contributed their talents to this interesting project. They were given no guidelines and we let them choose which track they wanted to remix, trusting that they would come back to us with something incredible. We couldn't have hoped for a better outcome!" - Greg Hollowell (saxophones and flute)
Deeply rooted in Funk and fully committed to the ongoing evolution of the genre, the Booty Band has a sound that is unique yet has the power and soul to create lasting melodies and seismic rhythms. The group is currently celebrating ten years as a cohesive touring unit, playing over 150 shows and completing several national tours each year/
Yo Mama's Big Fat Booty Band is: Lee Allen (drums), Mary Frances (keys, vocals), Greg Hollowell (saxophones, flute), Derrick Johnson (trombone), Al Al Ingram (bass, vocals), and JP Miller (guitar, vocals).
For more information about the tour, to download the new album for free, and to watch the new video in HD, check out www.bootyband.com.
Now On Tour:
| | | |
| --- | --- | --- |
| Date | Venue | City, State |
| Oct 11 2012 | Dave's Darkhorse | Starkville, MS |
| Oct 12 2012 | Maple Leaf | New Orleans, LA |
| Oct 13 2012 | Soul Kitchen | Mobile, AL |
| Oct 19-20 2012 | LEAF (Lake Eden Arts Festival) | Black Mountain, NC |
| Oct 26 2012 | The Pour House Music Hall | Raleigh, NC |
| Oct 31 2012 | Charleston Pourhouse | Charleston, SC |
| Nov 03 2012 | Woofstock | Greenville, SC |
| Nov 08 2012 | Abbey Bar | Harrisburg PA |
| Nov 10 2012 | Nietzche's | Buffalo, NY |
| Nov 11 2012 | The Spot Underground | Providence, RI |
| Nov 15 2012 | He's Not Here | Chapell Hill, NC |
| Nov 16 2012 | Ziggy's | Winston Salem, NC |
| Nov 17 2012 | Capital Ale House | Richmond, VA |
| Nov 23 2012 | Outer Banks Brewing Station | Kill Devil Hills, NC |
| Nov 24 2012 | The Soapbox Laundro-Lounge | Wilmington, NC |
| Nov 30 2012 | The Brickhouse | Jonesboro, AR |
| Dec 01 2012 | Hangar 9 | Carbondale, IL |
| Dec 02 2012 | Old Rock House | St Louis, MO |
| Dec 13 2012 | The Funky Biscuit | Boca Raton, FL |
| Dec 14-16 2012 | Green Parrot | Key West, FL |