Have I ever told you guys about this place in Asheville called The Salvage Station? I feel like I have and, I don't want to sound like a broken record, but man do those guys know how to throw a party.
I mean unless hanging out down by the French Broad River with a beer in your hand and the best music touring the country isn't really your thing. In that case perhaps I could interest you in a board game or something.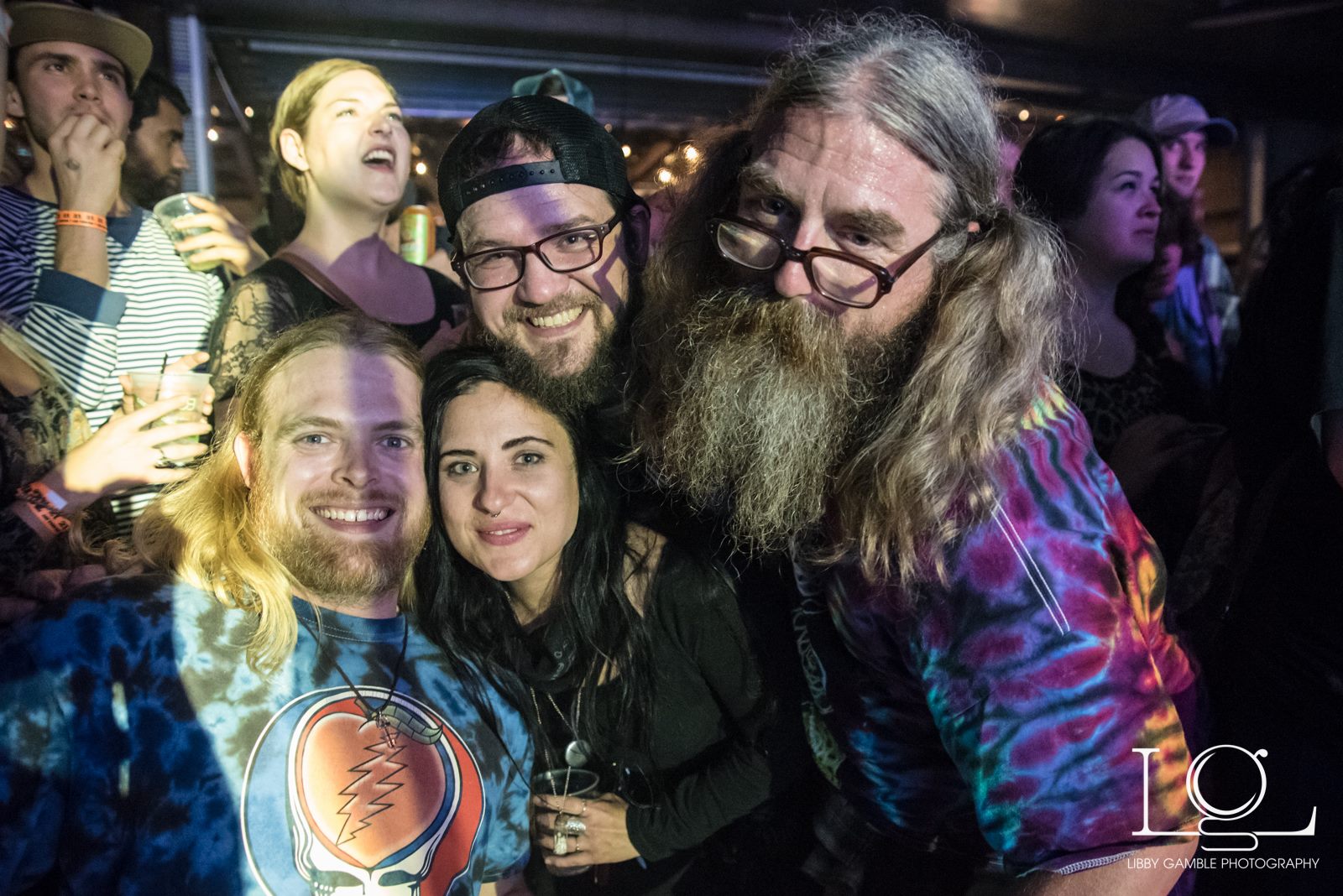 If however, raging from sunset to nearly sun-up to mind-melting, brain-blasting tunes does it for you, well then this is the place to be. It certainly was on Friday night as they served up one of the juiciest double-headers (Oteil and Friends and Pigeons Playing Ping-Pong) that I've seen all year.
I arrive early, typewriter in hand, to take in Oteil's sound check, but pretty quickly the temperamental Western North Carolina weather decides to cut it short. They retire to the tour busses under overcast skies and I wander around the venue for a couple hours wishing I had money for food.
The show is slated to start at 7 and by 7:15 there is already a pretty sizable crowd. We are waiting on the band, and the band is waiting on the weather. There is one more squall coming through and they can't get set up until it passes.
Then, as if on command, the skies open up and dump their grace on everyone gathered here. Most of the 1100-plus crowd heads inside, crowding it so much that I can't even find a place to sit.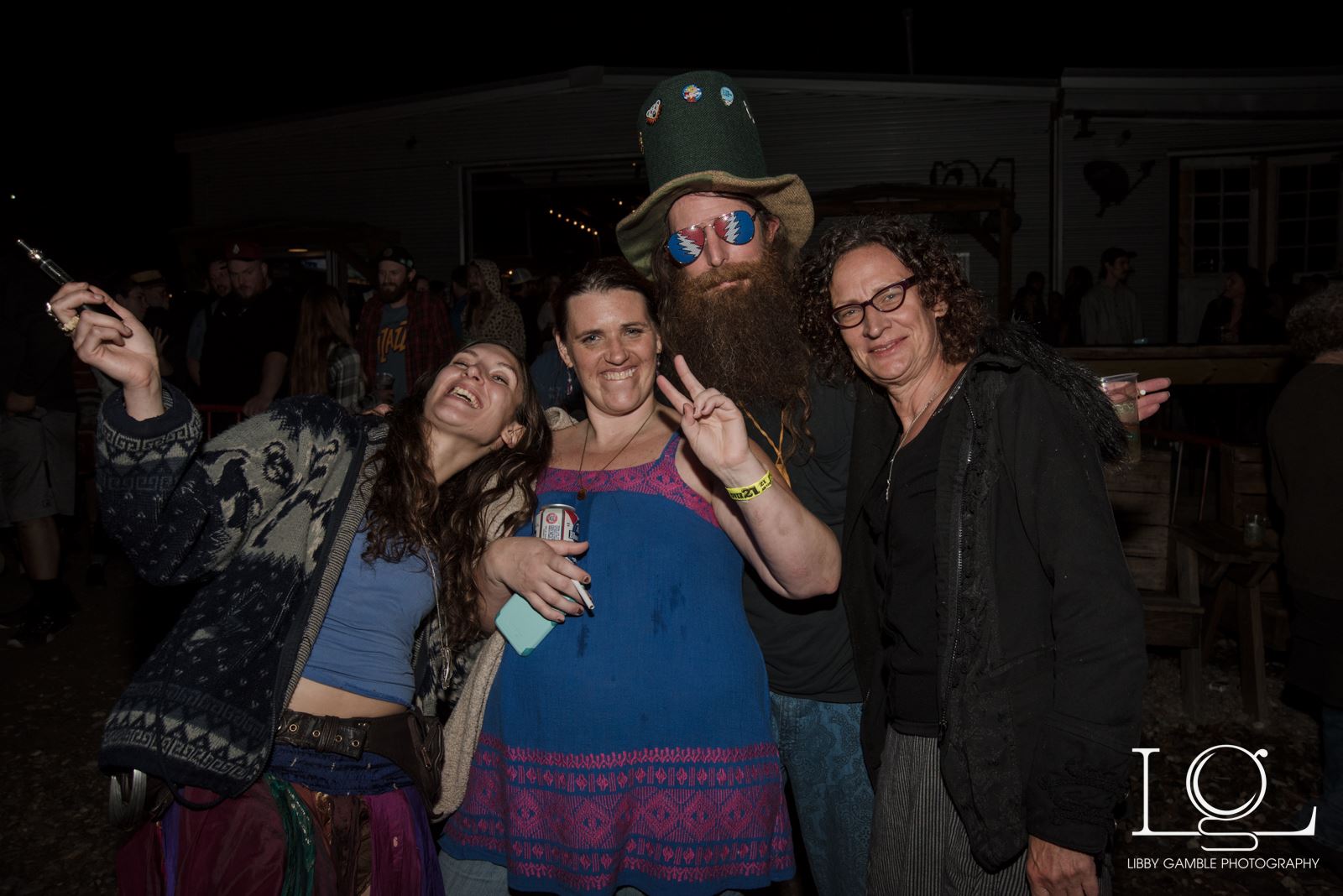 I head back outside and crawl under a picnic table, looking for the ever elusive dry place to write. That no good photographer of mine has managed to finagle her way onto the tour bus where I imagine she is enjoying free wine and the company of so many musicians I idolize.
But wait. Enjoy this. Revel in this. This is what the crowd is doing, what the crowd is feeling. Under this table, rain dripping sporadically onto the pages I type, chest filled with anxiety and just waiting, waiting, waiting for the show to start, I am exactly where I need to be.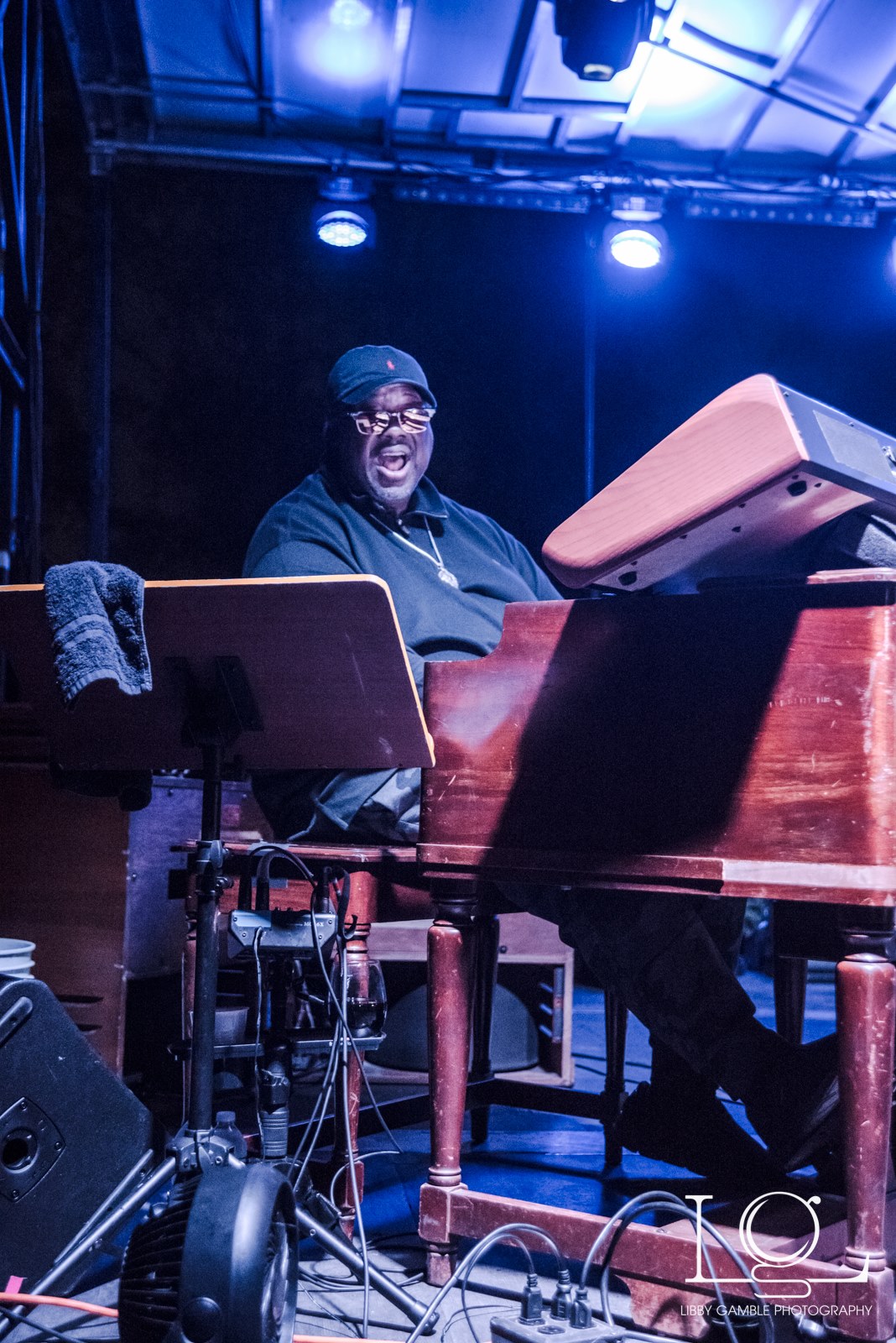 They come out for a brief sound check and then, moon rising behind the stage, it's finally time.
Slow and steady is how it starts. Defying the rain, defying the short set time, defying the crowds expectations this band is making a statement. Oteil and Friends are here to do what they do and nothing in the world is powerful enough to stop that.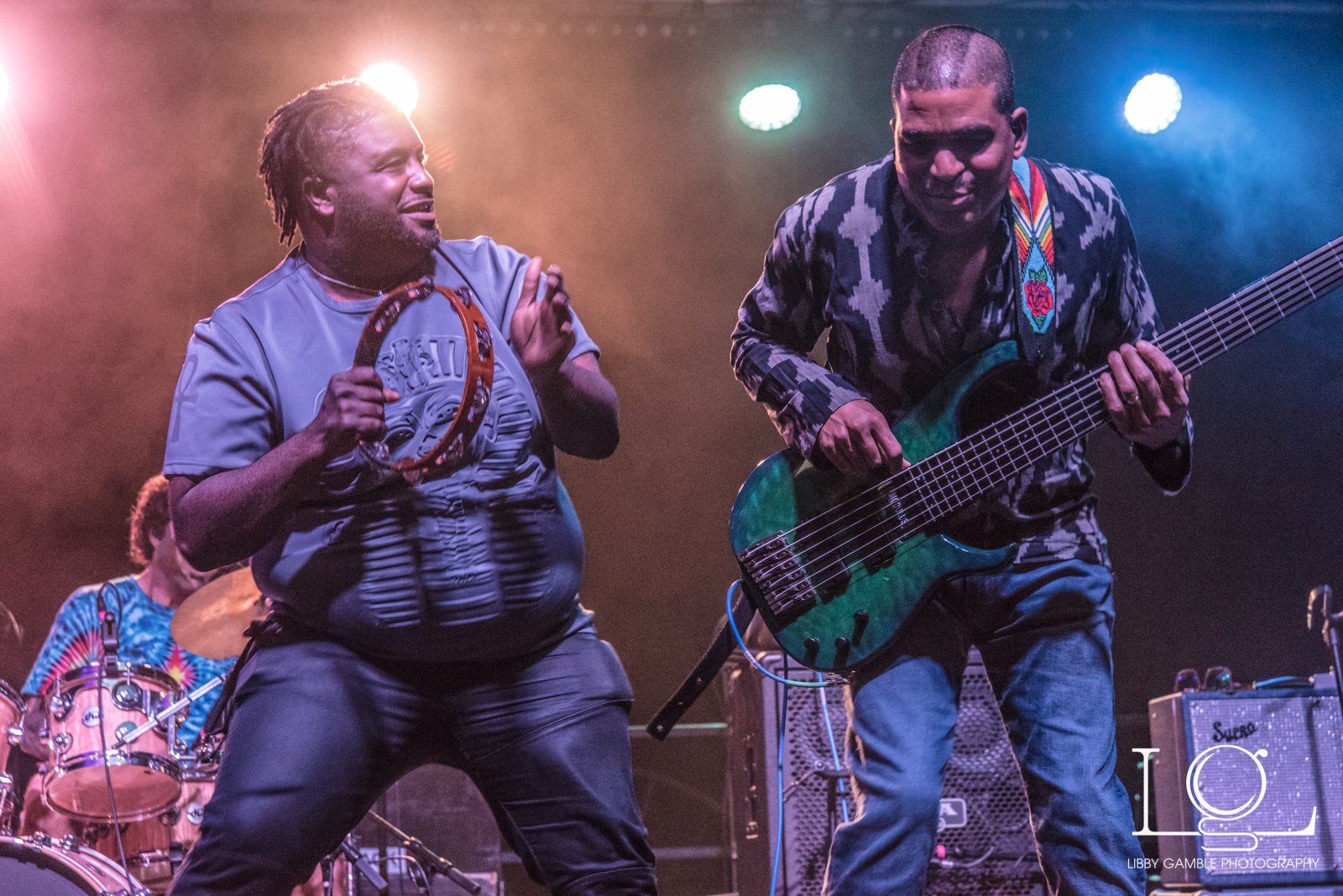 The set list continues in this fashion as they play more a compilation of campfire jams then dead-heavy crushers. After an enjoyable Dance to Jah Music they hit full lift-off on a gorgeous, transportive version of Tangled Up in Blue. Conservatively it was the best Tangled I have ever heard, imaginatively it may have been the best ever played.
The contrast of Eric Krasno's smooth, sultry guitar and John K's idiot-savant, hammer dropping creativity is outstanding. They chase each other around the song for nearly fifteen minutes, each moment more delightful than the one before it.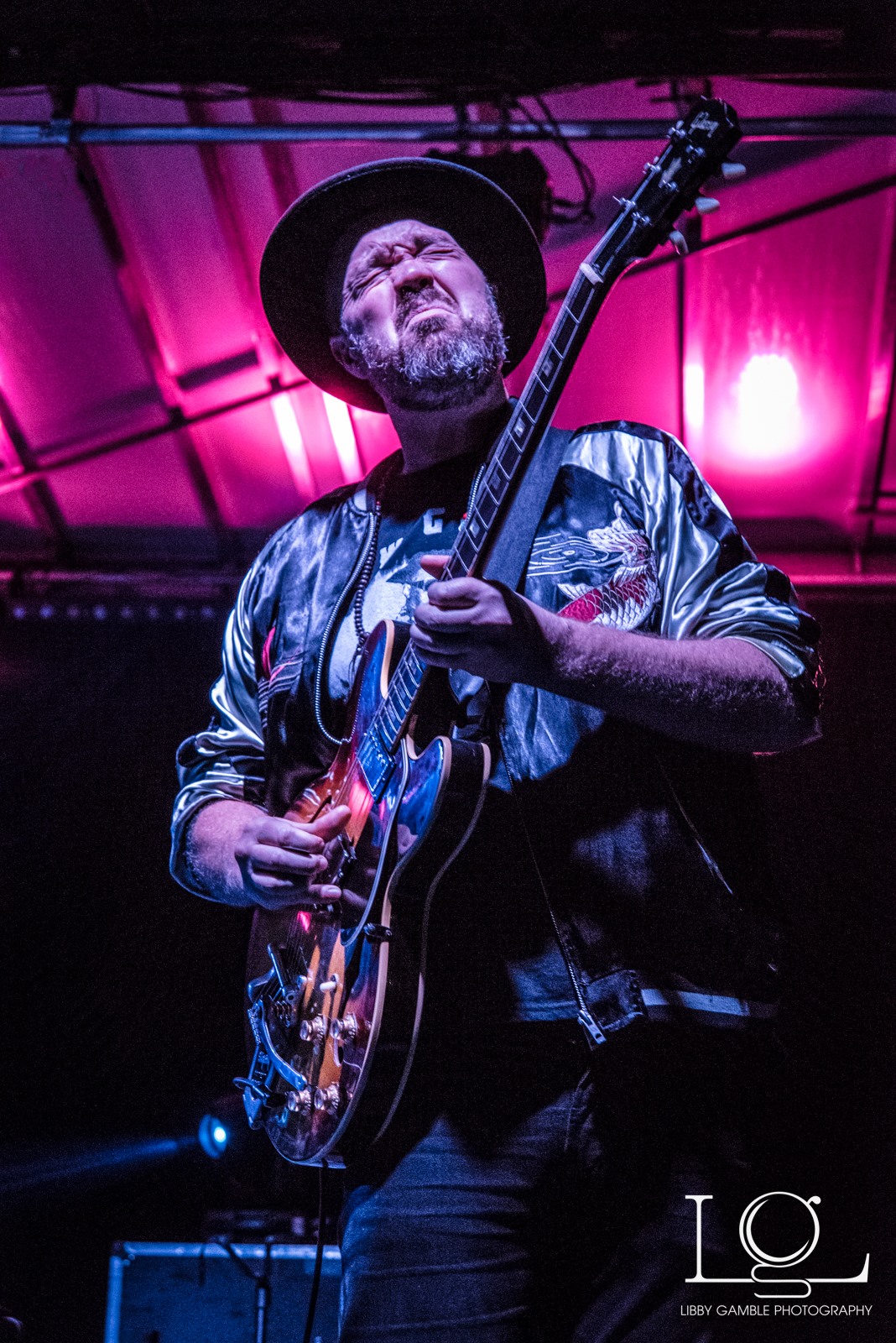 This is what I am here for, and judging by the suddenly stepping feet and gyrating hips around me I am not alone.
The crowd has the sense that this band is finding their groove and is ready for more of it. Then they take it down about twenty-five notches with a beautiful but plodding version of So Many Roads.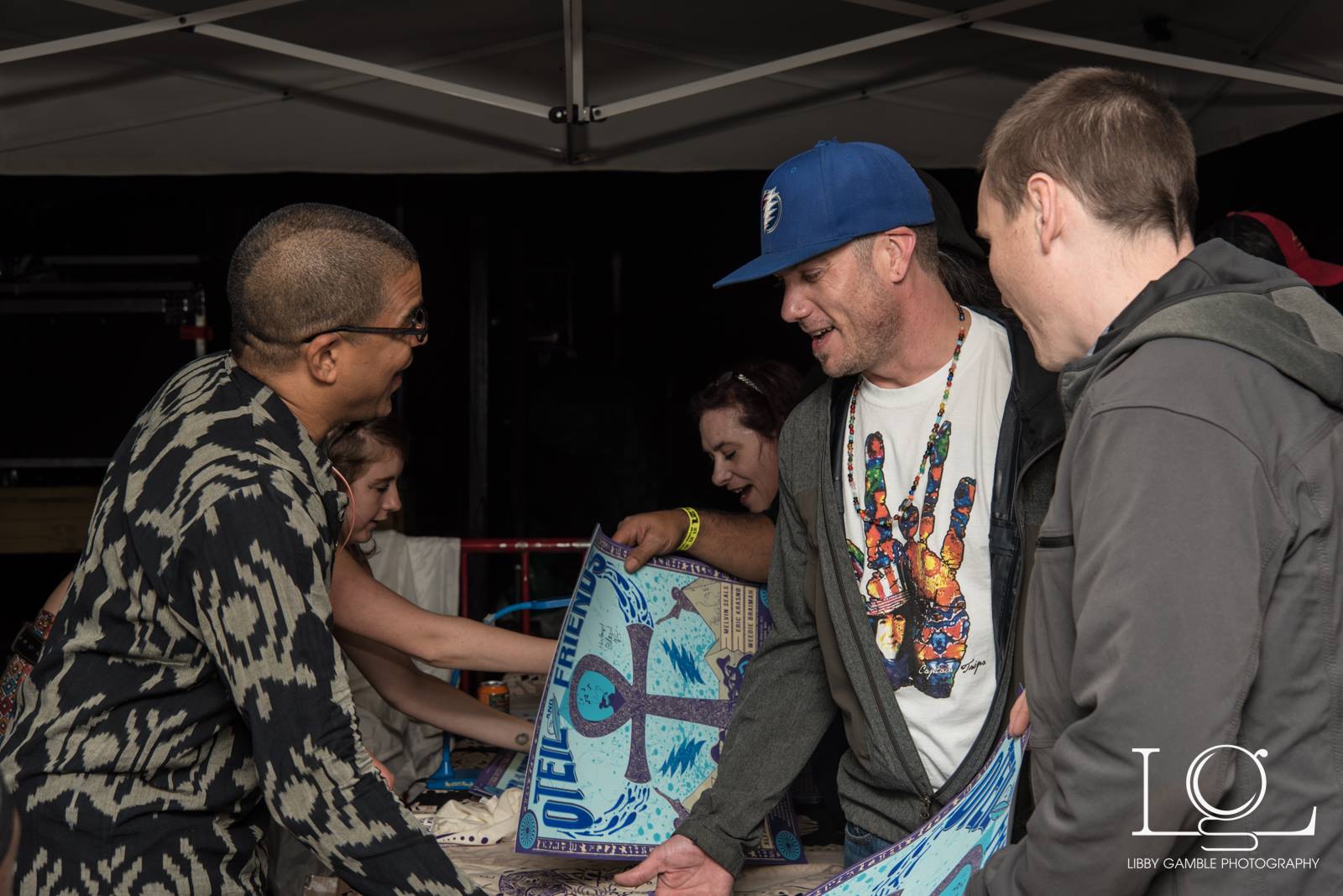 In the audience what we really want is to let go, to achieve blast-off, but the set list is confusing and not particularly cohesive. There is a certain sense that these musicians may be learning the songs on stage and, while intimate, it's frustrating to watch them gesture to each other multiple times a song in order to make their turns and stay on groove.
Still, this is a special show. A collection of talent that most Deadheads only get to dream about. They get the crowd moving again with a driving version of The Weight. Then they play a transcendent How Sweet It Is. The song features Alfreida Gerald, a wailer if there ever was one, and the sweet keys of Melvin Seals. There are moments when her voice and his organ combine in such a way that you can almost feel 10,000 angels in heaven orgasming simultaneously to the celestial music they are playing.
They finish out the set with an inspired Deep Elem Blues and a bluesy Unconditional Love before coming back to encore with Gerald just murdering the Joplin classic, Piece of my Heart.
Then it's over, and time for the big transition. The shows have been sold separately and only a fraction of the audience has tickets for both. While the staff and security figure it all out with kindness and aplomb, I gather my thoughts.
The show was moving, fun, but I can't help but feel a little sad about what might have been. This had the potential to set the standard for Asheville, to spotlight some of the best living Dead musicians in the world and leave the audience with something to talk about for years to come. As it stands now, it's really just another good night in Asheville, NC.
But as it stands, Pigeons Playing Ping-Pong is still an hour from taking the stage and there sure is plenty of mischief and revelry yet to come. I'm sitting outside toking on a spliff and a new friend joins me. I mention that I'm hungry and broke and he says, "Me too, lets go get some food." He purchases a plate of pulled-pork nachos for us - I'm almost five bites in when I realize he isn't eating. "I'm not hungry," he chuckles, "just wanted to get you fed."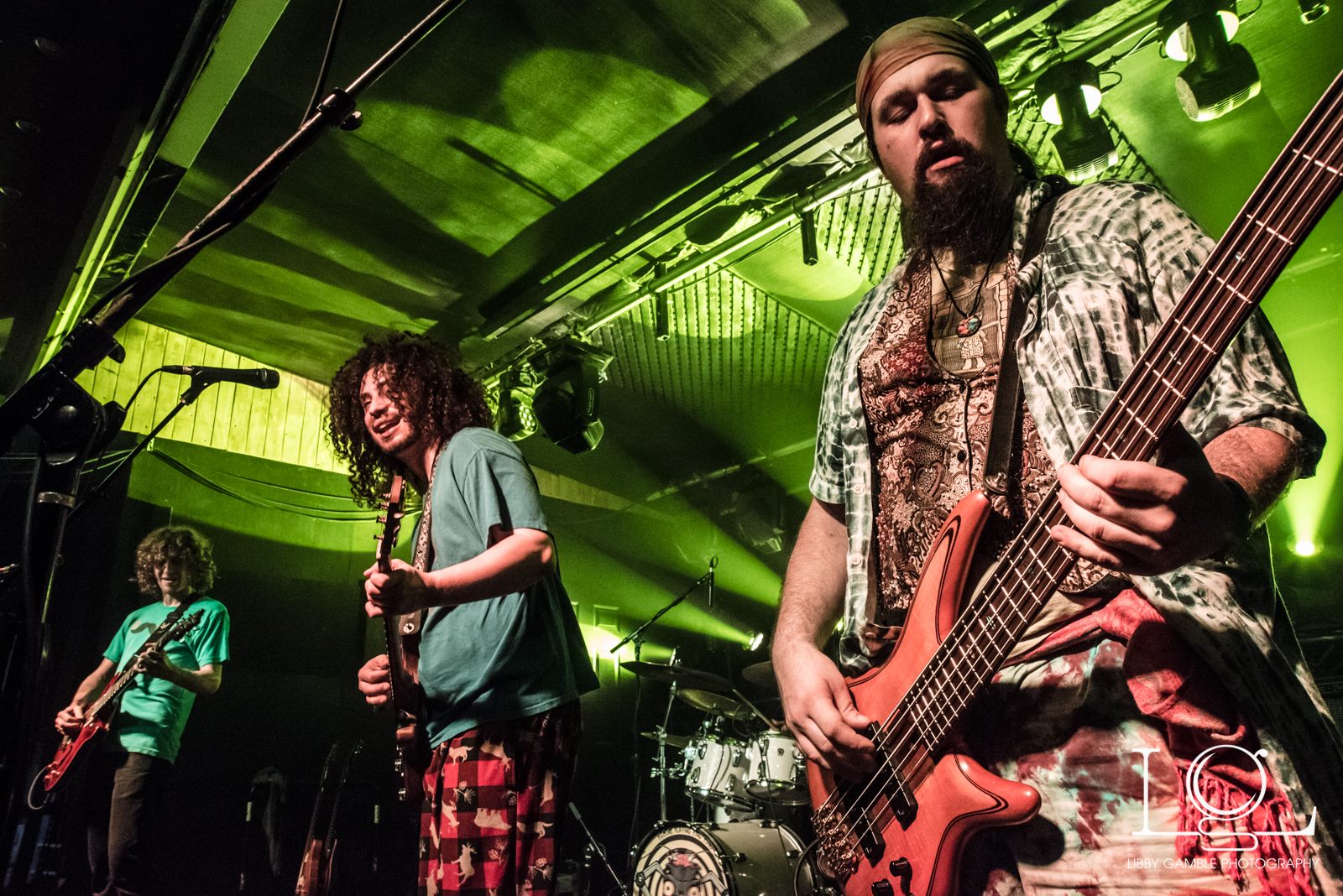 This is quickly becoming the new theme of the evening. Come as you are. Bring what you can. You will be taken care of. Come as you are. Bring nothing at all. You will be loved. Come as you are. With no food, come and dine, with no favors, come and play, with no money, come and buy.
These may not all be Dead fans, but this is the essence of what the Grateful Dead were. Love overflowing, joy abundant, kindness everywhere. Emulating the fearless absurdity of the band we are encouraged to leave our inhibitions at the door, perhaps to never return to them again.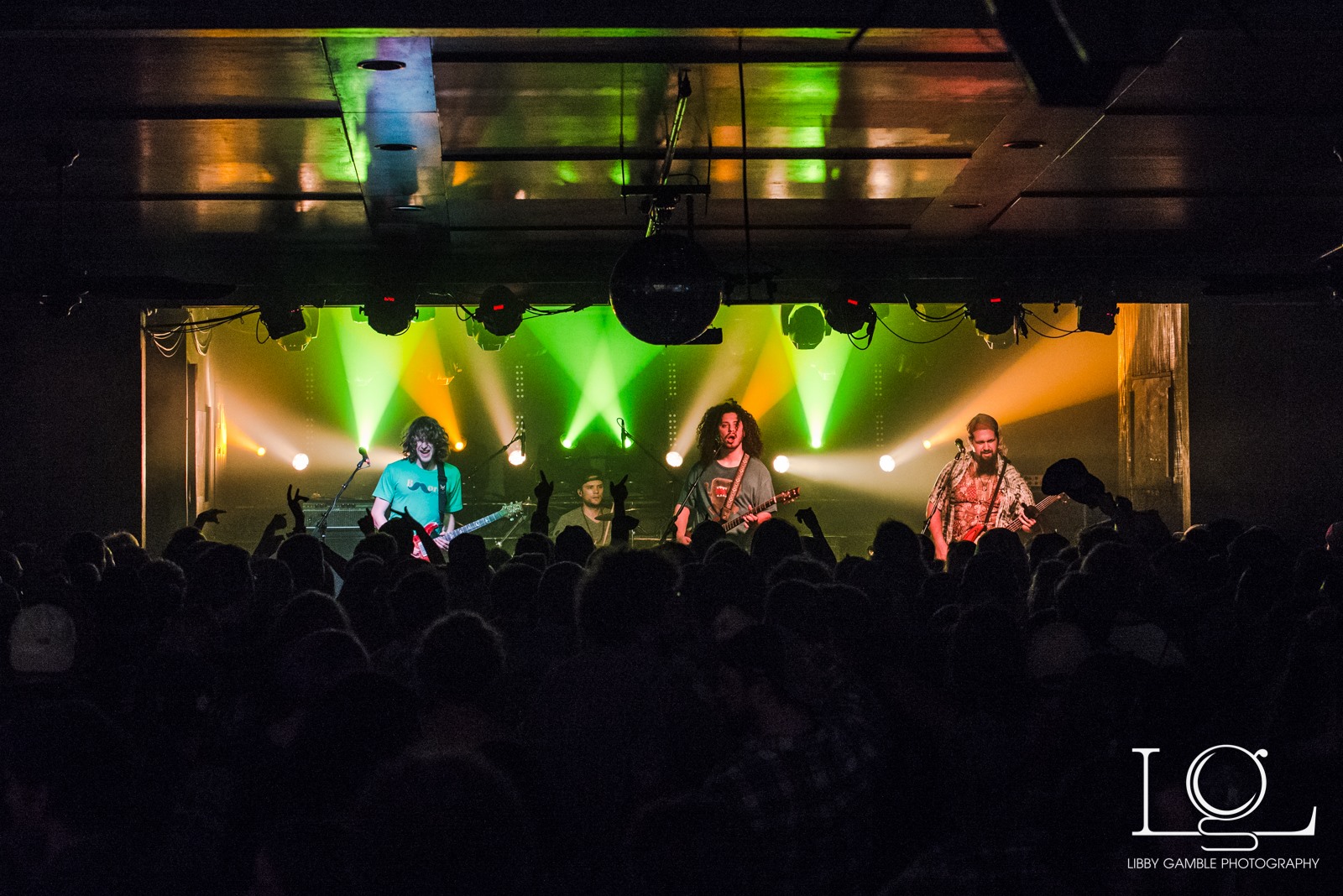 And what does it tell you about the band and their music that this is the caliber of people that they draw. Their songs are energetic and well-written, proggy but not to the point of overkill and always just a moment away from throwing your hips and shoulders out of socket. This is the kind of band you buy tickets for and then book a chiropractic exam the next day.
It's my first time seeing them live and I feel a little late to the party. Like I've been sitting in the back room at a kegger and people keep telling me that there are pigeons playing ping-pong in my living room. After the third or fourth report, when I finally check it out, I am startled to find that not only are there actual Pigeons Playing Ping-Pong in my living room, they are also standing on their heads while making funny faces and shredding a pair of guitars, a bass and a drum kit.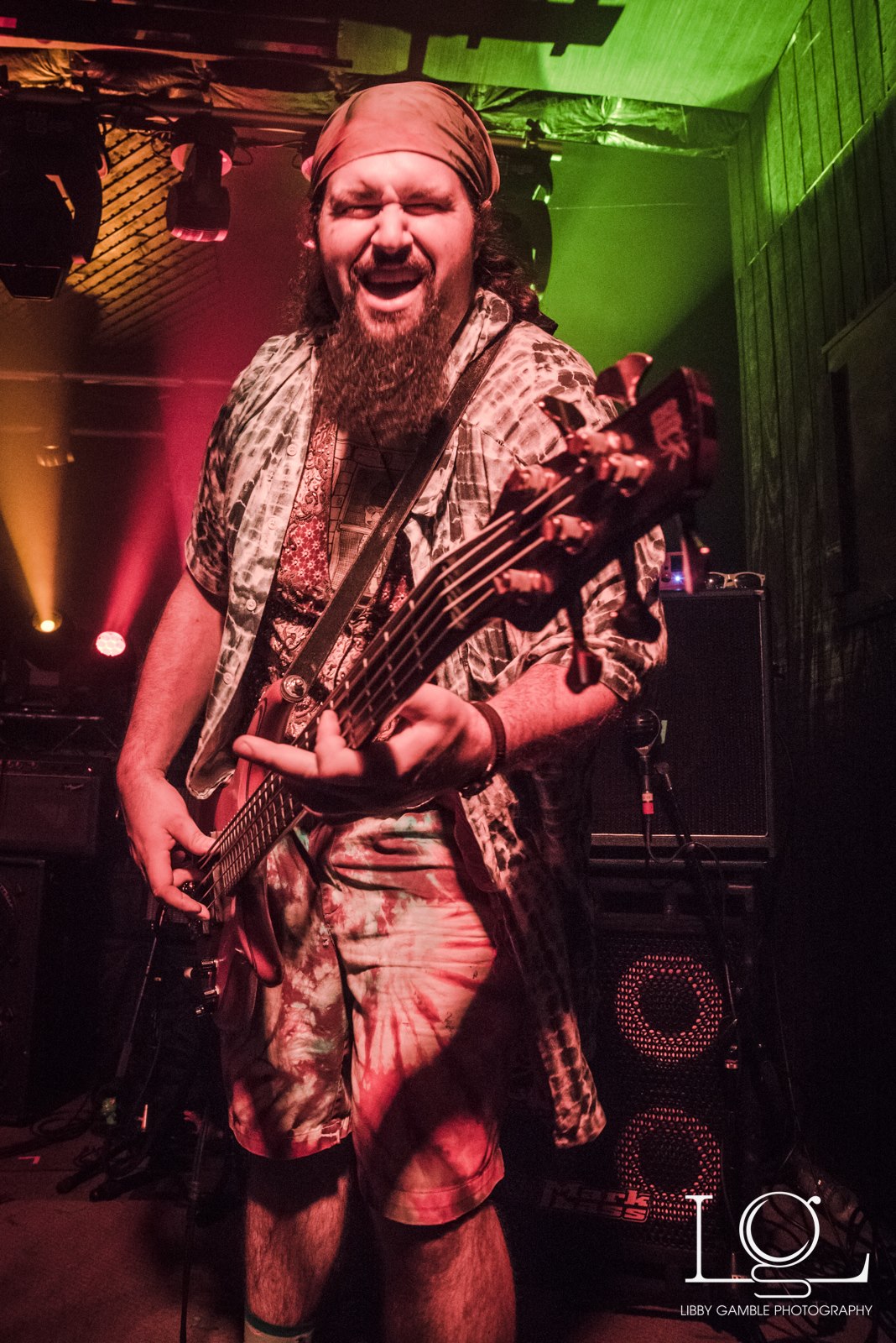 Their music makes you want to move in ways you have never moved before. It makes you want to break out the dumbest, cheesiest dance moves you remember from high school and then look behind you to see how many people are impressed.
I literally can't even right now and so I head to the back to try to collect my thoughts. Good luck. This set leaves leaves no room for collecting anything, the only way to live here is to give.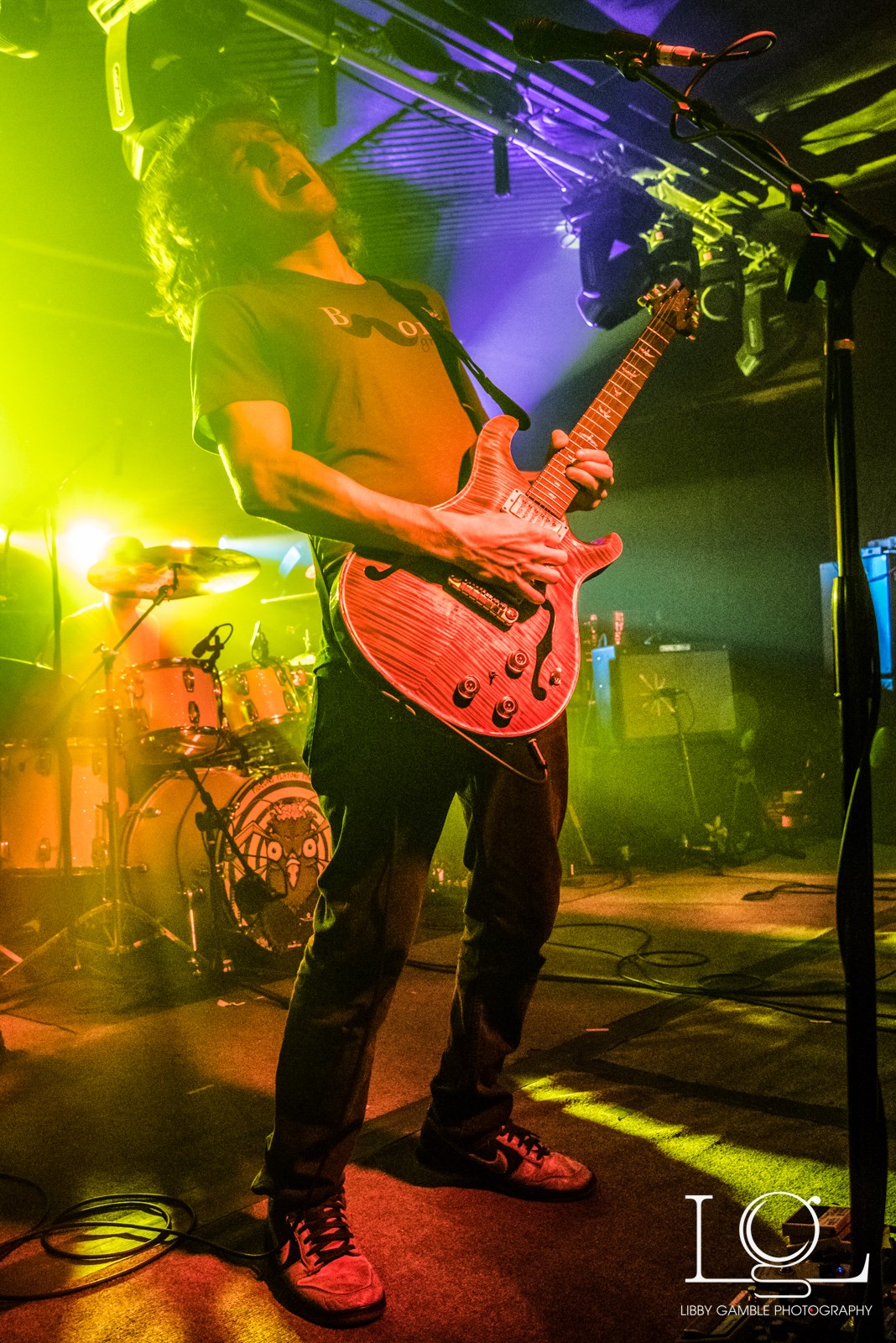 They push through a two-hour set, at one point playing for nearly 47 minutes straight without taking so much as a four-beat break. Then, everyone entranced, all of us strung out on the same tunes, they launch into, what I can only consider to be their message.
They cover War Pigs, Greg Ormont making Zappa-esque faces as he screams/chants/sings the lyrics. They dive out of that and into an original, funky and free, forcing everyone to dance, to bump against each other, to feel the touch of human contact. Then they drop it into Why Can't We All Just Get Along.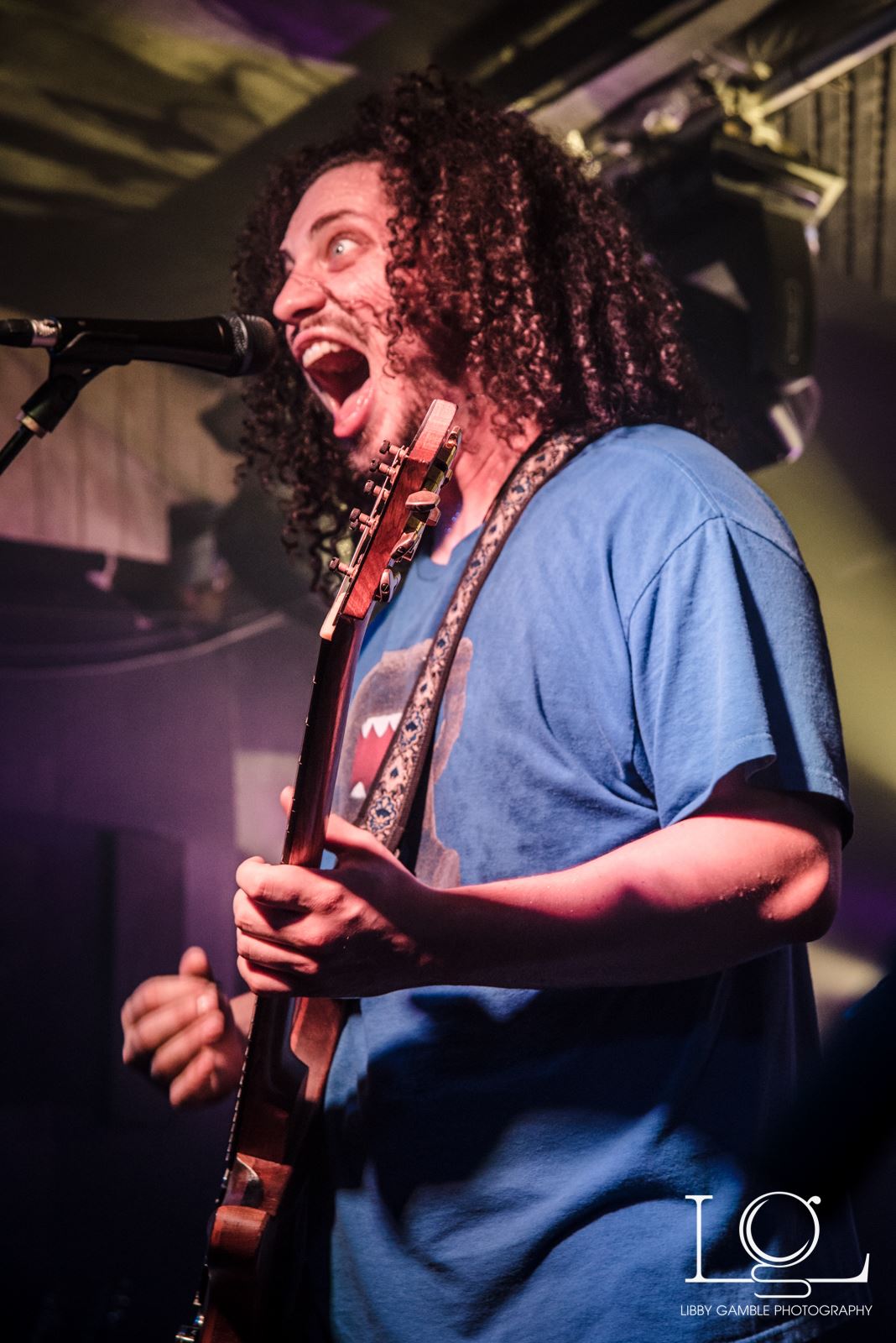 The audience understands. They get it. Spontaneous hug-dancing and consensual ass-grabbing is going on all around me. I can't help but to be completely drawn in. If this is what these guys are about, well then, I guess I'm about these guys.
Then it's all over. Just like that. A short encore and the house lights and music come on. Where do we go from here? No one is ready to go home. No one is ready to quit. Luckily, Salvage Station isn't in a hurry. We all have plenty of time to mill around, drink one more beer, and figure out which hot tub we plan on skinny dipping in later.