All 12 of the Saxon Pub tenants had eyes on Payne as he opened with a slow and easy start. Throughout the set Payne mixed a variety of slow subtle originals with upbeat covers. Adhering to call out requests from boisterous tenants, Payne showed a plethora of song knowledge.
As the cliché flies, "tis the season to be jolly," Monday evening was dreary, wet, and cold and inspired little jolly seasonal cheer. But Waylon Payne gave a not so dreary happy hour show at Saxon Pub. A set that lasted just under an hour was full of call out requests, ring tone marketing, thanksgiving musings, covers, and a smiling drummer. The fact that Payne and company accomplished so much in under an hour leaves a marked impression on anyone that appreciates music.
Payne is endorsed as southern rock I would protest that he is slow southern rock, at least every other song. His voice has a comfortable ease and can only be defined as southern lyrics without the southern drawl. When he slows down and the band slows with him he had me leaning forward in my seat to hear every word. Not that he isn't audible just that you don't want to miss a single utterance.
Never have I been to a show that the rattle of the bar tenders shaker was a nuisance that disrupted the show, but it fit. His show fit the day, fit the Saxon Pub, and fit the needs of the crowd. It was gentle and easy, it was a treat.
There is a reason we listen to our elders. We listen to them because they know more than us. While on stage Payne and company reveal an ease and comfort that could only come from experience. There is an ease at listening to his music, because there is no effort in his performance. He counteracts his slow originals with upbeat covers like "Tulsa Time." And like a band should his band picks up with him. He is an obvious blend of ease and energy.
A common strategy in prose is show don't tell. The meaning behind this is show emotion; objects, senses, actions etc… don't tell them. Some musicians tell you they are good while Payne shows us he is so.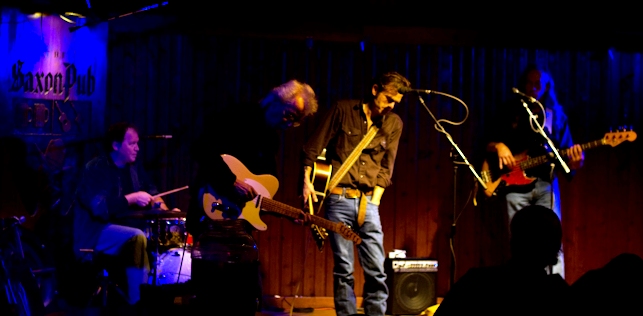 In between songs Payne and guitarist Pete Mitchell mused over thanksgiving dinner, Payne also whipped out his cell phone to reveal a ring tone by Lee Ann Womack; it's his original song, "Solitary Thinking." "Only $1.49 and it can be yours," he stated on several occasions. Tuesday night that song got Lee Ann Womack nominated for the Grammy for best female country vocal performance.
These unconventional callouts were right in place with Payne's performance. It was done with such a subtle ease it wasn't out of place. His ease on stage created a comfort at Saxon Pub and that comfort allowed him to get away with whatever he wanted.
Payne's ease on stage is produced from his lyrical ability, the bands adaptability, and the comfortable mood he creates. Yet, there is more to it…the aesthetic affect watching the performance is worth noting. When Payne isn't strumming his acoustic guitar he has his left hand stuffed in his pocket as he retches out lyrics. He sings into the mike from every imaginable angle and holds guitar in all kinds of contorted angles. His guitars face is carved with a Superman "S" symbol, names, and dates. There is history in his performance and it's literally written all over the band.
From the gentle touch of the smiling Ron "Ringo" Erwin on drums, to the subtle back drop of the bass, with the twangs of Mitchell on electric guitar, all combined by Payne's not so southern drawl and acoustic guitar. All these elements came together to produce an unexpected post turkey treat.