I first became immersed into African music from the influence of an amazing musician, friend, and teacher Matt Wasowski currently with Mohammed Alidu and the Bizung Family, and Zivanai Masango and Pachedu and formerly with Jaka and Jyemo amongst other groups. Matt who plays mostly guitar, also dabbles and even builds with his students many African instruments such as the Mbira or thumb piano and Marimbas. After several years of discovery, it is people like Wasowski and Bela Fleck that bring the traditions, secrets, and magic from an old world and old souls and pass it to the present society that may never experience these treasures otherwise.
Bela Fleck has a musical resume that earns respect in any music circle. As the most innovating banjo player of all time, his thirteen Grammy awards and numerous more nominations in several diverse categories speak for themselves such as: bluegrass, country, jazz, classical, pop, spoken-word, composition, and arranging. After all, he holds the record for being nominated in more categories than anyone in history. But, his newest project, which has earned him two Grammys, including Best Contemporary Music Album, "Throw Down Your Heart" and Best Pop Instrumental Music Performance, "Throw Down Your Heart," has probably been the most introspective for the legend. After all, this was a self-motivated study of the origins of the instrument that he has mastered, the banjo. Many people think that the banjo is an American instrument with its roots ingrained in the bluegrass tradition, which is definitely part of its culture, but the true origin of the instrument lies in Africa. The banjo was made by African slaves based on instruments that were indigenous to their homelands. These instruments were spread to the colonies that participated in the slave trade and evolved into what we now know as the "banjo." Fleck's interest in the history got the best of him, and he sought after several renowned African players to collaborate and learn with. The result was The Africa Project, which has produced much acclaim, an award winning DVD and album, and some great live performances.
I was fortunate enough to attend one of those live performances at a jam packed Boulder Theatre show in Boulder, CO. I was running a little bit late getting to the venue, and that was a big mistake. The place was extremely congested to say the least. Fleck started with a reflective look at his African knowledge on his modern banjo. Then, I came in while the intimate feel and soft sounds of Bela Fleck playing with Gogo style musician blind singer/mbira player Anania Ngoliga and his accompanist guitarist/vocalist John Kitime from Tanzania permeated the room. It was beautiful from the first minute. The crowd was silent and honed in on the togetherness and gentle speed of this combination. The trio played a few songs together including Ngoliga's chicken sounding high pitched, "Kabibi."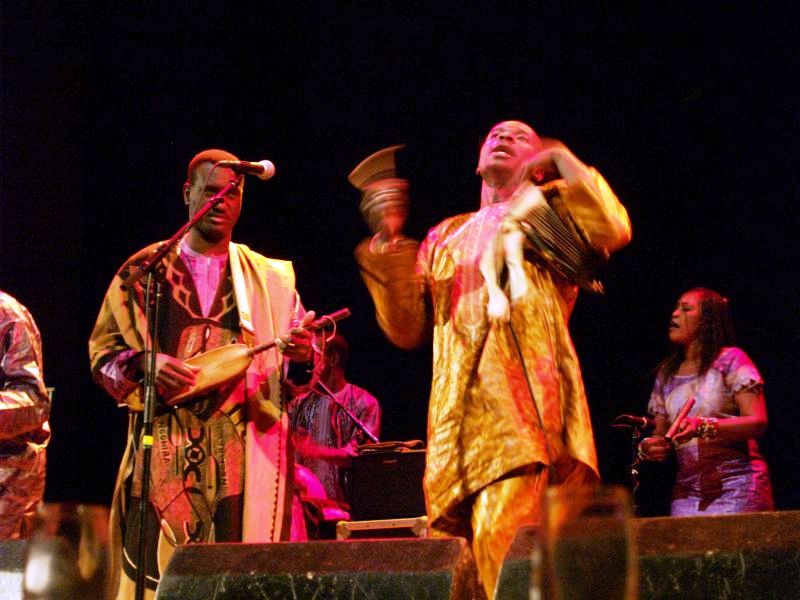 After, Fleck announced the next band Bassekou Kouyate and Ngoni Ba from Mali and the first ever all ngoni band. The ngoni is a string instrument resembling a banjo that originates from West Africa. The body of the instrument is made of wood or calabash (a vegetable!) with animal skin stretched over top of it. It is plucked with speed and precision like a banjo and plugged in electric sounds invigorating. I don't know how they micro phoned their instruments, but the sound was astonishing. As a young man playing on the street near the train station of Bamako in the 80s with his band and another more famous band, Kouyate strapped the ngoni around his shoulders and put an indelible mark on the instrument forever. No one ever strapped the ngoni around them standing up. At first, traditionalists didn't approve, but soon enough it caught fire as an innovation. In traditional African garb, the band sounded like the force of a moving train. The band consists of three ngoni players, two gourd banging percussionists, and an extremely soulful female singer. Fleck eventually joined the group for most of the remainder of the performance consistently exchanging solos back and forth with Kouyate. As both banjo masters did that they continually gave signals of unselfish praise about the other performer. I never saw a crowd at the Boulder Theatre so packed and in complete awe. There was no room whatsoever. People were sitting in the aisles in the balcony even. Their attention and gaze was soft, but their souls and attention was transfixed to this unique sound that everyone was being introduced to. Bassekou Kouyate and Ngoni Ba and Bela Fleck were completely innovating and jamming. This set was amazing!
After a set break, Fleck came out solo acoustic and performed a song from his Bluegrass Sessions called "Katmandu." Slowly he brought together the whole group again including fiddle player Casey Driessen, whom Fleck joined with the Sparrow Quartet a few years ago. They played an uplifting song called "Falani," which means little orphan. Apparently, Kouyate's mother sang this song to him when he was about to get circumcised to calm him down. After the super group played a wonderful "Tanzamalican," they each took a turn soloing on the final jam.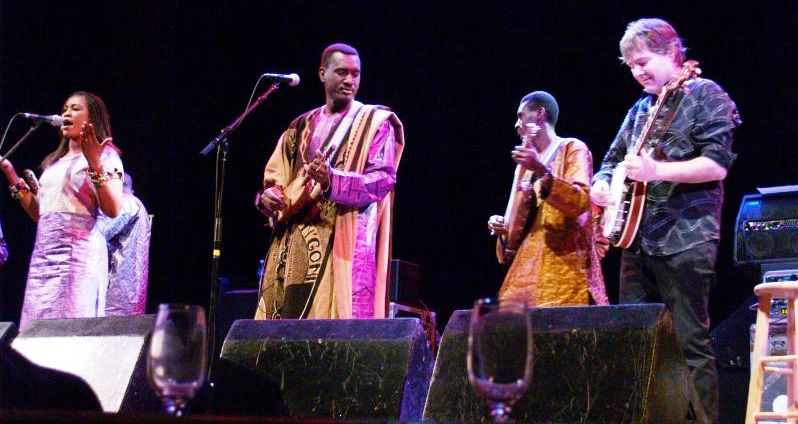 The encore was the highly acclaimed title track "Throw Down Your Heart." This song was written by Fleck in Africa straight after hearing stories about slaves seeing the ocean for the first time in Tanzania. Bela was quoted in The Marquee saying, "We were told that slaves were transported east in much greater numbers than the slaves that went west to the Americas. When they saw the sea, they realized they would never see their homes again, and they 'threw down their hearts.'" This is what I felt the musicians in the building did on this night in Boulder. Each one of these musicians was very inspirational and humble. It was a true honor to witness this type of testament to an instrument and musicians that are an integral part of history.