Hello old friend. It has been a while since we have seen each other and I feel a little awkward. Will you still accept me? I know I have changed since we have seen each other. You have stayed true to whom you were. Has it been a year? I am coupling my anxiety about your acceptance with serious excitement; seeing you for the first time in a while makes me remember all of the good times we have had. You can probably tell I have been to see a lot of others since I saw you last, but the weather is making a turn, so what I have been enjoying in the outdoors for the past few months will once again move indoors. When the likes of Yonder Mountain String Band and The Infamous Stringdusters are paired, I can only assume that an old friend like you, The Higher Ground, will welcome me back as if we have never parted. Lets have a great winter, what do you say?
Only a classic spot like the Grand Ballroom of Burlington's greatest large venue can instigate such nostalgia. But the ambiance is not what makes this room so great. After all, its nothing more than a converted warehouse. No, loyal reader, what makes the Higher Ground such a great locale is its commitment to consistently great music. The crowds always appreciate the eclectic calendar, coming out in droves all nights of the week. The character is woven into the incredibly knowledgeable crowd, swinging and swaying to every song, signing along and smiling dutifully. So it is no coincidence that the bands always seem to step up their performances, saying thank you to all of us who attend and, of course, to the wonderful staff who make these tour stops into something each band plans their route around, looks forward to and can look back upon as a highlight of every tour away from home.
Last Thursday was no exception, bringing the spacegrass of Colorado's Yonder Mountain String Band back to their home on the road.
But, the night was not only about the expected mind-blowing performance of YMSB; it was also about the discovery of The Infamous Stringdusters. Before this night, I had been given a report from a likeminded friend about the Stringdusters. "They are alright," she told me, nodding her head to the side, raising a shoulder and giving me a half smile- half frown. That is what I went into this show expecting. Her opinion and my presupposition were turned around 180 degrees before the end of the first song.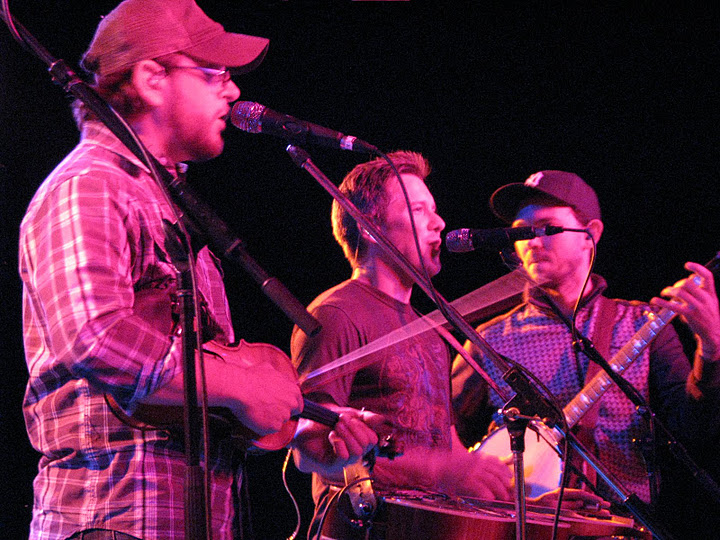 The Infamous Stringdusters are the closest thing to a basketball team playing bluegrass today. They weave in and out of each other's musical world and physical space with confidence and beauty unmatched by any other young players on tour today. The only band I could think to compare this fluid musical architecture with was the Del McCoury Band and, had all of the members of the McCoury's had male offspring in the 80's and raised them on the music of the decade, this is what may have been the result. They have moxy. They cover the Dead and Phish, back to back, in Burlington! They have personality. They know it may come across a bit cheesy, but damn if that isn't what showmanship is all about. The reason we accept it from Del and his sons is because we have a career's worth of respect for those pioneers. But pioneers had to take a first step. The Infamous Stringdusters, true to those that came before them in the scene of bluegrass- true country bluegrass- are nothing if they are not showmen. Each member of the band is a unique personality, but all fit together in a beautiful mix, like a recipe that seems to draw from all corners of your kitchen coming out tasting wonderful and unlike anything you have ever eaten. And, despite their comfortable existence on the country edge of the bluegrass pendulum, these 5 young men also have comfort with their music, and the crowds in front of them, swing through the pop-rock realm and to the jam-band side of the world. The Grateful Dead, Widespread Panic and the String Cheese Incident all understood that no part is greater than the whole and celebrate the individuality of all of their members. This is one of the aspects that makes these bands so enjoyable to such a cross-section of music aficionados. The Stringdusters have studied and applied the lessons of these predecessors.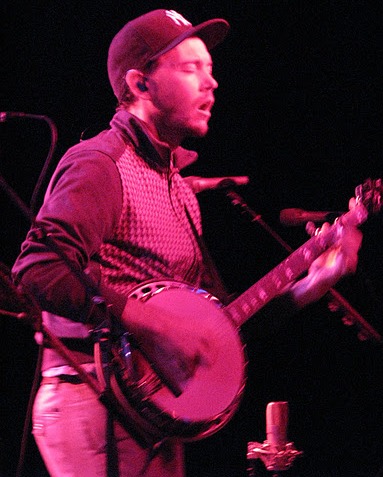 In each song, through the funky-bluegrass breakdowns, all 5 members of the band would take turns approaching each other, honing in on one and others playing until the two or three of those soloing could re-direct the songs jams in ways that truly represent what improvisation is about. For years, I have dreaded the up-and-coming band and their long solos that go nowhere. The Stringdusters solo with purpose, to see where the music can take them and we are fortunate to be riding shotgun. If the Beastie Boys decided to make a instrumental album with banjo, dobro, stand-up bass, acoustic guitar and fiddle, they would be upset to discover that their style had already emerged in this evening's recordings of the Stringdusters. Does anyone else loathe reading a bands description that includes every type of music under the sun, just to try and market them to every person on the planet? Even you, fellow cynics, need to take a look back over the last few paragraphs for all of the hyperlinks and you only get a taste of what the music of the Stringdusters sounds like. It is of course only a taste because the live performance of the Infamous Stringdusters is what truly makes their music so inspiring to keep more and more listeners coming back. Every nook and cranny of every song is discovered by the quintet and squeezed dry for its potential.
Like a freight train leaving a station on an uphill, banjoist Chris Pandolfi started the night in an unassuming role as a nothing more than an incredibly strong musician. But, when this freight train reached the top of the mountain and began its decent, it quickly became clear that nothing should get in the way of him and improvisational perfection. To be one of the other players onstage with Pandolfi must be intimidating. When he sets his menacing stare on one of his bandmates, it was clear that he would not release until they were one in musical exploration. His onstage brethren were up for the journey and the joyous discoveries found on this quest were heard by all lucky enough to have come in to see this opening band destined for headlining status.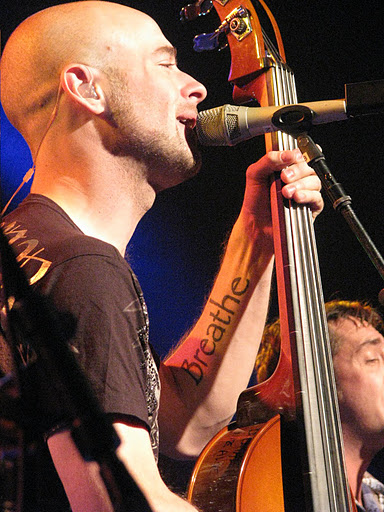 With such a good opening band getting such a short slot, it felt as if we had the evening's dessert before we even had the main course. When Yonder took the stage, they brought a healthy amount of musical sustenance. While the Stringdusters needed to fill every second of their set with heeps of notes, Yonder showed what Miles Davis referred to as the beauty of playing the rests in the music. It is amazing how the subtraction of one player, four in YMSB versus 5 in the Stringdusters, can increase the amount of space in the music exponentially. Yonder embraced this comfortable silence in the early songs of their set before ringing the dinner bell for all of us hungry for more bluegrass with the hard pounding 'Night Out'. From that point on, the first set was as polished as Ben Kaufman's head- it basked in the glow of the appreciative audience.
Despite having been on the road for over 10 years, Yonder Mountain String Band's crowd continues to grow bringing a mix of the younger flat-brimmed generation in to rub their shoulders with the free flowing locks of graying hippies who wouldn't miss a Yonder show within 50 miles of their off-the-grid-homes in the Northeast Kingdom. The band members of Yonder have adapted to their changing face in the jamgrass scene. Not only has Kaufman streamlined his receding quaff, but Jeff Austin has lost the glasses, no longer hiding the million and one facial expressions he has behind his heavy black glasses that always seemed to be holding onto the end of his sweaty beak for dear life anyway. Even the bands new stage set up of Kaufman and Austin flanked by the less outspoken, but equally talented, Dave Johnson on banjo and Adam Aijala on guitar is a nod to the fact that these are not the seat-of-their-pants days of the bands early existence. They have become an institution and their professionalism, in their appearance as well as their playing, will sustain this institution for years. All bands go through transitions, good and bad, and Yonder 2.0 is primed for the next 10 years because, fortunately, the music is a strong as ever. At every show I have seen Yonder play, I have felt like there is a moment when the four members lock onto each other, crossing their musical streams to become one unstoppable force capable of toppling any harmonic obstacle. And since they were only playing one night, much to the chagrin of the outspoken Austin, the band felt the urgency to find that symmetry quickly. By the time they finished the slamgrass "Easy as Pie" there was no denying the banjo picking of Johnson and how it was pulling everyone on stage together.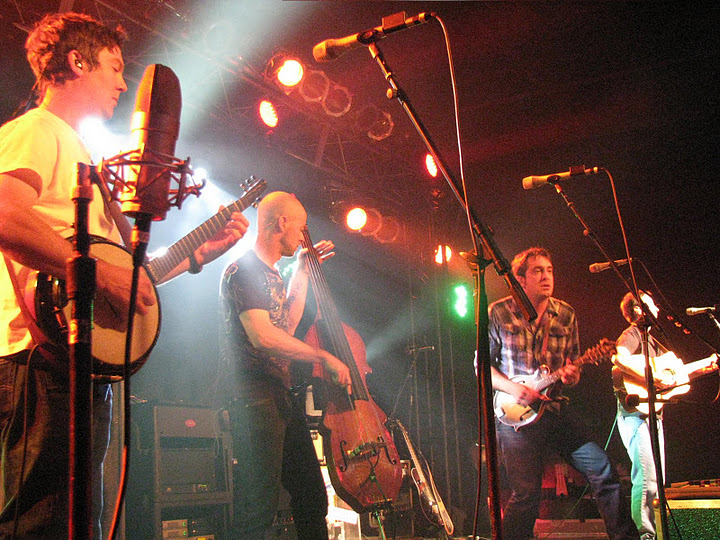 When my wife and I planned our wedding, one of the processes that we most enjoyed was creating a mix tape to be played as set-break music whenever the band took a break. Love songs were important, but so was a flavor of who we were. Yonder's cover of 'Ruben and Cherise' was a no-brainer. I can still remember when it played and some of my long time friends in attendance came to me to ask who this was doing the Dead justice. That day I turned 3 new people onto Yonder. Since then, whenever we here a bootleg of Yonder playing that beautiful cover, it has caused Laura and I to turn and smile at each other. Hearing it live for the first time gave us goosebumps and cause to hold each other tightly. For that we were grateful.
If you have ever been to see Yonder, you know the formula for the second set and the boys did not disappoint. The subsequent 90 minutes started with a lot of energy, warming the room that had become eerily cold in their absence. As the energy felt like it my wane, the band took it down only to end the night with the stage completely full of players from both Yonder and the Stringdusters, winding the crowd into a frenzy, causing dozens to call out of work, skip class and be late getting their reviews into their editors the next day. But that's why we go to see music, right? One thing I made sure to do the next day was to pay a visit to my likeminded friend and let her know that the Stringdusters deserve a lot more than a half smile/ half frown and a raised shoulder. She had the head nod right, but she needed to keep it going for hours to truly embody what both bands brought to the stage.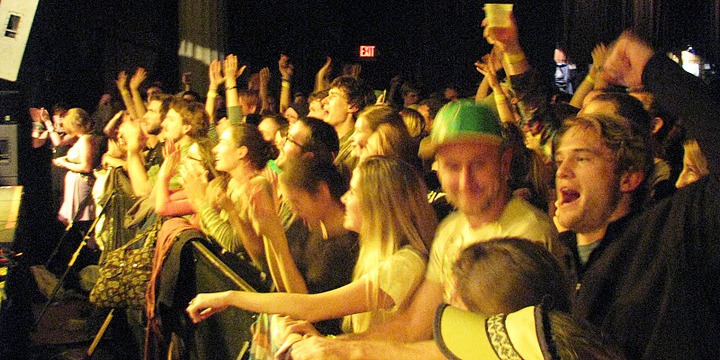 Thank you Higher Ground. It felt like we had never been apart. I promise that I will call all winter and spring. When the summer comes around, my eye my roam; but when the weather turns bad, I can always count on you to be warm and inviting and provide me with a place to feel at home. I'll see you soon.
Check out more photos of The Stringdusters and YMSB.