Shook Twins: New Digital, Vinyl, Kickstarter & Recording Project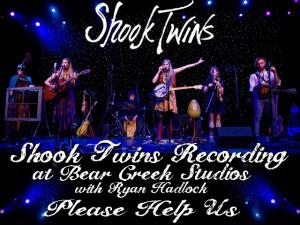 Portland Oregon-based festival favorites Shook Twins kicked off 2013 with a successful Colorado tour, newly released digital, announcement of a vinyl release, and a buzzworthy trip to SXSW. With no signs of slowing down the group just headed into the studio with Grammy nominated producer Ryan Hadlock (The Lumineers, Milo Green) and launched a fan supported Kickstarter campaign. The Shook Twins stated, "This will be our 3rd real studio album and we are finally at a point where we want to go BIG or go HOME. Luckily, "Home" is a wonderful thing too. We've been working really hard these past 8 years at building our music and our sound into something we are really proud of. We want to record it in a form that truly represents us in the best way possible." To that end the group will spend three weeks immersed and "be in the music," at Hadlock's renowned Bear Creek Studios, in Woodinville WA with an anticipated Winter 2013 release.
To satiate fans awaiting the new release, a 7-song digital EP "Live at The Triple Door – 11/8/12" was recorded this past November in Seattle and is available at all upcoming shows, and features four new unreleased tracks, as well as live versions of some of the Shook Twins most requested songs. The Live EP release this past winter, coincided with a Colorado tour that had the band playing some of the Front Ranges most prominent listening rooms, as well as appearing on Colorado Public Radio's popular new music channel Open Air.
Also, on tap for 2013 is a newly inked partnership with Ninkasi Brewing and their "Beer Is Love" campaign. With Ninkasi's help, Shook Twins will be pressing their 2011 release "Window" on vinyl, and showcased in March on Ninkasi's stage at SXSW. Summer festival dates are stacking up with confirmed slots at Northwest String Summit (North Plains, OR), High Sierra (Quincy, CA), Summer Meltdown (Darrington, WA), MASSV (Sun Valley, ID) Mountain Fair (Carbondale, CO), Boats and Bluegrass (Winona, MN) and more soon to be added. Complete tour and show info is available at: http://www.shooktwins.com