Yamn's Album Release Party and Conspirator at The Ogden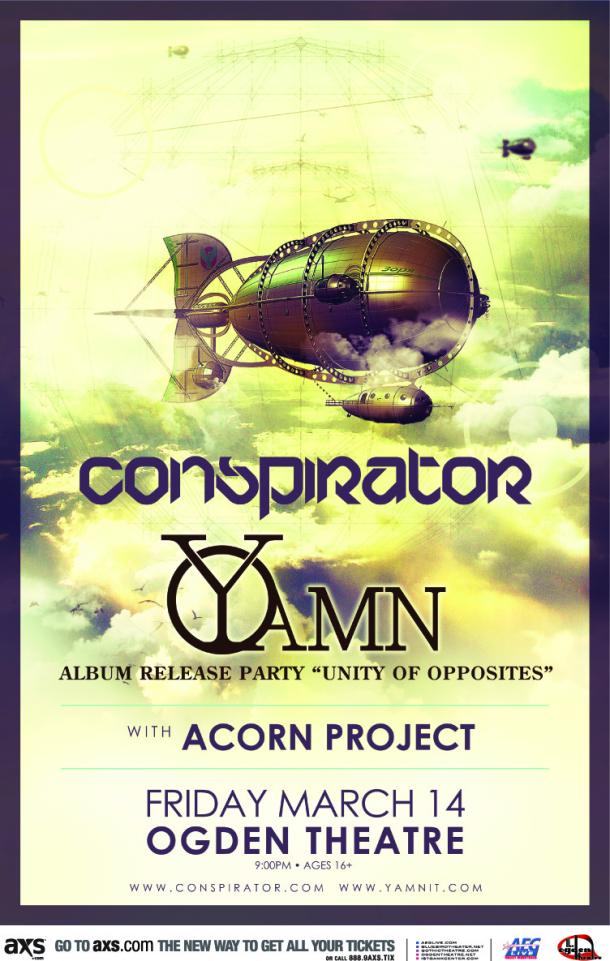 Denver's own Yamn is thrilled to announce the release of their second album Unity of Opposites on March 11, 2014. With this album, Yamn continues to push the limits of progressive live-tronica, seamlessly unifying the polar opposite sounds of pure rock n' roll music and driving electronic dance music. To celebrate its release, Yamn will be joined by Conspirator for a very special album release party at The Ogden Theatre on March 14, 2014.
Yamn is one of the most progressive Rock-tronic acts in the Denver music scene. Their aptly named second album Unity of Opposites, perfectly states the band's mastery of fusion. Their sound combines soulful rock elements that soar over heart-warming peaks and drive into head-banging rock riffs, with entrancing synth melodies, hard dance beats and electronic overtones. Their live experience scintillates the senses with courageous beats and grooves that cause instant and contagious grins to ripple across the undulating crowds. Yamn has also become well known for their lighting design which enhances the full-bodied, crisp melodies and free-flowing power rock jams, elevating the experience to a world-class rock show.
With more than 100,000 miles under their belt, the trance-fusion rockers continue hurtling toward their evolving vision. As their dedication, virtuosity and pure enjoyment propel them across the United States, Yamn's focus remains on the here, the now and the what-is-to-be while continually fulfilling the journey of enhancing their lives and the lives of those listening with powerful and seductive sounds. 
Unity of Opposites, Yamn's first album in five years, was produced and recorded by Yamn and Josh Fairman at Scanhope Sound in Morrison, CO, and mastered at the Blasting Room in Fort Collins. It was written collaboratively by the members of Yamn who drew inspiration from modern-day jambands, electronic music, classic rock, 90's alternative rock and hip hop. Unity of Opposites will be available on iTunes, Bandcamp, CDbaby, and yamnit.com. Hard copies will be available exclusively at Yamn's album release party at The Ogden Theatre on March 14th.
Upcoming Shows:
Feb. 7 - Vail Ale House - Vail, CO
Feb. 8 - three20south - Breckenridge, CO
Mar. 6 - Wonder Ballroom - Portland, OR*
Mar. 7 - McDonald Theatre - Eugene, OR*
Mar. 8 - The Crocodile - Seattle, WA*
Mar. 9 - Wild Buffalo House - Bellingham, WA~ 
Mar. 14 - The Ogden Theatre - Denver, CO^
Mar. 15 - three20south - Breckenridge, CO
*W/ Eoto and Acorn Project
~W/ Eoto  
^Album Release Party and Conspirator with Acorn Project