The 7th Jammy Awards at the Wamu Theater at Madison Square Garden in the heart of New York City left no one disappointed to say the least. Despite all the far stretching rumors about Phish taking the stage together, phans still had a great time paying homage to one of the greatest rock n' roll bands of all time. Phish's lifetime achievement award was the theme of the evening, and everyone from Tom Marshall, Phish's longtime lyricist, to Andy Gadiel, creator of one of the best Phish internet sites, were there to speak on their behalf.
The night started promptly with a jam session including the hosts of the evening, Warren Haynes and Grace Potter, who looked better than ever. Joining them on stage for Crosby, Stills, Nash, and Young's "Find the Cost of Freedom," Fleetwood Mac's "Gold Dust Woman," and "Take Me to the River," were Booker T. Jones, Joe Russo, and Will Lee. The intense blues session came to a peak when Potter hit the high notes while strutting her stuff across the stage to the wailing of Haynes and Lee.
Between each set, an award was given and sometimes a speaker came out to make a testimony about their Phish experiences. After the Vermont based Potter told of her inspiration from Phish, she called Matisyahu to tell his funny anecdote about his first show in Worcester and after his experience meeting Trey backstage at Bonnaroo 2005 when asking him if he could sing with him. Trey replied, "Do you know any Bob Marley?" and since that performance Matisyahu's name has expanded.
The next set opened with one of my highlights of the night. Rose Hill Drive together with Addison Groove Project's Rob Marscher, Matisyahu, and his guitarist Aaron Dugan played the Flaming Lips' "In the Morning of the Magicians" absolutely flawlessly. It was beautiful! After that mesmerizing song, the other musicians beside Rose Hill Drive stepped off, and on came Leslie West, of the classic rock band Mountain, and Grace Potter for ripping versions of Freddy King's "Goin' Down" and by fan request, "Mississippi Queen." This set had a perfect bluesy biker bar feel with smokin' chops by both guitarists.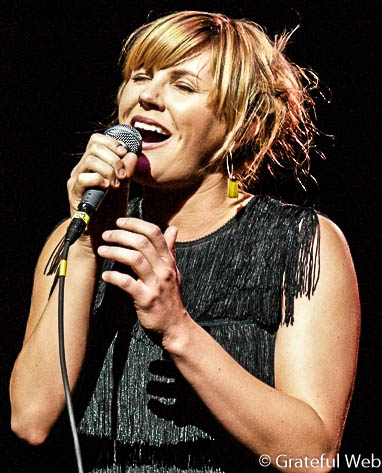 Keller Williams walked out alone and started playing his Jammy winning song of the year, "Cadillac." A few minutes later the classic actor/comedian Chevy Chase strolled on to the stage and made his way to the grand piano. The duo went into "You Make Me Feel (Like a Natural Woman)", where Chevy practiced his falsetto, and "Sweet Home Alabama," where the couple sweetly whistled back and forth with Chase purposely whistling poorly. It was a comedic musical moment.
After, Tea Leaf Green played their 2006 Jammy for song of the year "Taught to Be Proud" and the Big Head Todd and the Monster's song "Sister Sweetly" with Todd Park Mohr, a.k.a. Big Head Todd, and Allie Kral of Cornmeal. Kral was the recipient of the New Groove Jammy, given to the best new band. Todd Park Mohr left the stage and the London power pop lead singer/guitarist from the band Squeeze, Glenn Tilbrook came on for two of his classic songs, "Pulling Mussels (From the Shell)" and "Tempted" with Warren Haynes, and Steve Adams, bassist from ALO.
One of the other highlights of the night came next. It was the Jammys jazz session featuring some of the greatest living jazz musicians. Roy Haynes, Nick Payton, Christian McBride, and James Carter joined Jammy nominated Page McConnell for "Magilla" and "Cars, Trucks, and Busses." The mix of experience on that stage was overwhelming in combination with all of the masters of jazz that these musicians played with throughout the years.
Then, New Orleans' own Galactic came on to play Booker T. and the MGs' "Hip Hug-Her," Albert King's "Born Under a Bad Sign," "Think Back," and a rap medley. Sharon Jones came out with soul to sing with Galactic for "Born Under a Bad Sign," which sounded very nice. Doug E. Fresh and Chali 2na, joined by Chali's brother, rapped the set away as a warm up to their late night show over at B.B. King's. Doug E. Fresh and the extremely talented drummer Stanton Moore got into a call and response which had the crowd ooohing and ahhhing for a few minutes.
The best part of the night came in the next set. The Fab Faux, the best Beatles cover band in the world, came out strong with the opening notes of "Come Together" with Joan Osborne. It seemed like they turned the volume up during this set, which was for good reason. It was foreshadowing for the highlight of the evening. When that song ended, I looked down for one second to adjust my camera, and when I looked up again, Trey Anastasio was standing right in front of me onstage as the Fab Faux was halfway into "While My Guitar Gently Weeps." The crowd went wild! Trey looked better than ever, and his guitar was on fire from the first second he plugged it in to the ridiculous power solo at the end of the song, which included the late night show guitarists Jimmy Vivino from Late Night with Conan O'Brien and Will Lee, bassist from the Late Show with David Letterman. Trey's solo was relentless and crystal clear. Trey stayed onstage for the final song in the set, "Everybody's Got Something to Hide." The musicians in the set were so into the music. It was so much fun.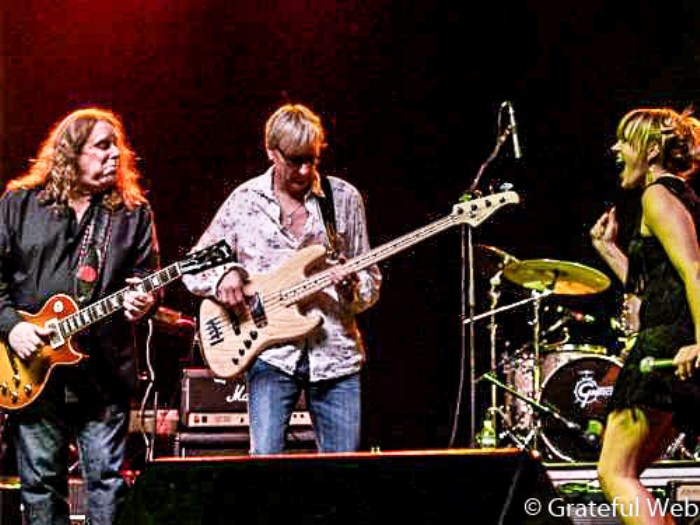 Danny Clinch was introduced to the crowd to a large round of applause, and he told a few stories about his experiences with Phish. Then the band came out to accept their award. Each member said something brief until Trey took the microphone. Now anyone who has seen several Phish shows knows what happens when Trey says, "I'm going to keep this brief." It's usually anything but brief, and it's always captivating. The audience listened on edge as Trey first alerted us of the passing of his musical teacher and mentor, Ernie Stires. Trey expressed his love for all of the members of the crew, and his amazing journey, which he compared to a movie. All four members of Phish were there to accept the award, and the crowd was just keeping their fingers crossed that they would play at least one song together.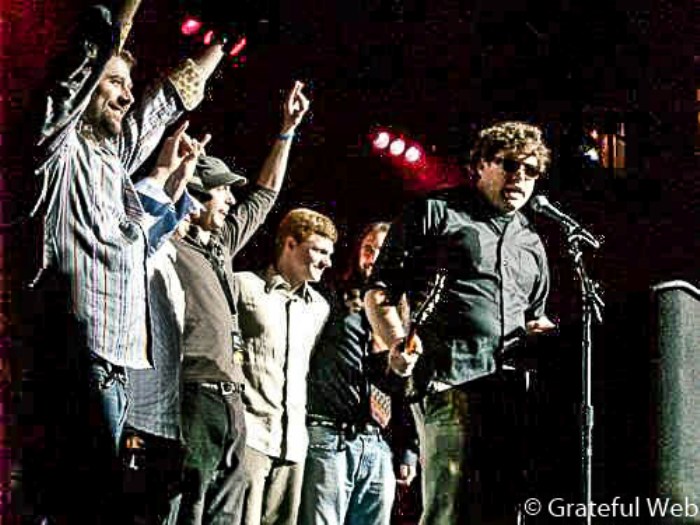 Finally, the Headcount Allstars, which consisted of Jon Gutwillig and Marc Brownstein of the Disco Biscuits, Jake Cinninger from Umphrey's McGee, Joe Russo, and Kyle Hollingsworth of the String Cheese Incident. Brownstein spoke a bit about being humbled to play the songs of Phish, and then they opened with "Wilson," a frequent set opener and crowd pleaser. I was really pumped at this moment. They slipped into a "Run Like an Antelope," which was a slight downer, but what can one expect after Trey just blew everyone's mind with the Fab Faux. "Also Sprach Zarathustra" otherwise known as "2001" was next, and that song seemed to suit the Headcount Allstars a little more. It was a dance party with a strong D.U.M.B. (Disco Umphrey's McGee Biscuits) feel to it. Aaron Magner joined Kyle Hollingsworth on the keys for "Maze," where these musicians struggled, but had some flashes of goodness. Cinninger actually impressed me the most with his take on Trey's solos, which he also made his own, and they were interesting. Overall though, the combined two brave guitarists sounded like a half of Trey. It was to be expected, and the set was still very enjoyable. It's fun to hear Phish's music no matter who is playing it.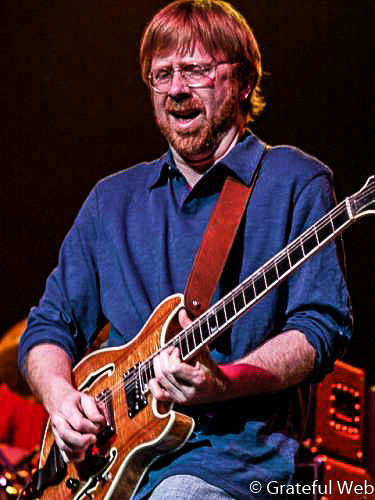 The show ended abruptly and phans and musicians filed out into the New York City streets happy to see this important event in the jamband community. I think that it's a great ceremony when so many members of the music world can get together and jam. After all, that's what music is all about, isn't it?
--
Live Performance of the Year: Gov't Mule with John Paul Jones, Bob Weir, Michael Franti, Jorma Kaukonen, Jack Casady, and Luther Dickinson, Bonnaroo Music Festival, 6/17/07
Tour of the Year: D.U.M.B.: - The Disco Biscuits and Umphrey's McGee
Studio Album of the Year: The Conch - moe.
Archival Release: Three From The Vault - Grateful Dead
Download of the Year: - "Headphones Jam" Livephish.com
Live Album: Live at Murat - Umphrey's McGee
Song of the Year: "Cadillac" - Keller Williams
DVD of the Year: Progressions - The Disco Biscuits
New Groove: Cornmeal
--
more Jammy photos here