The time has finally arrived after surviving the many long months of winter, finally, festival season. "I grabbed my sleeping bag from behind the couch and headed out the door on a path that's free to walk". It's time to celebrate the life and music of one the greatest writers of the 20th century, time for the John Hartford Memorial Festival, year III.
I have personally attended all three years of this festival, starting in 2011. I and a host of volunteers work with the promoter all year long in pursuit of a dream. John Hotze, a childhood friend of John Hartford, who passed in 2001, runs the fest for his old friend. The John Hartford Memorial Festival has become the community we were looking for without knowing we were looking. One family with a common goal, to grow this festival and to tell everyone we know that this is truly one of the best festivals in the country. We believe that John Hartford's music should be cherished, celebrated and shared with everyone. The festival may also the best kept secret out there; unlike John who joked about not telling your friends, we believe the more the merrier. With 57 bands over 3 days and 3 stages it is impossible to see everything. John Hartford Memorial Festival's lineup is so diverse better bring your running shoes (or rent a golf cart).
Wednesday at 9:30am I am cruising down I65 headed from the Chicago area to Southern Indiana. My destination, the historic Bill Monroe Bluegrass Park, located in Brown County, IN. The place is just dripping with American history, from Uncle Pen's cabin to the Bluegrass museum and the stage where hundreds of historic performances have taken place since the 1950's. Take a deep breath as you roll into the campgrounds, you are entering sacred grounds. Bill Monroe, Flatt and Scruggs, Jimmy Martin, JD Crowe and even John Hartford's Aeroeplain Band, really too many to name, have played here. Check out the museum for an American music history lesson.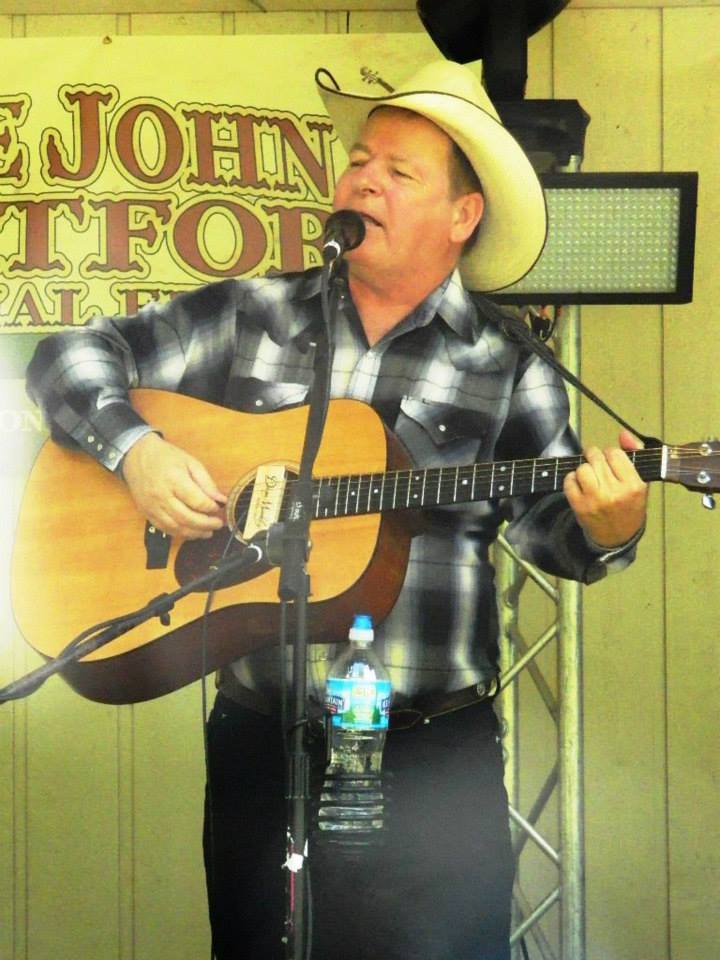 Looking for the perfect camp spot I know I'm home. There is family everywhere and it's only Wednesday. Setting up camp becomes like roll call for a family reunion. Jamming is not hard to find. Bean Blossom is known for pickers and they are everywhere. Professional musicians camped with fans playing music together, the John Hartford Memorial Festival is a pickers Festival, generally until early in the morning.
Thursday, wow, what time does music start? 10:00 AM and Ray Lawrence Jr. hits the main stage to open the festival. We can hear him from the campground and head down to listen. Ray told me how honored as well as nervous he was that he was opening up JHMF III.
Ray Lawrence was traditional country, until last year when he came to Bean Blossom. Bean Blossom and JHMF II changed Ray's life and showed him the path to Bluegrass music. Ray is now playing Banjo and learning fiddle as well. If you are not familiar with Ray check out his music at raylawrencejr.com
Next up the Whipstich Sallies, a bunch of lovely ladies singing beautiful Old Time both traditional and original material. Described on their website as "4 woman interpreting Bluegrass standards and exploring American music". I first saw this band last year at JHMF II. The band has grown incredibly both as a unit and individually since. Allie Burbrink picks and plays rhythm on acoustic guitar and banjo, Kat Erickson is strong on upright bass with Sam Roberts' on mandolin and Katie Burk on fiddle. This band is bringing new life to Americana music from "punk to old-time". Support these ladies here.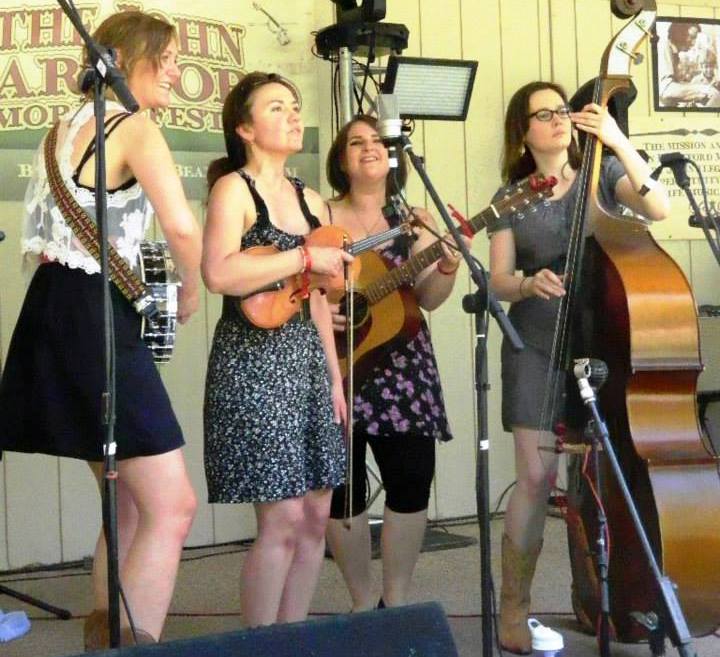 Afternoon on the main stage, the Worley Boys are next from Ohio. I've seen these boys around Bean Blossom for years picking in circles around the campfire. I first saw them as the Worley Boys at a JHMF III fundraiser at Bean Blossom in September with an extra-long set. The Worley boys are some serious pickers and are gaining momentum quickly. Drop by their website and give Weedle or Jeremy a shout. They've got a brand new CD available here worleyboys.com.
On to the Hippy Hill Stage for The Whistle Pigs from Southern, Illinois. I'm on my way to see The Whistle Pigs, while Huckleberry Green starts up on the Boogie Stage and Stuttering Ducks are coming on the main stage. Oh man it's going to be a good weekend! The weather is clear, songs are in the air and family is everywhere!!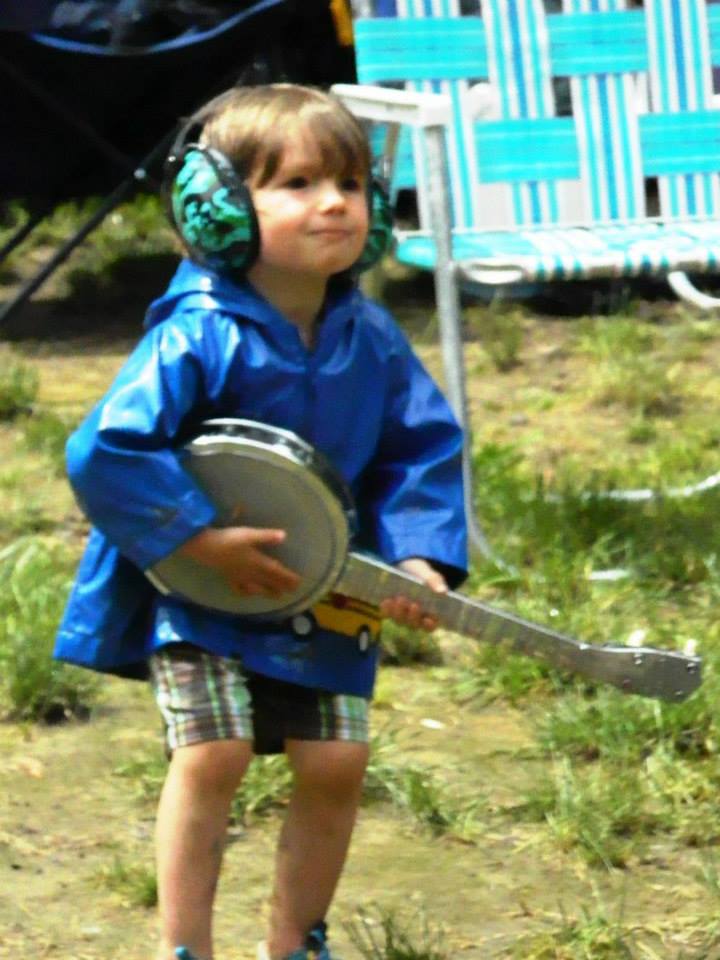 The Whistle Pigs, "Hillbilly music from Illinois; Bluegrass, Old-Timey Tunes and Jokes in a Hillbilly Fashion". These guys are playing 200 shows a year throughout the U.S to enthusiastic audiences. With Joe McCamish on Banjo, lead vocals and songwriting, Alex Pape on Accordion and harmony vocals and Nate Graham on the Upright Bass and harmony vocals. The band tours constantly throughout the U.S. supporting their latest release on Mudstomp records. Support these guys here and see them when they come to a town near you, www.thewhistlepigs.com.
Time to head back to the main stage, two of my favorites are coming up back to back. The Hippie Hill and the Boogie stage will continue on with bands like the Pine Ridge Partners, Old Truck Revival, Hickory Robot and Deep Fried Squirrel. Every band is selected by promoters John Hotze and Dan Dillman who are determined to make sure there is always quality music on every stage. Now I wiah there were three of me because I'm missing a bunch of bands.
Flatland Harmony Experiment, a three piece acoustic band from Indianapolis, with a sound like no other, great friends and family. I know in my heart how strong this band is growing and I smile every time I think of their journey. I was hooked immediately by their amazing musicianship, strong song writing and beautiful harmonies. They have the ability to stretch out and find that perfect groove.
With Scott Nelson on Bass, Kris Potts on Mandolin and Jon (Bon Jovi) Plott on Banjo they were chosen to compete in the Telluride 2013 band contest, taking 3rd place. Watch for FHE as their fan base, song selection and drive is growing by the gig. Their latest CD; On My Way is a superbly strong debut effort, a definite must in any CD collection. Support their music here, or you can download a free show on archive.org. Video here.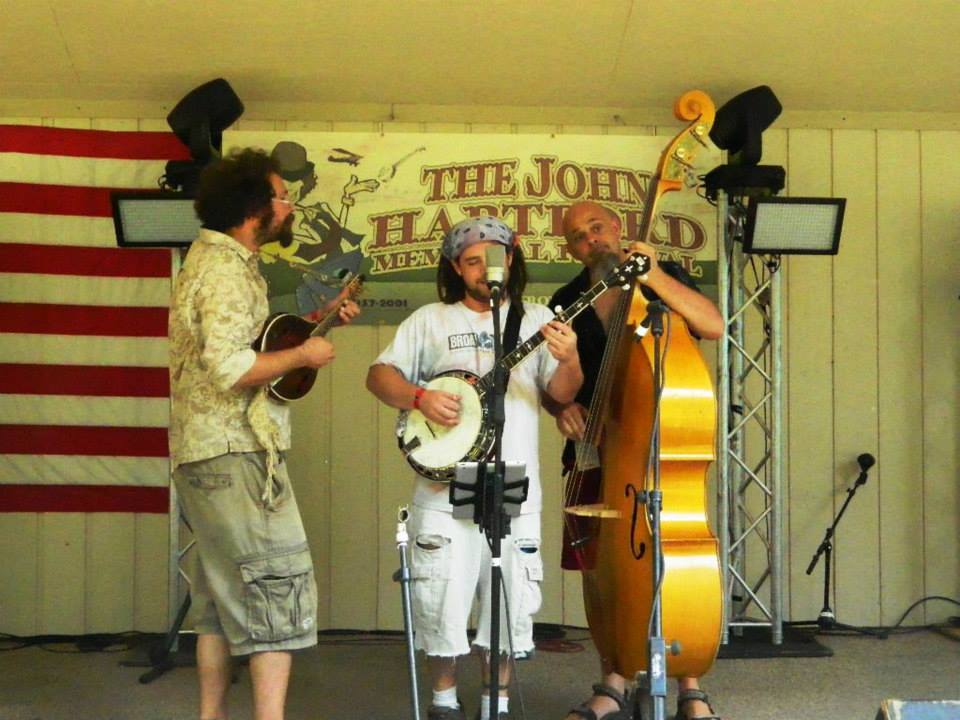 Out of Bloomington Indiana, The New Old Calvary is as their website explains "expanding the culture of bluegrass without defying the great tradition of American string music". This nontraditional Bluegrass band has been tearing it up across the Midwest since 2009 with strong energetic musicians who get the audience up and dancing. These guys love to play until the early morning; perfect for their upcoming late night set. Buy their latest effort here, & their 2012 performance is here.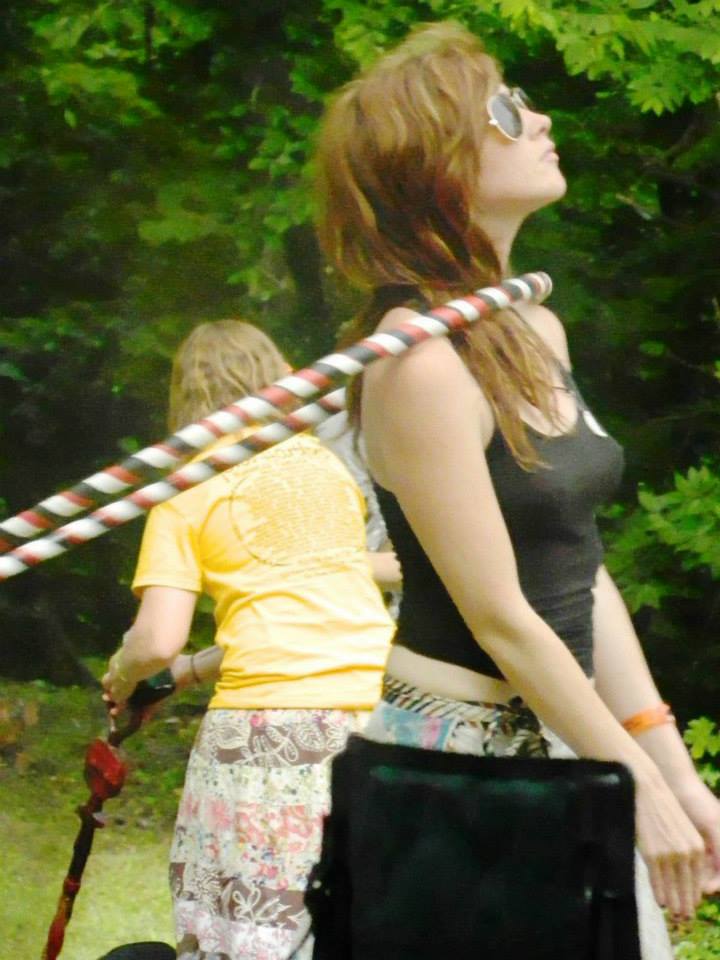 Time for a short break from the music, if I expect to last all weekend I need food. Back to camp to restock and check on the crew. The weather is beautiful; everyone is having a wonderful time with big old smiles all around. This is the largest crowd for a Thursday that JHMF has had yet.
While heading over to camp I can hear Johnson's Crossroad off behind me back down the hill on the Main stage. Johnson's Crossroad plays their own style as they call it "Bent Acoustic Country themed with old time, bluegrass and Texas singer/songwriter". Flat pick Dobro player Corey Lee McQuade (who plays flat pick like Tut Taylor) and plays with Tut often.
Tut Taylor played with John Hartford's Aereoplain with Norman Blake and Vassar Clements. A highlight of JHMF I, Tut who is in his eighties and still playing Dobro.
It's Whiskey Bent Valley Boys time, a traditional old time string band out of the hills of PeWee Valley, KY. This is the 3rd year WBVB have been at JHMF, JR is on barnyard fiddle and there's Mason Dixon on clawhammer and three-finger style banjo, mandolin and guitar. The doghouse bass is played by Leroy Jones and old time banjer and guitar are played by Chance Wagner.
The band honors tradition with songs by such masters as Tommy Jarrell and Roscoe Holcomb, playing old traditional songs. check them out, http://whiskeybentvalley.tumblr.com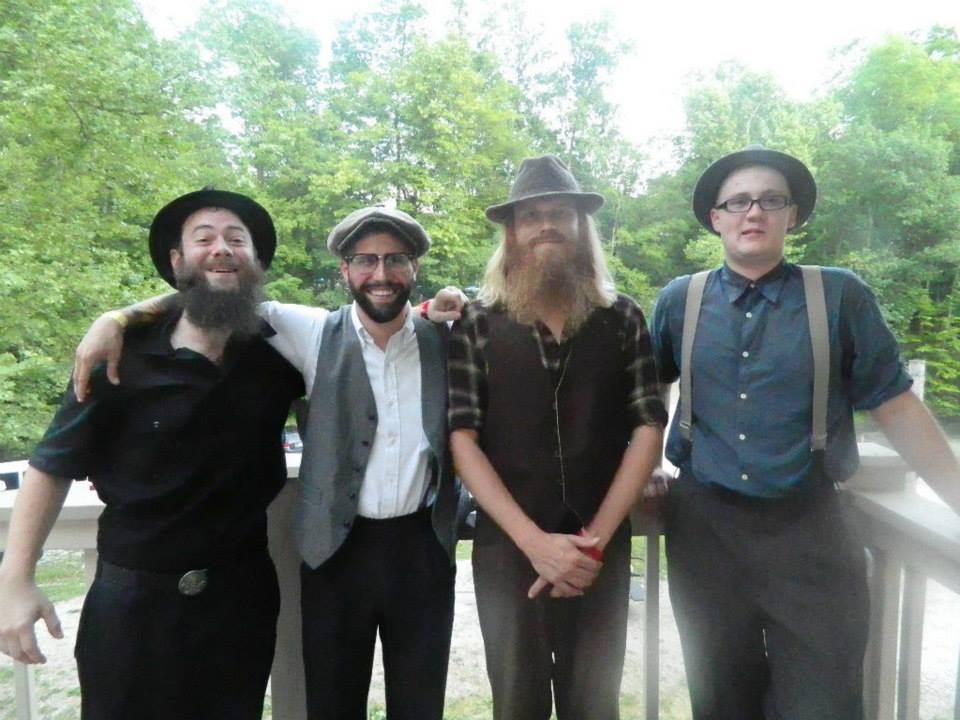 Somehow in between Whiskey Bent Valley Boys and Henhouse Prowlers I find myself at the Hippy Hill stage. Leadfoot a local band to my home community is coming up. Lead by Steve Haberichter owner of Downhome Guitars in Frankfort, IL a solid Mandolin player with a strong band backing him. We are treated to Scott Nelson from Flatland Harmony Experiment on Bass as a sit in. In addition Leadfoot is joined by two members of Deep Friend Squirrel. Strong instrumentals with Steve's great mandolin work on both originals and bluegrass classics. A solid set from this band out of Frankfort, Illinois.
Henhouse Prowlers are up next up on the main stage out of Chicago, another band that has been with JHMF since the beginning however with a different group of musicians each year. About as close to traditional bluegrass as you will hear this weekend, a strong group of musicians with wonderful harmonies and great instrumentation. A few months ago while playing in San Diego the band was robbed of all of their instruments. The bluegrass community came together with benefits and instrument loans. I heard them say from stage that their performance at JHMF III is their first full power set since they were robbed. Check out the Henhouse Prowlers and support these guys along the way, http://henhouseprowlers.com. I'm heading back up to camp to prepare for tonight's headliner, 23 String Band is playing on the main stage while I restock on stage necessities.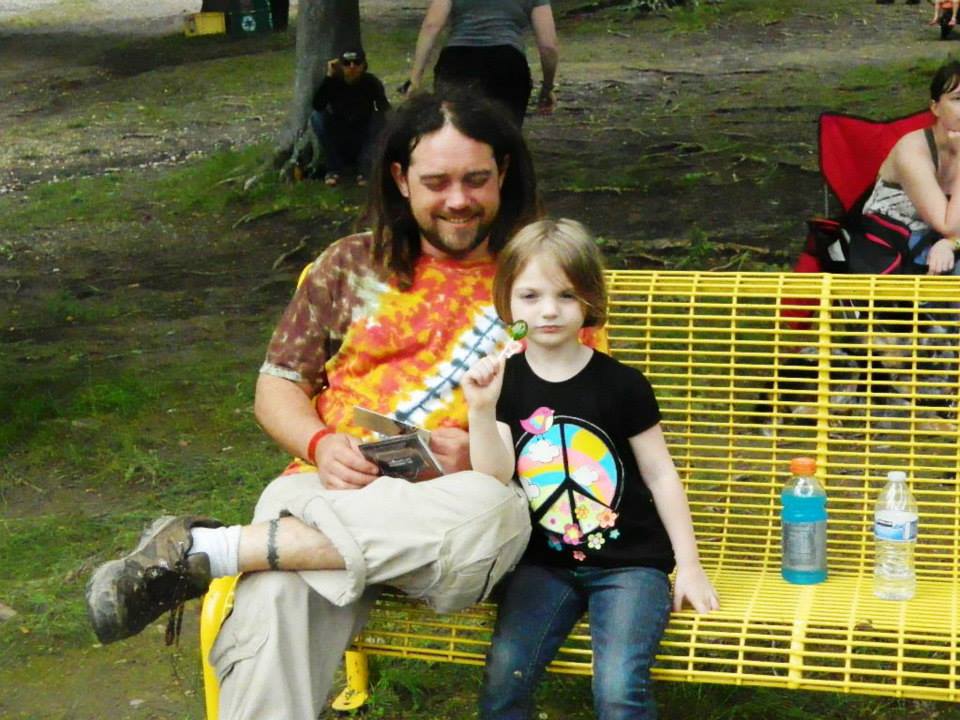 It's time for dancing our asses off! It's time for Vince Herman and Great American Taxi! Vince Herman has a special place in our hearts here at JHMF. If you were at the final performance of JHMF I, you understand. Year one a raging thunderstorm chased us to the pavilion. We were treated to an acoustic set of mainly John Hartford songs to end the fest. We certainly aren't let down tonight, opening with "Hey Babe - Wanna Boogie", along with some Great American Taxi originals and others. If this set shows us what is to come this weekend, hold on for the ride!!
Vince loves this festival; he supports John Hotze's efforts and spreads the word to the faithful like gospel. An incredible fun, dancing set like all Great American Taxi sets and everyone is heading off to the Hippie Hill stage for late night with New Old Calvary.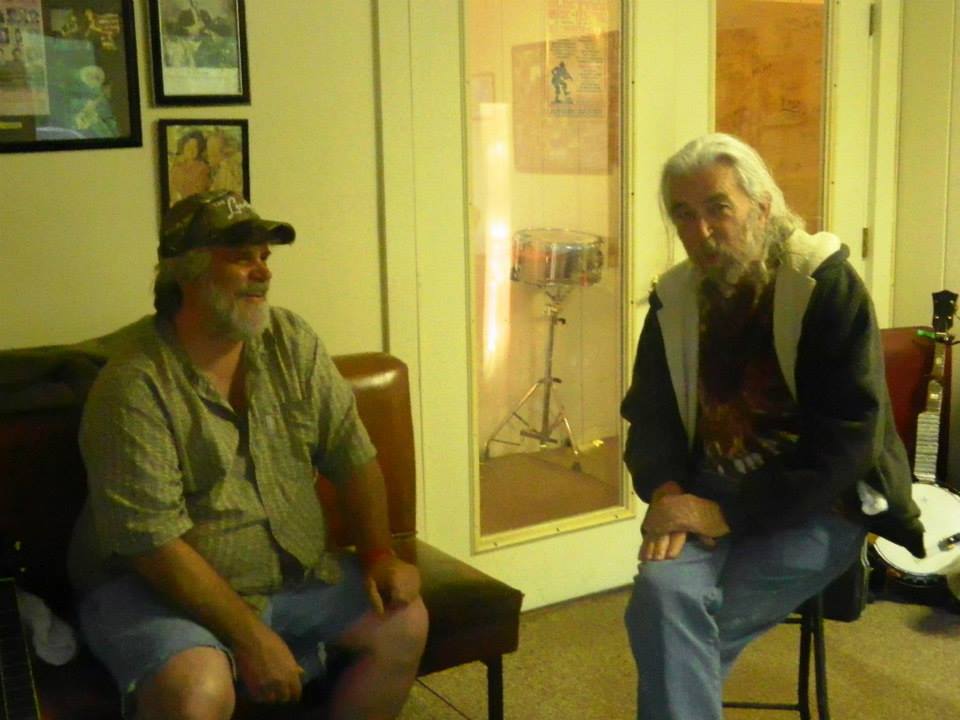 My genius plan is to meet everyone at Calvary late night, but Chompdown is tomorrow morning early so I head to the showers. Chompdown is a community breakfast that has been taking place at festivals like Wakarusa and Harvest for a decade. This will be the first attempt at JHMF and I'm a bit nervous. I was convinced we could pull this off by the creators of the original event but they are not here to help us. We have lots of volunteers, tons of food and heavy rain coming any time. I couldn't make it over for the late night party but I heard it rage. My friends come wandering back over just as I decide to call it a day. It's 2:30am and the rain is not here yet. How are we are going to pull this off? Chompdown is supposed to be under the Boogie tent but not if it's raining, it's not big enough. Night all.
6am Friday morning, Kaboom! It's coming down in buckets! The wind is blowing strong but the tent is holding up. No rain is coming in so I'll sleep a bit longer, yea right. 7:30AM, OK here we go. I Jump in the car and start circling the park, around and around. Where is Bob, the festival manager? "Hey Bob, please, please let us have Chompdown at the pavilion"? Chompdown is officially moved. I tell a few folks and head back to camp to grab food and my cooking equipment and head over to the pavilion. I get there and here comes Bob from Indy with a propane stove and all of the makings for homemade sausage gravy. Oh yeah, this is on, as the cooks start to fill the pavilion, the stoves are set up, the griddles are greasy and the pancakes and French toast start flipping. Eggs are cracking, scrambled anyone? Bloody Mary bars, yes we have multiple. Consumed by all that came including cooks, spectators, musicians and volunteers was about 30 pounds of bacon, 10lbs of Goeta, One big old pot of sausage gravy, 15 pounds of homemade hash browns, 35 dozen eggs, and a watermelon. We even had a food vendor join in the fun with French toast as well as pancakes flipped and served by Katie, John Hartford's daughter. Everyone is stuffed; there was no more food left. We pulled off the first true community event within our John Harford Memorial Festival family. Look for the Chompdown to be bigger and better in 2014 at JHMF IV!!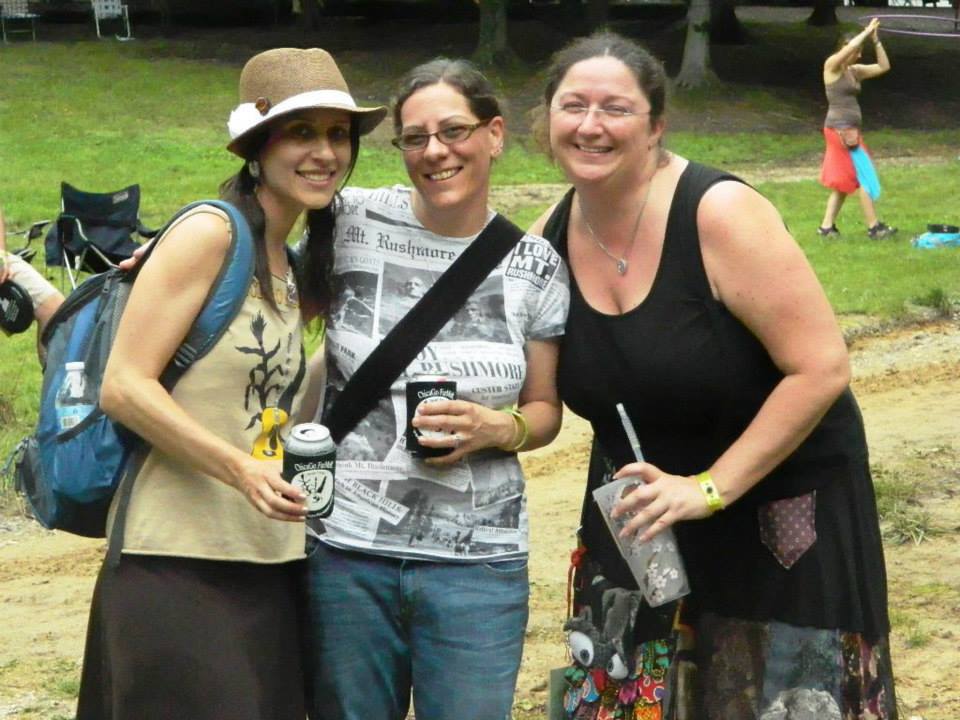 Chompdown tradition is to have a band play right at the Chompdown, with Flatland Harmony Experiment and Ray Lawrence ready to play but being stopped by the rain . We are lucky enough to have the main stage directly in front of us down the hill. The Woodstove Flap-jacks, Betse Ellis, Frank Lee of the Freighthoppers were great bands to enjoy while we all broke bread together.. While cleaning up the Tillers come on the main stage, just tearing it up as the Tillers do. As we clean up from the Chompdown again I realize, I have missed so much music and at the same time have seen so much music already.
More important than the music I may have missed are the new friends I have made and that I reconnected with. This festival has one of the kindest, most respectful crowds I have ever had the pleasure to be with. The love they have for this festival, the promoter and the artists truly make this like no other festival in the country. As I walk down towards the Main stage after the Chompdown, there is nobody standing front of stage for the Lulus. Lovely ladies singing old time traditional songs with their own twist. Support these talented ladies here.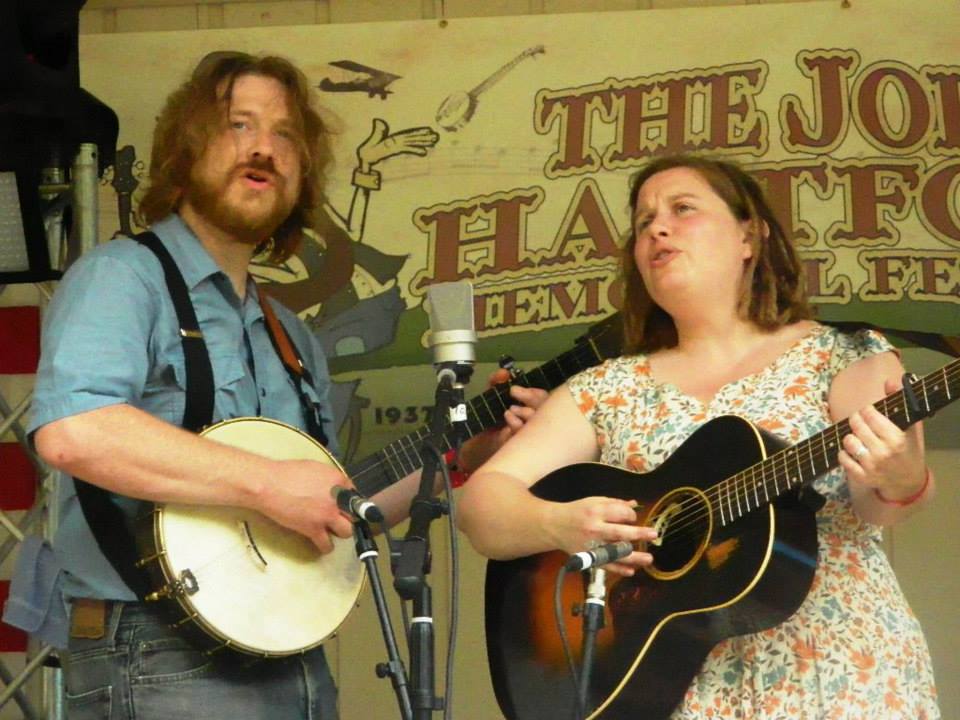 Friday afternoon and it's hard to believe JHMF III is half way over. I'm missing music again, as all stages play on with bands like Eric Lambert and Friends, Will Maring and Robert Bowlin, The Locust Honey String Band and Cluster Pluck. It's coming on late afternoon and even though there is great music on all of the stages I'm in for the main stage most of the remaining day. Ryan Spearman and Kelly Wells are coming up next. Ryan an amazing old time fiddler and banjo player and Kelly Wells from the Lulus put on a great set as always. If you happen to be in the St. Louis area they are both a fixture at the St. Louis Folk School, check them out when you get a chance.
Chicago Farmer is from a small town in Delevan, Illinois with a story telling talent. His music is strongly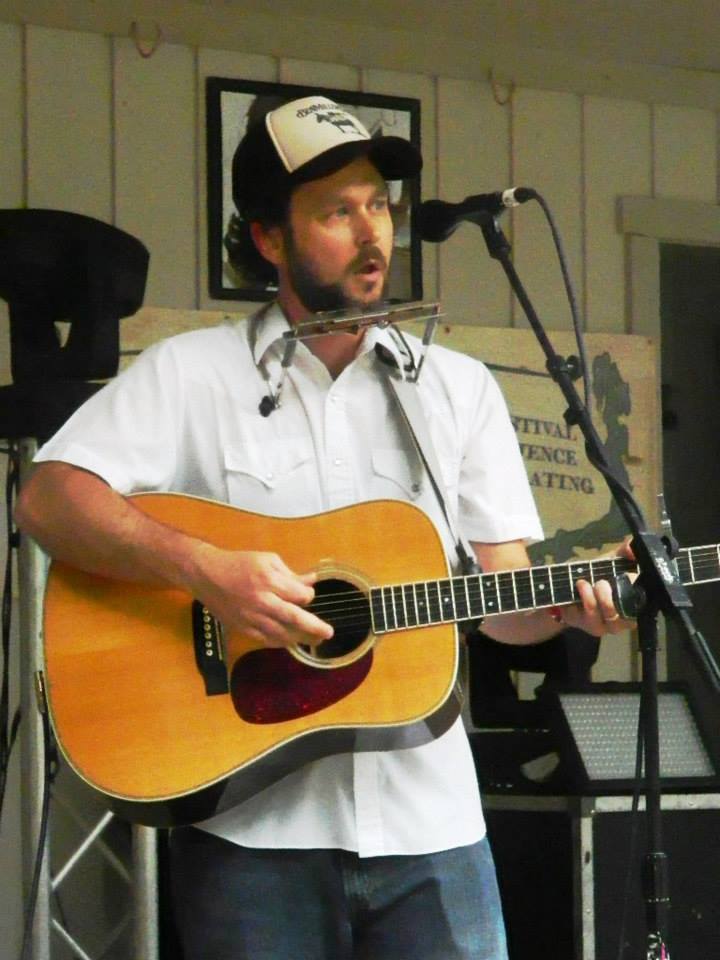 about his family and life in Southern Illinois growing up in farm country. I've always thought Chicago Farmer is a beautiful cross of styles that resemble artists such as Bob Dylan, John Prine and even acoustic Neil Young. Mostly a one man show Cody aka Chicago Farmer delivers a beautiful set of acoustic music. Coming from Illinois his songs mean so much, one of my favorite performers year after year.
While Chicago Farmer plays I think I'll wander back stage and see who's practicing in the back room or on the porch. Standing on the porch showcasing some absolutely incredible mandolin licks stands Mike Compton, John Hartford's last mandolin player, practicing for his upcoming set. I joke with Mike, "are you going to pick with Jeff Austin, a mandolin war for sure". Mike's up next so I head back down in front of the main stage to grab some photos of Chicago Farmer.
Mike Compton, one of the premier mandolin players in the country and John Hartford's mandolin player in his last string band, brings a powerful style. He'll sit in with Jamie's band this weekend, bringing a familiar sound to John's songs.
A highlight of the festival the past two years, Jamie Hartford and Friends are the next set. Time to settle in and let John's son show us how it's done..
Jamie Hartford introduced for the first time by his Sister Katie, comes out with Pat McGlaughlin on guitar and Charlie Chadwick on Bass as they start to run through a wonderful a selection of his father's songs. Jamie sounds so much like his father; the two toured together for many years. You can find a few of those recordings at the Steam Powered Preservation Society, www.thespps.org. A few songs in and Jamie is playing his father's classic Tall Buildings. The song is beautiful but I hear Jamie start to struggle a little, something else is capturing Jamie's attention.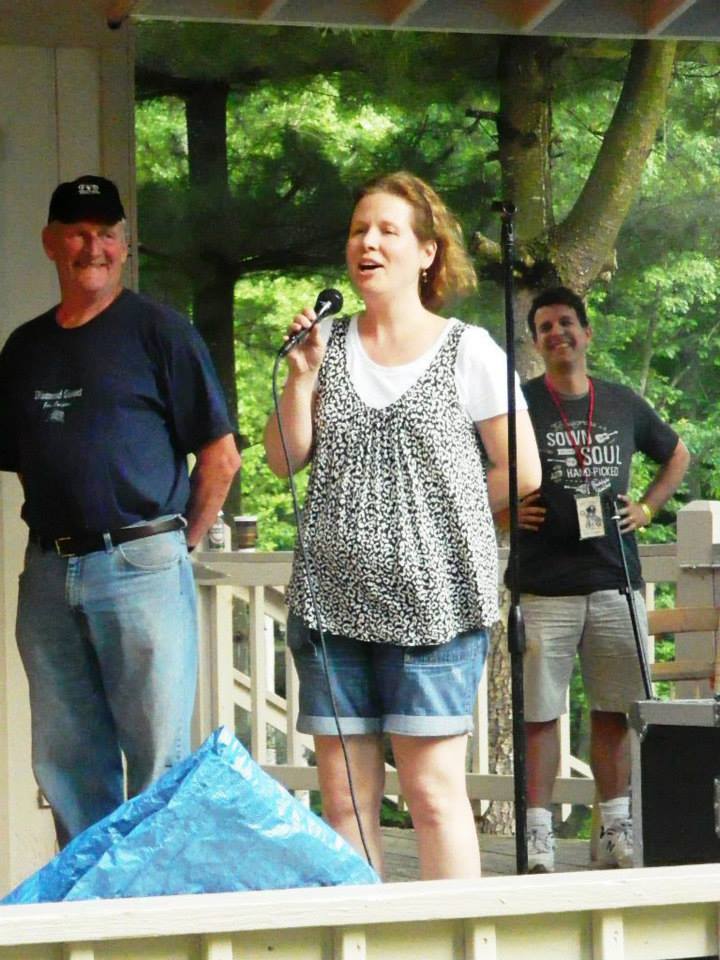 Suddenly Jamie stops singing and says, "That lady over there is not alright". Someone by the volunteer station is on the ground with a medical issue. This is the first time at JHMF anything like this has happened. Jamie comes rushing down off the stage carrying two bottles of water with him. Katie, Jamie's sister rushes down from the pavilion area towards the scene. It's determined an ambulance is needed but no one is around with a radio on them. No radio, oh crap! With this poor woman being watched by her husband and a large crowd I start to run up the hill. I've got to find Bob, festival manager and get an ambulance here now. My old ass runs up that hill and I'm already out of breath and I see help. The grill cheese vendor in a golf cart! Damn I don't know his name but there he is on his golf cart when I jump on the back and plead with him to get me to the hospitality tent as quickly as you can it's an emergency, thanks grill cheese man!
I find Bob and he races towards the scene and an ambulance arrives to assist. Lack of fluids and food affected an existing medical condition; she's doing fine now, thank goodness. While I'm headed back to the stage area the music is off, not even house music, the mood has become very somber. Once she is in the ambulance Jamie heads back up on stage. With the ambulance sitting next to the stage I certainly hope she could hear as Jamie is talking to her from the stage. "I wish I knew her name", someone yells "Jean". "Jean, you are going to be ok lady, we are all praying for you. This is for our friend". Jamie plays a beautiful Presbyterian Guitar, so beautiful I doubt there was a dry eye in the house. As the ambulance pulls away, Jamie continues to play bringing us back to the enjoyment of the music.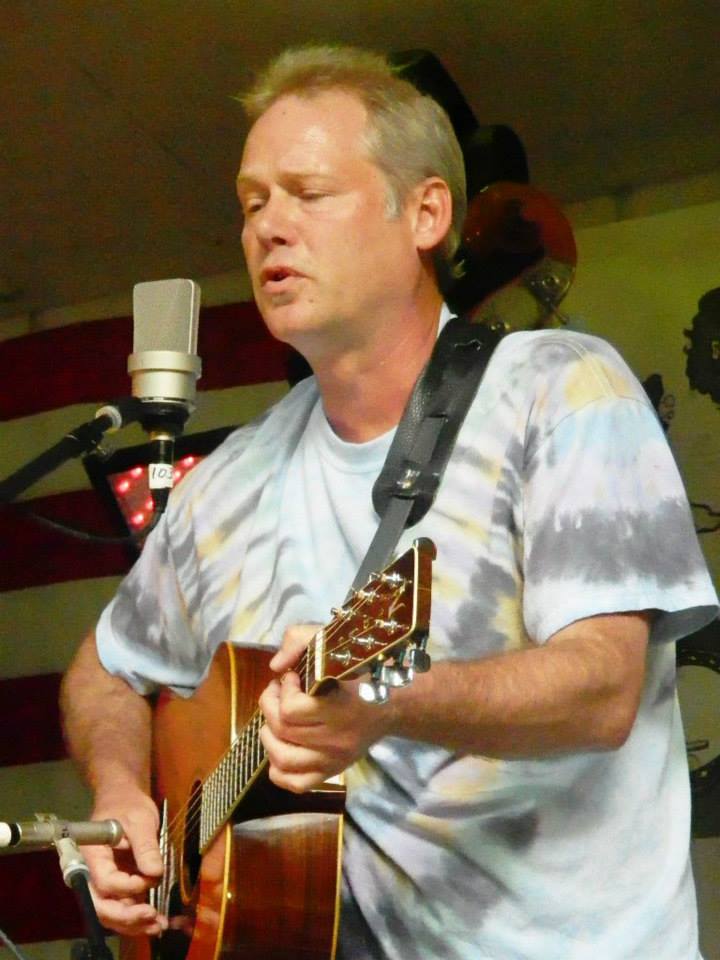 I think back to my conversations with Jamie at this time and what I said to him. I believe this is the most compassion I have ever witnessed in my life at any type of musical event and I have been seeing live music for 30 years. I told Jamie, the love, kindness and compassion that is ever so present at this festival is because of the type of the people the Hartford's are and John was. I am honored to be involved with this festival and the wonderful people I have come to love and cherish. There is nothing like the John Hartford Memorial Festival, it's more than the music, this festival is family.
Well that's enough excitement for a bit, Town Mountain is next. I've never seen Town Mountain before and I hear really good things about these guys. They seem to be gaining popularity pretty quickly but I need to walk away for a bit so I'll check them out from camp. They sound really good from camp as I grab something to eat. I need to take a breathier for just a minute as I gear up for another set by Great American Taxi and Larry Keel and the Natural Bridge.
Larry Keel and the Natural Bridge, Larry is an incredible Flat pick guitar player and another staple at the festival. The Natural Bridge which also has Jenny Keel on bass plays very strong sets of original music and fantastic covers. The Keels are very supportive of the festival, coming back for their 3rd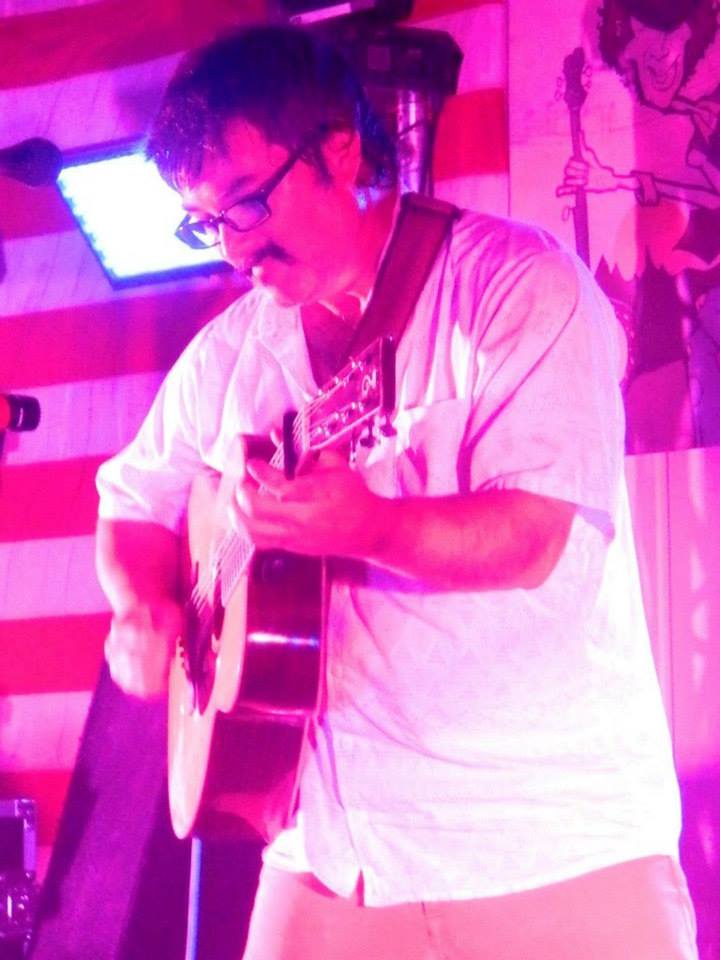 year in a row. A great set with songs like Cannonball Blues, Back on that Mountain and East Virginia. Larry then invites out Jeff Austin, this being the first time Jeff has taken the stage this weekend. On come some more guests to finish off the set, Vince Herman, Derek Dillman, Jeff Austin, Bobby Britt, Will Lee and others finish off the set with a great Mystery Train and All Fall Down. As I head back to camp to check on what everyone is doing we all sit around for a bit and take in the day. It's been a wild weekend and there is still another complete day. Rain is supposed be coming in and it's supposed to be coming in hard.
Rumpke Mountain Boys, out of Cincinnati, OH play "Infamous Trashgrass" on the Hippie Hill late night set. Late night is supposed to go until about 2am, at 3:30am when I crawled off to my tent, they were still playing. Rumpke Mountain Boys music is their own blend of modern bluegrass music, able to throw down on bluegrass classics, their own material, music with a lot of blues and soul!! These boys like to play until the sun comes up; glad JHMF lets them do that. You can find out more about Rumpke Mountain Boys at their Facebook, ReverbNation or YouTube.
Day 3 of the JHMF III, well, 4 if you showed up on Wednesday as I recommend. Wednesday is a great day to catch up with friends, get camp ready or just sit around and jam. It's Saturday though, the last day for music and it's going to be an amazing day with Jeff Austin in the Park.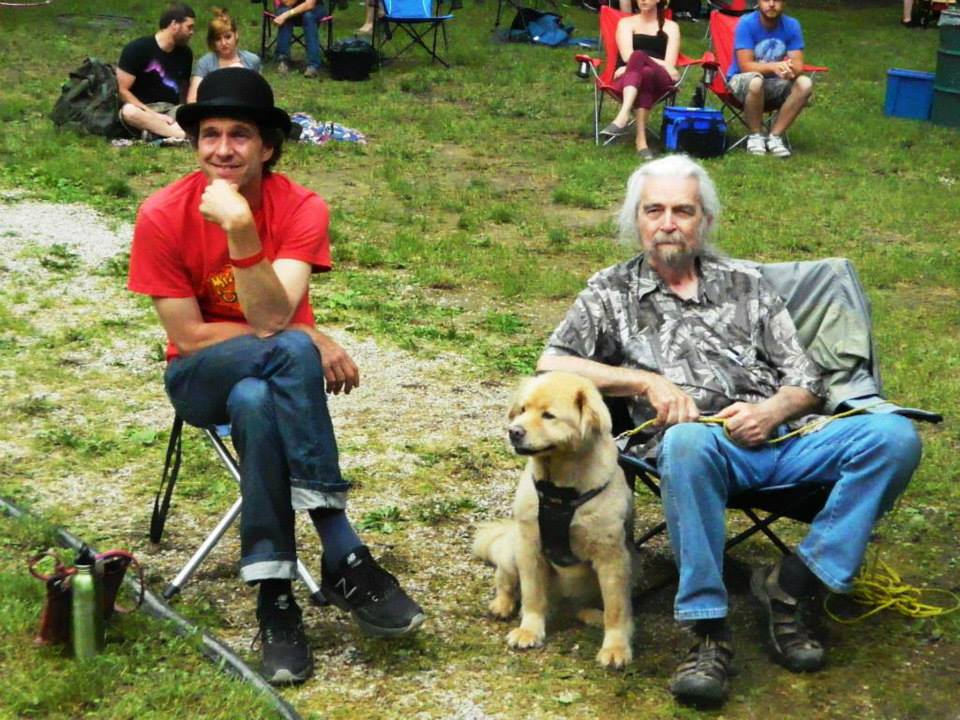 What a way to start day 3 of the John Hartford Memorial Festival with Colin O'Brien. Colin, originally from WI is now residing in Nashville, TN and has released a CD in the last year with the help of a host of Nashville musicians. For the last few years Colin has split his shows with original songs as well as his own versions of John Hartford songs in Colin's style. Colin's performance includes a derby and some soft shoe on plywood with pickups, just like John Hartford used to do. With Colin's song "Banjo on Mind" written from the shell of "Gentle on My Mind", Colin O'Brien entertains us with fiddle and banjo for a great start to the morning.
After Colin it's time to wander the park which I have only done sparingly this weekend; so much music to see and so many friends to reconnect with. It's hard for me sit still at JHMF, I'm generally all over the place, if not stage center, I may be backstage talking to musicians or side stage taking photos, hanging out with friends, both new and old, talking to people about SPPS, tape archives, festival recordings or how to make JHMF even better. It's family everywhere you turn. That's what makes this festival one of the best in the country. On towards Hippie Hill I can hear Billy Bright and Geoff Union from the Two High String Band playing an amazing set. This is their first set of the day; I look forward to seeing them on the main stage later tonight, bringing their brand of Texas Bluegrass up to Indiana.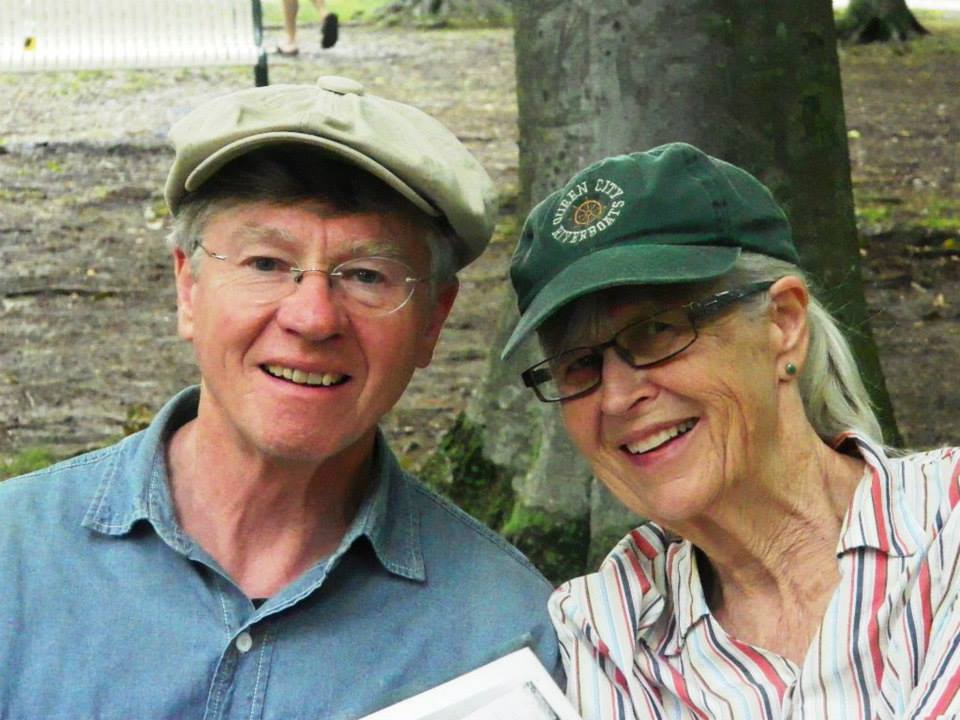 I come to the realization that I have not seen anything at the Boogie Stage all weekend. It's not that there wasn't great music on the smaller stage, other stages just seemed to take priority for me most of this weekend. I head over to see the end of Deep Fried Pickle Project a great group of teachers out of Michigan who play their music on homemade instruments. I've never seen these guys even though they have been at every festival so far and I know Daniel Pickle from Facebook. Later in the day during a short pavilion set in between acts I was able to visit with Daniel for a minute. A great bunch of guys who are up there having so much fun, these guys are great for kids so bring them on out..
I hang around the Boogie Stage because the Woodstove Flapjacks are up next, I'll catch a bit of these guys before heading over to see Ma Crow. Woodstove Flapjacks are another band who has been at the festival for multiple years. I have heard great things about them but had only heard them play during the Chompdown. Their music is early American Stringband; with instruments including Ukulele, Washtub Bass and Kazoo to go along with Guitar, Banjo and Mandolin make this band a lot of fun. You can support the band here.
Saturday with Jamie Hartford and Friends!! Great sound check, an intro and a magnificent "Holdin'" to start things off. With a big smile on his face Jamie give us "Back in your Arms Again", another "Tall Buildings", "Goodledays", "Natural to be Gone", "I wish we had our time again" and so much more. Sounding so much like his father, paying such honor to the songs his father wrote. Thank you Jamie Hartford!! You can find video of Jamie's shows on Youtube or support him here.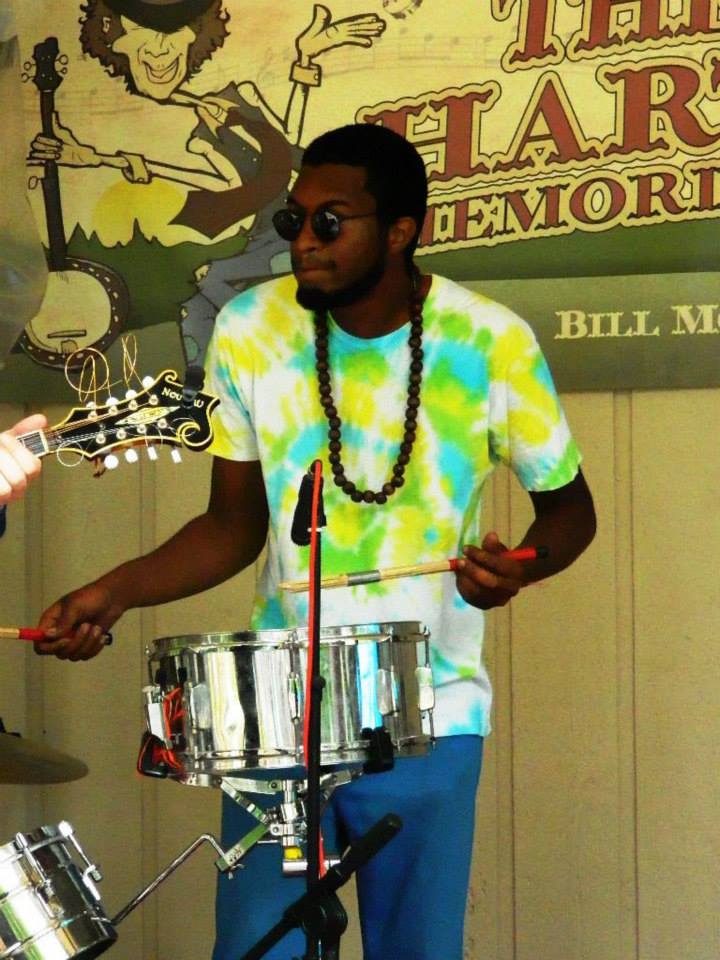 Bawn in the Mash another Hartford Festival constant, I have known these guys for about 10 years over email but I never had the chance to see them. The JHMF I set and the crazy storm seemed to be destiny, I would never see these guys play. Last year I saw their front man and his side band, never knowing Nathan Blake Lynn who plays country, gospel, sluegrass and Americana music from KY was associated. Well this was my year, from the top of the hill with an absolutely amazing "Austin Minor" solo coming from the stage. Bawn in the Mash are known for their unique and eclectic performances fusing rock and roll and bluegrass. With Josh Coffey on violin, Thomas Oliverio on mandolin, Nathan Lynn on guitar, Eddie Coffey on bass, Brey McCoy on percussion, and Casey Campbell on banjo this is a great band to check out live. You can support them at www.bawninthemash.com.
Next up is Ma Crow and the Lady Slippers, an all-female band from Cincinnati, Ohio, and a 2013 Cincinnati Entertainment Award nominee. A group of talented ladies playing Bluegrass, Americana, and Old-time Mountain music. The Lady Slippers include Ma Crow on vocals and guitar, Trina Emig on banjo and mandolin, Margie Drees on vocals and fiddle, and Vicki Abbott vocals and bass. Playing songs from the old masters like Doc Boggs, the Delmore Brothers and Bill Monroe. Support their debut album, Wayward Daughter released in January, 2013 here.
Next some feel good music, Eric Lambert and Friends is up next, "music that moves you". Eric, a wonderful guitarist, song writer and music teacher who has been playing and writing music for over 40 years. With his band of Pat Fiddle on Fiddle and Dan Rogers on Bass playing strong original material mixed with covers. Eric gets the crowd moving to his infectious sound. Always bringing a little history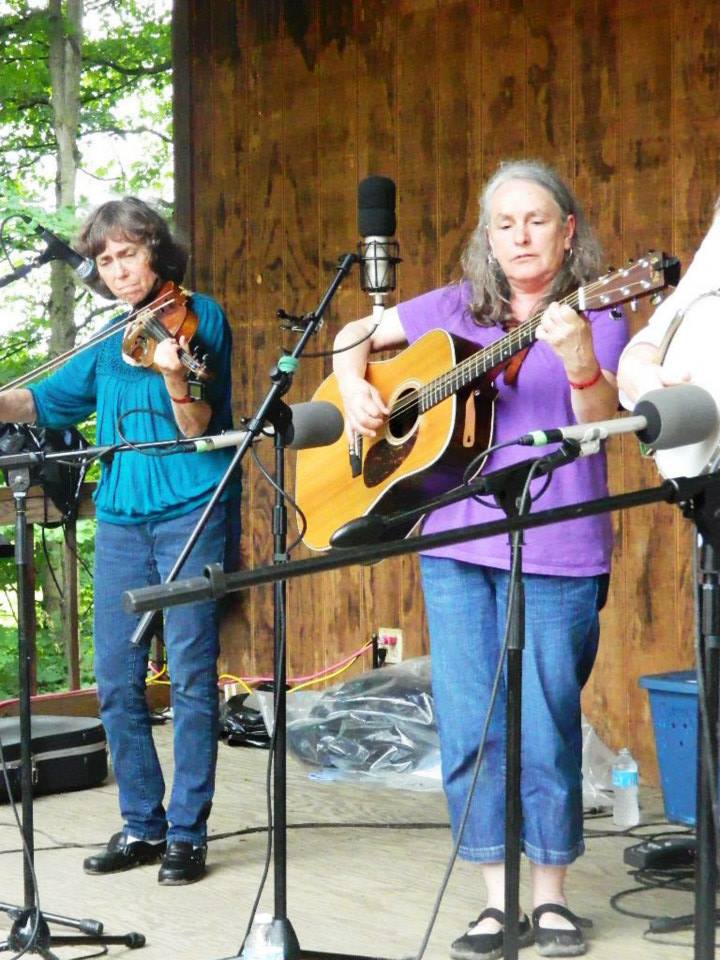 by bringing out some Jerry Garcia, this day is no exception with a beautiful "Stella Blue". Check Eric out at Ericlambert.com, learn guitar from Eric on the web or at Down Home Guitars in Frankfort IL.
Billy Bright and Geoff Union have been playing music together for15 years, touring the country in different configurations while being based in Texas. With the Two High String Band no longer together at the moment Billy and Geoff have gone on the road with a new 3 piece trio. Following up a phenomenal performance at JHMF I Billy and Geoff bring the trio and more this time around. With upright bassist Steven Crow this band brings their hard driving version of Texas Bluegrass to JHMF III. You can support Geoff's 2012 release Cold as Steel an eight song recording of original numbers, with Billy and a 5 piece string band here.
Rumpke Mountain Boys are next on the main stage; I'll get a longer set this time since it's not 3am. Rumpke and their Infamous Trashgrass brings the energy. Coming from Cincinnatti OH with a strong following they play their own version of a bluegrass/jamband mix, hitting on multiple musical genres. With passion and incredible drive this band will keep you up all night if you let them, check them out when you chance and support the band here.
Winners of the 2010 Telluride band contest, introducing The Hillbenders. With Nolan Lawrence on vocals and Mandloin, Jimmy Rea on Vocals and Guitar, Mark Cassidy on Vocals and Banjo, Chad "Gravyboat" Graves on Dobro and Gary Rea on Bass this band is taking world by storm. A style and energy completely their own, the Hillbenders get their audiences intimately involved with strong song writing skills and mastery of their music. Their wonderful 1 ½ hour set had many highlights such as guest Betse Ellis on Fiddle. A surprise by Jimmy Rea, he'd found a book by John Hartford "Word Movies". The book, which has poems and lyrics, some not put to music. Check out Jimmy with John's words on "I've Got a Mind to Move On" on youtube video. Support the bands efforts at www.hillbenders.com.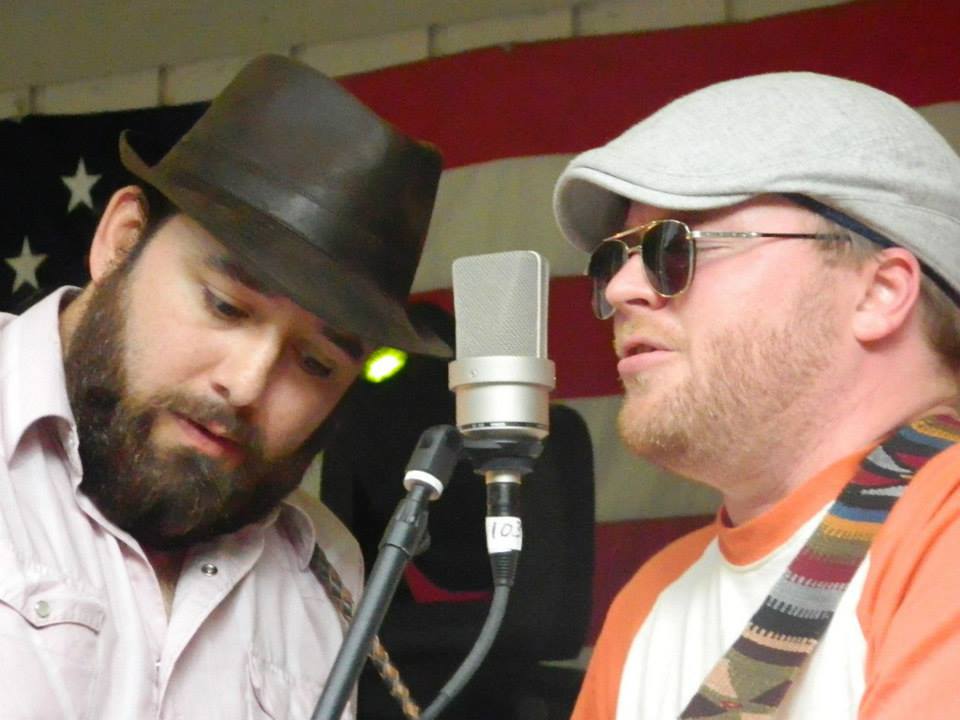 There is a buzz in the air, for years the promoters and fans of the JHMF have dreamt of having Jeff Austin grace the stage that Bill Monroe built. I personally approached the entire The Yonder Mountain String Band at their Harvest Festival in Arkansas in October 2011. At a press conference with the band, I had only two questions but it gave me a chance to make sure Yonder Mountain knew of this festival. Those discussions gave us the opportunity to speak with Darol Anger who joined JHMF in 2012 and started conversations with Adam about a possible future Adam and Larry Keel set some day.
With energy consistent with JHMF, Jeff Austin and the Keels hit the stage. Sam Jackson introduced Jeff and the Keels, I'm sure for the first time ever by the question "are you ready to Rumble"?. The energy is immediate, the dancing, grooving crowd is a dream, the sweet sounds of Jeff Austin on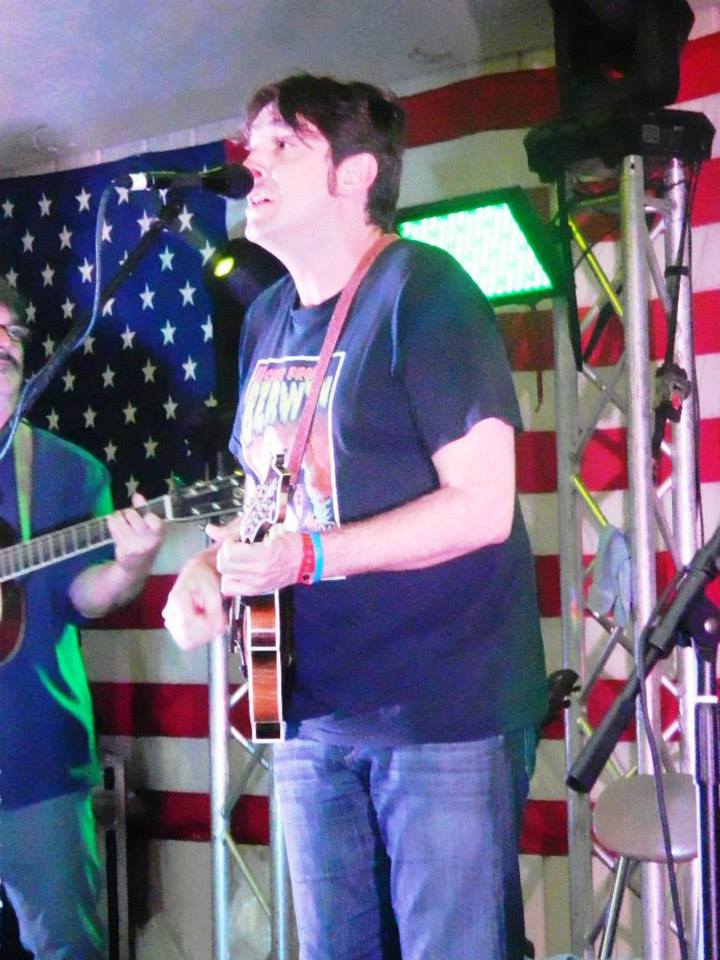 Mandolin, Larry Keel on Guitar and Jenny Keel on Bass fill the campground with their magical sounds. With songs like "New Horizons", "Riverside", "Rag Doll" and "What the Night Brings" the Yonder Mountain songs are in the house tonight. A great "My Sisters and Brothers" and "Cuckoos Nest" really bring the evening home with a band that we all hope can happen again and again. What really hit home for me was seeing Jeff enjoying himself but also seemed honored to be playing at JHMF III and in the house Bill Monroe built. Check out the video on YouTube or download the show from Archive.org, you'll be glad you did.
While the Great American Taxi is getting ready I wander backstage to find an amazing sight. How lucky am I to stumble on to Jamie Hartford, Wil Maring, Former Bluegrass Boy Robert Bowlin and Eric Lambert practicing for the final performance. As I respectfully snap some photos and listen to the private jam I know how lucky I truly am. It is moments like this that make this festival home.
Three Great American Taxi shows in three days sure do have us spoiled at JHMF. These guys have so much energy and such a love for this festival, it is an honor to get to see these guys do their thing every year. On Saturday we are treated to a "High on a Mountain Top", "Albuquerque", "Fuzzy Little Hippy Girl", a nice "Dire Wolf" and "Walls of Time". We end with a strong version of John Hartford's classic "Up on the Hill Where They Do the Boogie" to close things out. Vince and Taxi has become a mainstay at JHMF, we can't thank them enough for the past three years and their support and belief in JHMF. We couldn't have done it without you, thank you Great American Taxi!!
Vince Herman and Friends or call it the JHMF Memorial Band but the time has come to wind down year 3. An all-star band that would rival any festival I've been to walks on the stage. Jeff Austin, Larry Keel, Vince Herman and Jamie Hartford start off singing John Hartford songs. Let's add a host of others as the jam goes on, Colin O'Brien, members of New Old Calvary, Rumpke Mountain Boys, Eric Lambert, Chad "Gravy Boat" Graves, Wil Maring and Robert Bowlin, Pat Fiddle and Jon Bon Jovi from Flatland plus more.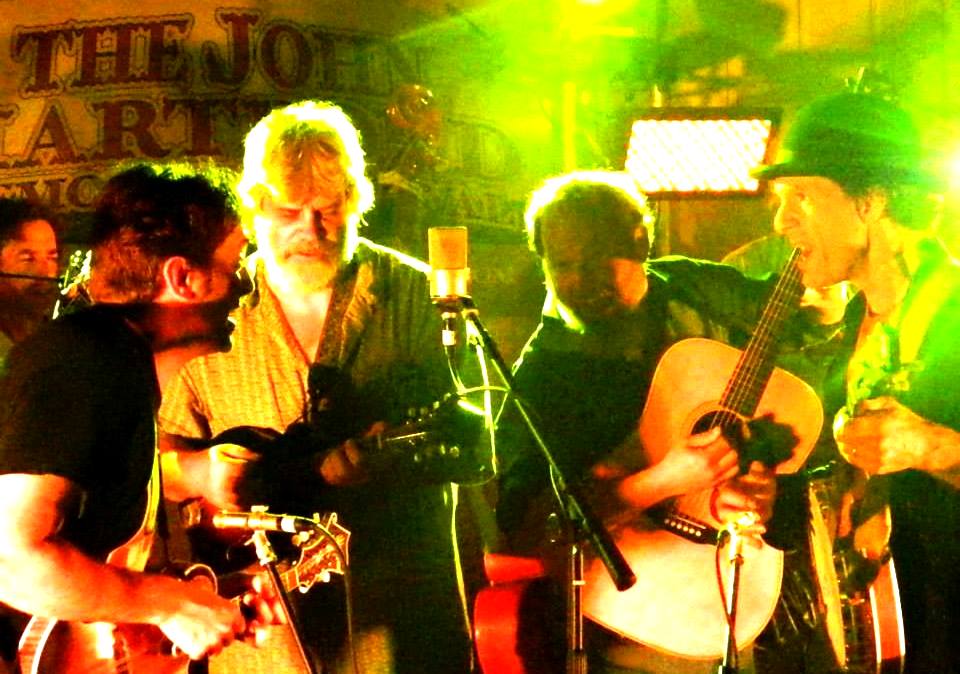 Starting with "Turn your radio on", "Love Grown Cold" and "Wrong Road Again" the band puts a nice touch on these classic John Hartford songs. Wil Maring's wonderful voice takes over on "8 More Miles to Louisville" and then into the slowest version of "Boatman" that Jeff Austin has ever played. Back to Jamie and "I'm Still Here" and the band does a great "Hand Me Down My Walking Cane." "Sitting Alone in the Moonlight" sung by Sam Jackson and a great The "Girl I left Behind Me", straight into "Shady Grove" and "Happy Birthday" banter by Vince singing to Jon Bon Jovi from Flatland Harmony Experiment. To end the weekend main stage performances we are treated to a nice "Gentle on My Mind" led by Colin O'brien. A stage full of musicians paying respect to John Hartford, the namesake and the reason we have gathered together this weekend.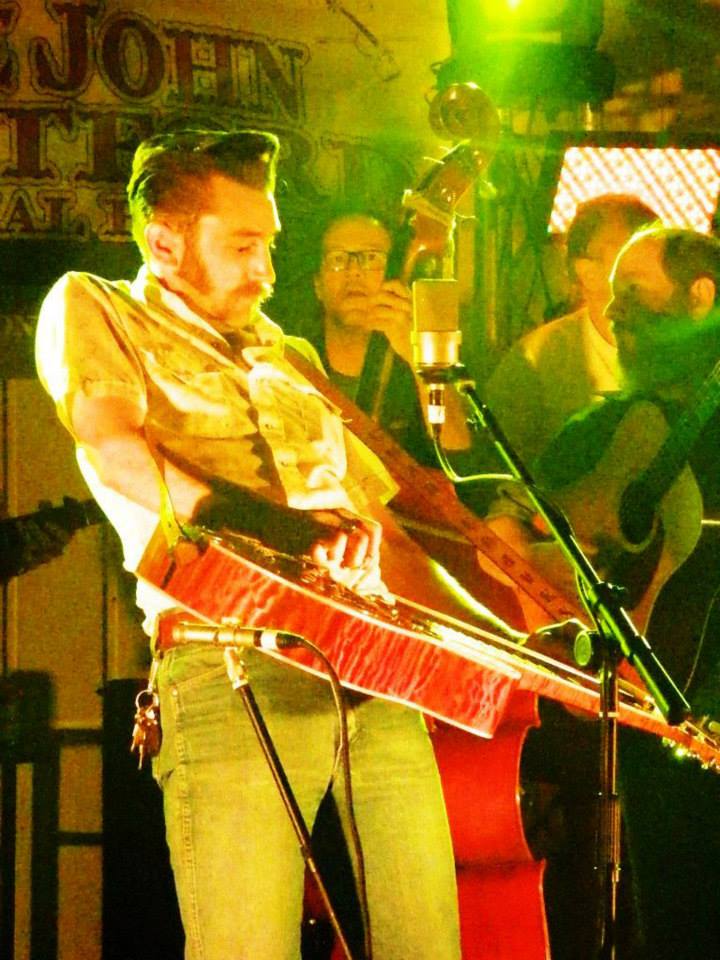 As they wish us a good night and thank us all for coming we realize this weekend is beyond something special. The festival has grown nicely since 2011, each year bringing in a larger crowd; all who say they will be back and never miss another. There is something special going on here at Bean Blossom during JHMF. It's not just the music, it's not the just the family we have all made or the energy the fans and the artists share with everyone. It's more than just a phenomenal feeling, the entire weekend makes you feel like you are where you need to be, at home in Indiana!!
The main stage may have shut down but that does not mean the music is over, the secret to Bean Blossom Music Park is that the music really never ends. A nice long late night set by Bawn in the Mash is what up next over at the Hippie Hill stage. After finally hearing this band this afternoon I make my way over to the Hippie Hill stage for one last time. I spend maybe 45 minutes listening to these guys really bring the fest to a nice close and decide to do some walking around to see who I can see. By now it's about 3am and I hear the picking will continue in the pavilion. For the next couple of hours we sit in the pavilion watching members of Rumpke, Flatland, New Old Calvary, Ray Lawrence Jr. and more finish off the night with a with a bunch of great picking.
The music may still be playing but this old guy has to head off to my tent, its 5:30am, with the thoughts of the amazing weekend swirling through my head. There is no festival in the world like John Hartford Memorial Festival. "Just when you thought it can't get no better than it does", we promise you, it will.