Friday, August 16th The Alarm returned to Chicago at the House of Blues for an adrenal charged performance that started at full speed and continued to the final closing note. The set was one great single after another, "The Stand", "Rescue Me", "Sold Me Down The River", "Strength", "Rain In The Summertime" and more. They also played two moving songs from the new release "Sigma", show opener "Blood Red Viral Black" and the reflective "Psalm".
The show was well attended. Also noted was the inspiring bond between fans and the band. There were more than a few of us who witnessed their Chicago debut back in the day (which was also aired delayed-broadcast on WXRT). Thirty-six years later, Chicago Alarm fans wouldn't miss this show for anything. As demonstrated by a former club staffer, Susan who was in from Seattle. She worked both the TUTS '83, Metro '85 shows, and saw the '86 Riveria concert. Such was the longtime and dedicated fans who made up much of the audience.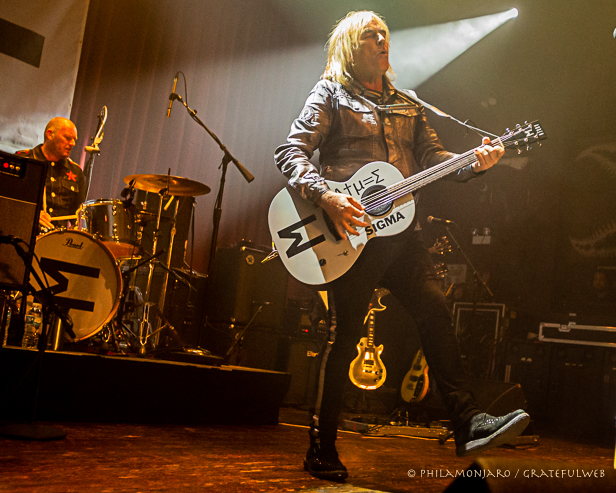 Before their 1984 full-length release "Declaration", this newly signed IRS Records band held so much excitement with their early EP featuring "The Stand" and "68 Guns",  both re-released on "Declaration". It was like The Clash met Bob Dylan. Pounding away on semi-acoustic guitars while singing, or rather proclaiming their lyrics was simply mesmerizing.
"About the power on the right side
Fights the power on the left
We have got to stand together
Forget the east and west"
                                            68 Guns
Now in 2019, we celebrate their 40th anniversary. They are strong as ever. We can file this under, "what doesn't kills you, strengthens you". In 40 years the band has had all sorts of ups and downs, failures and wins, line-up changes, break-ups, and hiatuses. Mike is a two-time cancer survivor and his wife and bandmate Jules recently beat breast cancer. Providing persistence, what comes with it is a certain wisdom that also deserves some of the glory.
Years, since the founding line up of Dave Sharp, Eddie MacDonald, and Nigel Twist, Mike Peters is the sole original member with James Stevenson on guitar/bass, Smiley Barnard on drums and Jules Jones Peters on keyboards. And not to overlook original guitar tech Gareth Jones, MC and played bass for the closing medley of "Marching On", "Where Were You Hiding When The Storm Broke", and "68 Guns". The Alarm is reinvented in what seems to be both a literal family of the Peters and sons touring together but also their musical family. They are vibrant, relevant (more than ever in these times) and still crafting damn-good songs.  
This is why the 40th anniversary is so worthy. Mike keeps marching on in new and different directions. Peters has championed his own foundation: Love Hope Strength, as a result of his own experience with cancer. The mission "is to save lives, one concert at a time". stating that they "believe that all people deserve quality cancer care, marrow donor and hope". More than a band, they are cause for what we fight for in the best of humanity.
The tour ends September 8th in St. Petersburg, Florida before touring the U.K. Don't miss them live!
Set List:
Blood Red Viral Black*
The Stand
Peace Now
Rescue Me
Sold Me Down The River
Psalm*
Strength
Rain In The Summertime
Beautiful
Spirit of '76
Medley: Marching On/ Where Were You Hiding When The Storm Broke/68 Guns