The groove is alive and kicking on "Departures," the first full-length album from Canadian instrumental group Apollo Suns. With an expected release date on Do Right! Music in late September, this 12-song compilation delivers soulful jazz-rock with influences stemming from funk, prog rock and psychedelia. Listening to Apollo Suns is revelatory – your feet will move, and your heart will follow.
Apollo Suns, hailing from Winnipeg, is currently on tour in the US and Canada in support of their upcoming album. They are sure to thrill audiences, especially fans of instrumental horn-heavy jam music, with renditions of their new material and older cuts from three previous EP releases, released as far back as 2017. The core group includes founder Ed Durocher (Guitar), Tim Iskierski (Drums), Erika Einarson (Percussion), Bryn Herperger (Bass), Garrett Malenko (Trumpet), Benjamin James Hill (Trombone), Aaron Bartel (Bari Sax) and Anatol Rennie (Keyboards/Synths).
On their new album, produced by Juno award-winning producer Ben Kaplan (Five Alarm Funk, Mother Mother, The Rare Americans), Apollo Suns swaggers and preens with an innovative plan that announces their imminent and inevitable arrival on bigger stages. A cohesive and self-assured effort, Departures has a lot to say, and says it well.
The first single from Departures, "Pluto," hit the airwaves in Spring this year. Like most of the cuts on the album, "Pluto" is built on melodies, beats and solos reminiscent of Snarky Puppy, Galactic's instrumental jams, and 70's funk (e.g., Average White Band's "Pick up the Pieces"). But Apollo Suns takes a fresh and ferocious approach to the genre. Regarding "Pluto," for instance, Durocher says that its namesake deity from Greek mythology " is a many-faced god who is capable of great kindness but also is temperamental. We wanted the song … to convey that feeling to listeners."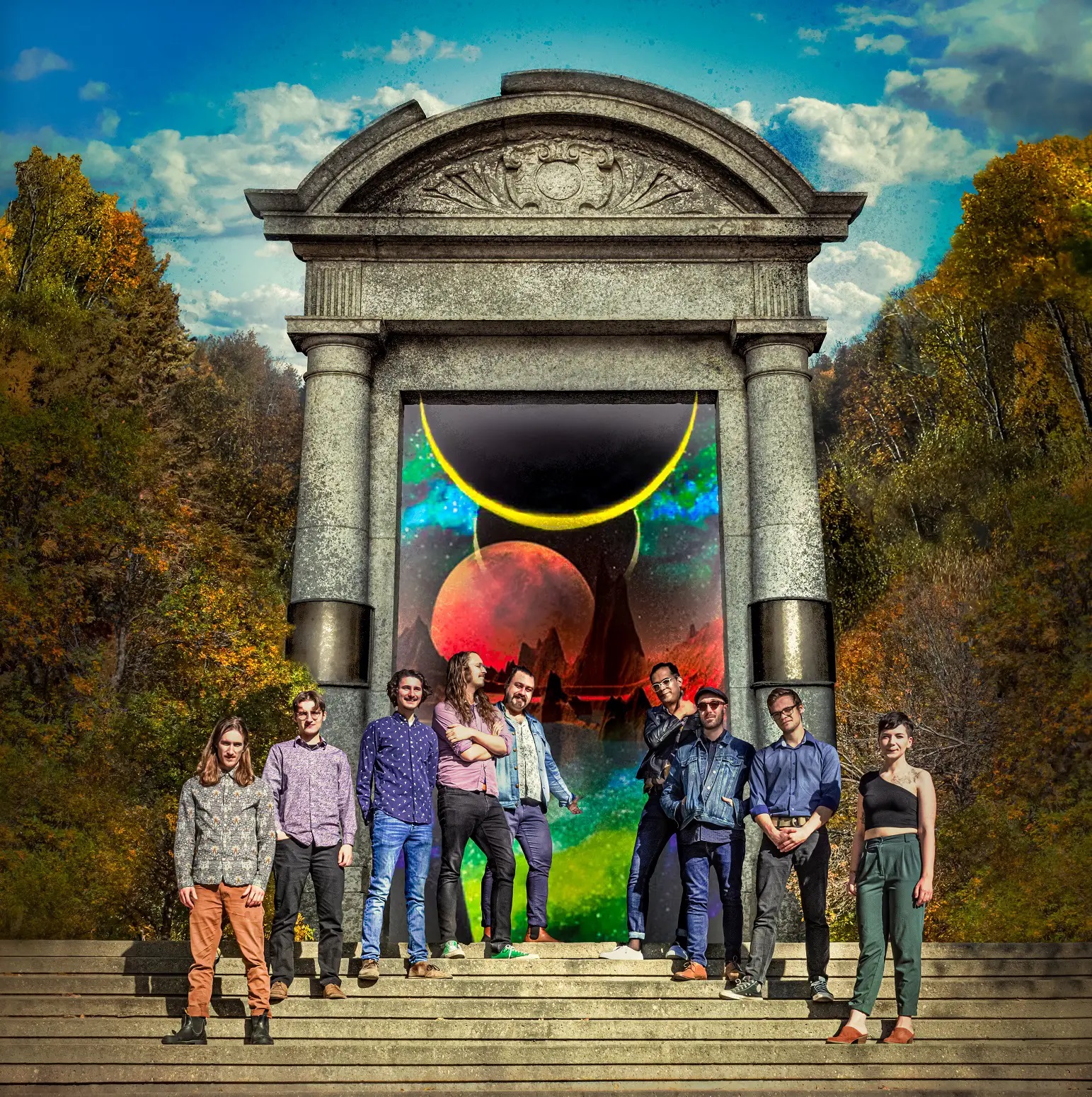 Temperamental taken literally means "liable to unreasonable changes of mood." But there is nothing "unreasonable" about Apollo Suns' music. Indeed, in keeping with the album's title, each song is a departure not only from a designated starting point, but also from well-worn paths. Occasional rhythm shifts bring to mind well-coordinated leaps taken by Phish, Frank Zappa and King Crimson. Everything makes sense, even when it's unexpected.
The album's opening track "Through the Woods" exemplifies this well. An intro synthesizer effervesces in the background while the horns and percussion begin to fill the room with tentative fist-pumping punches and drum rolls. Then, as if celebrating an unexpected victory, the whole band kicks in with a triumphant march punctuated by uplifting guitar and sax solos. And before you know it, in the blink of an eye, it's over. The procession has passed, and we are filled with feelings of hope and achievement – and anticipation for whatever will come next.
Other experiences, always positive and inspirational, surface throughout the album. "Horses" begins with a moody guitar stroll before the music breaks into a trot and then a run, exploding into a full wind-in-your-hair gallop through alternating fields of trumpet and sax leads. In the end, the horses slow their pace, strutting with heads held high as the horns welcome them home. "Fonxy" is a N'Awlins-style brass outing that will fill a floor with smiles as well as dancing shoes. The album closer, "Beyond the Woods," is a restful tune, the only track on the album that doesn't spotlight the horns. A keyboard melody accented with mellow guitar leads and some background radio noise provides a suitable ambiance for reflection, for closing one's eyes and taking a few breaths in the pause before another glorious day arrives.
The essence of Departures is a confluence of hope and uncertainty, with promises fulfilled and risks rewarded. More than just dance music or idle musical chit-chat, this is a collection of stories that, despite a human voice, speak of the human experience – with a heavy emphasis on the rewards of joy and elation. In both jazz and rock 'n' roll, the absence of a human voice doesn't limit the ability to communicate; that function can be performed by a melody or a solo. (Certainly, fans of Jerry Garcia and John Coltrane can relate to the latter.) Apollo Suns, both as an ensemble and as soloists, say that our future is bright – and because they are very good at communicating this viewpoint, their future is equally bright.
For tour dates and more information, visit https://www.apollosuns.ca