Flying Dog Brewery today announces its partnership with the All Good Music Festival and Camp Out – July 9-11 in Summit Point, West Virginia – where the brewery is developing a new beer exclusively for the event. The festival-themed 'All Good Ale' promises to be perfect for the heat of summer with refreshing passion fruit and crisp hop notes.
Now in its 18th year, the All Good Music Festival and Camp Out features 32 bands with headliners including Primus, moe., CAKE, and Thievery Corporation. Fans looking to get the first taste of the All Good Ale can get in line at Flying Dog's first Summer Sessions concert of the year, as well as at select music venues in the Baltimore and DC-metro areas leading up to the festival. The June 20 Flying Dog concert will feature Hurray for the Riff Raff's blend of Americana, folk, and bluesy soul and is being held at Mechanical River in Frederick, MD.
In addition to All Good Ale, Flying Dog will offer multiple styles of beer throughout the festival. "We view craft beer as an art form and encourage any opportunity to share our art with artistically-minded partners like All Good," Flying Dog CMO Ben Savage said.
"We strive to enter partnerships with organizations that share our same values and commitment to the arts," Savage said. "All Good is an established yet progressive force in our regional music scene and was a natural fit for us. We are excited that the festival has moved back so close to home."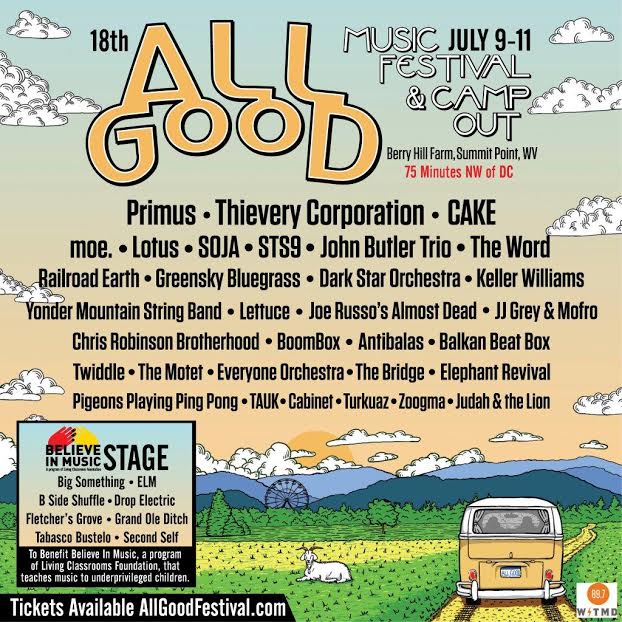 And since a one-of-a-kind beer deserves a one-of-a-kind experience, Flying Dog is also teaming up with Gibson Guitars to host VIP meet and greets throughout the All Good Festival weekend and a raffle for a Gibson Guitar.
Entry to win passes for the meet and greets, which will feature multiple artists and firkin tappings of All Good Ale, will be available online and for all ticket holders. Proceeds from the Gibson Guitar raffle will benefit the Believe in Music Foundation, and any festivalgoer who purchases a Flying Dog beer will be able to enter the raffle.
Tickets for Flying Dog's Summer Sessions concert are $25 and available via FlyingDogTix.com. Tickets for the All Good Music Festival and Camp Out are on sale and available now at AllGoodFestival.com.
About Flying Dog Brewery:
As one of the fastest-growing regional craft breweries in the mid-Atlantic, Flying Dog has been brewing world-class beer that pushes the confines of traditional styles for almost 25 years. Flying Dog attracts everyone from craft beer connoisseurs to those just catching the wave with up to 20 styles available at any given time and its Gonzo ties to writer Hunter S. Thompson and artist Ralph Steadman. Named the Mid-Size Craft Brewery of the Year at the 2009 Great American Beer Festival (the highest honor for its size in the United States), recent accolades for Flying Dog include its Pale Ale ranked as the #1 American Pale Ale in the U.S. by The New York Times. For more information, please visit www.flyingdogbrewery.com.