Amos Lee will bring his biggest radio hit in a decade to late night television this month, with a full-band performance of "Worry No More" on CBS' The Late Late Show with James Corden slotted for Thursday May 26. The lead single off Lee's new album Dreamland, "Worry No More" is a gripping ode to finding tranquility amidst calamity that shines through with its deeply empathetic and vulnerable disposition. "Worry No More" hit the Top 5 of both the AAA and Americana Radio Charts, and has been a staple of of the "emotionally powerful live performances" (NPR Music) on Lee's Dreamland North American tour. That tour will resume its 50+ scheduled dates on May 21 and continue through iconic venues like Los Angeles' The Theatre at Ace Hotel (May 31), Austin's ACL Live at The Moody Theatre (June 11), two nights at Nashville's Ryman Auditorium (June 20, 21) and Denver's Red Rocks Amphitheatre (August 16). 
Tune into Amos Lee on The Late Late Show with James Corden; Thursday May 26 at 11:37PM CT / 12:37AM ET on CBS. 
Listen to Dreamland here: https://www.dualtonestore.com/collections/amos-lee
Amos' two night run at the Ryman Auditorium will be live-streamed via Mandolin on June 20 and 21. More info here: https://boxoffice.mandolin.com/products/amos-lee-from-ryman-auditorium-2-show-pass
Early highlights of Lee's return to the road include a mid-April homecoming show at The Met in Philadelphia, where the Inquirer lauded his live show for "moving through a Dreamland where beauty can be found in everyday strife." Lee also joined the National Symphony Orchestra at Washington DC's Kennedy Center, where Americana Highways praised him for "lifting others and finding ways to connect when we've all felt so disconnected for so long." Lee has also launched a Tickets For Teachers and classroom supplies giveaway in each tour stop, to help give back to those who've given so much to their communities through these unprecedented times. 
Watch Lee, a former elementary school teacher himself, discuss Tickets For Teachers on MSNBC here: https://www.msnbc.com/morning-joe/watch/amos-lee-i-want-to-make-people-feel-better-about-life-with-my-music-137045573608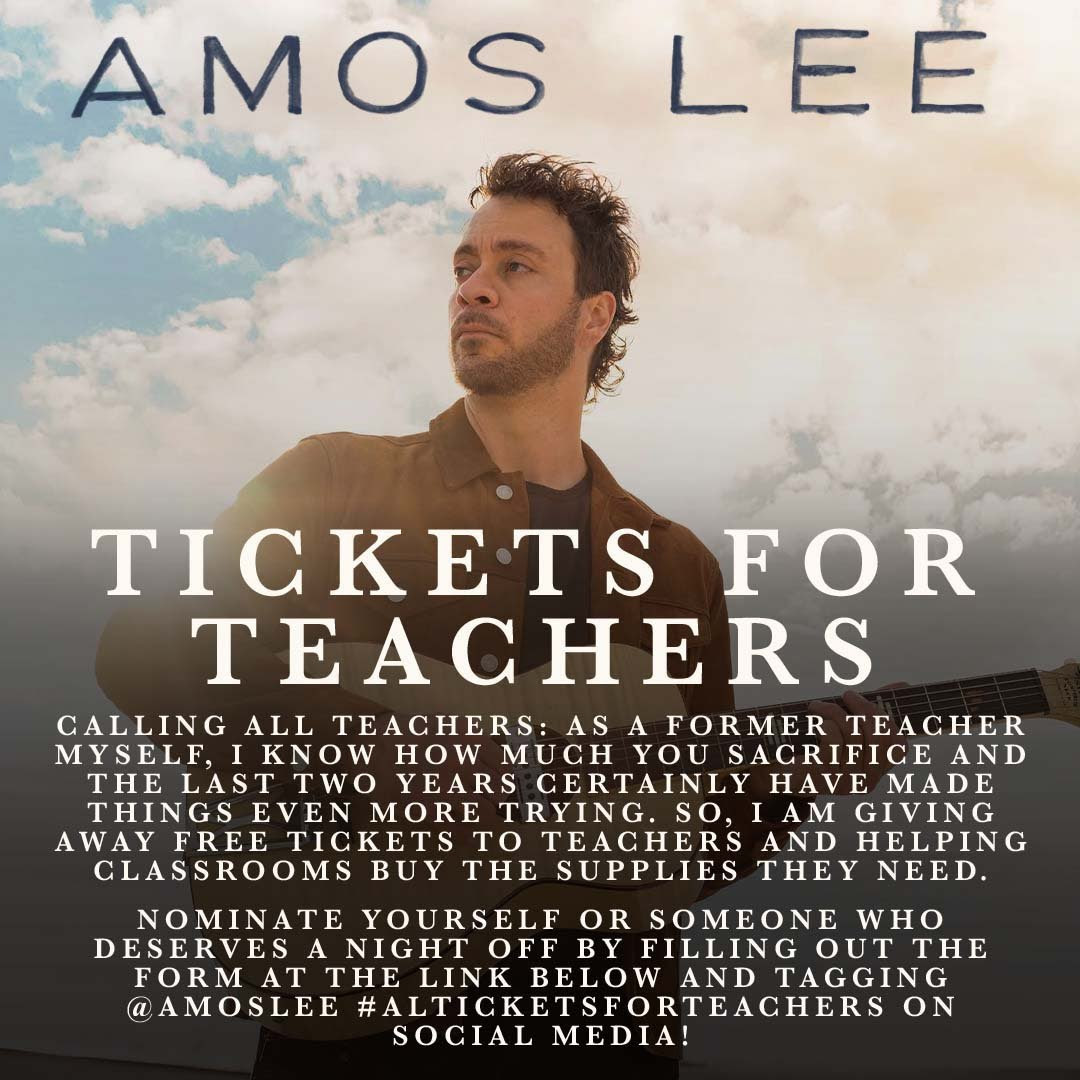 Nominate an educator in your community by visiting https://bit.ly/3t7vcSQ or via social media by tagging @amoslee and using the hashtag #ALTicketsForTeachers.
DREAMLAND TOUR DATES 
May 21 - FreshGrass - Bentonville, AR
May 29 - Bottle Rock - Napa, CA
May 31 - The Theatre at Ace Hotel - Los Angeles, CA~
June 1 - Lobero Theatre - Santa Barbara, CA~
June 3 - Humphreys Concerts by the Bay - San Diego, CA~
June 4 - Fox Tucson Theatre - Tucson, AZ~
June 5 - Ikeda Theater - Mesa, AZ~
June 7 - Lensic Performing Arts Center - Santa Fe, NM~
June 9 - Tobin Center for the Performing Arts - San Antonio, TX~
June 10 - Cullen Performance Hall - Houston, TX~
June 11 - Austin City Limits Live at The Moody Theater - Austin, TX~
June 14 - The Pageant - St. Louis, MO~
June 15 - Ravinia - Chicago, IL~
June 19 - Rock The Ruins - Indianapolis, IN~
June 20 - Ryman Auditorium - Nashville, TN~
June 21 - Ryman Auditorium - Nashville, TN~
June 23 - Soldiers & Sailors Memorial Auditorium - Chattanooga, TN~
June 24 - Charleston Music Hall - Charleston, SC~
June 25 - Durham Performing Arts Center - Durham, NC~
August 4 - Hayden Homes Amphitheater - Bend, [email protected]
August 5 - Grand Lodge - Forest Grove, OR
August 6 - Chateau Ste Michelle Winery - Woodinville, WA
August 8 - Vogue Theatre - Vancouver, [email protected]
August 10 - Martin Woldson Theater at The Fox - Spokane, [email protected]
August 11 - The ELM - Bozeman, [email protected]
August 13 - Fort Desolation Festival - Torrey, UT
August 14 - Gerald R. Ford Amphitheater - Vail, CO%@
August 16 - Red Rocks Amphitheatre - Denver, CO&
August 18 - The Stiefel Theatre - Salina, [email protected]
August 19 - The Englert Theatre - Iowa City, [email protected]
August 20 - Blue Gate Theatre - Shipshewana, [email protected]
August 22 - Michigan Theater - Ann Arbor, [email protected]
August 23 - Taft Theatre - Cincinnati, [email protected]
August 25 - American Music Theatre - Lancaster, PA#
August 26 - Lowell Summer Music Series at Boarding House Park - Lowell, MA#
August 27 - Colonial Theatre - Laconia, NH#
% with the Colorado Symphony
~ support from Neal Francis
@ support from Danielle Ponder
# support from Mutlu
& support from Noah Kahan