On January 24th, NYC witnessed its coldest day in six years with high forecasts for the day in low teens. While the city's wiser residents spent their night coddled in sweaters and blankets, a select few decided to brave their way into Greenwich Village and attend Zinc Bar for a night of blood-tempering jazz and booze.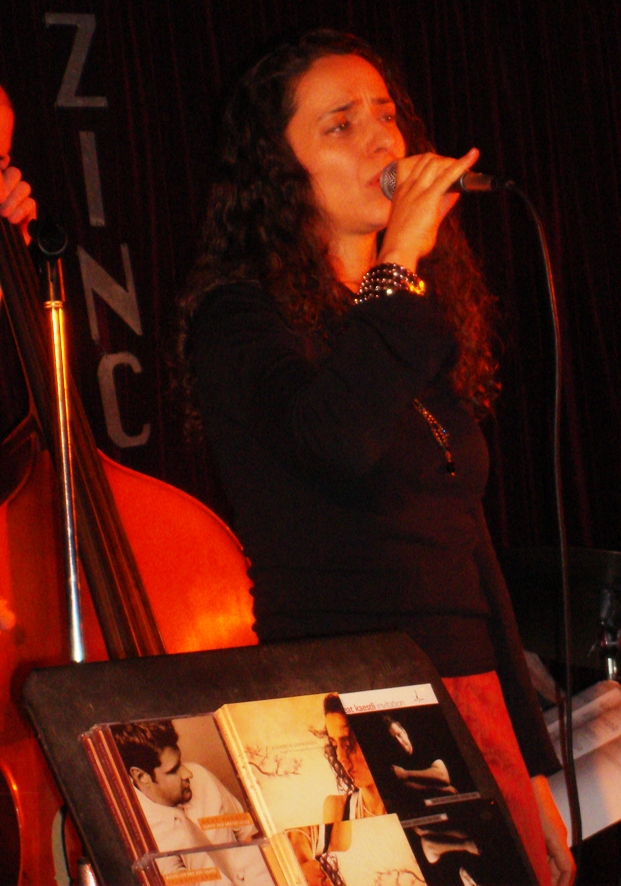 Featured was a dual billing of Swiss vocalist Beat Kaestli and Austrian vocalist Elizabeth Lohninger, who had developed a fairly unusual project - Both songwriters have fairly new albums out (Kaestli's Invitation and Lohninger's Songs of Love and Destruction, both released in 2010) and as a sort of double promotion the two have joined forces to create their own dual-showcase. The performance featured some of their original material rearranged as duets as well as a set-list of jazz standards and pop classics.
The idea for this joint-project was birthed by a mutual booker in Germany who approached Lohninger and suggested the idea of some double billed evenings with Kaestli. Though she found the idea appealing, Lohninger had to decline as "it was a logistical nightmare." The same had been true for Kaestli. The two were both simply catering to different but equally cluttered schedules. However, the idea stuck with them and ultimately Beat was able to arrange a few shows. These took place earlier last year, and the project rapidly took on a life of its own and saw much success in European venues.
It wasn't until how, however, that the two were able to grace a stage together in the U.S. For the first time. And to add to the night's firsts, this evening would also be the time the entirety of the band had played together, for now the act saw not only the collaboration of the two vocalists, but of their backing musicians as well. In addition to the two singers, the group was comprised of Kaestli's rhythm section (bassist Mark Wigton and drummer Fred Kennedy) and Lohninger's husband/piano-player Walter Fishbacher.
The set opened with a pair of jaunty numbers which quickly established the strength of Kaestli and Lohninger's call-and response. On stage the two appear to be engaged in the politest of rhetorical debates, speaking elegantly and listening intently. Such couplings were almost always capped off with a dual scat session. These were the highlights of the performance as the two seem to execute their scat with equal proficiency, singing with such soft transitions that real words simply weren't designed for.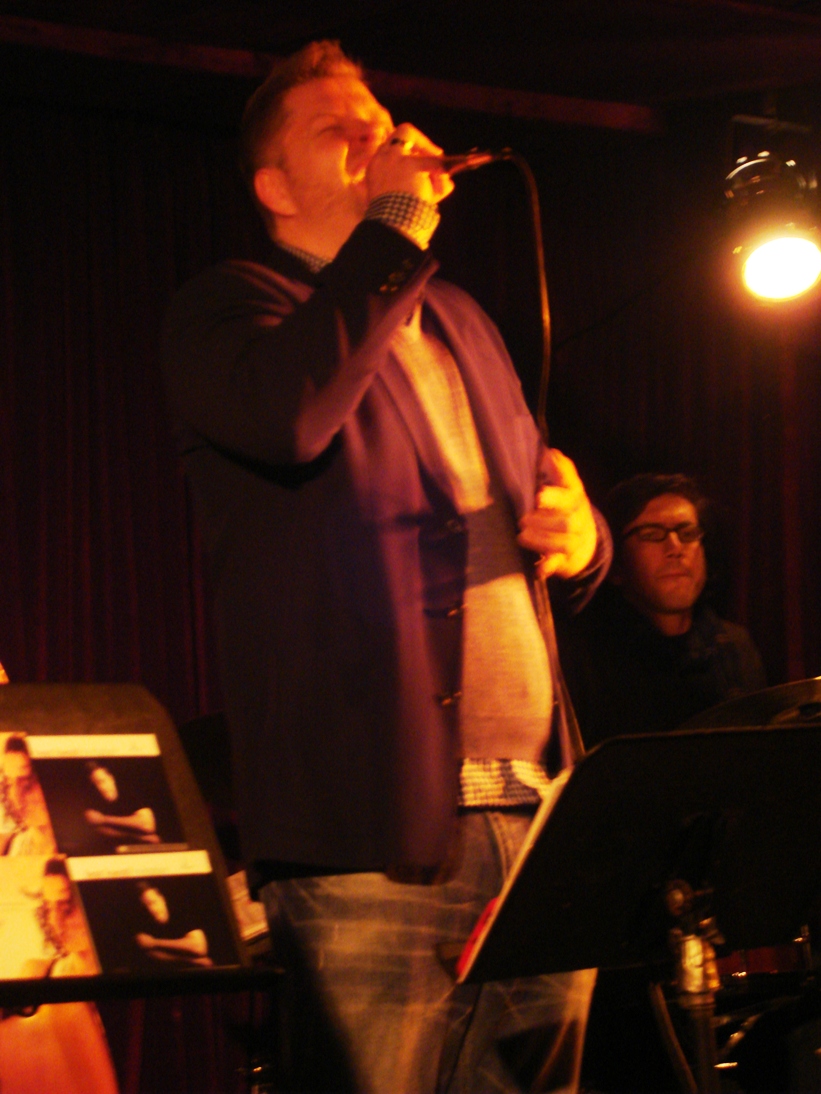 Most of the set was performed as a pairing but for select songs either of the two would step down and give the other a chance to perform solo. This was done with the utmost humility. When it was one's turn to sit out, they grabbed a smoke or a drink, took a seat front-row center and watched with the same intensity as the rest of the audience - as though they were hearing it for the first time.
For solo song selection, majority of Kaestli's were upbeat numbers and jazz standards, such as Rube Bloom/Johnny Mercer's "Day In Day Out" and Hoagy Carmichael/Ned Washington's 'Nearness of You'. Lohninger's, on the other hand, shifted greatly in mood and tone from the thoughtful but melancholy cover of Joni Mitchell's 'River' to her sardonic original 'It's a Little Bit Tricky but Not That Hard'.
Throughout the night, the two frequently commented on the changes in mood between songs. Lohninger brought up the transition from Little Bit Tricky to the pair's rendition of K.D. Lang's 'Save Me'. Kaestli then prompted what he regarded as the only thing to ask a person who'd just been saved with his performance of 'What Are You Doing With the Rest of Your Life?'.
The set ended on a high note with 'Centerpiece' originally by Harry E. Edison and John Hendricks, which was made far more distinctive by the invitation of Hendricks's daughter Aria to the stage. It was during 'Centerpiece' that the singers' collective attention clearly shifted from the stage to the crowd. The three performers, clearly having a ball, sang and danced the evening to a close with eyes leaving the audience only occasionally to connect with one another.
But it would have been cruel to leave an audience hanging after instilling such a rush, so an encore was provided. Kaestli and Lohninger returned to the stage for one final song, a predominantly true-to-form performance of Cole Porter's "You'd Be So Nice," which lulled the crowd's feet back to the ground in one final mood change.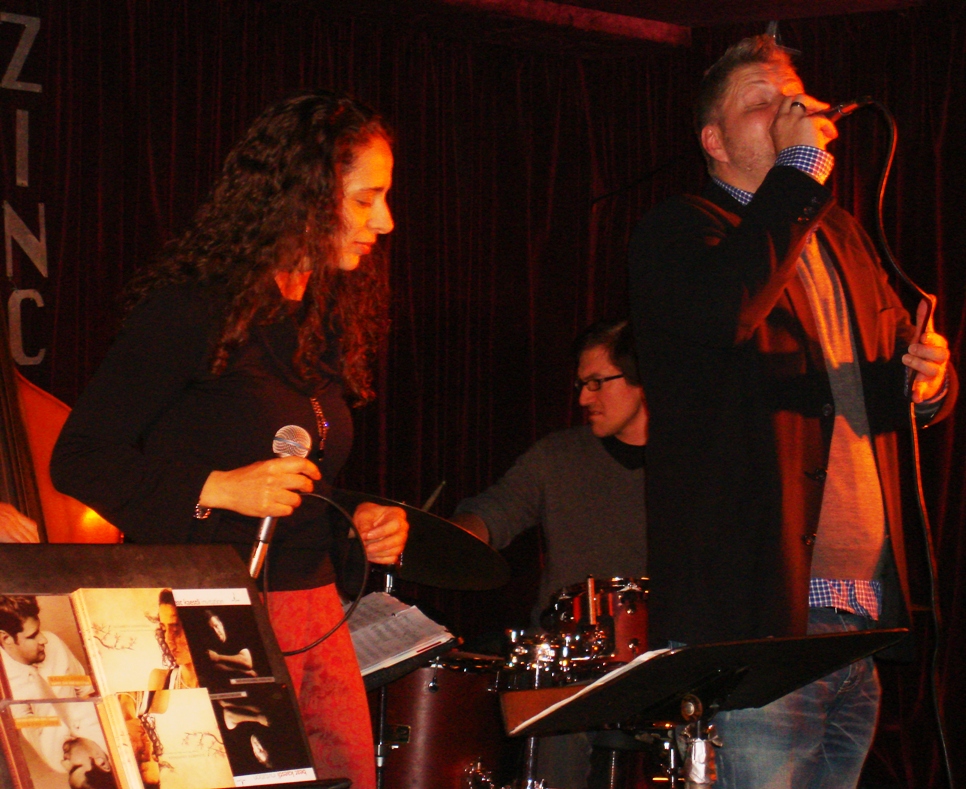 Kaestli and Lohninger have no immediate plans for more of these performances within the states. "It's always a matter of when our own projects are going on," said Lohninger. Kaestli agreed that the scheduling is much too difficult to accurately predict when they might perform together again, but both assured that they are plenty willing to participate in more dual billings should the opportunity arrive. Both Kaestli and Lohninger's springs are fully booked, but they hope to be able to plan more U.S. Dates together together in the fall.