Today, North Carolina's beloved rock ensemble, Big Something, is thrilled to release their new single, "The Mountain". The single serves as a precursor to their highly anticipated seventh studio album, Headspace, due for release on November 17, 2023.
Recorded at the legendary Pachyderm Recording Studios, "The Mountain" is a testament to the band's creative evolution. Produced by GRAMMY® Award nominee John Custer, the six-minute epic takes listeners on a sonic journey, weaving through organ-laden fuzz towards a rapturous refrain.
"The Mountain" holds a special place in the hearts of the band members as the song pays tribute to guitarist/vocalist Nick MacDaniels' lifelong best friend and frequent collaborator, Paul Interdonato, who penned the majority of Big Something's lyrics before his tragic passing in 2017. Nick explains, "The Mountain started with one of the last lyrics I have written down in a journal from Paul. Coming up the mountain, I can see it all again - the chorus is a metaphor for getting over trauma."
LISTEN | "The Mountain"
In tandem with the release of each new single from Headspace, Big Something plans to spotlight several non-profit organizations focused on mental health and wellness. This initiative underscores the band's commitment to raising awareness about mental health issues, an important theme that inspired much of the album.
With "The Mountain", the band will spotlight Sound Mind Live, a non-profit organization that catalyzes action on mental health by fostering community, open dialogue, and support-seeking on mental health through the power of music. Sound Mind events and programs create safe spaces where music and open conversations about mental health coexist through collaboration between artists, audiences, and access to direct mental health support. Sound Mind Live's work includes live concert events, podcast and video programming, and the free annual Sound Mind Music Festival for Mental Health in New York City each May. Their programming also provides on-site mental health resources in partnership with artist tours, venues, and music festivals around the country. National, local, and community-specific and culture-specific support resources are available here.
"We're so thrilled to be partnering with Big Something, and that the band is taking a courageous stand to use their voice to open up conversation on mental health and increase access to resources," said Sound Mind Live Executive Director Chris Bullard. "Music has the power to inspire, connect, and drive social change - and working with artists like Big Something to support their community and fans has a transformative impact on individual lives as well as longer-term shifts in cultural norms around compassion, empathy, and support-seeking."
Tonight, Big Something will take the stage at Maquoketa, IA's Fine 2 Day Fest, supporting South Carolina indie act SUSTO. Additional fall appearances include stops at Pelham, TN's The Caverns (9/22, supporting Papadosio), the United States Disc Golf Championship in Rock Hill, SC (10/7), and Winston-Salem, NC's Millenium Center for "Big Something's Haunted Mansion" (10/28).
Fans can catch Big Something performing "The Mountain" live during their nationwide "Headspace Tour," commencing in December 2023. The massive tour includes a momentous New Year's run (December 29-31, 2023), at Raleigh's Lincoln Theatre, and stops in Colorado (March 6-9, 2024), California (March 19-23, 2024) and the Midwest (April 2024). Tickets for all tour dates are on sale now.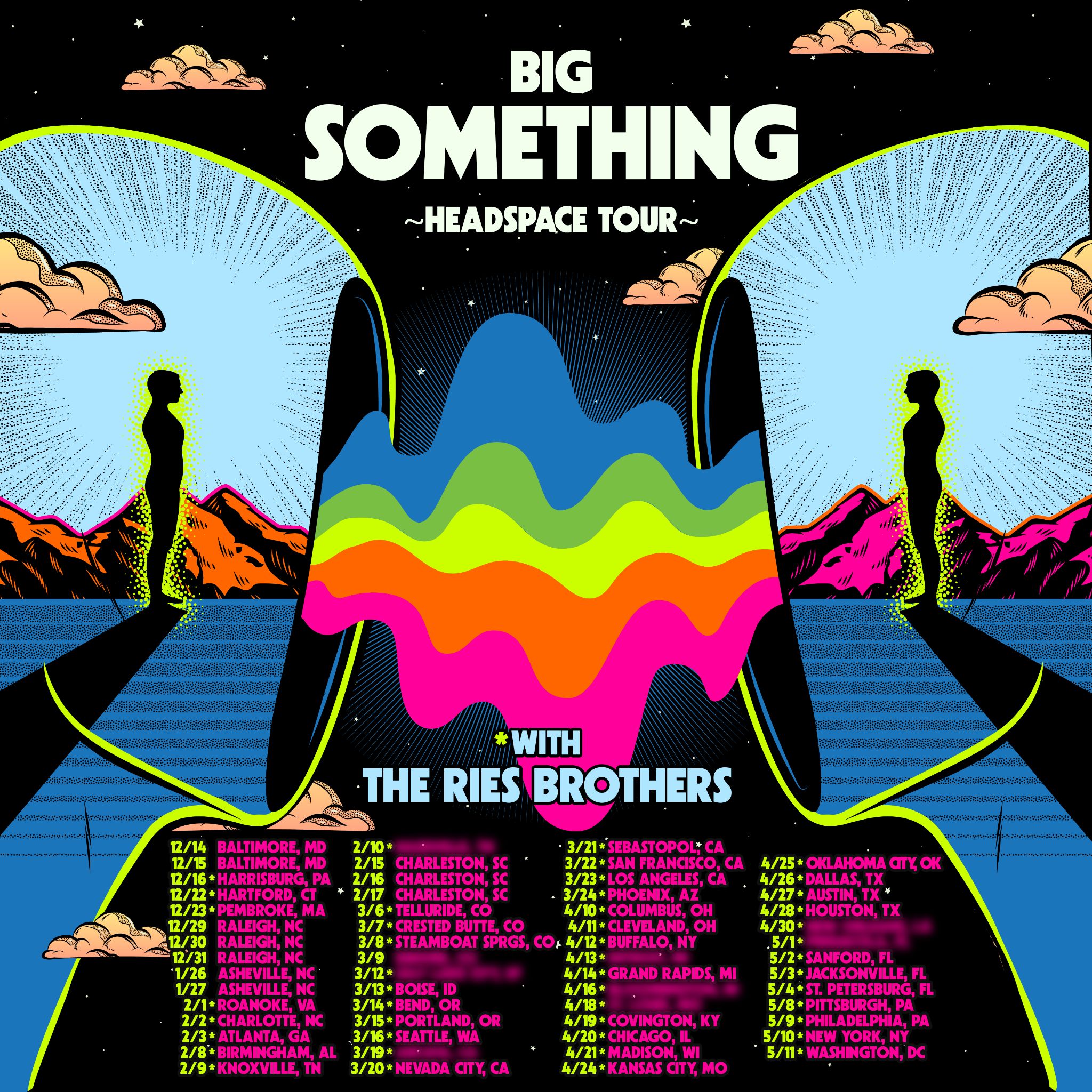 TICKETS | Headspace Tour
For more information, please visit bigsomething.com.