Blue Note Jazz Club Presents is excited to partner with the Rhythm Foundation for an exclusive series of concerts at the North Beach Bandshell in Miami Beach, Florida. The music scene in Miami has long been at the center of the city's cultural experience with influences in jazz, latin, hip-hop and more setting the stage for this exciting collaboration in live entertainment. The series will kick-off in June 2021 with more to be announced.
Blue Note Jazz Club proudly presents notable artists and regular performers on the Blue Note stage such as Arturo Sandoval and Robert Glasper. The series will also feature iconic artists Big Freedia and The Soul Rebels with special guest Cimafunk in concert celebrating the musical and cultural ties between Havana and New Orleans, and honoring the shared musical roots of the artists' hometowns.
Arturo Sandoval: June 5, 2021 at 5:00 p.m. and 9:00 p.m. EDT and June 6, 2021 at 4:00 p.m. and 8:00 p.m. EDT
Robert Glasper: June 12, 2021 at 5:00 p.m. and 9:00 p.m. EDT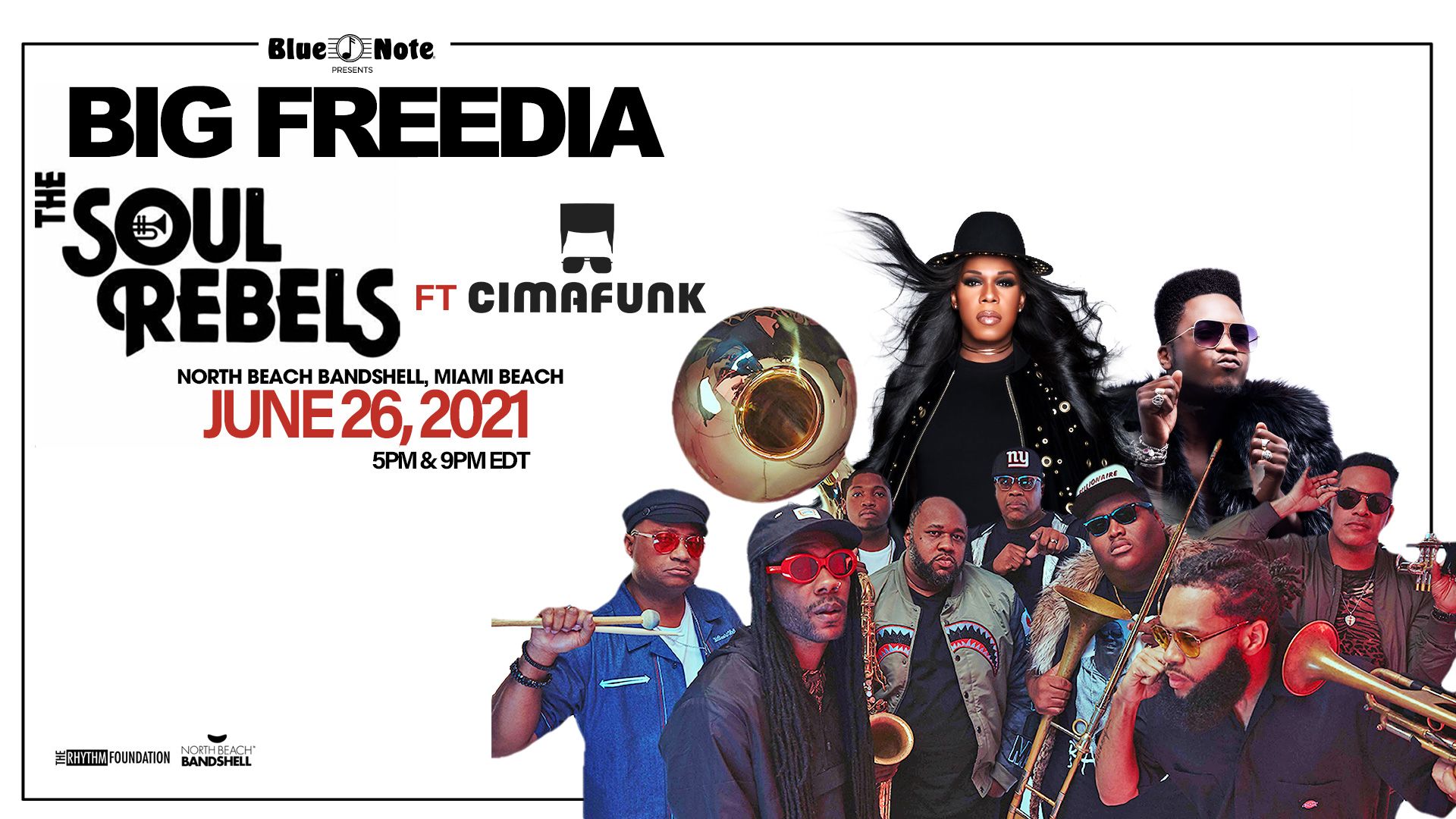 Big Freedia // The Soul Rebels ft. Cimafunk: June 26, 2021 at 5:00 p.m. and 9:00 p.m. EDT
Steven Bensusan, President of Blue Note Entertainment Group: "Blue Note is actively looking for outdoor space in New York City and beyond. We have not yet found the right opportunity to fit our needs locally making the partnership with North Beach Bandshell in Miami Beach, who have created a very safe environment for socially distanced shows, the perfect moment for Blue Note Jazz Clubs to continue presenting live music."
James Quinlan, Director of Rhythm Foundation: "The Blue Note Jazz Club pop up in Miami Beach marks a significant milestone in our growth at the North Beach Bandshell. We are honored to welcome their 40 years of experience with the leading jazz artists of our generation."
Tickets can be purchased at RhythmFoundation.com.
The North Beach Bandshell is an open-air venue hosting events, with a reduced-audience capacity, to comply with social distance recommendations. The venue is following Covid-19 safety protocol compliance with audiences, crew and performers.
About Blue Note Jazz Club:
Since 1981, Blue Note Jazz Club has been a cultural institution in New York City and one of the premiere jazz clubs in the world. Blue Note strives to preserve the history of jazz, and the club is a place where progression and innovation - the foundations of jazz - are encouraged and practiced on a nightly basis. In addition to the main acts that feature the likes of Chick Corea, Joe Lovano, John Scofield, and Chris Botti, Blue Note regularly showcases up-and-coming jazz, soul, hip-hop, R&B and funk artists. After 40 years of success, Blue Note continues to carry the torch for jazz into the 21st century in the cultural heart of New York, Greenwich Village.
About the Rhythm Foundation:
We create shared cultural experiences that build and strengthen the diverse communities of South Florida through the presentation of live music. We believe:
●       International cultural exchange injects empathy and positivity into the global conversation;
●       Cultural activity develops community and builds neighborhoods;
●       Sustainable practices are possible in event productions; and
●       Miami is a global city, and our artists and audiences are world-class.
Support for the Rhythm Foundation comes in part from the City of Miami Beach, Miami-Dade County Department of Cultural Affairs, and the State of Florida Division of Cultural Affairs.
About North Beach Bandshell:
The North Beach Bandshell is an open-air amphitheater in the heart of Miami Beach's North Beach neighborhood. It has been managed by the Rhythm Foundation - a Miami Beach-based nonprofit cultural organization - for the City of Miami Beach since 2015.