"Never trust a prankster," a motto of the Acid Test-producing Merry Pranksters back in the 1960s, was apropos on Friday, at Bob Weir's inaugural Campfire Tour show in San Rafael, California. In support of Weir's new countrified, ballad-heavy album, "Blue Mountain," all signs pointed to a live show in which Weir's new band would mosey on through a series of sparse, slow-paced odes.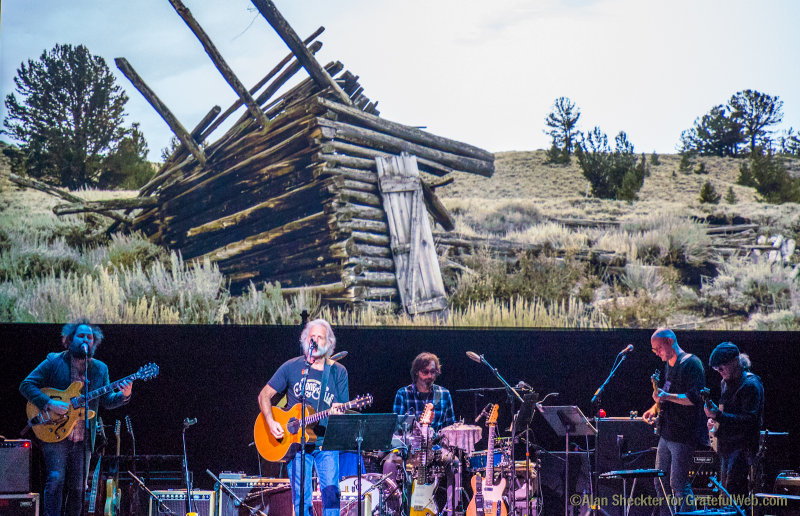 But while that was essentially true for the first set, and certainly enjoyable, the huge video backdrop segued between sets from wide-open-spaces scenery like old farm houses and galloping antelopes, to undulating, pulsating, psychedelic visuals, prompting a second-set outburst of full-throttle Grateful Dead material that surprised and delighted the assemblage.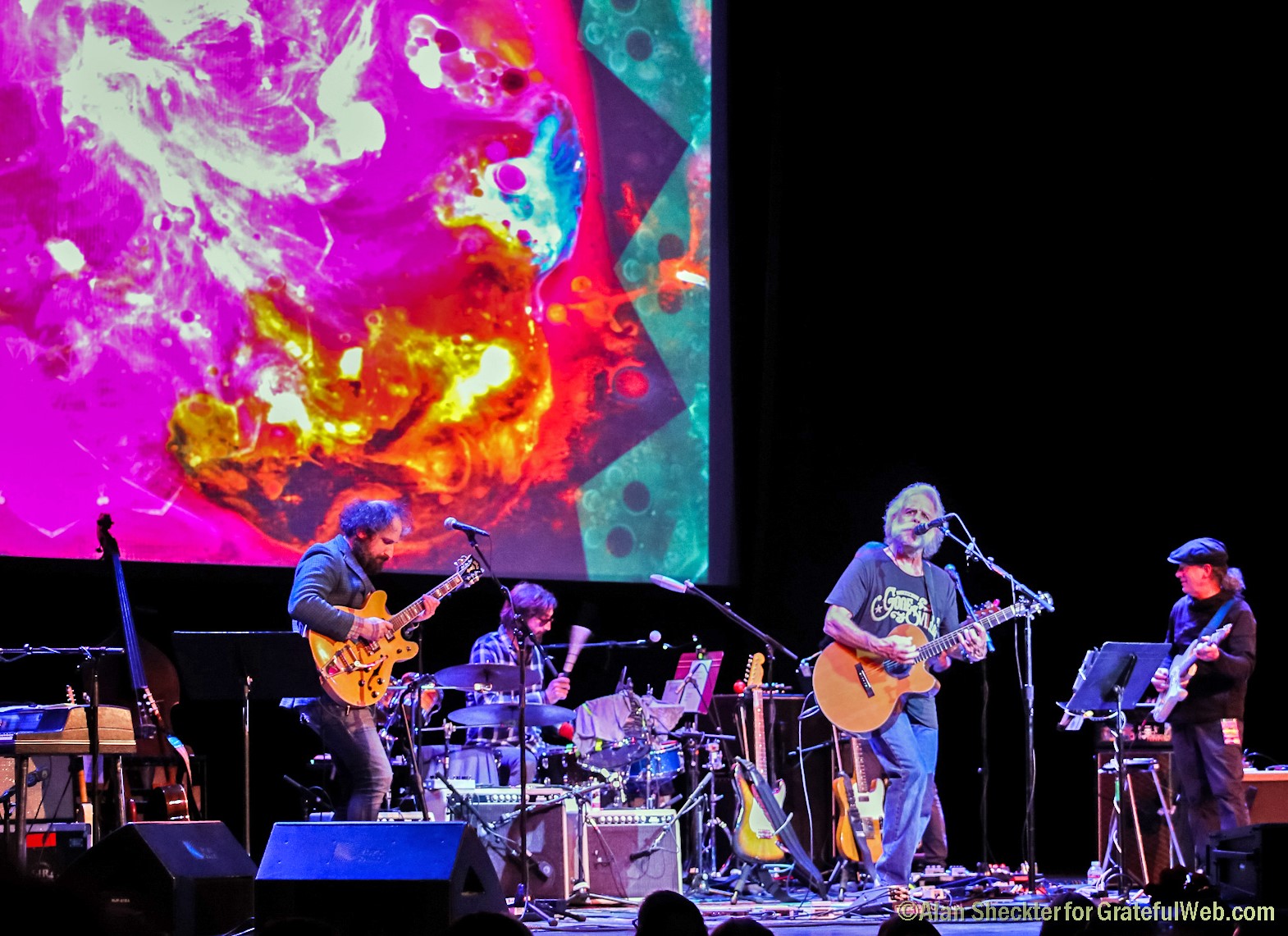 The first set did include, as expected, a preponderance of "Blue Mountain" material. And it was awesome. After the genteel crowd had gathered in the comfortable, 2,000-seat Marin Veterans Memorial Auditorium, Weir came out onstage alone, and said, "Fifty-some years ago, a 15-year-old kid thought it would be fine thing to do to run away one summer and be a cowboy." It was his way of introducing the hometown audience to the title track of the new record, which includes the oft-repeated lines, "Blue Mountain you're azure deep; Blue Mountain your sides are steep."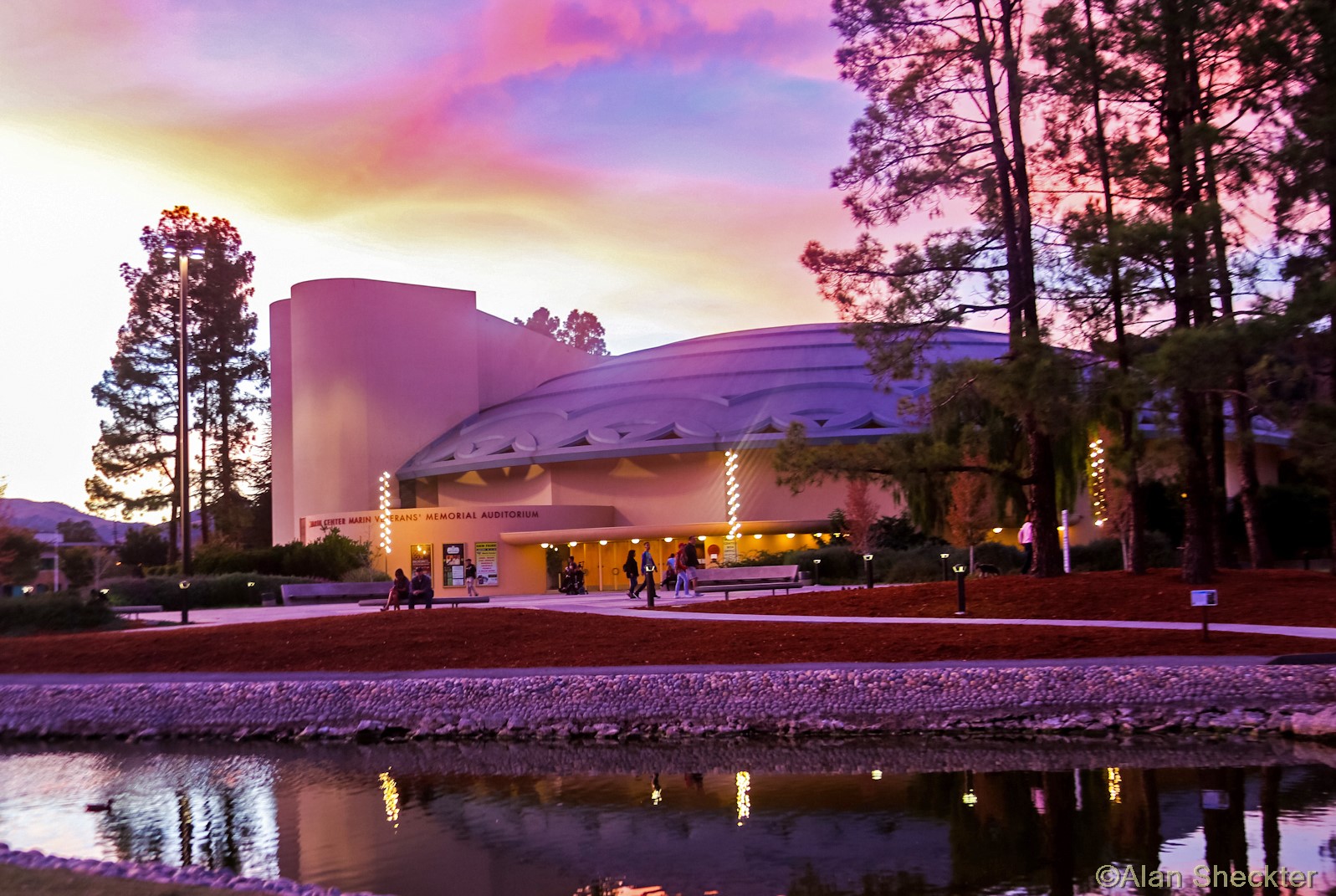 Throughout the evening, the clearly fit Weir was comfortable in stature, mood, and music prowess, with some attendees stating that they'd never seen or heard him in such fine form. He and the band performed, during the hour-long first set, cool and breezy versions of seven tunes from the new, 12-song record, including the album's opening track, "Only a River," which includes snippets of the old, traditional "Oh Shenandoah," and which has been getting a lot of airplay (and digital play) over the past month. Each cowboy-tinged, story-telling tune was nicely delivered, and it seemed as if the now-elder Weir was letting us peek behind his personal curtain to share his formative memories.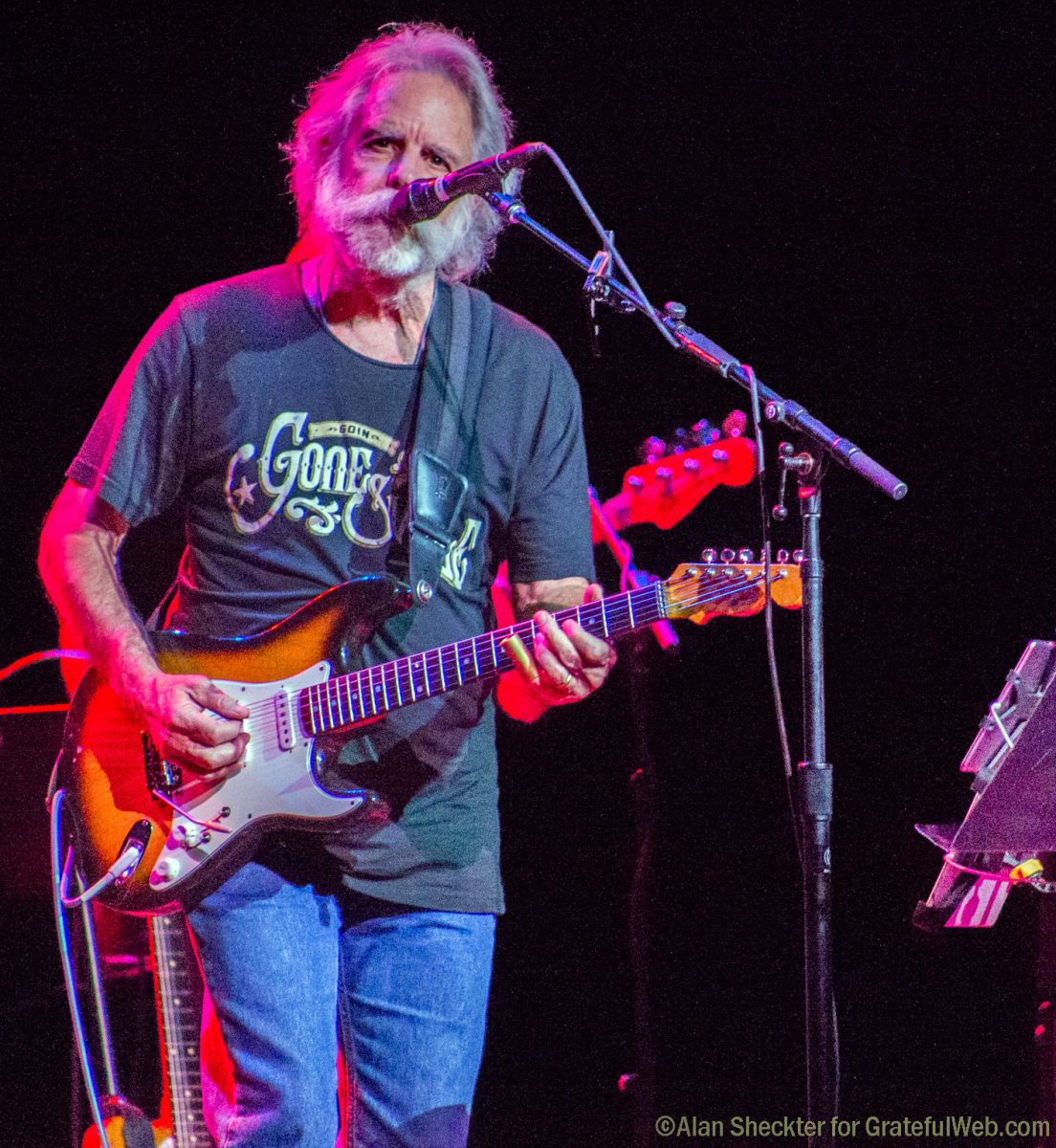 As the story goes, according to a recent Dennis McNally published piece, Weir spent some preteen summers at a cattle ranch in Squaw Valley, California. "I spent a lot of time as a kid hanging at the riding stable there," Weir is quoted as saying. "It was manned by these old cowpokes, and they kind of took a shine to me." In addition, some of Weir's teen adventures took place at a school in Colorado and on a Wyoming ranch, both with future lifetime friend and collaborating lyricist John Barlow. It was in the bunkhouse of Barlow's ranch where Weir says he first heard, "Blue Mountain," and 50 years later, he reworked the song with the new album's co-chief songwriter, Josh Ritter. Weir said, "It helped us shape the whole concept of the record when we finally starting nailing that one together."

The nameless – so far — new band includes three members of veteran indie band, The National, including Scott Devendorf (electric bass), Bryan Devendorf (drums), as well as Josh Kaufman, who co-produced "Blue Mountain" (electric and acoustic guitar passages, and stints on piano). With Aaron Dresser not able to make the tour, stepping up to the plate are Jon Shaw of the bands WOLF and Shakey Graves (mandolin, stand-up bass, piano) as well as longtime Weir collaborator Steve Kimock (guitars, lap steel). Both Kimock and Shaw played on the new album.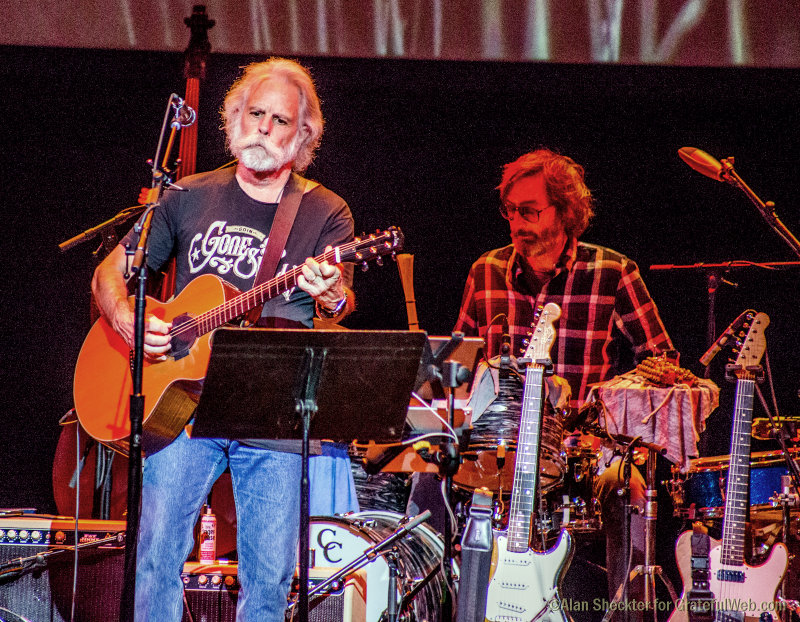 Weir's collaboration with The National has some history. Onstage, Weir performed a Grateful Dead music-filled show with The National at Weir's TRI Studios in early 2012, and Weir appeared with them for a song at San Francisco's Outside Lands festival in 2013. An additional, National-to-Grateful-Dead connection occurred earlier in 2016, as The National acted as a house band on "Day of the Dead," a six-hour, 59-song tribute to The Dead with proceeds going to the help the those affected by HIV/AIDS and related world health issues.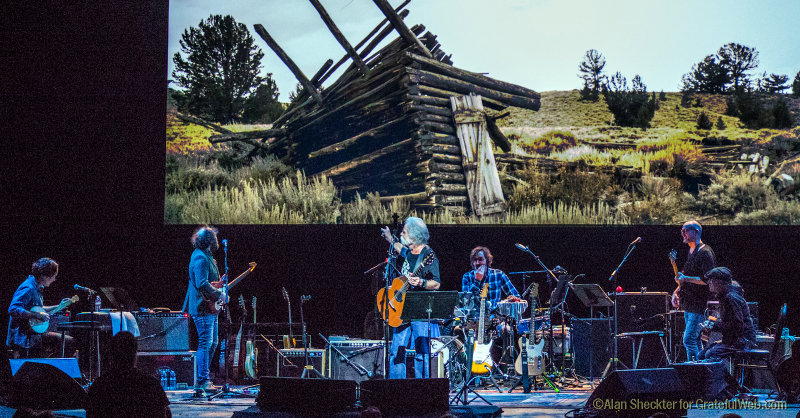 Back to the show: Weir was quite spontaneous. At one point early in the first set, he turned to Kaufman, and spoke into the mic to all of us as he pointed behind him to one of the rustic backdrops, "See that? Look at that," Weir said. "I spent a lot of time around scenery like that." He then talked about how old abandoned barns, like the one shown in the scene, would remain there seemingly forever until becoming almost petrified. He also amusingly introduced "Lay My Lily Down" as "basically a love song for a horse."  Weir was also not afraid to share with the crowd that he was still becoming familiar with live arrangements of the new songs, and before starting one song, he changed his mind, saying, "I'll tell you what, we'll do that next set. I need my cheat sheet." For a guy who would perform most Grateful Dead shows without saying a word to the crowd (letting the music do the talking), such banter and intimacy was refreshing and comforting. He also gave props to Ritter. "It was a lot of fun working with Josh Ritter on these songs," Weir said. "He's a gifted young American writer."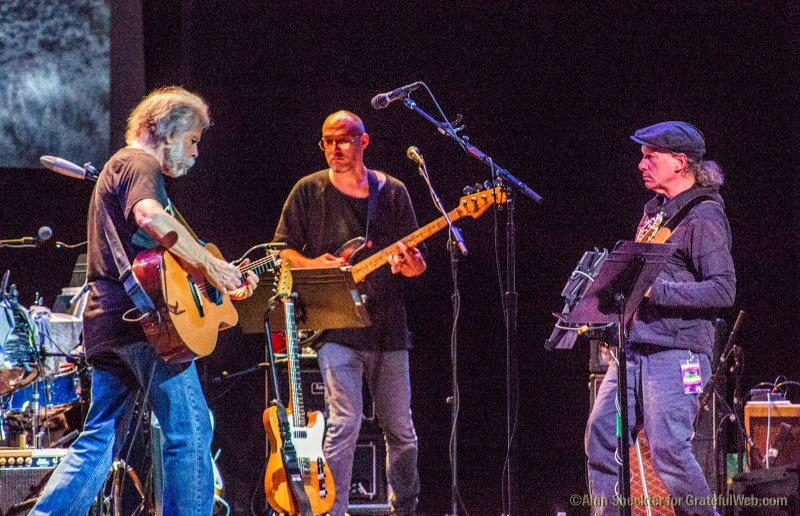 For a first-show-ever by this band, the group was quite cohesive and all on the same page, including the recently added Kimock and Shaw. Weir and friends' penultimate song of the first set, which garnered plenty of hoots and hollers from the crowd, was a well-placed, long-time Grateful Dead piece of music, "He's Gone," a song that an old friend used to say has the pacing of a plodding horse. The wonderful rendering of "He's Gone" eventually led into the upbeat, Johnny Cash-like, "Gonesville" ("Well if I'm alone will you take my hand; Will you stand with me in the pouring rain; With my seven sins and my contraband").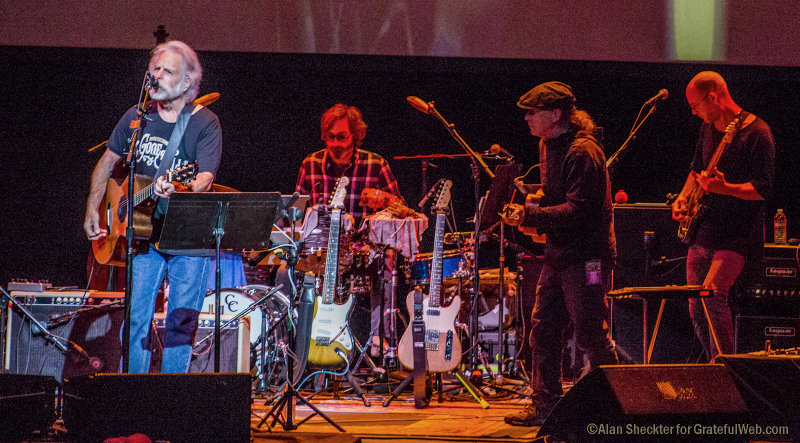 After about a half-hour break, all modicums of lullaby-like cowboy songs were put to rest, and muscular versions of classic Grateful Dead songs took over. The second set opener, "Althea," was delivered with intensity and it quickly became apparent that Kaufman's twangy, country-blues riffs were a perfectly balanced counterpoint to Kimock's psychedelic guitar approach, as Weir played earnestly in between them. Though awesome on its own, "Althea" foreshadowed more of what Weir had in store for us. An excellent, reworked rootsy version of the old favorite "My & My Uncle," with extended twangy jams from Kaufman and Garcia-reminiscent jams from Kimock defined the band's potential latitude. The band then went all-out for the rest of the 80-minute set, bringing the crowd to its feet as it poured forth dazzling, on-fire versions of "Playin' in the Band" into "The Other One," with Weir surprisingly playing an acoustic guitar through much of the hoopla (and Scott Devendorf clearly enjoying the moment he got to deliver Phil Lesh's old staccato bass intro that signals the vocal portion of "The Other One"). The band carried on, gearing down for a sublime version of Weir's signature, "Looks Like Rain," with Kimock's lap steel passages bringing to mind Jerry Garcia's early accompaniments of the song, a la 1972. Then, with a sweet reprise of "Playin' in the Band," and the second set was complete. That is, until a triple encore ensued.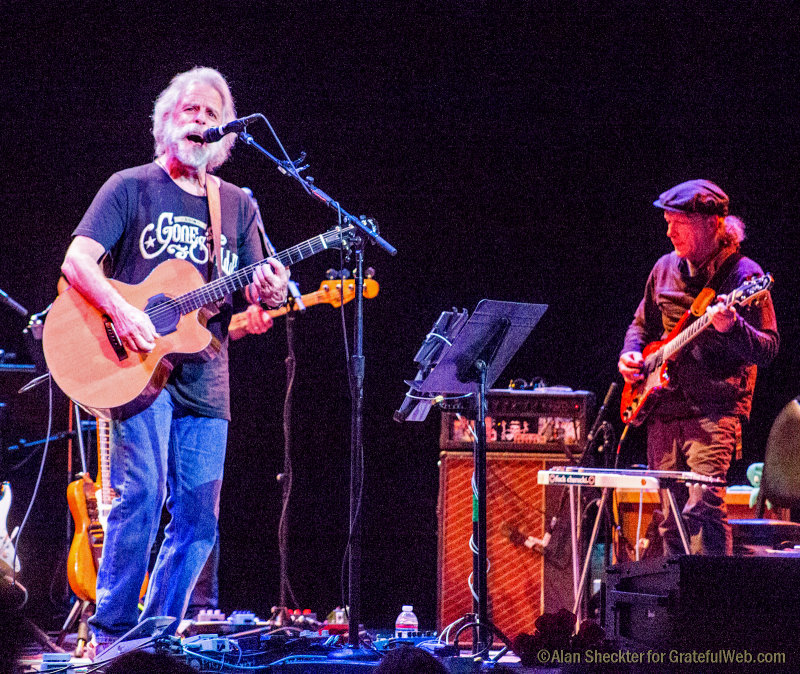 Weir first returned for an encore alone to play his medium-paced new cowpoke ditty, "Ki-Yi Bossie," which Lukas Nelson helped Weir to write. Two old Grateful Dead-catalog favorites that fit the "Blue Mountain" motif, ""Mama Tried" and "Ripple," ended the festivities.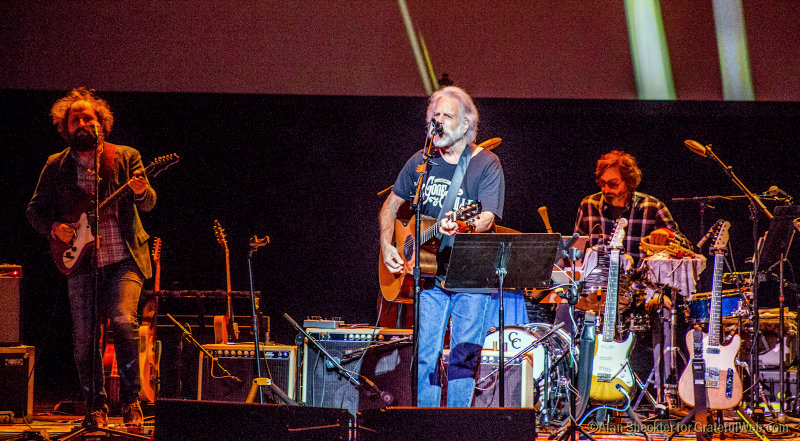 One couldn't help but wonder how much of an effect that Kimock had on the band, in terms of injecting a big Grateful Dead vibe into the show. If Aaron Dresser was in the band, as originally planned, would the whole thing have been different? Not so, according to Matt Busch, Weir's longtime manager. "The song selection has not changed from what was originally planned, yet," Busch said the next day. "There's definitely a difference in style between Aaron Dessner's guitar playing and Steve Kimock's and while Aaron would've added additional keyboards along the way, he does not, like Steve, play lap steel and pedal steel so those parts in 'Looks Like Rain' and other songs would've been different. <That's the> best answer I can give after one show."
Note: The show came about two weeks after Weir received a Lifetime Achievement Award at the 2016 Americana Honors & Awards.
Bob Weir and band, Oct. 7, 2016 | Marin County Veterans Auditorium, San Rafael, CA
Set 1) Blue Mountain, Only a River, Lay My Lily Down, Whatever Happened to Rose, Ghost Towns, Gallop on the Run, He's Gone > Gonesville.
Set 2) Althea, Me and My Uncle, Playing in the Band > The Other One > Looks Like Rain > Playing In The Band reprise.
E) Ki-Yi Bossie, Mama Tried, Ripple