"They say the Grateful Dead played here about 14 times, in the old days," said percussionist Mickey Hart as he took the stage on May 1 at the Frost Amphitheater on the Stanford University campus. "Now, if any of you see some of my brain cells rolling around here, I want you to pick them up and they'll be a deposit at the front gate, so I can become whole again." And just like that, Hart, along with Zakir Hussain and newly rejuvenated Planet Drum affectionately connected with like-minded music devotees young and old, several thousand of whom convened on the sloping giant lawn on the warm spring Sunday.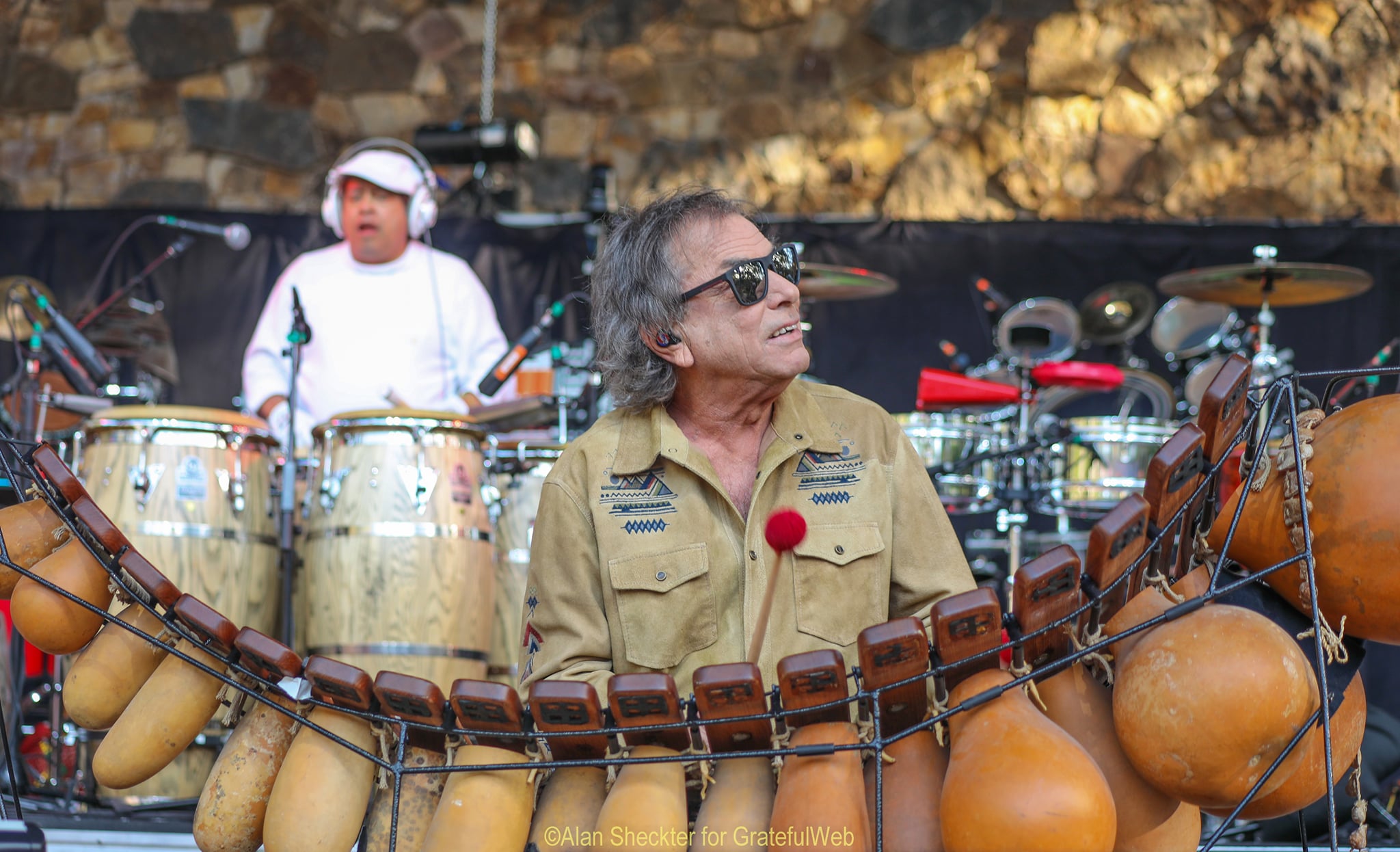 With a massive display of rhythmic musicmaking apparatus rarely seen in one place, the Planet Drum ensemble of 10 debuted a delicious hourlong audio-visual performance in support of their soon-to-be released, "In The Groove." Grateful Dead enthusiasts of all ages were primed to sing along with tunes from the old songbook, and they'd get to in earnest with Bob Weir's ensemble that would conclude the evening's festivities. But there was something pure and comforting to know that as the first recipients of Planet Drum's brand-new essence, none of us in the house knew exactly what was to come. Nor could we holler out the lyrics. We all started with an empty canvas as Planet Drum took everyone on a joyful new experience of musical palettes. Their set included "Tides," which the band has released as the lead "single" from "In The Groove."

The core band members of Planet Drum, which began in 1991, were Hart (United States) and Hussain (from India), as well as longtime Hart music-mates Giovanni Hidalgo (Puerto Rico) and Sikiru Adepoju (Nigeria). This foursome recorded and toured in 2007 as the Global Drum Project. And Hart's descriptions of these players that I garnered in an old interview, with the Chico (Calif.) Enterprise-Record in September 2007, remain and only have grown stronger in the past 15 years.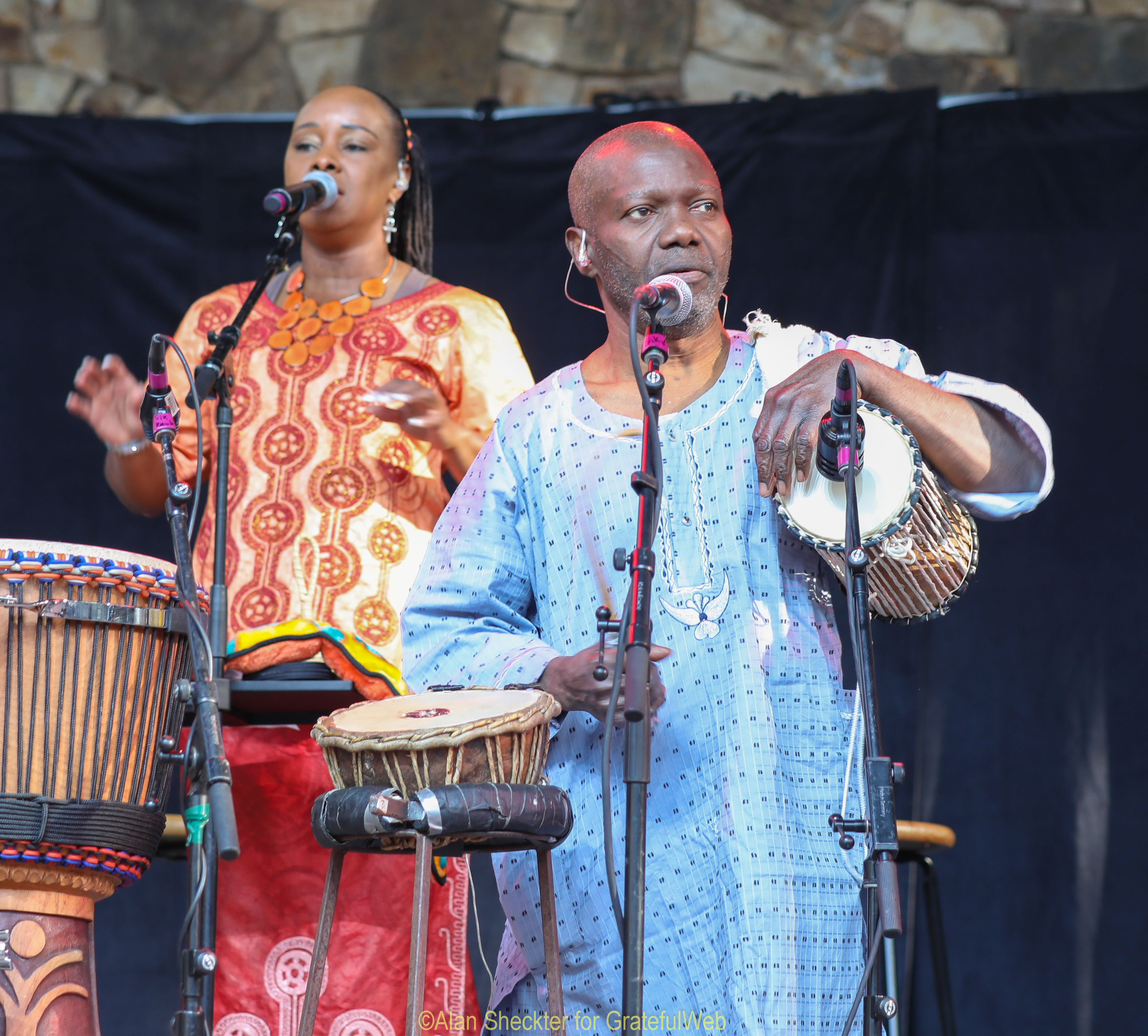 "He's the Einstein of rhythm; he's the greatest rhythmist on the planet," Hart said of Hussain in a phone interview from Hart's west Sonoma County home-studio in September 2007. "He was bred for this. His father was Ravi Shankar's drummer."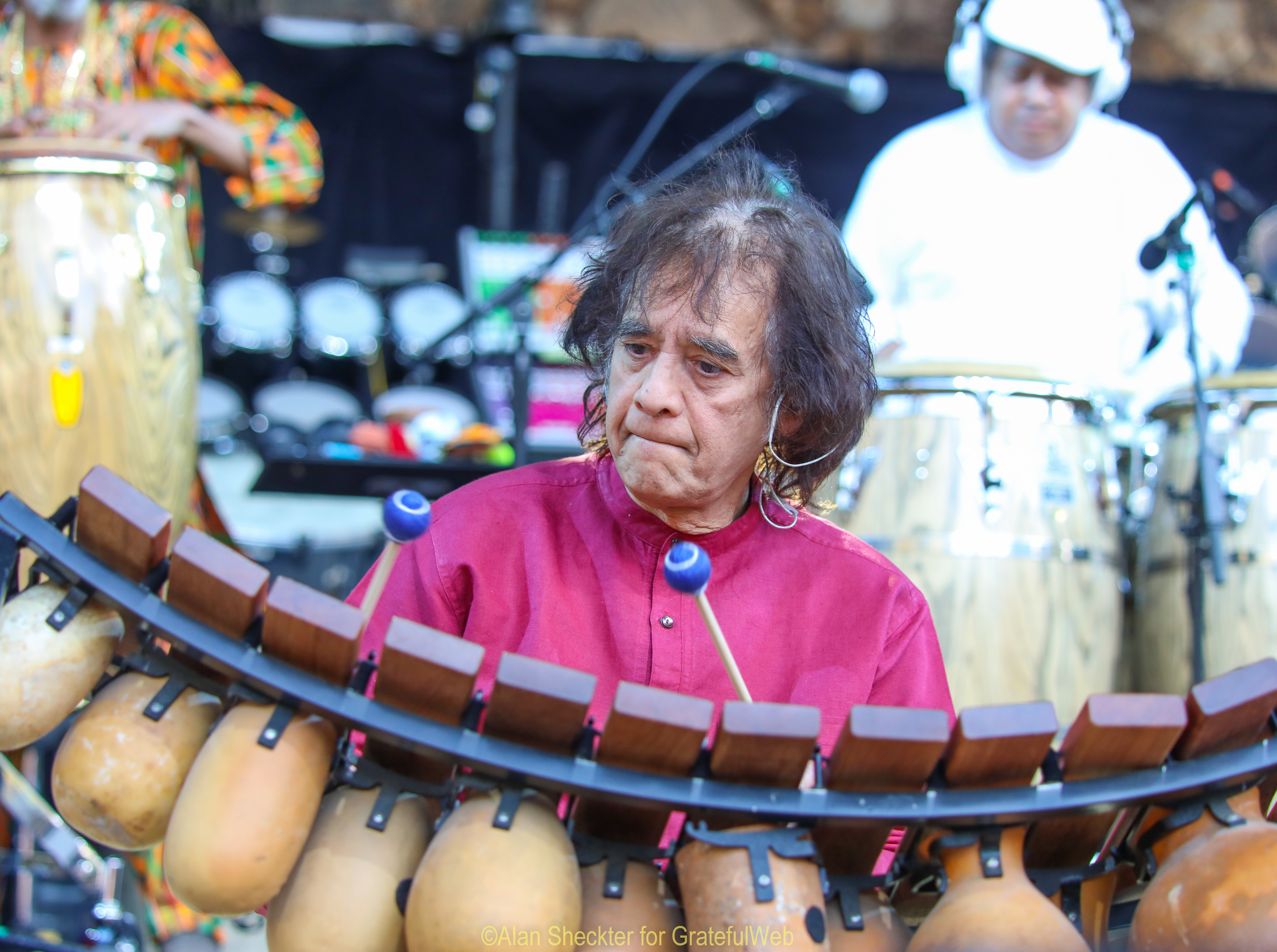 "Giovanni is a god in Latin production," Hart said in 2007. "He has expertise from the African diaspora, which is how we got 'Not Fade Away' and Bo Diddley got it."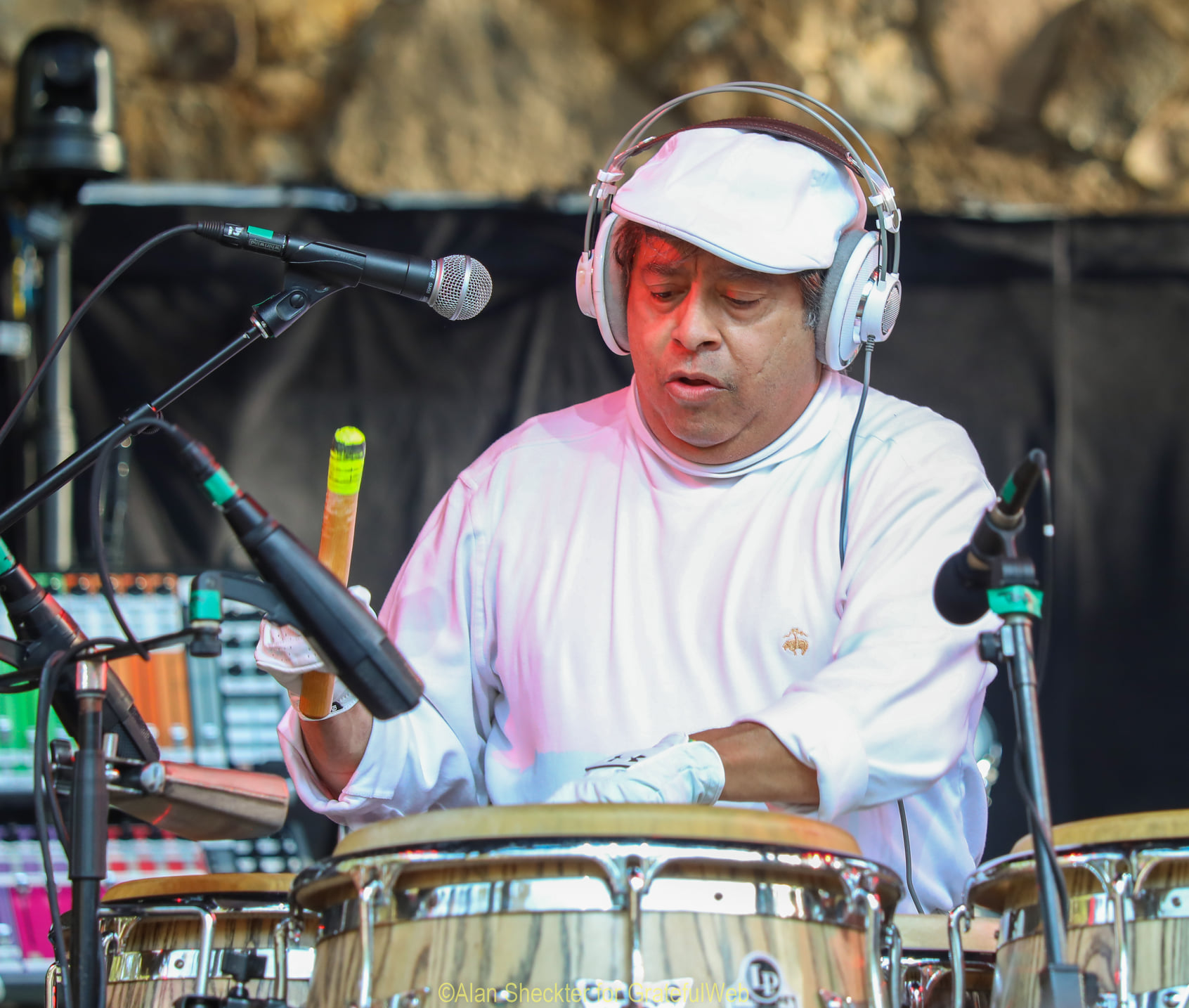 Together, the visually stimulating troupe exhibited incredible instrumental dexterity as they delivered always interesting atmospheric, trance-producing pieces of indigenous music, with percussion, some strings, and digital/electronic sounds. Other bandmates included long-time Carlos Santana percussionist Karl Perazzo; composer, drummer and dhol player, and Red Baraat front man Sunny Jain; and "bongocero" and percussionist Anthony Carrillo.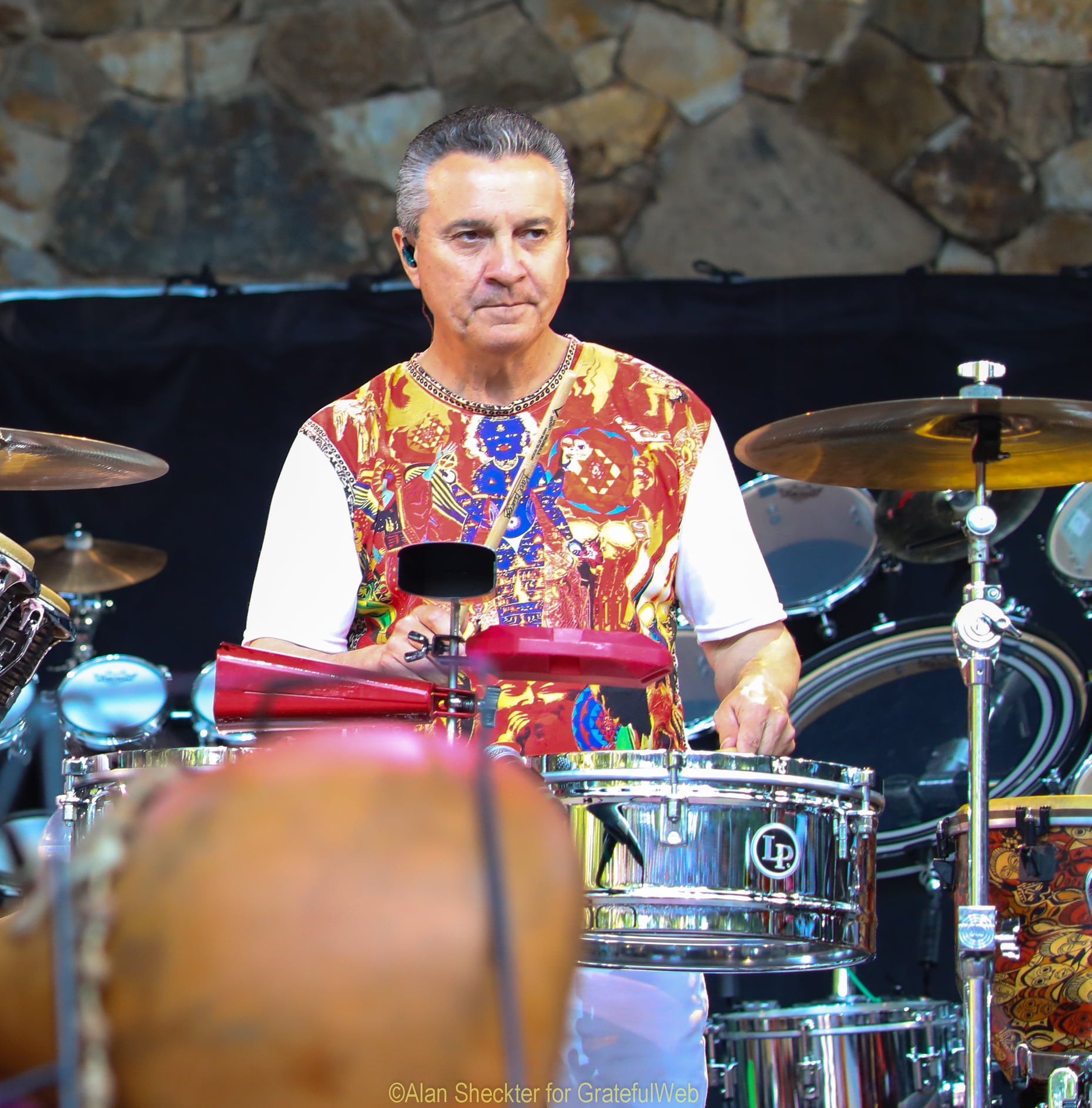 With chants and spoken-word passages intermixed with the instrumentation, Planet Drum merged percussion and stringed rhythm instruments into pulsating world-groove motifs. The grooving musical collective also included two dancers/vocalists who delivered occasional musical orations that enhanced the whole experience. Singer/dancer/dance teacher Dandha Da Hora, from Brazil, has plied her craft in California and beyond with samba-reggae-funk outfit Samba Da for more than 10 years. Mandjou Kone, a West African singer/dancer and West African griot (a keeper of oral tradition), is also a UC Santa Cruz dance lecturer. Together, they added a compelling component to the band.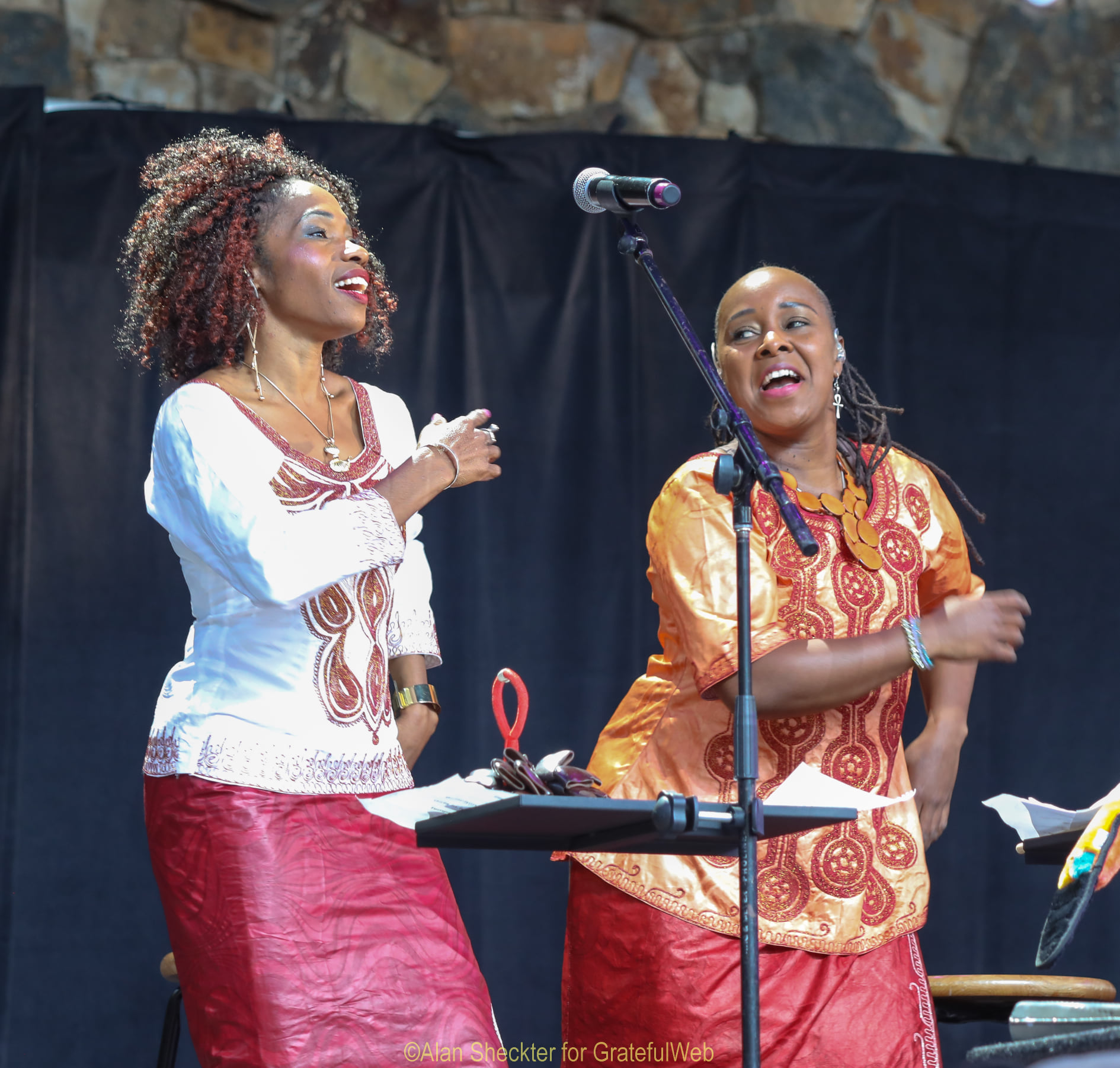 After a reasonably short break, Bobby Weir & Wolf Bros took their stage positions and dug in for what would be a two-hour set and encore. What started out as a trio in October 2018, with Weir, bassist/producer/music executive Don Was, and drummer Jay Lane (RatDog, Furthur, Primus), the group since added longtime-Weir collaborative keyboardist Jeff Chimenti (RatDog, The Dead, Furthur, Dead & Company, more), and the "Wolfpack." The Wolfpack, a strings and brass quartet on this night, brought a virtuosic pack of players to the fold, including Alex Kelly (cello), Brian Switzer (trumpet), Mads Tolling (violin), and Sheldon Brown (woodwinds)."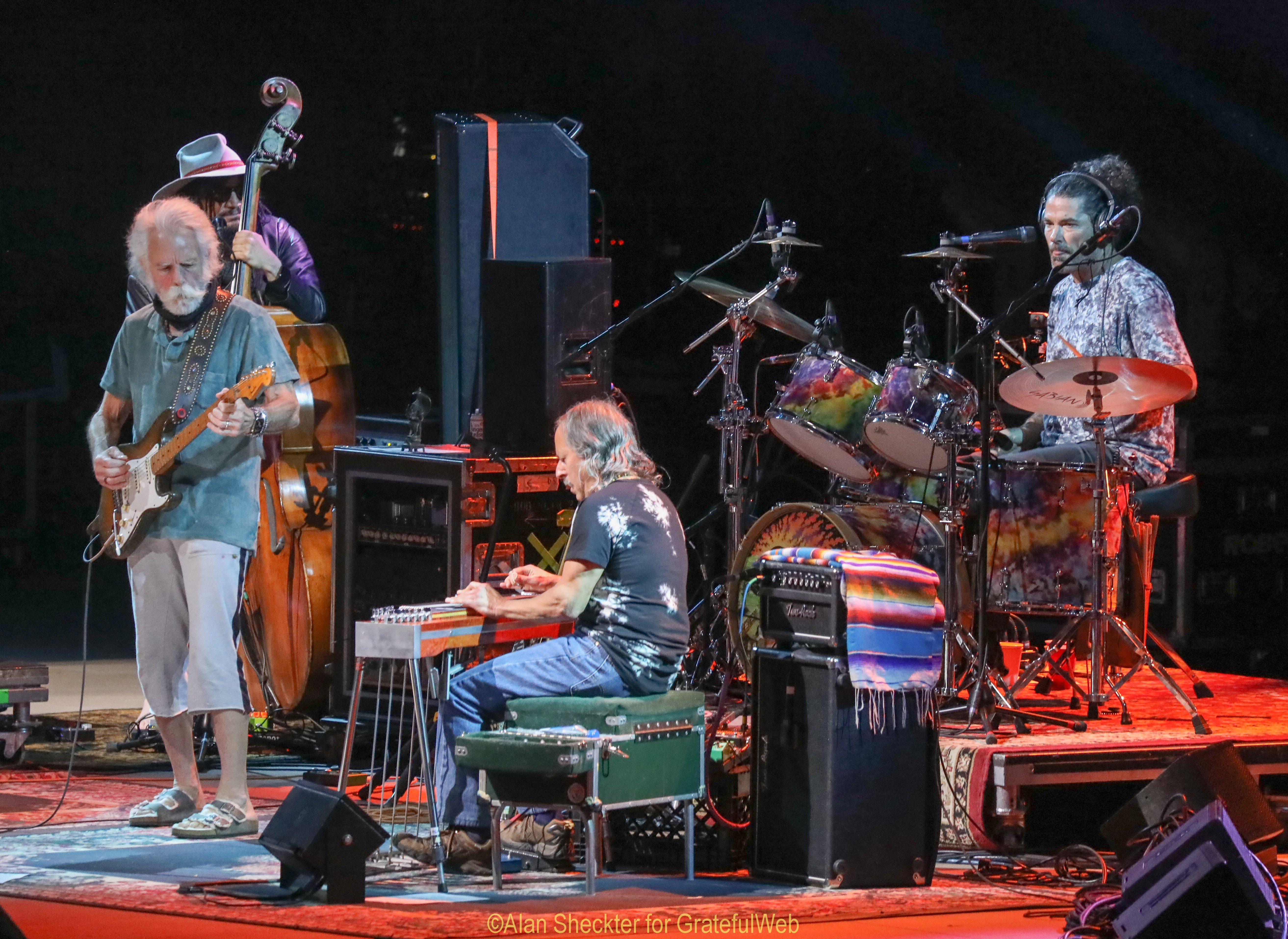 In addition, a pedal-steel specialist slot was added about a year-and-a-half ago, with Barry Sless (David Nelson Band, Moonalice, others) recently replacing Greg Leisz, who originally assumed those duties. Sless's pedal steel, which fit very nicely into songs such as "Brown-Eyed Women," added a whole 'nother countrified layer of goodness.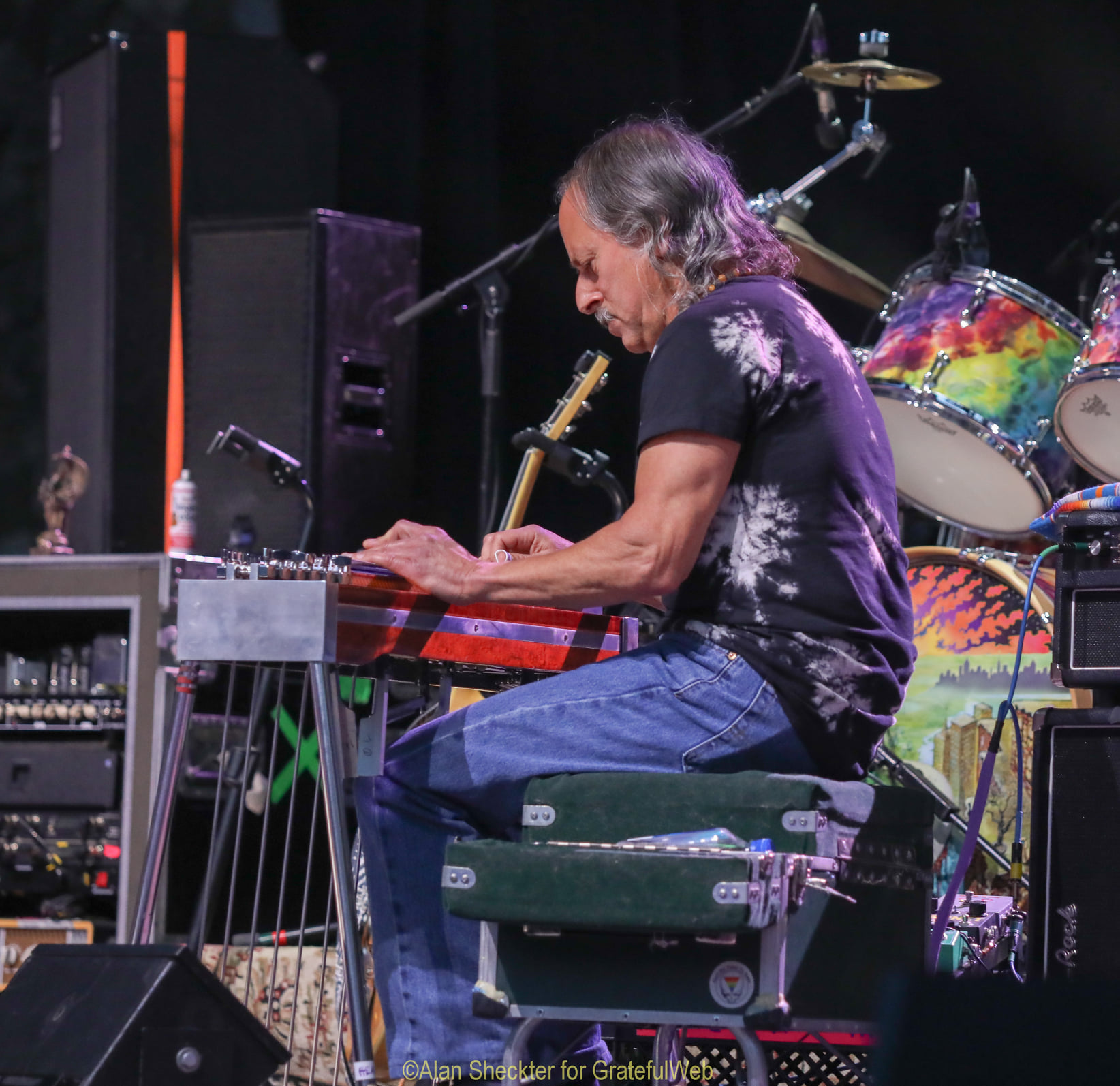 Was delivered faultless, balanced bass injections, fitting for each song. Lane more than suitably handled drumming duties, riding each song's interludes with equal assurance, while Chimenti contributed his always impressive display of keyboard interpretations of Grateful Dead catalog material. Both Lane and Chimenti have collaborated with Weir onstage for more than 25 years, in various bands.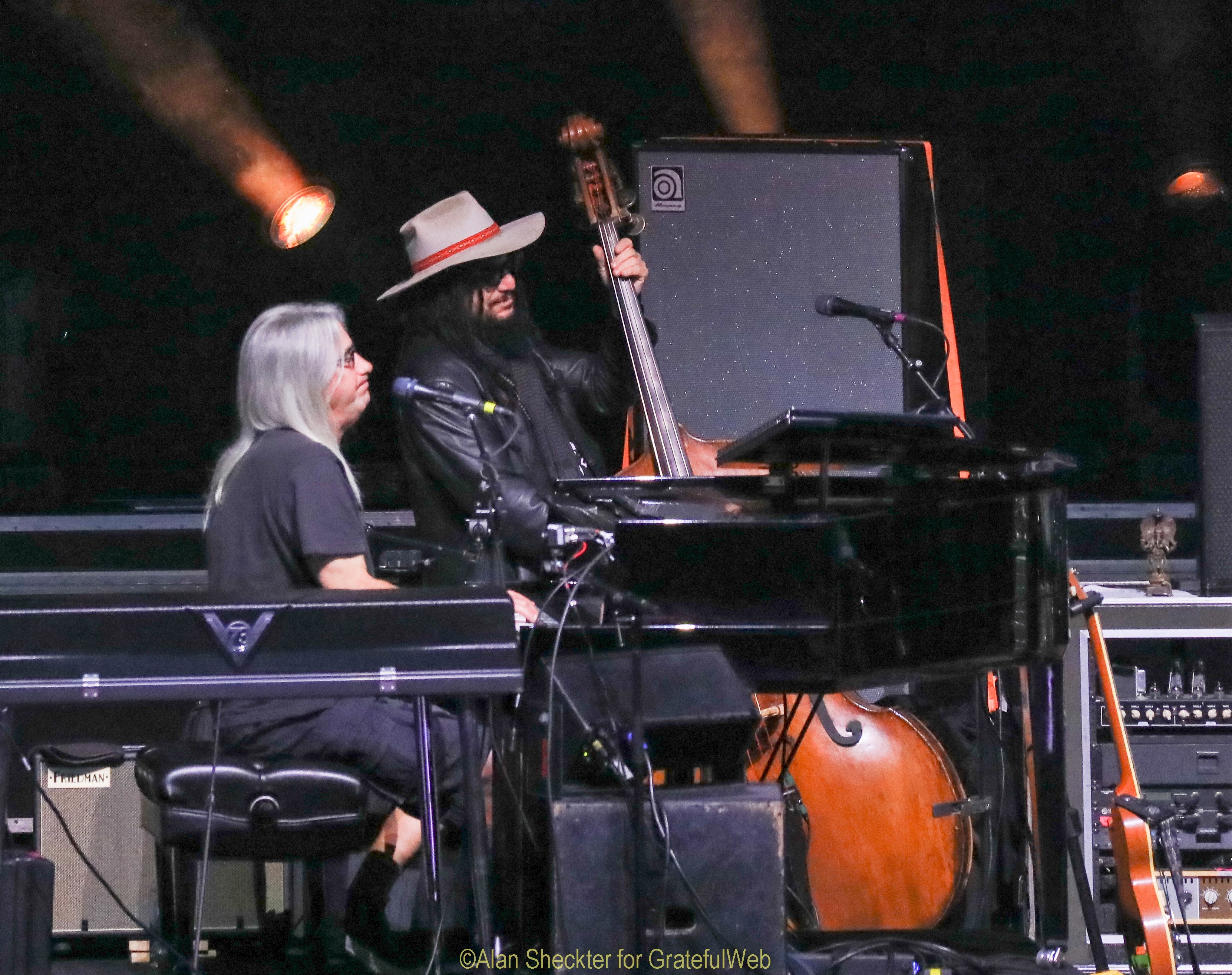 In a standard so-called "jam band," there are songs and improvisations. But there are also arrangements, whether in preparation for an album project or a live performance. With the Wolf Bros, Weir "and company" have expanded arrangements of well-known  Grateful Dead songs and boosted them in melody, pace, and added layers and textures – all of which ain't easy and should be universally applauded.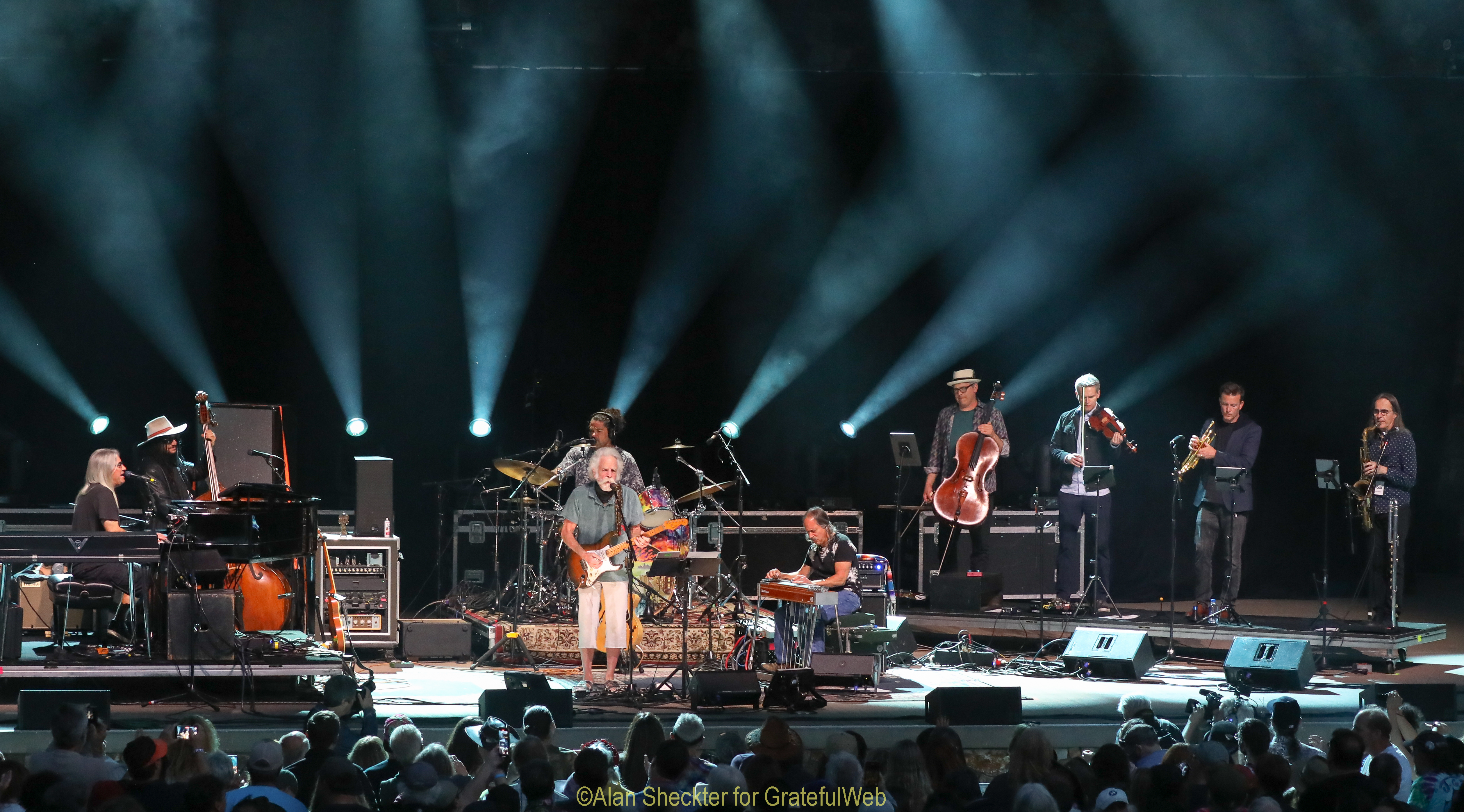 Also to be commended is Weir's command of all guitar duties in this band, including lead and twangy rhythm guitar – something that's always been a part of Weir & Wolf Bros. Over the last few years, Weir doesn't sing as much as he speaks lyric phrases much of the time, like on "Ramble On Rose," for instance. And it works quite well to get the songs' messages out in way that matches his – and the songs' – maturity.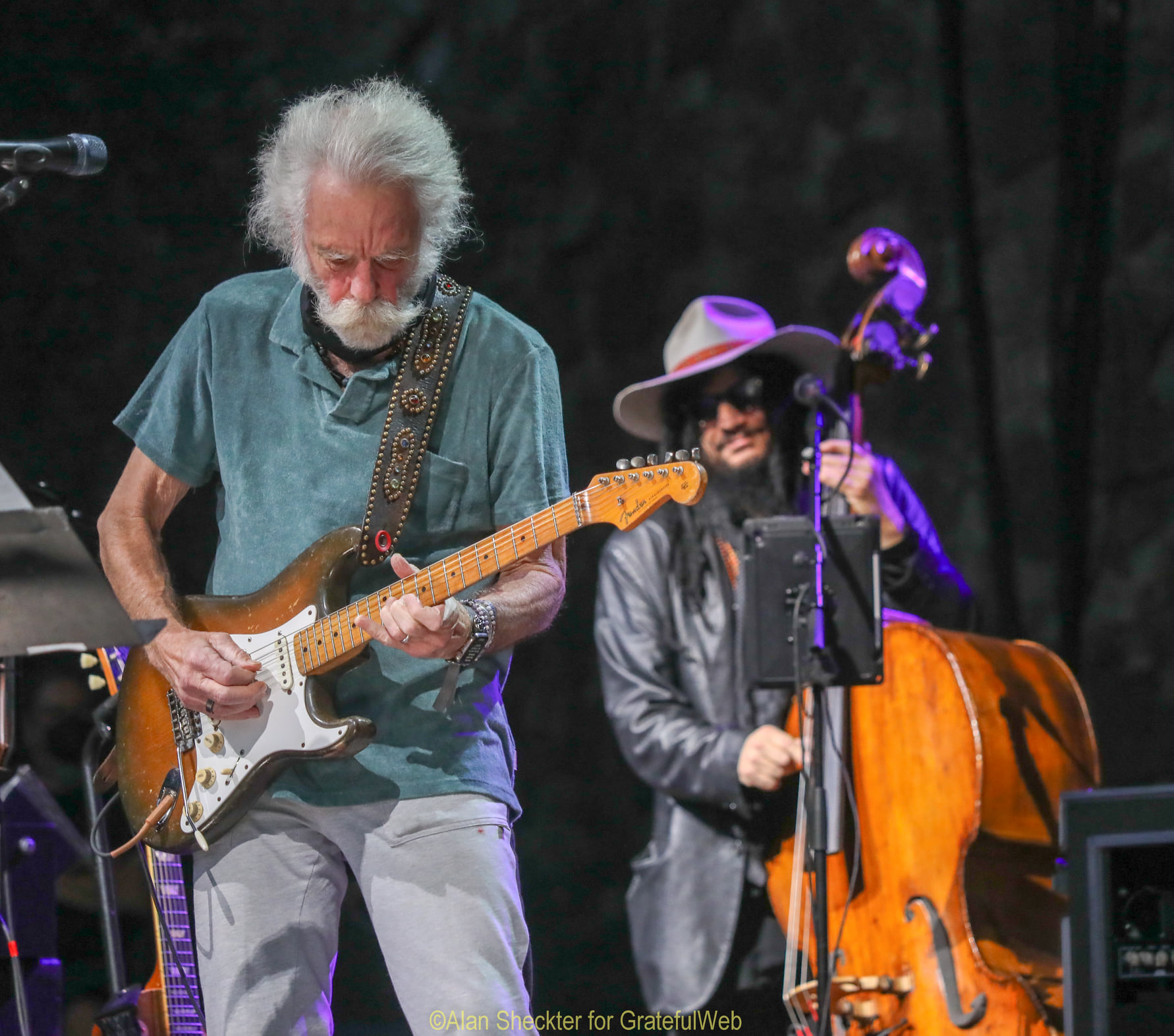 Weir & Wolf Bros set was of slow-to-moderate pace, akin to Dead & Company. That's not to say there wasn't lightning in a bottle in many places. The band eased into the "Jackstraw" opener, for instance, at a lazy, adagio pace. But by the time the tune's jams rolled around, a quickened allegro pace and increased volume and audacity moved the band and the crowd.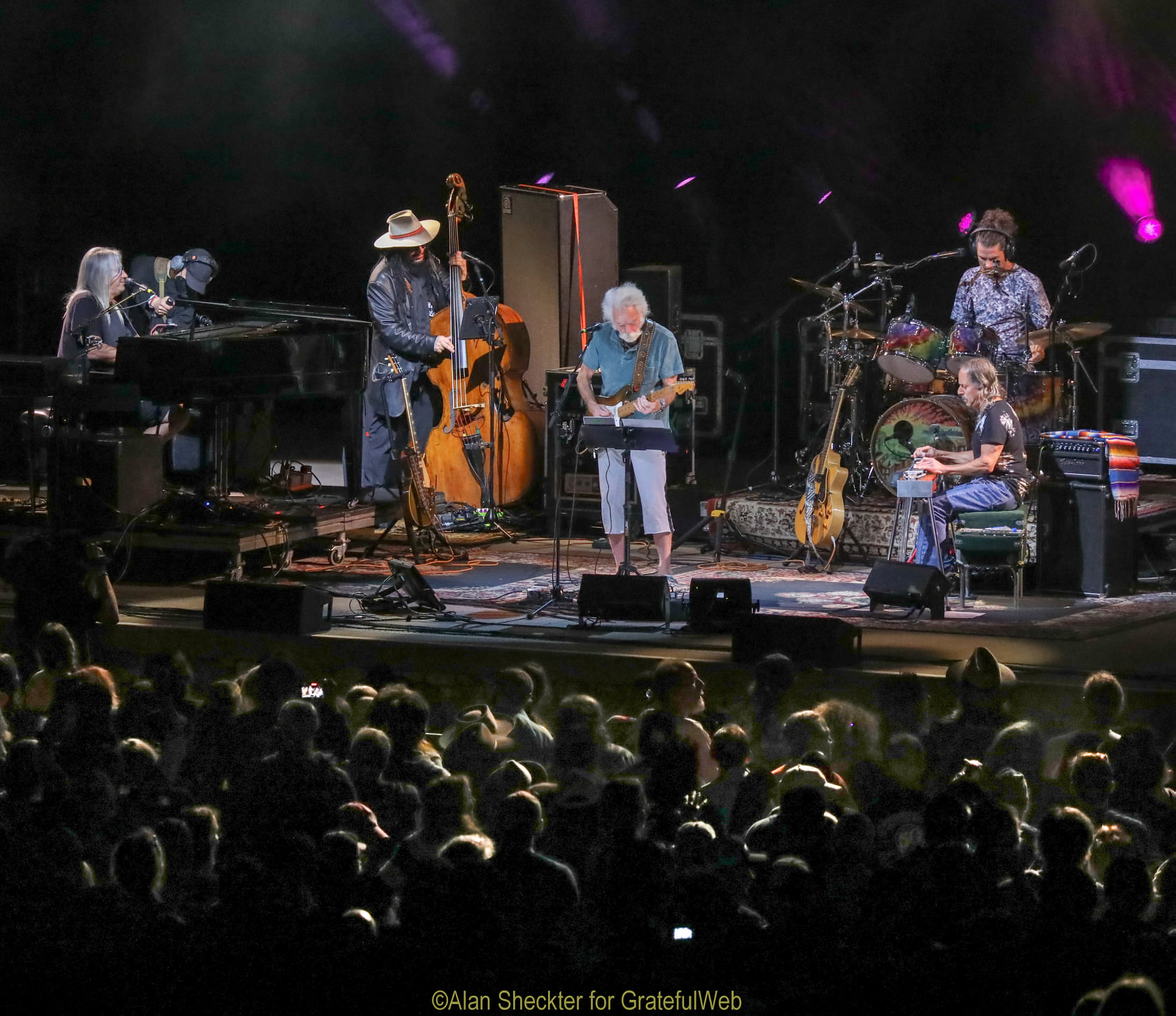 "Jackstraw's" inclusion of Sless's countrified pedal steel, Chimenti's pleasingly plinking piano, and Wolfpack horns, signaled the wide-ranging synchronism of this band. The end of "Jackstraw" seamlessly segued into "Brown Eyed Woman," representing a nice twin offering from the "Europe '72" album. Indeed, a quick analysis of the band's setlist reveals that all but two tunes dated back to the early '70s, save for a poignant lovely-for-a-cool-spring-night "Standing on the Moon," and the West Coast debut of Weir's new song, "She Knows What I'm Thinkin'." It is a mid-tempo ballad, reportedly co-written by Weir and country-rock singer/songwriters J.D. Souther and Aaron Raitiere.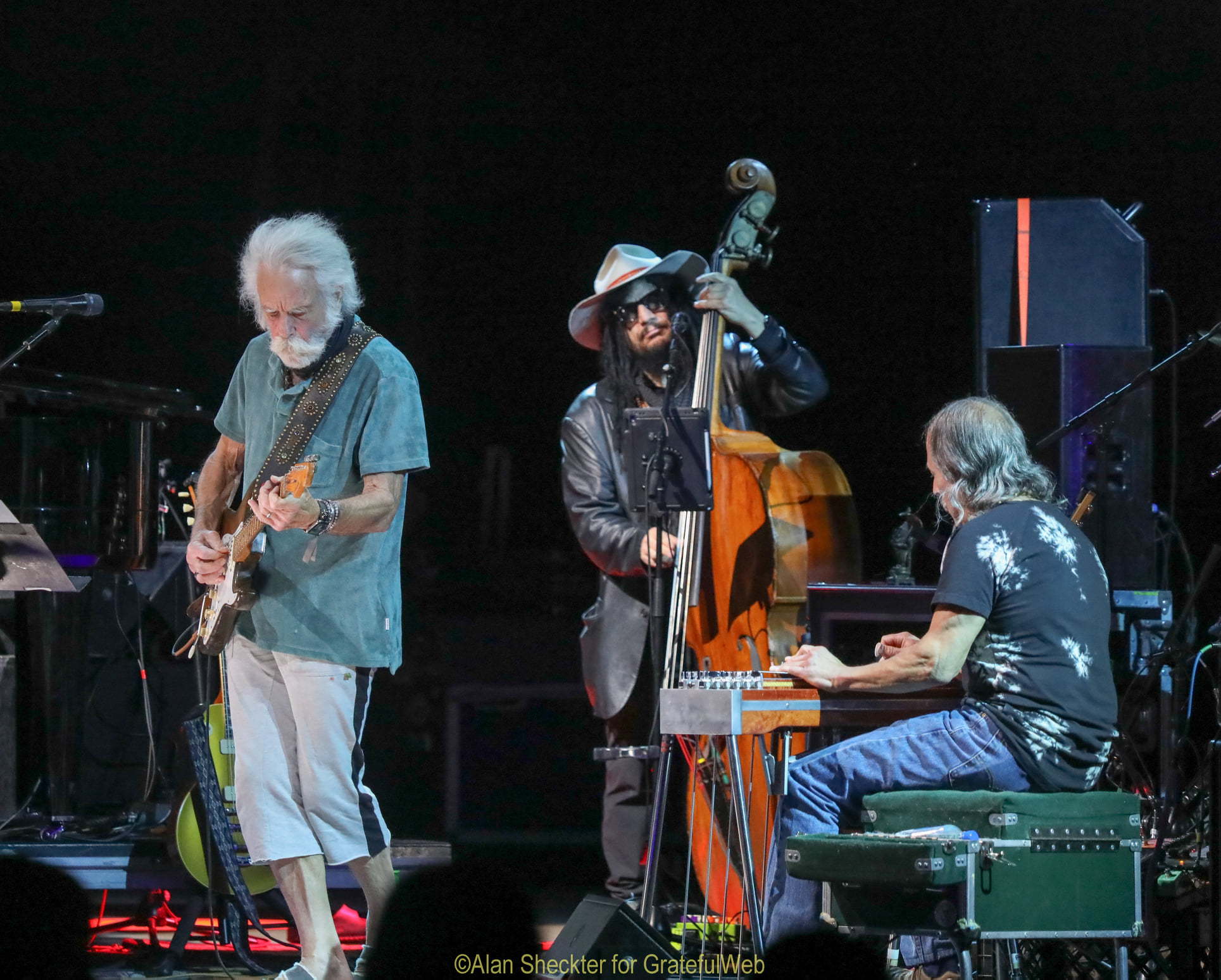 Another gem from "Europe '72," "Ramble On Rose" followed, with the audience bopping along to the whimsically familiar song of an unlikely mix of personalities including Jack the Ripper, Mojo Hand, Crazy Otto, Wolfman Jack, and Jack and Jill.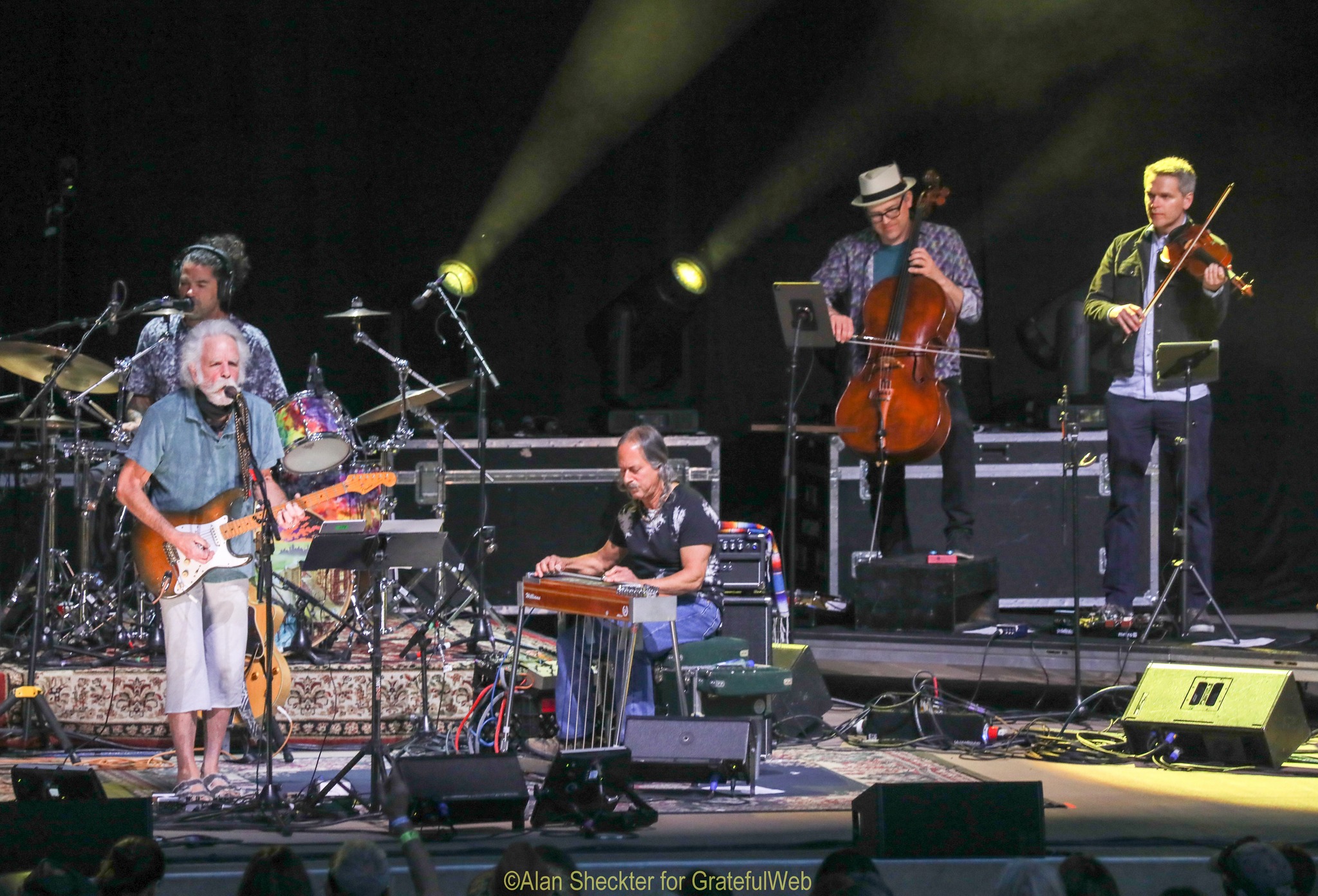 The next segment of the set was an epic medley of "Weather Report Suite/Let It Grow," "Eyes of The World," Marvin Gaye's "What's Going On," and a jazzy, slow-moving "The Other One," all of which utilized the full depth and breadth of the nine-piece band. Tack on a stirring "Standing on the Moon," and "Not Fade Away" to end the set, and a "Brokedown Palace" to send us on our way, and the grand performance was a satisfying wrap.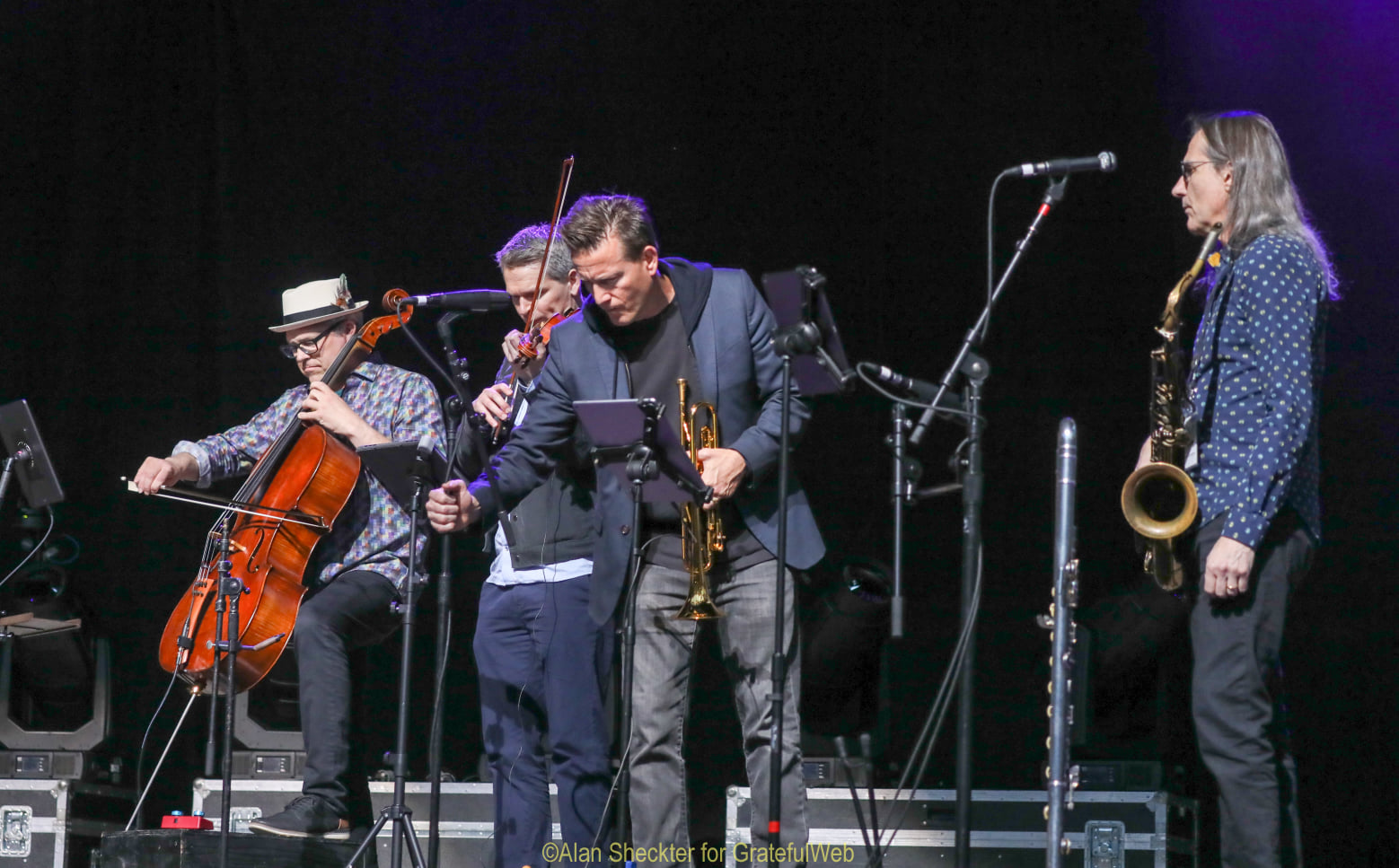 Note: The pre-show proved interesting, as thousands queued up for what was supposed to be a 4:30 p.m. opening of the gates. However, as bands sometimes do, especially with these two bands with 19 members between them and an immense amount of instrumentation, soundchecks ran long. So long in fact that gates did not open till perhaps 5:30 p.m. Gratefully, there was little to no perceived stress from those in line, this being northern California with Grateful Dead-family chill attitudes. While there was speculation that the 6 p.m. start time would turn to 7 p.m. so everyone could get inside, a reported reality of a hard 10 p.m. venue curfew meant that they still needed to start almost on time. So they did.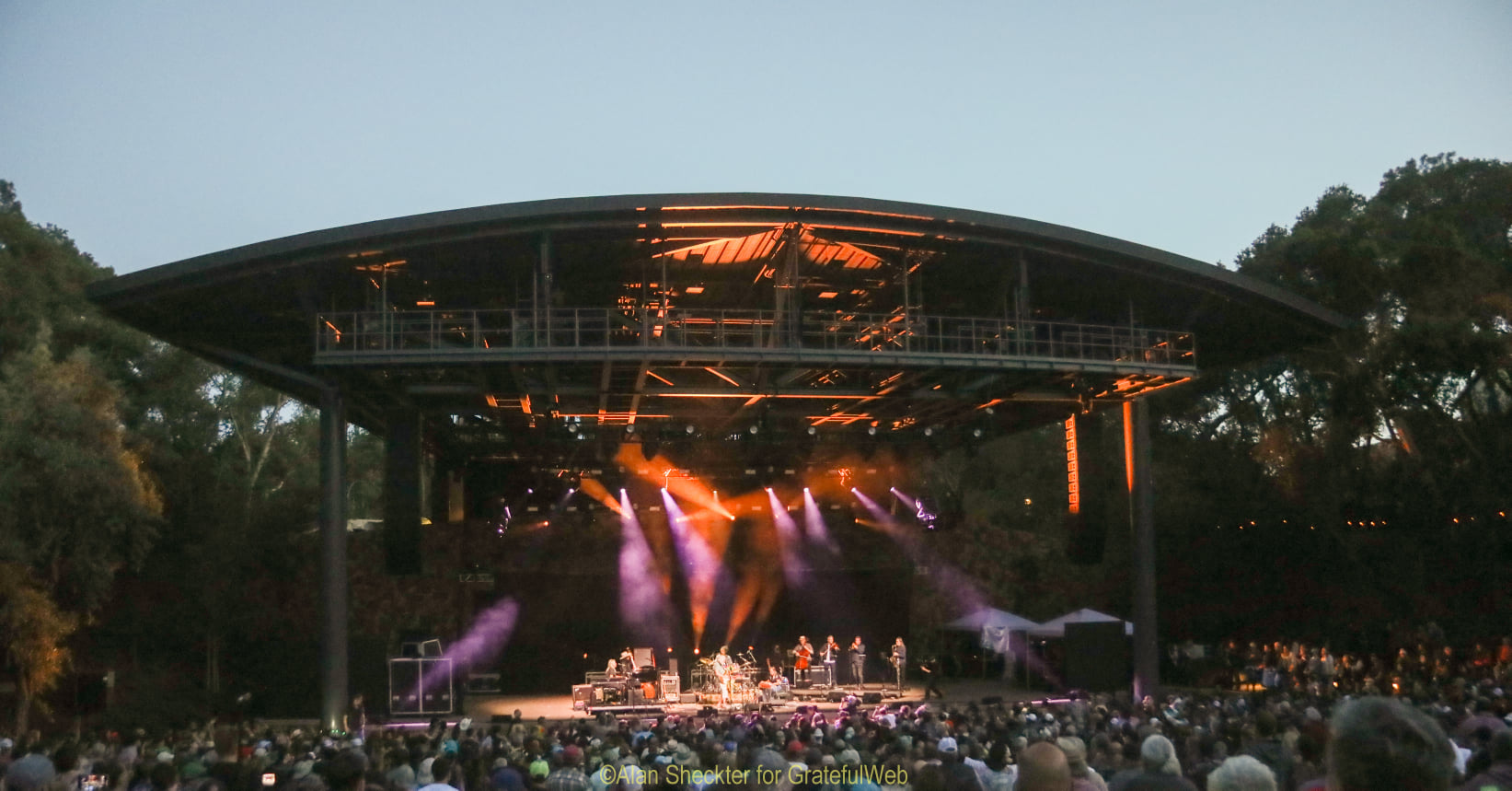 Note: The location of the performance, in Palo Alto, was 2.2 miles from where legend has it that Grateful Dead's first gig occurred (as The Warlocks), at Magoo's Pizza Parlor in Menlo Park, California.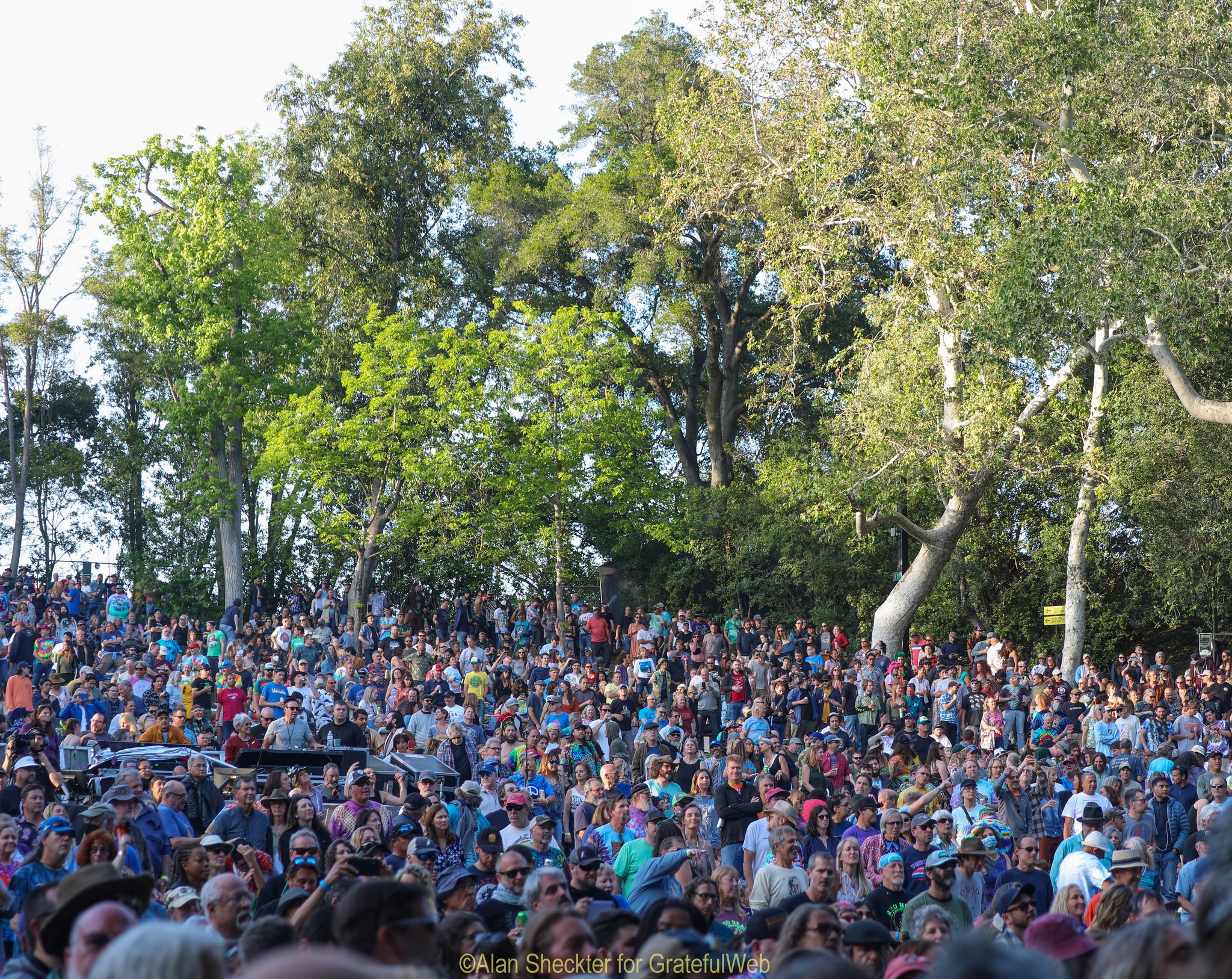 Note: 1) Interestingly, there were no RatDog songs nor songs from Weir's well-received "Blue Mountain" album from 2016. 2) For those who follow such things, the set included six "Weir songs" if one counts "Weather Report Suite" and "Let it Grow" as two, five "Jerry Garcia songs," and the one Marvin Gaye tune.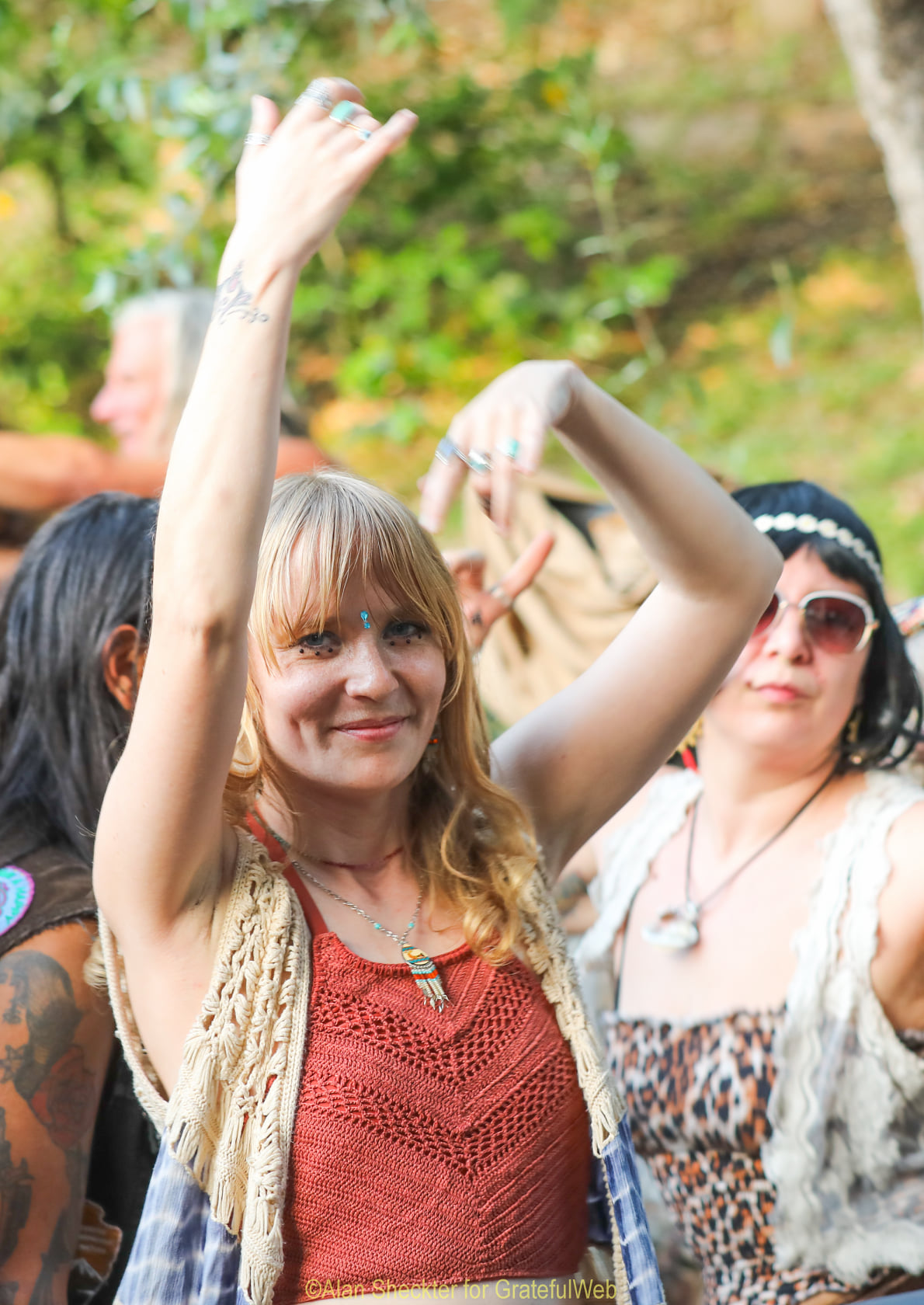 Bobby Weir & Wolf Brothers with The Wolfpack: Jack Straw, Brown-Eyed Women, She Knows What I'm Thinkin', Ramble On Rose, Weather Report Suite, Eyes of the World, What's Going On, Eyes of the World, The Other One, Standing on the Moon, Not Fade Away. E: Brokedown Palace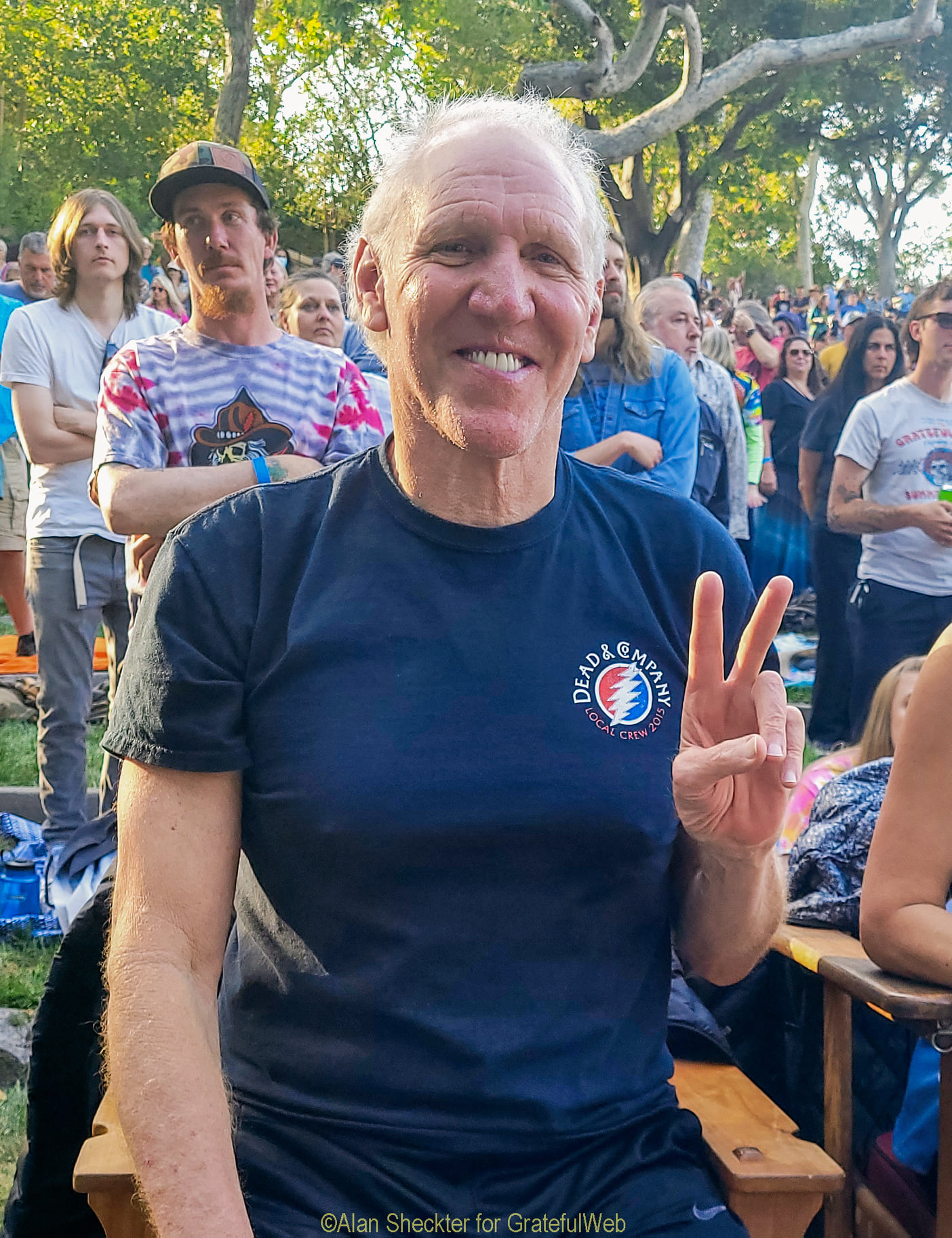 Mickey Hart/Zakir Hussain & Planet Drum: Drops, Gadago Gadago, Tides, Temple Caves, Phil Da Glass, drum roll, Storm Drum, King Clavé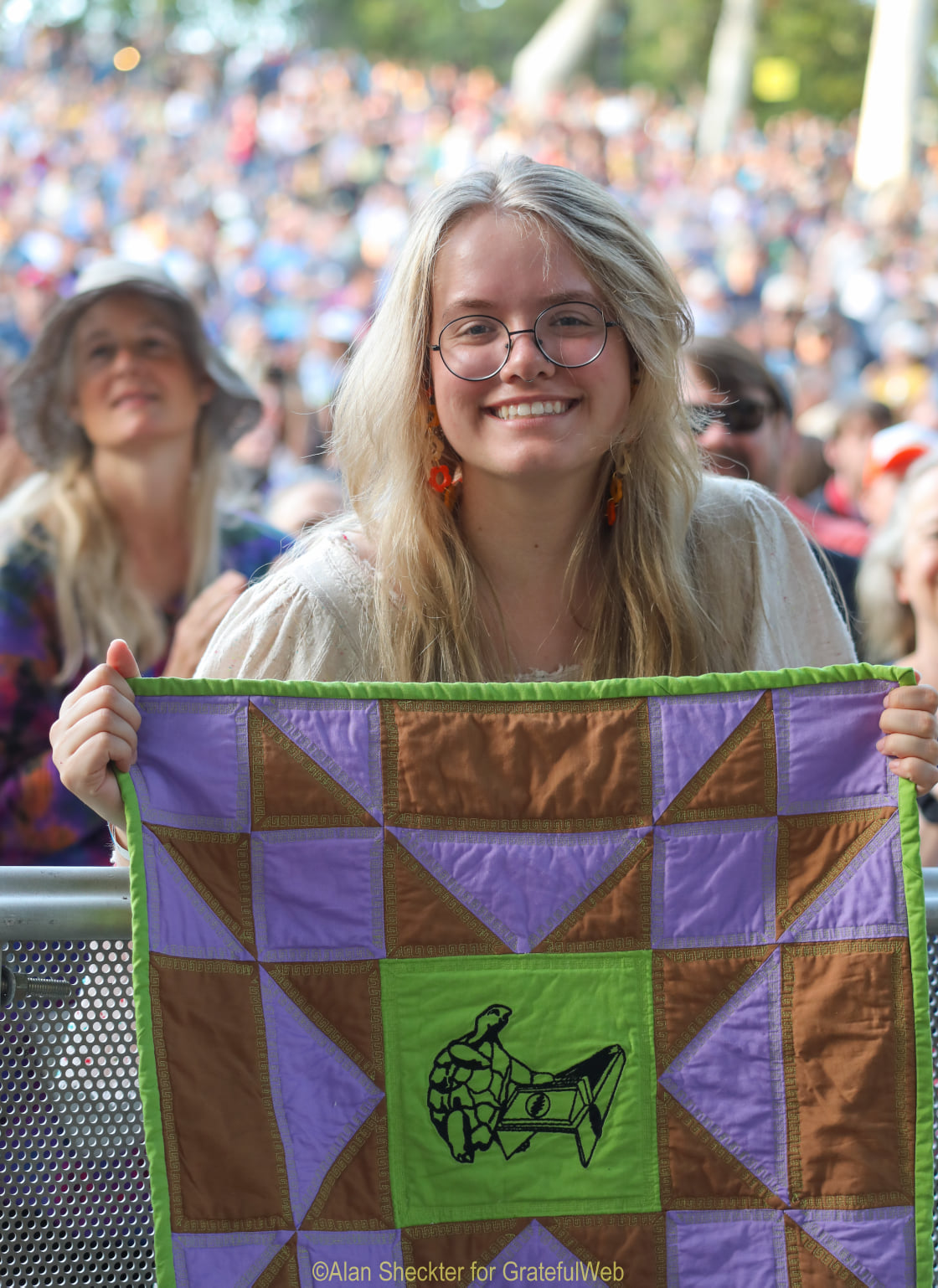 Check out more photos from the show.