Bonnaroo has always been a festival that invited the greatest lineups and the most fun attractions for their fans to enjoy year after year. I have attended 7 out of the 9 annual events, and although I was not too impressed by this year's lineup initially, the festival and its organizers did not disappoint. As I drove up to the radio station to get my credentials, I started to notice that there seemed to be less people around than in years past. Then, I got the closest camping spot to Centeroo that I ever had. This was working out great for those of us that did make it out this year.
Thursday, June 10th
As I walked into the venue area, I noticed that the Silent Disco was already spinnin' on Thursday afternoon. I rounded up my friends and got down to some DJ Equal. I felt lucky to not have to wait in any line, and we danced for awhile in the Disco. What a great warm-up, and there was no wait!
Miike Snow
This fairly new trio has made quite a name for themselves in a very short period of time. After having successful individual careers, the trio from Sweden have come together to do what they have really always have wanted to, which is make their own music. After some success making songs for Brittany Spears, The Fugees, and Madonna, their self titled debut album really acquired attention especially in the UK.
As I heard their opening song, the sound of a female's voice took over the air waves. It sounded really nice. They almost sounded like MGMT with more of an electronic indie sound to them and Boy George on vocals. Incidentally, I didn't spell their name wrong above. They are named after one of their friends with a twist like the film director Takashi Miike spells his name.
Neon Indian
One of my friends from San Antonio, Texas that I travelled with, artist Caitlyn Jones, told me ahead of time to make sure to see this band because she has a connection with one of the members family. This band was fun. They had a very excitable sound, and as I tried to put my finger on it, guitarist James Reeves turned to me and said, "This sounds like New New Wave." That was the perfect description. They also had an electronic indie sound, but they were rawer and included some hard thrashing drumming. All in all, they were very good, and in the end, they let their Texas out by repeating the popular rift from "Legs" by ZZ Top throughout one of their songs. The rift is exactly the same. They don't sound at all like ZZ Top, and they are in fact touring a little with Pheonix and playing a lot of the festival circuit, which is a smart way to success for the band.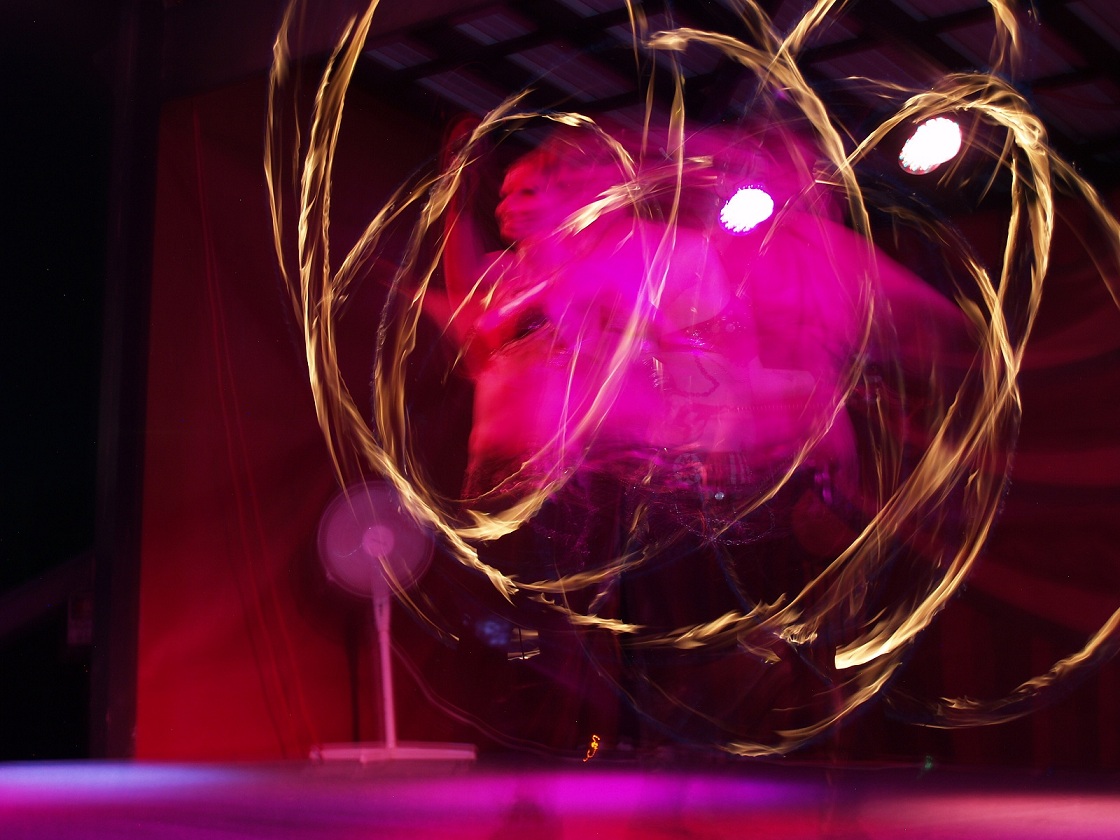 The Temper Trap
I unfortunately missed seeing this band at Coachella, and I promised myself that I would not miss them here due to the good reviews they received from my friends. Their sound was refreshing because even though they had a similar indie sound as the first two acts, what set them apart was an intriguing, inviting, and unique vocalist named Dougy Mandagi. This Aussie band is trying hard, and have made some strides in commercial success with a few of their songs used in television shows and commercials. Even though I became enamored with Mandagi's vocals, one of my favorite songs played was an instrumental entitled "Drum Song." Towards the end of the set Mandagi said to the crowd, "Holy shit there's a lot of you!" Then, the went into "Fader" to the crowds approval. I would really like to see them in a small indoor venue. I feel like all three of the acts that I saw would be better suited for a smaller type venue. I'm not sure if it's the type of music they play or just their sound, but throughout all three shows so far, I have felt that way. The Temper Trap definitely has what it takes to be a success in the music industry, and I am looking forward to seeing them again soon.
Lotus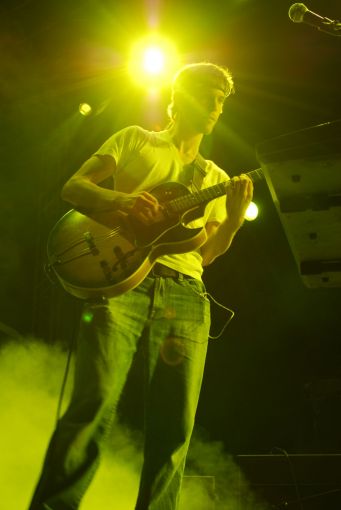 Before Lotus even started the obnoxious blaring sounds of the Lunar Stage was annoyingly disrupting every other band playing this evening. As soon as the NBA championship game ended, DJ Dieselboy had people mesmorized by the lights and thumping repetitive sounds blasting from the new stage. I had a feeling that this would be a problem because of its close proximity to The Other Tent amongst others, and it really was worse than I thought. There is no need for this stage at all. As Lotus was starting fans were getting more annoyed by the second. This second rate stage was way too loud, and you could see the members of the band shaking their heads in disgust. But, they prevailed and played the best set of the night. I expected their enthusiasm because I saw them late night years ago at a Wakarusa Festival, and they were amazing that night. I also covered them at Jam on the River in Philadelphia, where they stole the show again. I really enjoy seeing Lotus at festivals. After seeing them at Mishawaka Amphitheatre by themselves, I feel like I almost enjoy them better on the festival circuit, which is the exact opposite comment I made about the previous three acts. But, that is the beauty of a festival like Bonnaroo. You never know what is going to happen or who is going to shine at what point of the weekend.
Friday, June 11th
Aside from the oppressive heat, this day had it all. I started the day off with the press conference inside of the air conditioned press tent. It was one of the best press conferences that I have ever attended thanks to comedian Jeff Ross.
Press Conference: Wayne Coyne (Flaming Lips), Jeff Ross (comedian), Trombone Shorty, a member of OK GO, and Matt Berninger (The National).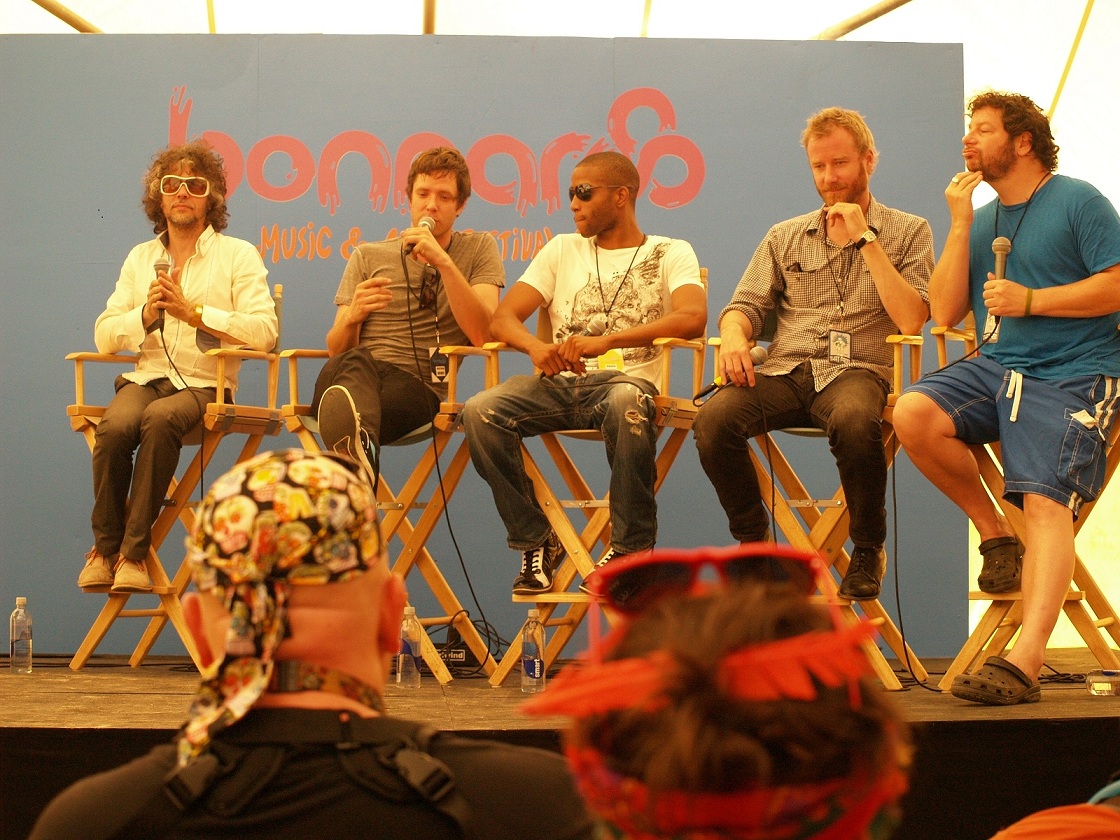 I want to start out by saying that I love attending these press conferences. It has been a real trip being around so many different egos in one room. There are generally three kinds of artists that participate in these press conferences. There are the quiet ones, who really only speak when spoken too and lay low usually looking really cool. Then, there are the scene stealers or talkers. They're the ones that generate most of the conversations and field most of the questions. Finally, there are the funny ones. Those are usually the comedians that constantly stir up controversy. It is so great watching these events take place. I always look forward to this part of the Roo. As this one got under way, Wayne Coyne took his familiar spotlight to detail how the Flaming Lips were going to play a regular set, take a short ten minute break, and then play their version of Dark Side of the Moon by Pink Floyd. Coyne added that they have only played it one other time, and that it is important to remember that it is their take on the album, not a replica of it. Comedian Jeff Ross had me cracking up within mere minutes when he commented, "Yeah, I love the Flaming Lips. Any band named after Courtney Love's vagina is fine by me." The audience laughed, but it seemed like Coyne took offense to it. Coyne is usually a very laid back comedic character himself, but for some reason that comment got under his collar. Ross was hilarious throughout the whole interview. Trombone Shorty was next, and he was asked if it was weird being recognized for his appearances in the HBO show "Treme," instead being recognized for his music, and he fielded the question with grace and ease in his humble manner. The rest of the panel was pretty tamed minus two more hilarious cuts by Ross. About the middle of conference, Ross said, "I saw a band called the xx yesterday. They shoulda been called the zz. I almost fell asleep." And towards the very end he added, "There are a lot of good bands here at this festival like the Dave Matthews Band. I don't know whether to see them or take an Ambien." Ross started off my day in a positive way just as I was leaving for Damien Marley & Nas. On my way to the stage where they were playing, I saw a ton of press snapping away following some really tall guy in a cowboy hat and a Pabst Blue Ribbon shirt. I took a closer look and did not recognize what band this man was from. I walked away thinking, why are these people so hype over this guy I don't even recognize. Well, the next day I figured out why. I opened the Bonnaroo Beacon, which is the daily newspaper put out each day of Bonnaroo, and there was a close up of Conan O'Brien wearing all of the attire I described. I totally did not recognize him, but he got there that day to perform his His Legally Prohibited From Being Funny Tour in the Comedy tent.
Damian Marley & Nas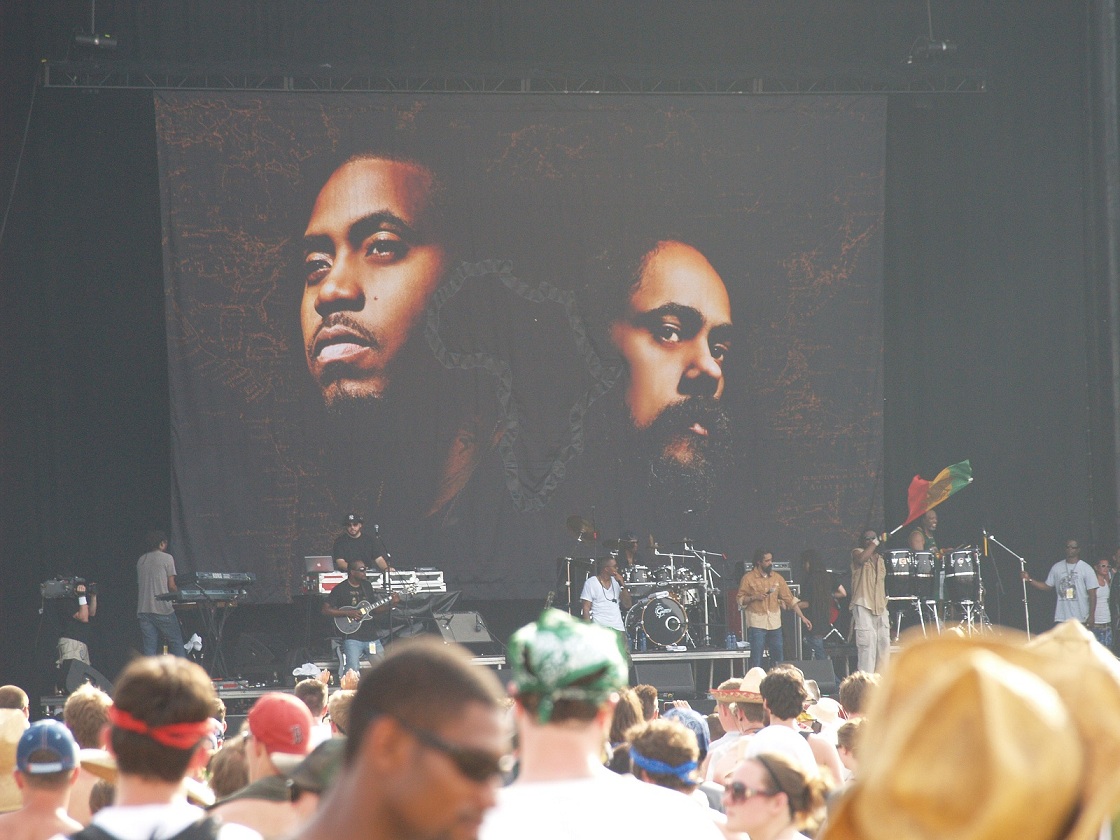 Not even the fact that Nas was wearing a New York Mets hat could derail the positive mood I was in moving into this show. It was a great summer day, and this was only a month after the debut of their album Distant Relatives, which fuses hip hop and reggae with the mindset of raising awareness and funds for their common African ancestry. I enjoyed all of their original work, but one would expect the highlights of the shows to come from Bob Marley classics like "Exodus" and "No More Trouble."
The National
I left the previous show a tad early so that I could catch some of The National. I am really glad that I did that because I was pleasantly surprised by how much I enjoyed them live. I often do not get into the indie bands live as much as rock or jambands. This was an exception for me. A lot of the buzz and what I have heard of them on the radio, I have not really loved, but I enjoyed their late afternoon live set at Bonnaroo. It was nice and dark at the same time. I dug the fluidity of "Mistaken for Strangers" and "Bloodbuzz Ohio" in particular. If you have ever seen the video for the latter song, you would know what I meant by nice and dark at the same time. This was the start of the band of brothers. Lead singer Matt Berninger fronts two pairs of brothers in this band. The latter was one of my favorites of the day and local favorites, Kings of Leon.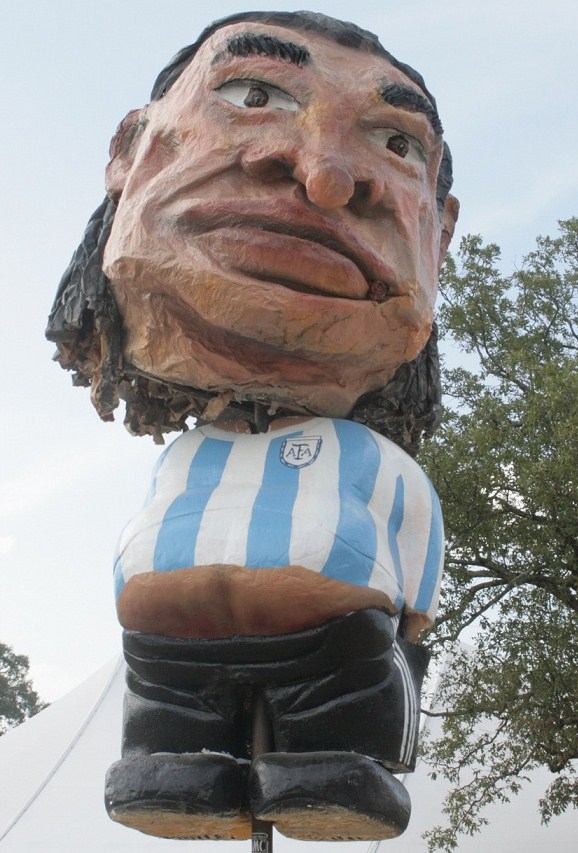 Tenacious D
I hustled over to the main stage because the "D" was one of the bands playing on this day that I have always heard great things about, but I was not as familiar with them as most of the friends that I went with, and they were psyched. I have seen them perform on television, but it is just not the same because they were terrific live. The whole show was very entertaining to say the least. Nearly every song made the crowd laugh. It was one of the most joyous shows that I have ever seen. There were a couple of really drunk Australians in front of me that were having the absolute time of their lives with this show. They were so happy. It was infectious. From the moment they played "Kyle Gets Replaced" straight to "Roadie," the audience was entrenched in the show aspect of this performance. Then, obviously "Dio" drew a huge appreciation as the enormous crowd gave their props to the late rock god. And who could not enjoy "Beezleboss (The Final Showdown), where a large devil comes onto the stage because the "message was too powerful." These two comedian/musicians have a really good thing going on with this idea of musical comedy. It is a monopoly right now aside from maybe the Flight of the Concords or a couple others.
Steve Martin & the Steep Canyon Rangers
I was told by a friend before I left for the Roo, not to miss this show. I assured them that I was really looking forward to checking this performance out, especially after I saw Chevy Chase years ago play with Keller Williams at the Jammys. I kept hearing about how good Steve Martin was on the banjo etc. etc. Therefore, after the D played we walked all the way across the crowded walkway to That Tent to catch what we could of this show. We ended up seeing a lot, and I was very impressed. It was the perfect balance between really good bluegrass and Martin sharing a few jokes between songs. It was a lot of fun. Furthermore, I'm not sure if this is true or not, but I heard that Martin wrote all of the music that was played at the Bonnaroo show. Granted, he is playing with an award winning bluegrass band, but as an individual he is a really good banjo player. Songs like "The Crow" and his famous "King Tut" routine were the highlights of the show for me. They covered some really fun songs as well, but I do not recall what they were now. Martin told the crowd that it has always been a dream of his to play bluegrass at Bonnaroo. After the crowd cheered loudly, he said, "Tonight I am one step closer to achieving that goal."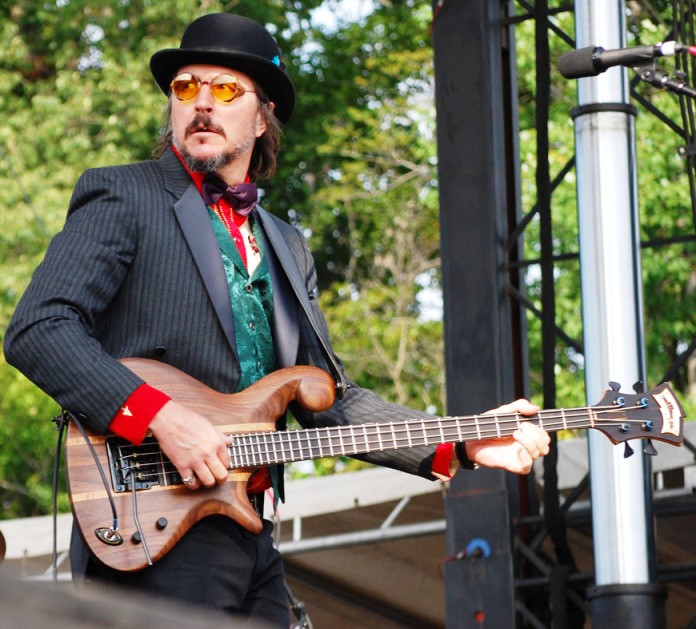 Les Claypool
I did not see Claypool at Coachella because I have recently seen him perform with his solo band at the Electric Factory in Philadelphia, so I thought that I should go check him out for at least a little while. He had the familiar looming weird face changing back drop, and the song selection was similar to the show that I saw with the exception of a great song that they covered that they absolutely butchered. They played "The Spirit of Radio" by Rush, and it sounded demented. Otherwise, Claypool was his usual bass slappin' entertainer. I am glad that he is back playing with Primus now.
Kings of Leon
After Kings of Leon won me over at previous Bonnaroos and especially at the All Points West Festival in New Jersey, I rushed out to get their latest album Only by the Night when it first came out, and I loved it. I thought it was one of the best albums out in 2008. I have seen them mature as a band throughout the years as they slowly graduated up the Bonnaroo stage chain. I do not care if closed minded people consider them too much of a pop band because they are not. They are who they are, and they are very loyal to their unique sound. This was one of my favorite shows of this day. They played a great balance of songs including a lot of my favorites from the album above such as: "Crawl," "Be Somebody," "Closer," "Sex on Fire," and "Use Somebody." I also really enjoyed the often covered Pixies song "Where is My Mind." The Kings also brought their producer Angelo Petraglia onstage for a couple of songs, and debuted a few from their newest album that comes out in October called Come Around Sundown. This headliner surely met my approval. They earned this spot at this festival with their hard work. Lead singer Caleb Followill was really enjoying the night, and it was reflected in his voice when he said, "I hope you don't mind I'm gonna get drunk." As the crowd roared he replied, "This is the only job in the world that you can drink on the job and get a round of applause for it."
The Black Keys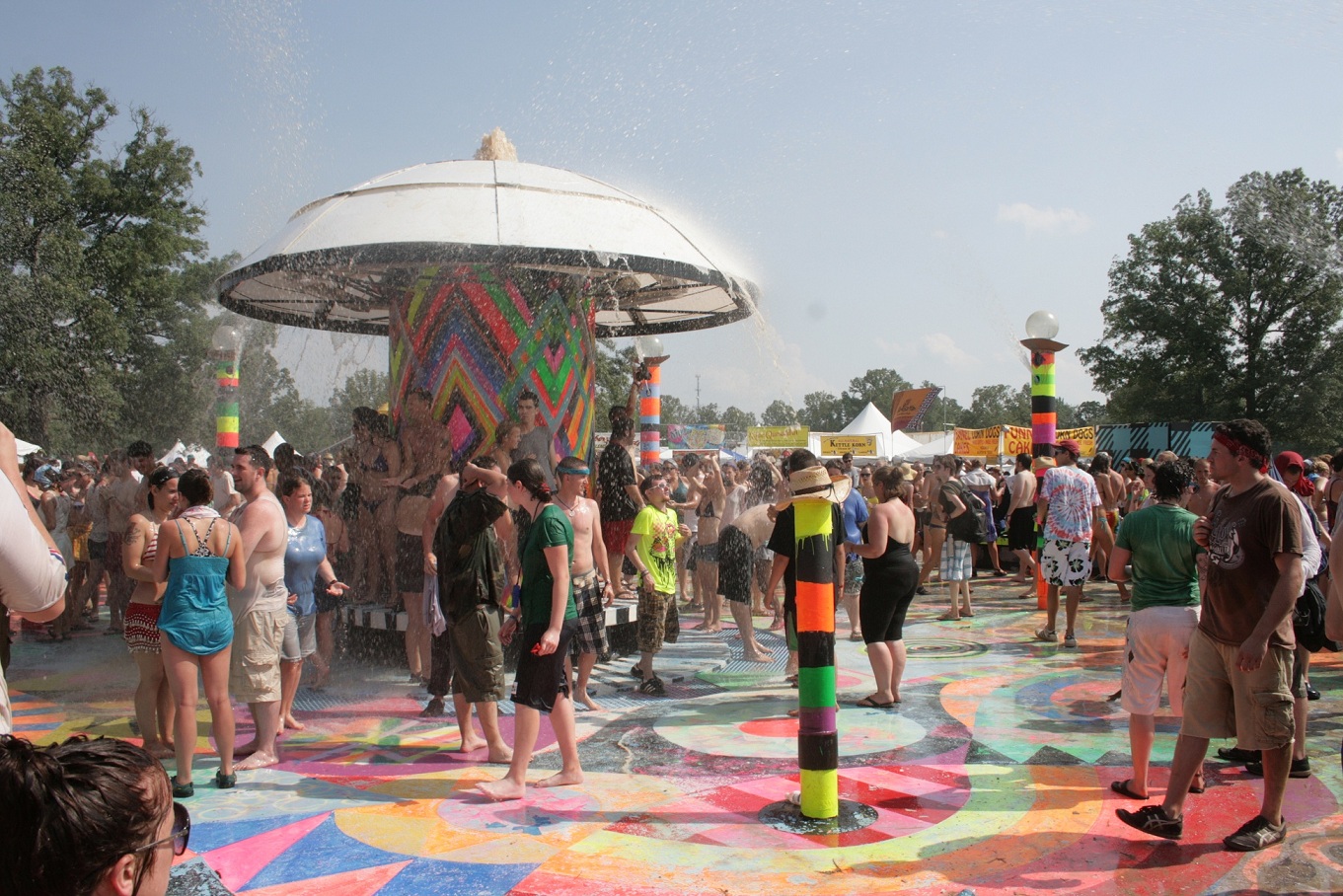 This was the hardest decision of the festival. Whose idea was it to put The Black Keys, The Flaming Lips, and Daryl Hall & Cromeo on at the same time, especially the first pair? So after thinking long and hard about it, I did what any experience Roo veteran would do. I saw the first half of The Black Keys while The Flaming Lips were playing their regular first set, and then I booked it over to see their second set of their version of Dark Side of the Moon. The Black Keys played their early music in the beginning of their set such as: "Thickfreakness" and "Stack Shot Billy", and then moved to some of their newer songs from their Brothers album. Intermixed throughout were a few from Attack and Release like: "I Got Mine" and "Strange Times." I remember at the first Bonnaroo when this pair showed up really late in their packed van after being stuck in a ton of traffic. Then they lit up the crowd and gained a ton of fans at that time before they were really known. They have come a long way. Now, everyone who knows anything about music appreciates this duo. They brought up two more members up for a lot of their newer tunes, but overall it was a pretty mellow first set up until I left for the Lips. Their bluesy magic is unmistakable, and it flows through the air dynamically in the southern state of Tennessee. It just makes sense.
The Flaming Lips ft. Star Death & While Dwarfs
I think I played it perfectly because although I love the songs from this first set, I have seen them played a lot, and I have not seen the Black Keys a lot. I made it just in time to meet my friend "Syd" and brace myself for a killer Dark Side of the Moon. I do not know exactly what I was expecting, but I did know that this was not the Pink Floyd version, but yet an original take on the album. As much as I enjoy the Flaming Lips' music, I was highly disappointed in this set. I was bored at times. I was confused at other times. It may have been because my expectations were too high, but there were a few moments where it was a little too gimmicky for me, and I was not buying it. I just did not understand the point, but this is art, and the Lips are surely artists of their own unique brand. I just did not get this one, and I was really looking forward to this set.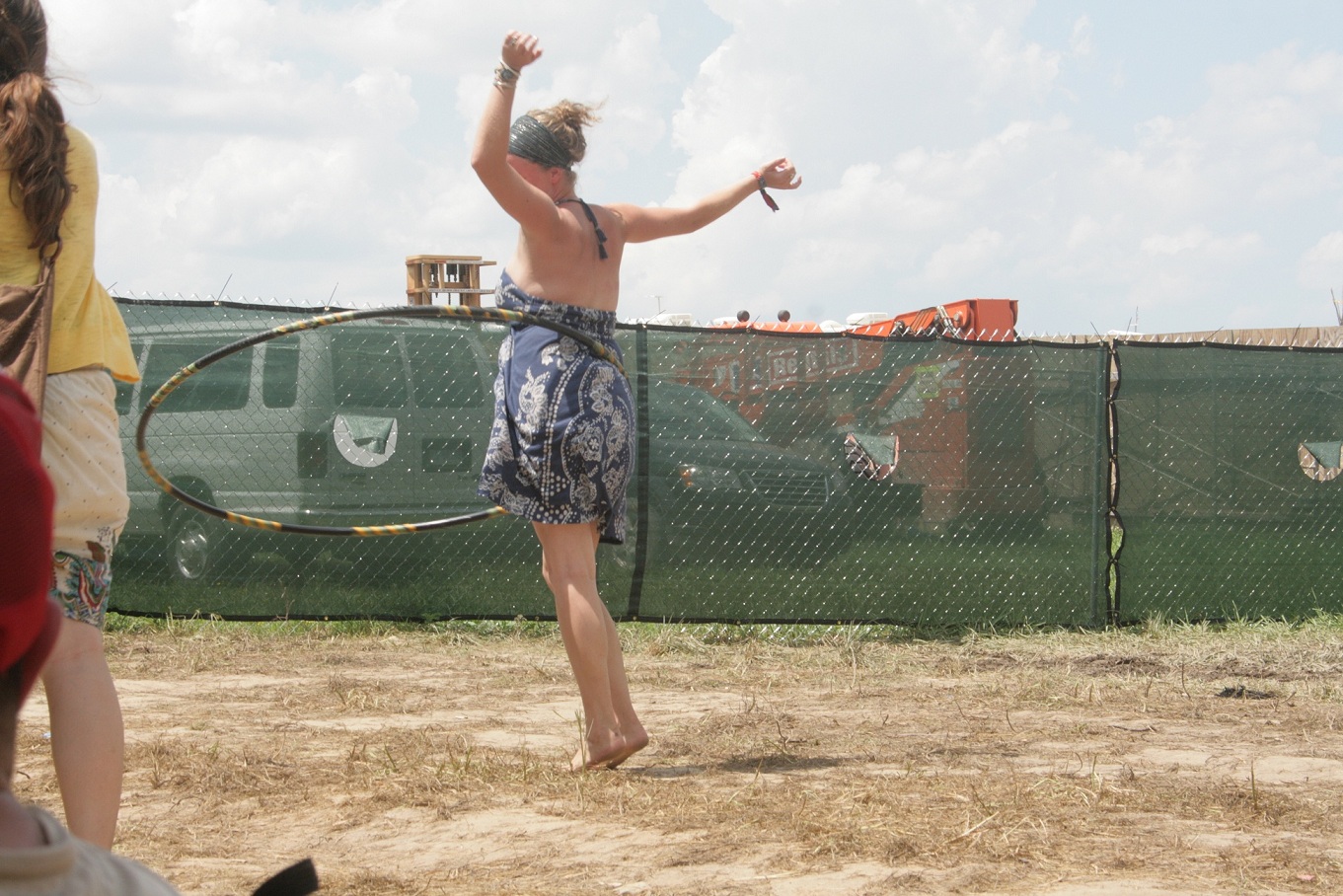 LCD Soundsystem
I do not know what happened on this night, but it seemed like it did not have the magic of usual Bonnaroo late nights. It was not because of lack of talent because many of my favorite bands played. But, the energy just was not there. After a disappointing Lips set, I was pumped for LCD Soundsystem, especially because they sparked Coachella into a raving dance party. I ended up getting really close to the stage because there was not a very large crowd for this late night show. The band was not feeling it either. As a matter of fact, they were pretty ticked off at the soundman and the crowd. They were clearly having sound issues, and furthermore, people were throwing things at them. The energy was ruined from the beginning. They even scolded the crowd for doing that. It was like a different band that I saw at Coachella. I was even more surprised at the fact that they played the shortest set ever. This was definitely nothing like moe last year on this stage in this slot.
Although these were not my favorite two days in Roo history, as far as music goes, this is still the greatest festival of all time....stay tuned for Part 2 of Bonnaroo in a couple days | Check out more photos from Bonnaroo 2010.