Greeting San Francisco's The Independent with wide smiles and affectionate waves, country/folk quartet Dawes blessed the Saturday night crowd with golden vocals, sultry finger picking, and radiant, molten country jams evocative of Workingman's Dead.  Riding rave reviews of their performances at Lollapalooza and Barnstormer, Dawes attribute their success to enhanced comfort on stage, refined instrumental chops, and solidified three part harmonies.
Mid-tempo "When You Call My Name," a poignant expression of grit and perseverance, featured front man Taylor Goldsmith's focused stare contrasting soft, gentle melodies.  On "That Western Skyline," a country ballad of geographic transience and the curse of bad luck, Goldsmith mourned, "All the snow fall this time of year, it's not what Birmingham is used to / I get the feeling that I brought it here, and now I'm taking it away." Eyes brimming with regret and suffering, Goldsmith, pointing to the crowd, belted a gospel infused, "But I watch her father preach on Sundays / and all the hymnals of my heart."
Following some quick introductions, Dawes jumped into "How Far We've Come," a folk-rock number off their forthcoming LP. Drummer Griffin Goldsmith showcased his emerging vocal prowess, harmonizing with older brother Taylor and keyboardist Alex Casnoff to usher memories of Crosby, Stills and Nash, "California's greenest parts / I reach out for my brother / to see how far he's come." Checking up on Dawes' fans, Taylor Goldsmith asks us if "everyone's having a good time." As the audience answers in the affirmative, the front man raises his right arm to the heavens and hollers, "Because that's the only thing we're here to do!"
Red faced, veins straining against his forehead on "When My Time Comes," Taylor Goldsmith recaptured the profound ex post facto enlightenment of Dylan's post-protest awakening, "So I pointed my fingers, and shout a few quotes I knew / as if something that's written should be taken as true." Yet Dawes finds little solace in the company of misery, "And now the only piece of advice that continues to help / is anyone that's making anything new only breaks something else." Taylor Goldsmith, turning his microphone to the audience, calls for the auxiliary. The crowd, ecstatic at the prospect of indulging their heroes, blasted the anthemic chorus, "When my time comes / Ooooooh Oh / Ooooooh Oh Oh."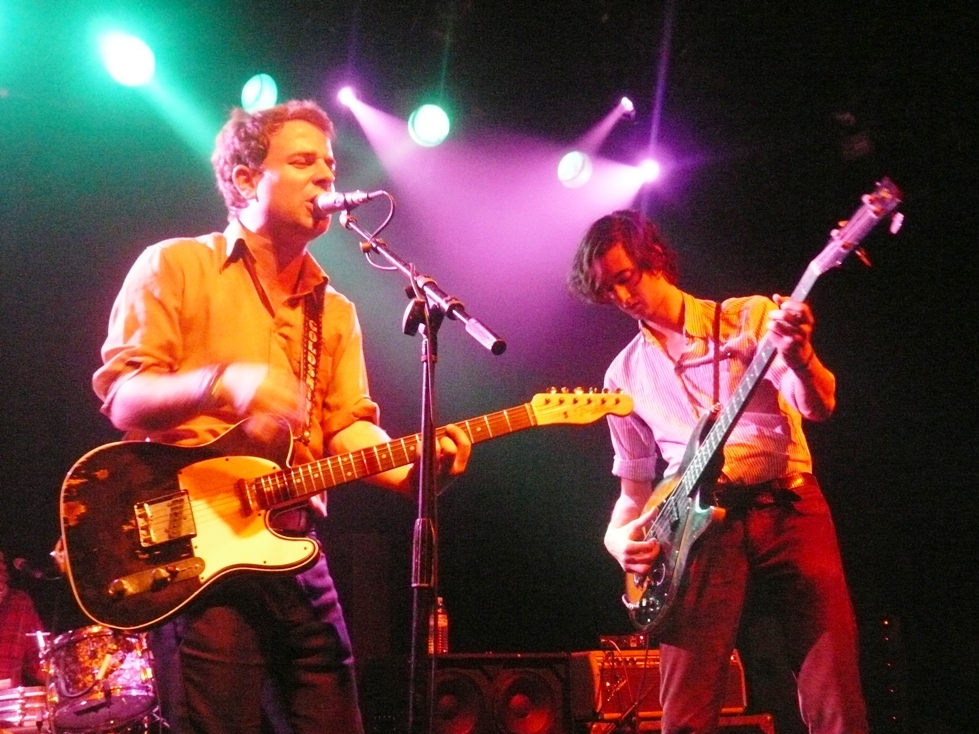 Ten-minute jam "Peace In The Valley," beginning with gentle twang, quickly builds with incendiary guitars, bassist Wylie Gelber's charged grove, and soaring Hammond XK-3 organ. Taylor Goldsmith, in roots-rock idiom reminiscent of vocalists such as Rick Danko, Jackson Browne, and Neil Young, confesses "I sit with the memory of kings / with only words to criticize / as if I finally found the antidote for pain / without knowing what that's really like. Inventive time signature shifts, bridge jolts of cascading guitars, as the band plays off each other with incredible precision.
Immediately clear is that Dawes has evolved a rare communicative language that enables personality and deep sentiment to engulf its music while still preserving a spontaneous, youthfully exuberant vibe.  According to Dawes, their first LP, North Hills, reflects a softer, greener band that had yet to embark on a national tour. The new record is "more like a live band, featuring a higher level of energy," strong low range vocal contributions from Griffin Goldsmith, and lyrically dramatic imagery bringing to mind that freewheeling '60s Laurel Canyon vibe. Wrapping up the night with a tight encore, Dawes purrs to its fans at The Independent what we've felt all evening: "I got a feelin' it's goanna be alright."