Poor Man's Whiskey brings "A Special Tribute to The Allman Brothers Band" to the Fox Theatre to Boulder, Colorado. The sound of California meeting southern rock, in the form of renditions of PMW's favorite Allman Brother's songs, is a show not to be missed. With the wailing organ, dueling guitars, thumping upright bass, tight drumming, and of course some Poor Man's Whiskey style banjo playing, The Allman Brothers material and PMW have never been heard like this before. In addition every show starts off with a set of PMW's beloved originals. Opening for PMW will be High Peaks Band.
Poor Man's Whiskey is at the forefront of the exponentially growing Northern California Bluegrass/Rock scene. With a decade of performing under their belt, they have grown their fan base to an international level. PMW has performed packed shows across the country and at festivals such as the Byron Bay Bluesfest (one of Australia's largest and most well-known festivals), US festivals such as Kate Wolf, Hardly Strictly Bluegrass, Phases of the Moon, and many others. Their popularity has brought them to places like Google HQ to perform. In their home area of the San Francisco Bay they have sold out the most famous venue, the Fillmore, where Jimi Hendrix, Janis Joplin, and The Grateful Dead did the same.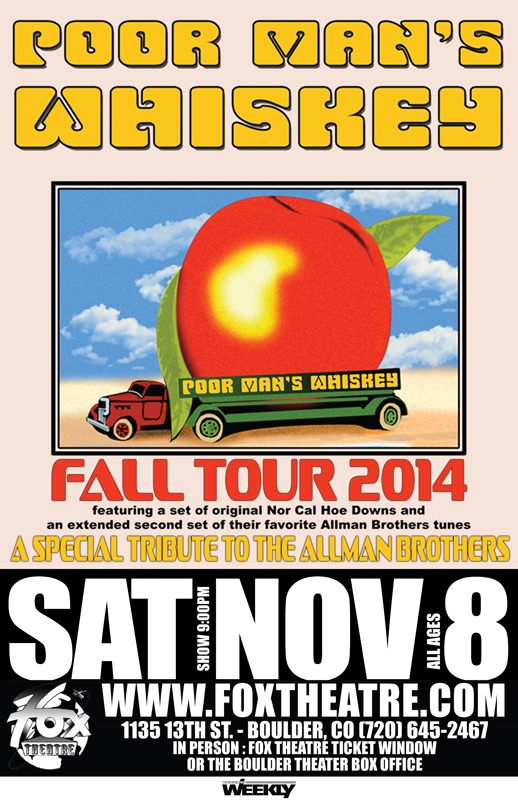 Poor Man's Whiskey is known for their stellar repertoire of original material with bluegrass, rock, and even punk influences. In addition to their original material, for special shows, they will perform a set of covers of entire albums such as "Dark Side of the Moonshine" or select tracks from a band such as "A Special Tribute to the Allman Brothers Band". Their renditions of these songs and albums are uniquely their own, with a Nor Cal high octane hootenanny style added to every performance.
The Northern California outlaw musicians have a reputation for bringing high-energy live shows. The popularity of Poor Man's Whiskey has been growing exponentially in the past five years, selling out venues across the country. PMW has released 6 studio albums and have a stunning repertoire of songs. Every night's shows is unique.
Other notable festivals and shows: High Sierra Music Festival, Wakarusa Music Festival, Yonder Mountain Harvest Festival, Harmony Festival, Strawberry Music Festival, The Great American Music Hall, Dead on the Creek, 4 Peaks Music Festival, Joshua Tree Music Festival, The Summer Meltdown, Las Tortugas, Telluride Bluegrass Festival, and many more.