Hancock, NY is a quaint town in the Catskills with little other than a bank, a couple bars, and a small grocery store. It's home to a splendid property called Camp Minglewood, where kids run around barefoot all summer, go from arts and crafts to swimming to kickball and back to their tiny bunks. Then, the music takes over.
The Catskill Chill Music Festival drew a sizeable crowd to the tiny Minglewood campgrounds for its second year and luckily, the weather was bright and warm until the rains on Sunday. But that didn't stop the young in spirit (if not age) crowd from partying. With some of the attendees in cabins and most on the fields, it encouraged everyone to make friends, and we all acted like campers again.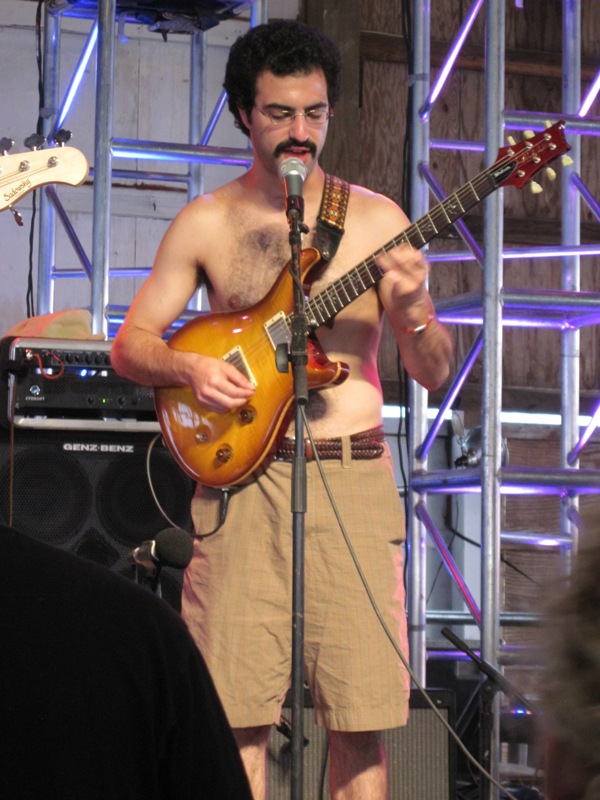 Now I know I'm not the only one who tends to skip the first band at these things- there's countless hours of music ahead, it feels like you just got back from a cross country road trip even if you only drove 3 hours, crossing into festie-land is no easy task. So those poor first bands usually get minimal attendance and while Fundimensionals were no exception to this rule, they played their hearts out and blew my mind. It was a set that couldn't be labeled as just jam or rock or electronica, but more a combined sound with heady guitar riffs bouncing on top and delicate percussive effects chiming in at just the right moments. Their unannounced, 2 am set on Sunday morning was the jam of the weekend, bringing in members of Heavy Pets, FiKus, Shwizz, and other artists.
JGB with Melvin Seals kicked off the first night with tunes that could only remind you of Jerry, including a high-energy "Cats Down Under the Stars" that drew people down to the lower pavilion main stage for the party. In the upper pavilion, Jimkata was the first act to have a good light show accompany it and, combined with their roots-rock-psychedelic sound, they transitioned us into night seamlessly, when sometimes that day-to-night slot can be tricky.
Super-group Conspirator took the main stage next and it sounded mostly like a Disco Biscuits show, albeit a good one. Aron Magner and Marc Brownstein of the Biscuits clearly lead the group, with heavy dub influences from DJ Omen and now, with their new guitarist, Chris Michetti (RAQ), and two drummers (Darren Shearer, of the New Deal, and Mike Greenfield, of Lotus), their sound has become more complex. The set had a lot of momentum to it, but plateaued fairly often and the crowd was a clear reflection of it. Generally, the music seemed to please and they kept the pavilion packed for their two and half hour set.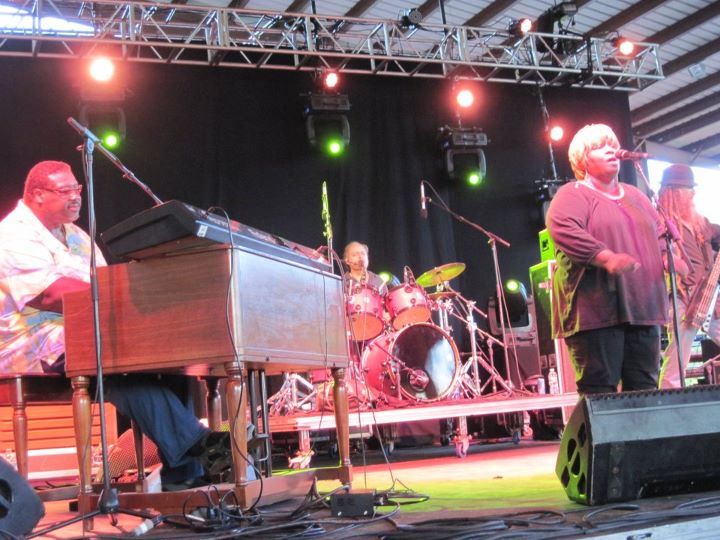 One of the most popular listening spots was in the Spiritual Haze hookah lounge, right between both stages, and one of the smoothest parts of this whole festival was the schedule. Less than 10 minutes overlapped between sets on the main stages and it was rare for the campground Club Chill as well. All Good Festival makes a good attempt at this, but having the stages separated by a small hill like they do here makes all the difference in sound check and those first couple minutes. So from that hookah lounge between the stages, you could hear everything perfectly, in fact almost better than at the stages, and Roots of Creation sounded skillful, but it seemed like they had a bit of an identity crisis as a band. It went from reggae to psych to heavy rock, and while sometimes this is a good thing, I don't think they had quite the blending powers to pull it off.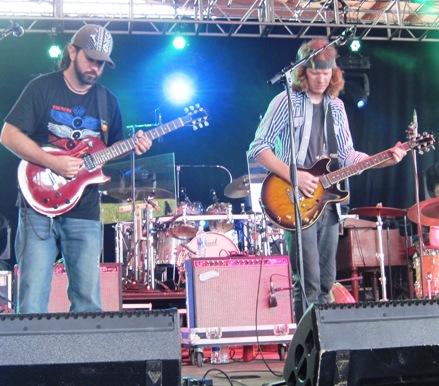 Perpetual Groove is one of those ol' faithful bands that will never disappoint. You can rely on them to be at most of the jam band festivals, have a reasonably decent set time, stir up a dance party, and play all their hits. Once in a while they do something wildly impressive, but mostly they're a steadfast group of talented musicians who play a quintessential festival set.
The Chill brought in Adam Deitch and Break Science to close Friday night, and to say that this is obviously where all the other bands got their roots is an understatement. These two producers heavily influenced the wildly popular and fairly new trend in electronic jamming and live synth and their innovation is still bursting through each set. Far more electronic than many bands that employ this style, they were a perfect nightcap dance party to top off an already great day of music.
Saturday continued to impress not only with a stellar line-up of musicians, but also with an amazingly beautiful, warm, sunny day. Heavy Pets opened the main stage and, as much as I hate to say it, I was a lot more impressed with them last year. If they're absorbing other new bands' style or if those bands are copying the Pets, I can't be sure, but their straightforward jamming and fairly typical pop rock songs were an easy way to open the day and that's pretty much it.
Shwizz had the smaller pavilion packed with people ready to get their dance on, and they definitely delivered. Pretty new to the scene, this is a band to watch out for- their lead guitarist is a monster, the next Jimmy Herring, easily. FiKus was another stand out performance for an unknown band. Their similar, electro-spacey-rock jams seemed to noodle through the crowd, stirring energy and excitement for the acts ahead.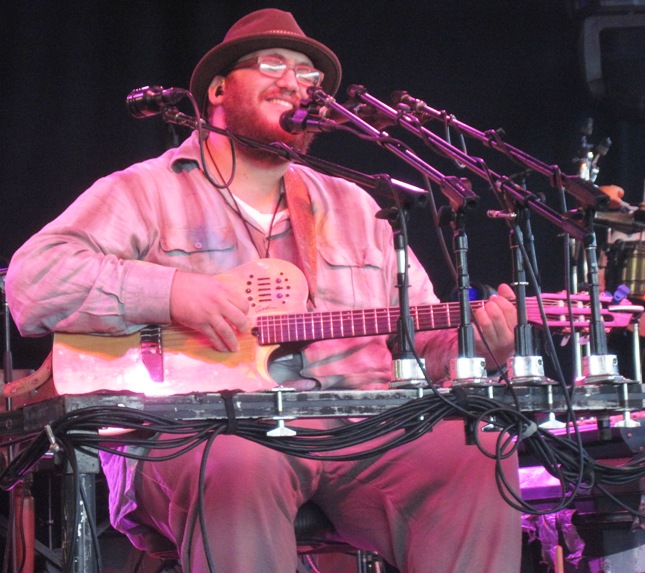 In another wise scheduling move by the producers, Zach Deputy was the perfect end to day, start of night performer. Surrounded by his synth shelves, platforms of effects pads, and four different microphones, his music did everything but stay within the box. Zach's voice is soulful, unique, and bluesy, while the music combines funk, reggae, jam, and jazz. As an extremely talented solo guitar player, he builds his songs part by part and lets the jams flow organically before delving into an album song. Between the hoopers, live music painters, groovers, and loungers, everyone loved it. Humbled by the crowd response, Zach walked off stage with his hand on his heart, double-checking every few steps to make sure it was real.
The headliner of the night was Umphrey's McGee, and while I might normally skip an Umphrey's set at any other festival, this was a 3-hour block of time when no one else was playing. The pavilion was packed with glow-y, painted bodies and UM reared its musically advanced and technically superior head, but for standard selections that they've played better before. Coming off an intense run at Brooklyn Bowl, which included a guest appearance by Bob Weir, the band was clearly tired and did not have the precision they normally play with. It didn't seem to bother anyone as the crowed raved on like it was 1999, but the set highlight was easily the cover of Pink Floyd's "Breathe," which was jaw dropping.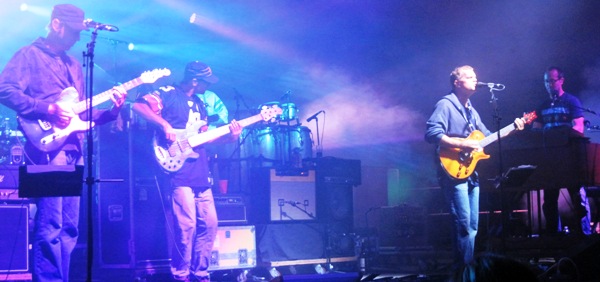 Dumpstaphunk was impressive, but it was a lot of sound to take in and understanding the scope of their music was difficult. Most of the bands at this festival played a little too loud to appreciate their skill level, and these guys in particular turned it up past 11, which in fact some may have interpreted as a good thing.
After raging the Fundimensionals unannounced cabin jam until about 7 am with 300 or so other troopers, Cabinet took to the stage at 1:30 pm with a calm, yet reviving bluegrass set. Particle was fun, easy listening, featuring great riffs and a classic rock sensibility that we hadn't heard much of this weekend, and people seemed to appreciate it. Dopapod filled the upper pavilion with enthusiastic fans, unlike when they first played on that same stage 3 years ago (for Camp Minglewood's Harvest Fest) to 4 or 5 people, as they noted. While their set started out like many others, kind of dub-electronic-y, it transitioned to a funky, blues-riff driven jam and back again.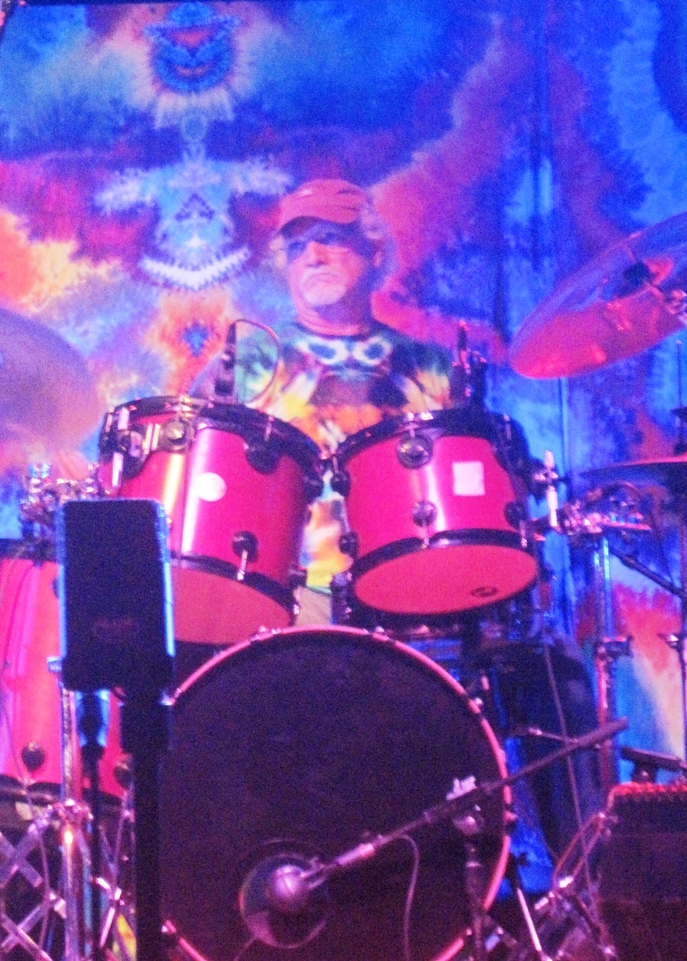 Here's the only place I'd say Catskill Chill messed up: 7 Walkers should have been earlier. The Sunday sets at festivals are hard because people have to drive home and get sleep for their workweek, believe it or not, and scheduling them at 9pm was eliminating about half the crowd that the famed member of the Grateful Dead deserves. The audience size was unimpressive for Kreutzmann's band, but the ones who stayed made it worthwhile. 7 Walkers broke out Dead classics like "Sugaree," "He's Gone," and more, while maintaining their individuality as a band and playing their own music. You could even hear the stage from the food court, where the first NFL games of the season were being shown. (That, too, had an impact on the turnout for Billy K, but most people had their musical priorities in line.)
The festival was a huge success in its second year, and I can only imagine that it's going to get bigger and bigger. The crowd was easily double the size from 2010, they added a whole extra stage (which they need to alter in some way, but was still cool), and the line-up packed much more of a punch this year. With music until 5 am, cabins to rent, and a campground that begs to be played on, why wouldn't Catskill Chill become the next small festival to hit it big? All that, on top of a great group of responsible kids having fun together is the ideal, weekend long musical experience.