During this age of COVID-19, touring musicians across the land have been creative with the process of bringing music to their fans while maintaining some ability to generate revenue. Live video streams have been a ubiquitous way to accomplish both, and more recently pod-separated, limited attendance performances have emerged. In the San Francisco Bay Area, KC Turner Presents adapted to the COVID health protocols and has developed a special, portable concert series niche that has materialized into an efficient and effective enterprise.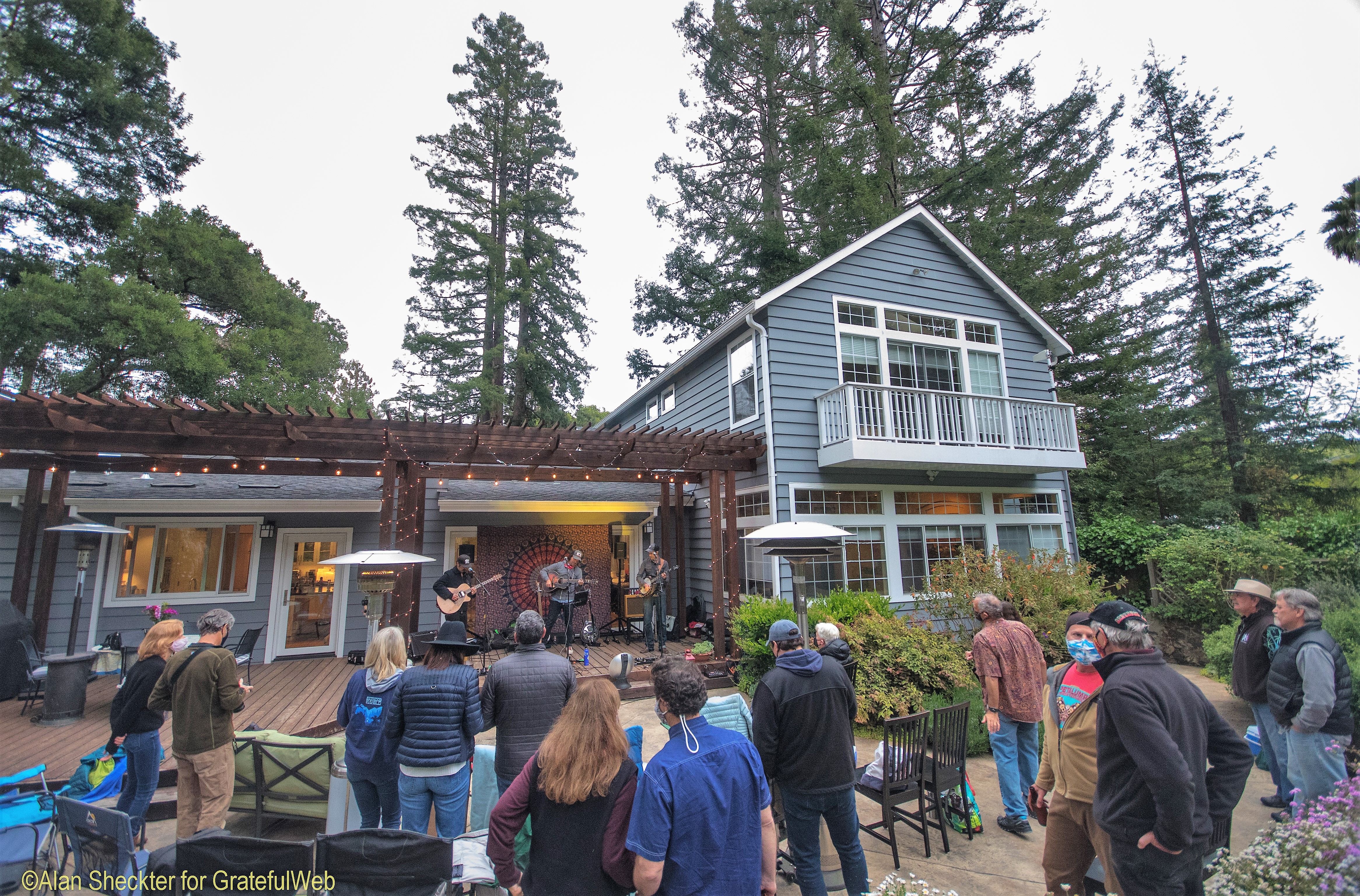 Facilitated by KC Turner, live-music producer and talent buyer for the Hopmonk Tavern venues in Sonoma and Marin counties, California, his In Your Driveway (or Back Yard) Concert Series has been generating happy customers (and musicians), with more performances slated for at least the next two months. "We roll up in one car and literally are bringing a headlining artist to your back door," Turner said. "We drop in about 30 minutes before we go on, we play an 75-minute set, and then we leave."
Like a ringleader of a traveling circus, Turner transports the performers in and sets up the "circus tent" so to speak, supervises the show, then quickly departs, leaving nothing but footprints, and some priceless memories. "You book it through me, I bring you great sound, lights, and the artists," Turner said. Turner, the musicians and their instruments, and gear/stage rigging all travel from place to place in one car. Making a comparison to circus clowns piling in and out of a VW Beetle is tempting, but I won't stoop to such frivolity in this piece.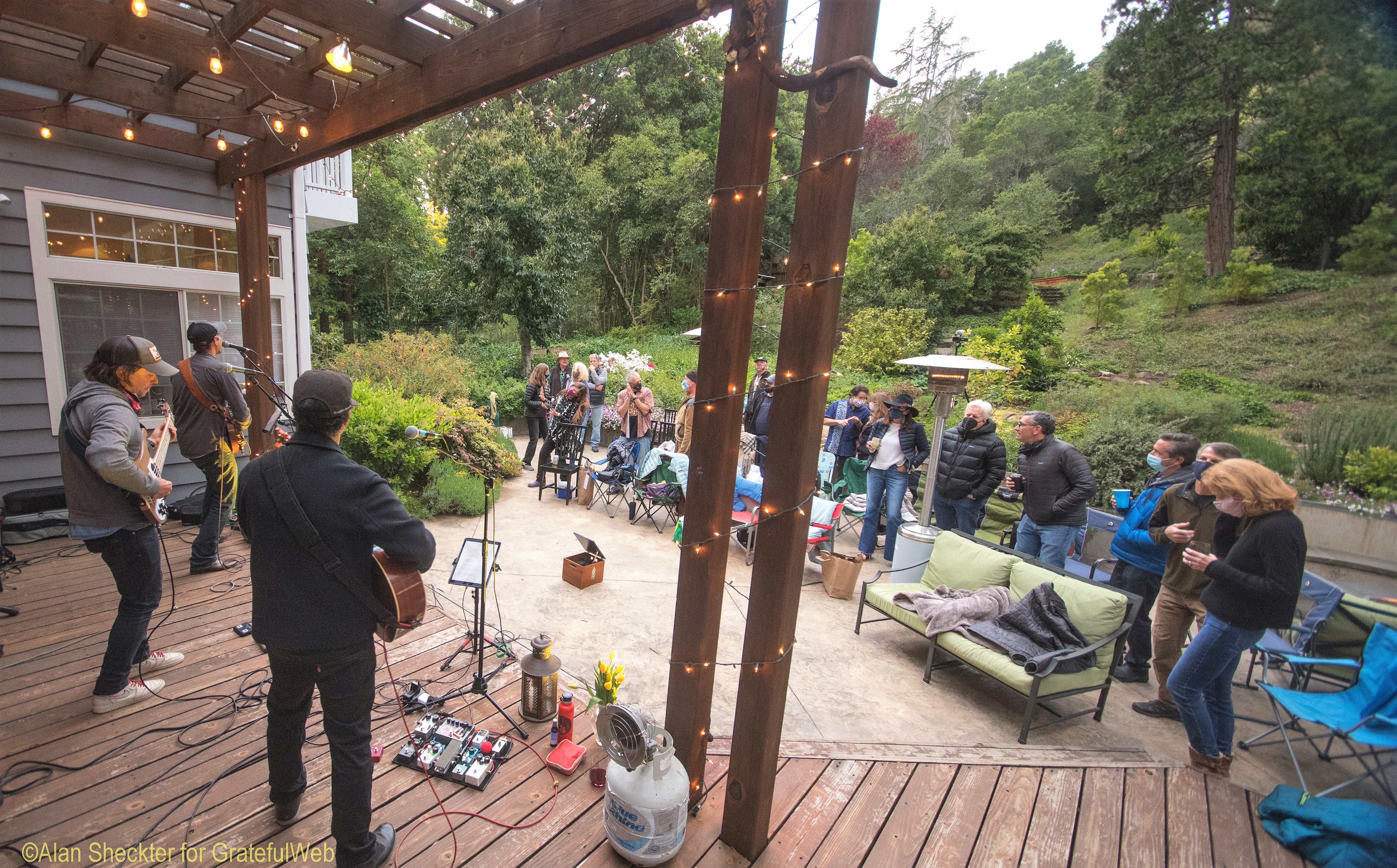 Take Saturday, April 24, for example. In a single day, Turner and the Hot Buttered Rum Trio (Nat Keefe, and Erik Yates with ALO's Dan "Lebo" Lebowitz in tow), roamed the hillsides in their portable tour "bus" and performed backyard concerts in Sebastopol, San Anselmo, and Ross, California. Grateful Web attended the San Anselmo live gathering.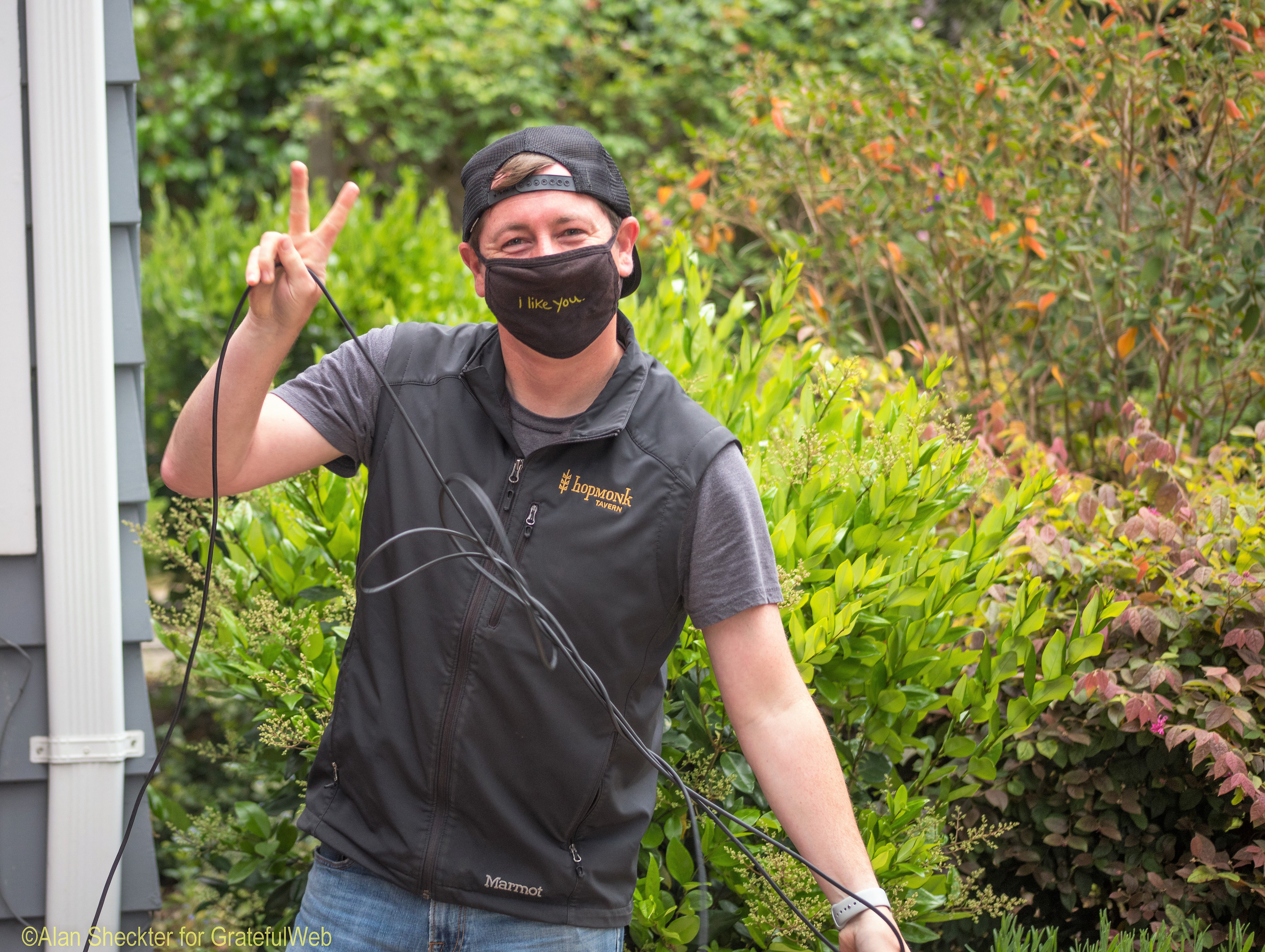 These particular trio shows materialized when Hot Buttered Rum front man's Nat Keefe called Turner expressing his interest in the concept. "It would be me and Erik <Yates>, and I can probably get Lebo involved," Turner recounted Keefe as saying. "Then we went to the calendar to see what weekends we all had. He really spearheaded it, Nat did. That's how most of these artists became a part of it. The artists tend to hit me up. They see me doing this with Megan Slankard and Poor Man's Whiskey and Steve Poltz and stuff, and are like, 'Whoa! How do I get involved?'"
In terms of gear, the trio traveled light. Yates brought his Beard resonator guitar and Nechville banjo, Keefe sported his Santa Cruz H-13 acoustic guitar and Rickenbacker bass, and Lebo was armed with only his trusty, much modified Takamine guitar. "That old guitar of mine has been a 20-year living experiment," Lebo said.  Instruments were supplemented only by guitar pedals and diminutive amplifiers.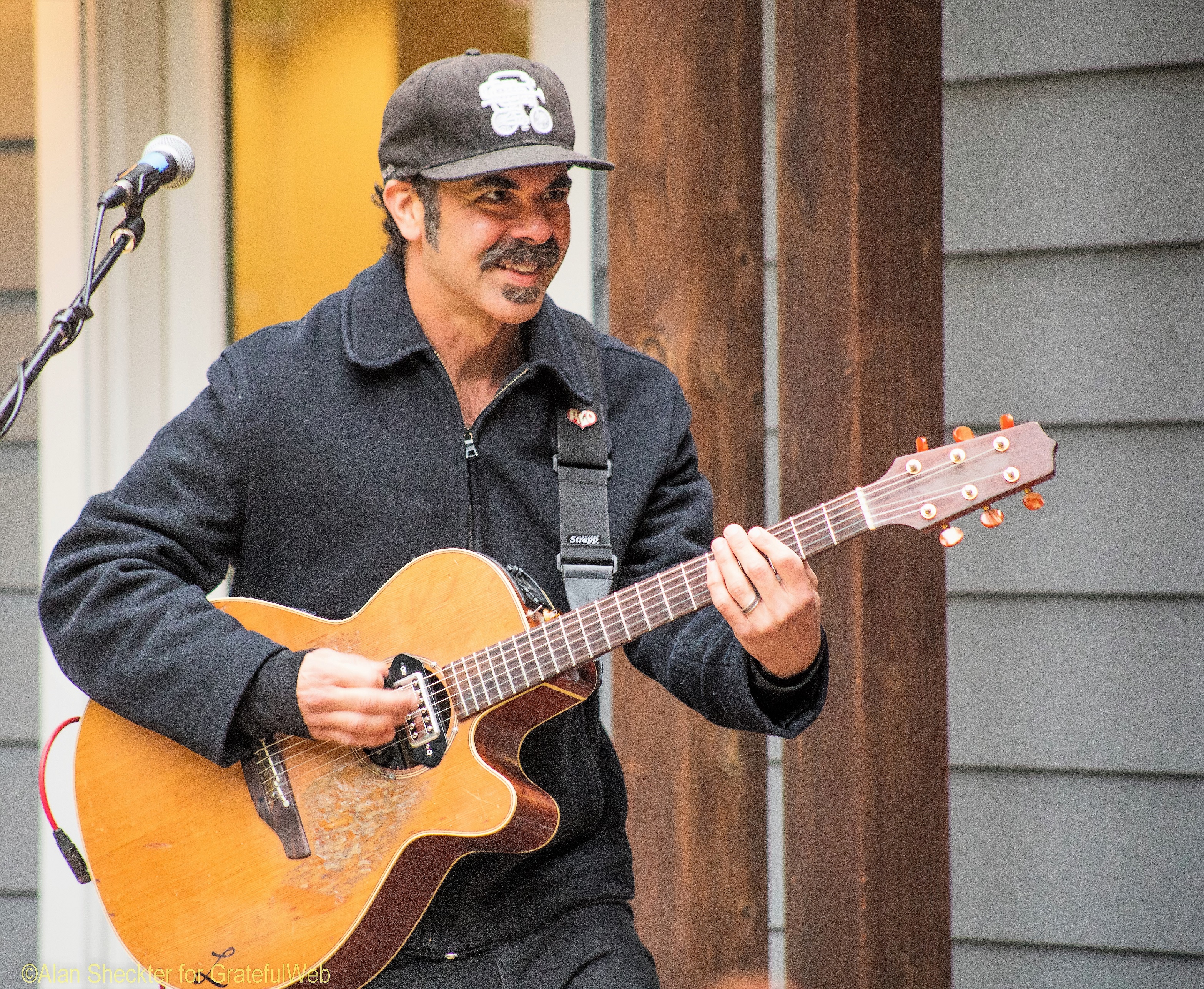 The mood, buoyed by the symbiosis between the musicians and small audience, was lighthearted and joyful. Together, the trio delivered a nicely paced set of music, touching on acoustic ballads, progressive bluegrass, and mid-tempo songs and jamming, all of which drifted beautifully over the vast backyard.   Hot Buttered Rum songs, including "Busted in Utah" and "Jack Mormon Mom," were supplemented by Gillian Welch's "Time (The Revelator)," and a wonderful 11-minute composition of Jerry Garcia's "Sugaree" that flowed into ALO's/Lebo's "Try" and back into "Sugaree." The set also included "The Deep End," for which Hot Buttered Rum and ALO collaborated on the "Lonesome Panoramic" recording, which was released in 2018. Both bands are mainstays at the Camp Deep End festival in California's Mendocino County.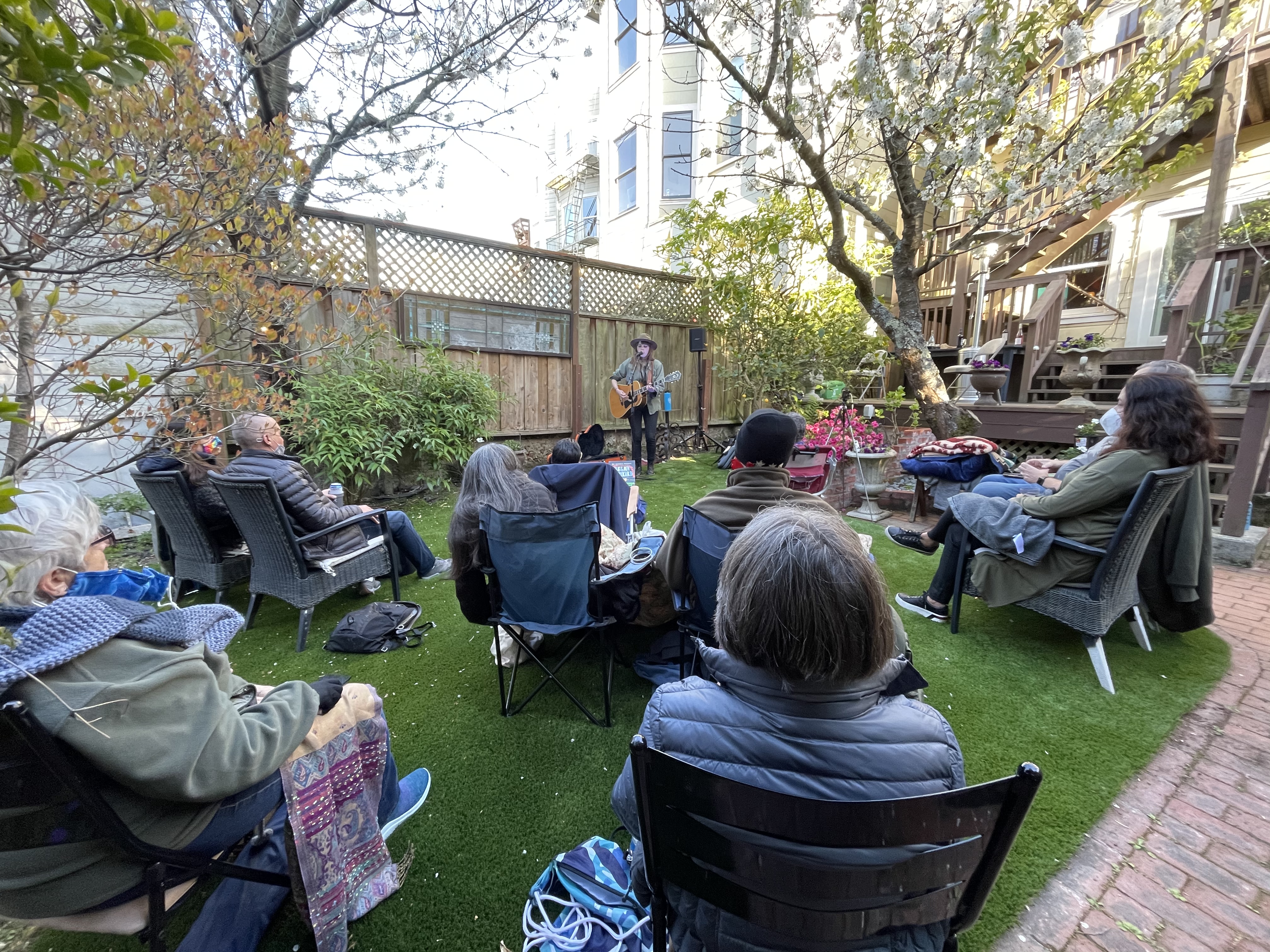 The In Your Driveway series premiered in October 2020 with performances by singer/songwriter Megan Slankard, and Turner, who manages Slankard's projects, revealed that she was part of the concert series' brainstorming sessions. "She kind of pushed me to do this and I'm very grateful for it," Turner said. "At first, I was like 'Nah.' I kind of brushed it off; that was in the summer of last year. She definitely gets credit for pushing my brain in that direction and wrapping my head around it because it started to feel a little a safer in the fall to have a plan. In the summer we didn't even want touch even our mail."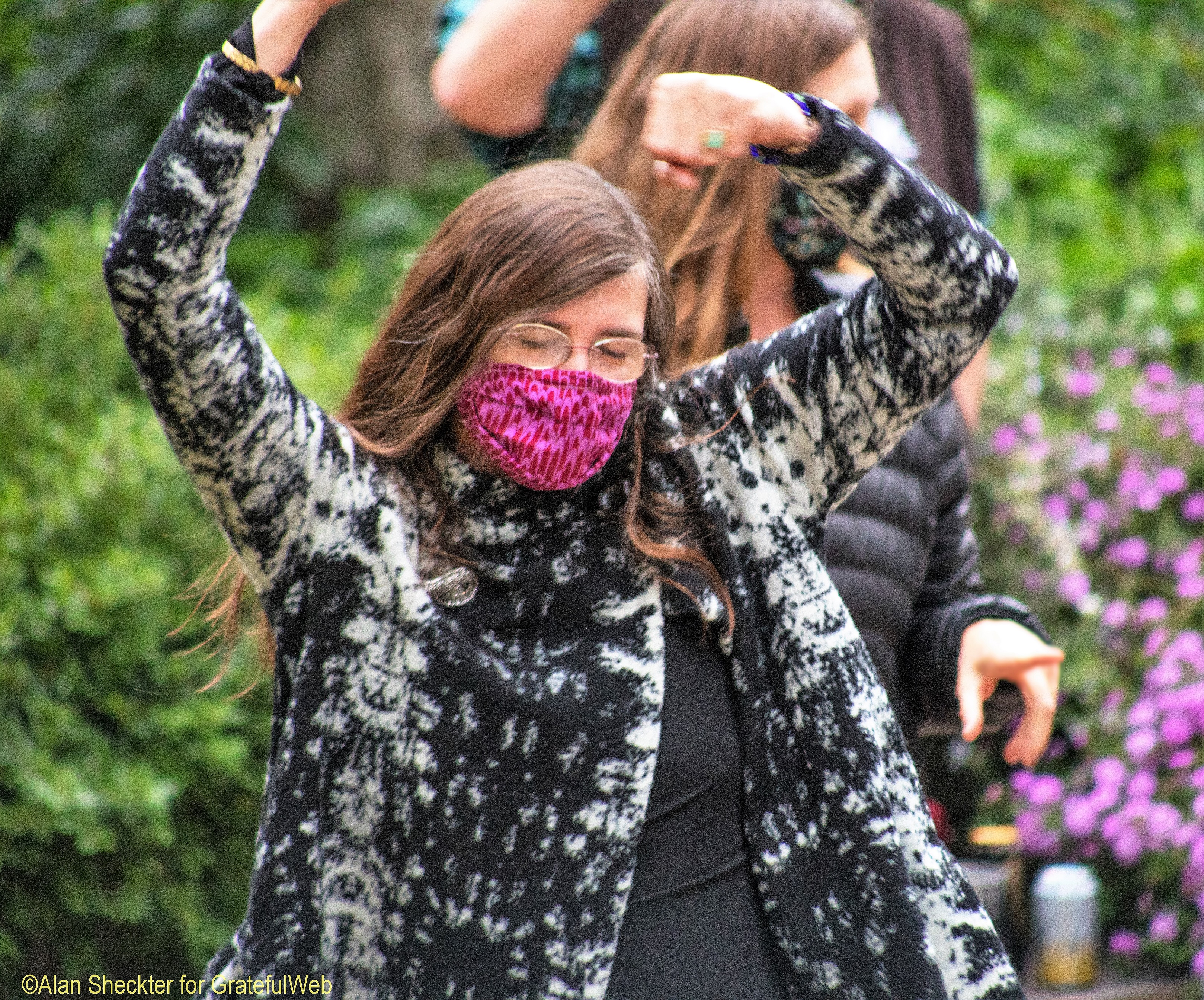 It is important to note that the shows have strict COVID-related guidelines, which is an important part of the pre-show planning. "There are ground rules for these shows," said Turner. "One is that they have to be outdoors, preferable in a driveway or backyard. There's a limit to the amount of people allowed to be at the show and that number tends to be about 20." In addition, masks must be worn at all times – between sips and bites for those actively eating and drinking – and attendees are to remain at least 12 feet from the performers. "We're making it safe as possible," he said. "We put safety above all other reasons for doing this. We're trying to have fun but want to make sure that no one's in harm's way." Also, the people hosting the events must keep them private. "We're not selling tickets or advertising the event itself," Turner said. "We're advertising that you can have an event through us, but you can't make a link to sell tickets. It's just your friends, your family, your pod. It's very, very intimate. Very small."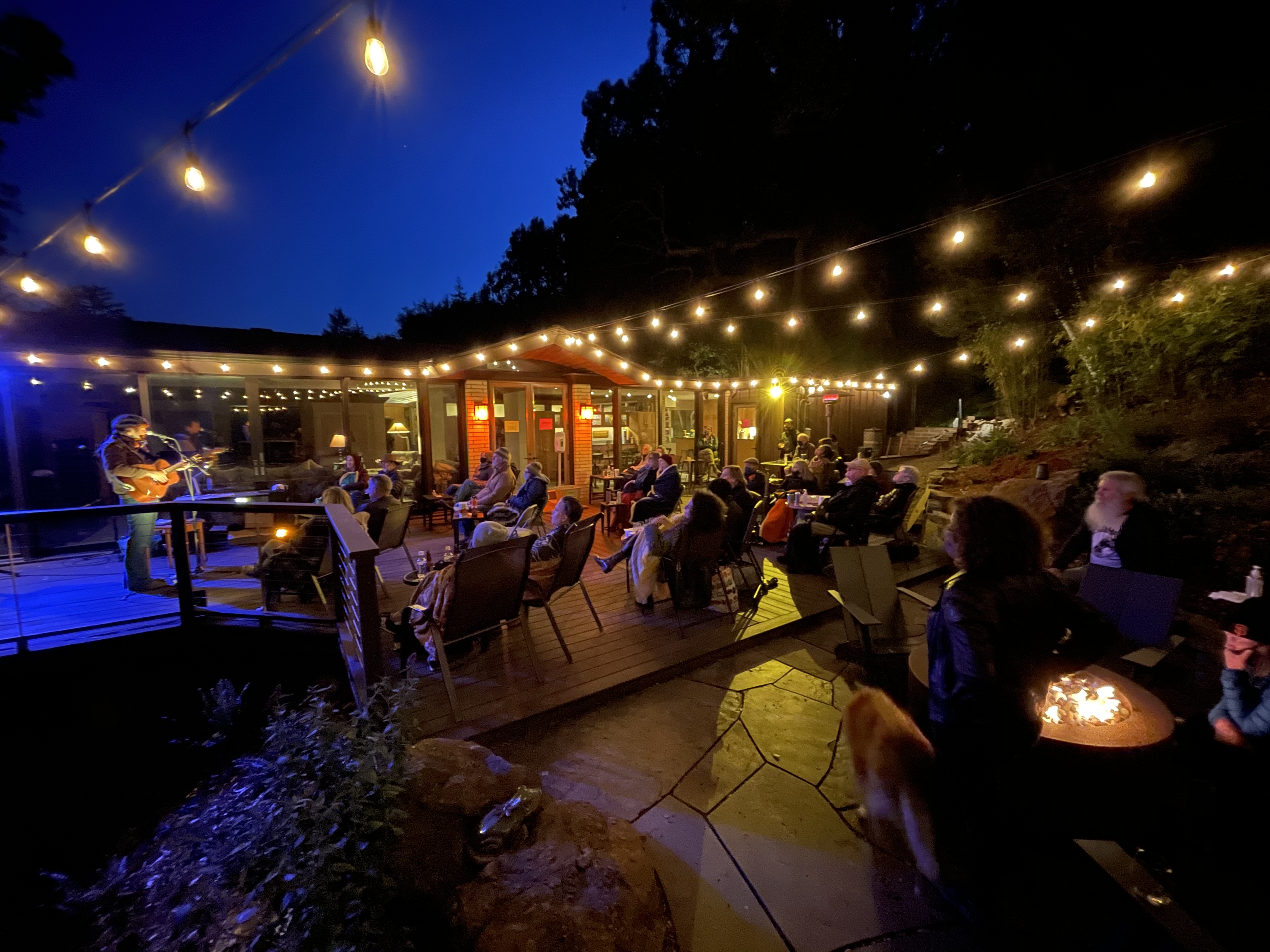 The event fees, a flat rate from roughly $1,000 to $5,000, according to Turner, are paid for in advance by the hosts. It is then up to them if they want to collect donations from their guests. Sponsored by Bose Sound, Turner uses small, high-quality, battery-added Bose speakers that last for an entire three-in-a-day group of shows. Turner also employs battery-powered Chauvet DJ LED lights for evening shows.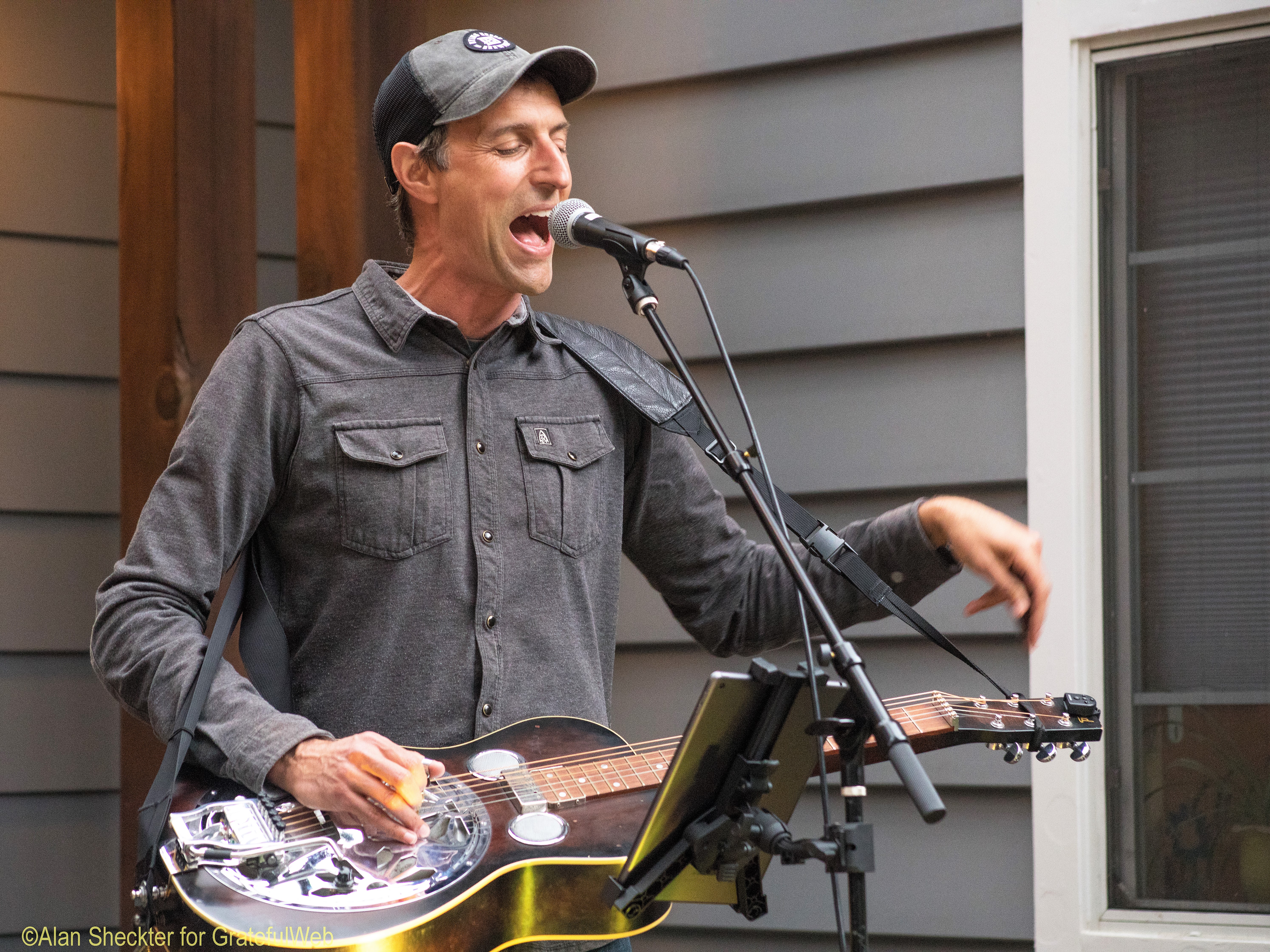 So far, the concert series has presented, in addition to Slankard, The Mother Hips Duo, G. Love, John Craigie, and Glen Phillips. Coming up are shows with David Lowery, John Doe, Tom Freund with Wally Ingram, Griffin House, Poor Man's Whiskey, Citizen Cope, and Donavon Frankenreiter. Some of these are already completely booked, but for hosting opportunities, go to https://kcturnerpresents.com.
Looking ahead to after the pandemic subsides. Turner said he will still manage private events, "but I don't want to identify my KC Turner Presents brand as the guy who just does private events, because we want to bring all these artists back to Hopmonk. This is great to do in in this meantime, in this little window, and it feels right."