At 18 I moved to the deep south for school. But not until I was tripping over the shoelaces of 20 did I realize that not everyone down there liked me.
I'm not slow, just in case you're wondering. I'm a Yankee, so, Atlanta Speedway aside, I'm pretty darn zippy compared with most folks down there. No, it's just that Southerners are born to this life packing Nobel-Prize-winning politeness skills. As a New Englander, I'm basically a point-and-grunt social troglodyte in comparison. Not that I didn't try. The subtle difference between "charming" and "darling" was easy enough to pick up, but the day I found out that "interesting" was definitely NOT a compliment? Well. I'm not whistling Dixie when I say that was the beginning of the end.
Those first two years were truly magical, though. The charm of Southern warmth and sweet gentility, soft drawls drowning out memories of hatchet-like northern barking. And then there was the music, rocking the roots as well as some newer branches of r&b. I thought I'd found utopia by crossing Mason-Dixon. I still remember those as the best of times, and even after all these years, I have to admit that my fantasies of "the good old days" are a lot more gumbo than clambake.
It was head-sucking, tail-pinching déjà vu all over again at Boulder's Fox Theater on Friday night for the North Mississippi Allstars/Missing Cats lineup. Passing by the ID checkpoint I was greeted by a massive, kindly bouncer who reminded me just the tiniest bit of an inked-up IZ. I guess when you're that size, copping an attitude is just plain irrelevant. Safely in-house, I cruised toward the stage where Missing Cats were layin' down the groove.
Once in the theater, a short-haired 50-something woman grabbed my attention. Simply put, she looked like the happiest person I had ever seen. I asked her what her secret was and she beamed bandward. "Been following them for 15 years and never got this close to the stage!" she enthused. "Pure bliss!" After a few songs, I could see her point: those cats weren't missing a whole lot so far as I could tell. With an air of practiced ease and southern 'tain't-no-rush pacing, Missing Cats were reaching out and touching hearts with classic boogie-woogie keyboard riffs and soul-filling tunes like "Body in the River" and "Sweet Mary". Toward the end of the set, a gently wasted, teary-eyed guy looked up at JoJo Hermann and wailed out "that's SUCH a beautiful song!" and, well, I had to agree.
Set break = people watching. More aptly, hair watching. Long tresses, unruly curls, scraggly waves, dreads, ponytails… even a Fu Manchu or two. In these days of careful metro coiffing, the staggering array of hippy hair was like a breath of (herb-scented) fresh air. With a smile I noted that the Friendly Flag was also flying high and proud. From sweet Sarah who held my water while I went to the restroom, to the flannel-shirted dude who made me giggle with an impromptu hug, kindness was king of the hill.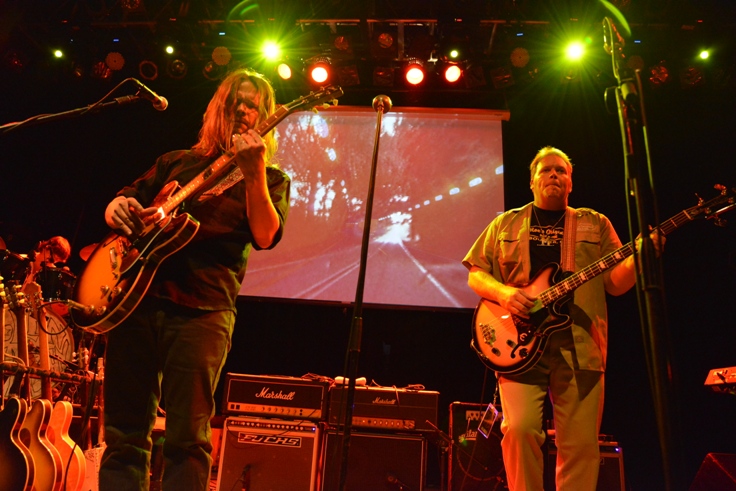 The good vibrations crescendoed as headliners North Mississippi Allstars took the stage, and this yankee got down to gettin' down. Peaceable dancers smiled and made way for me on the floor as the Dickinson brothers juked the Fox like a Tennessee speakeasy. From a rave-cool techno solo on synthesized washboard, to a little look-at-that-woman-with-her-dress-above-her-knee hot sauce, the joint was jumping in shades of Mississippi Hill Country blue.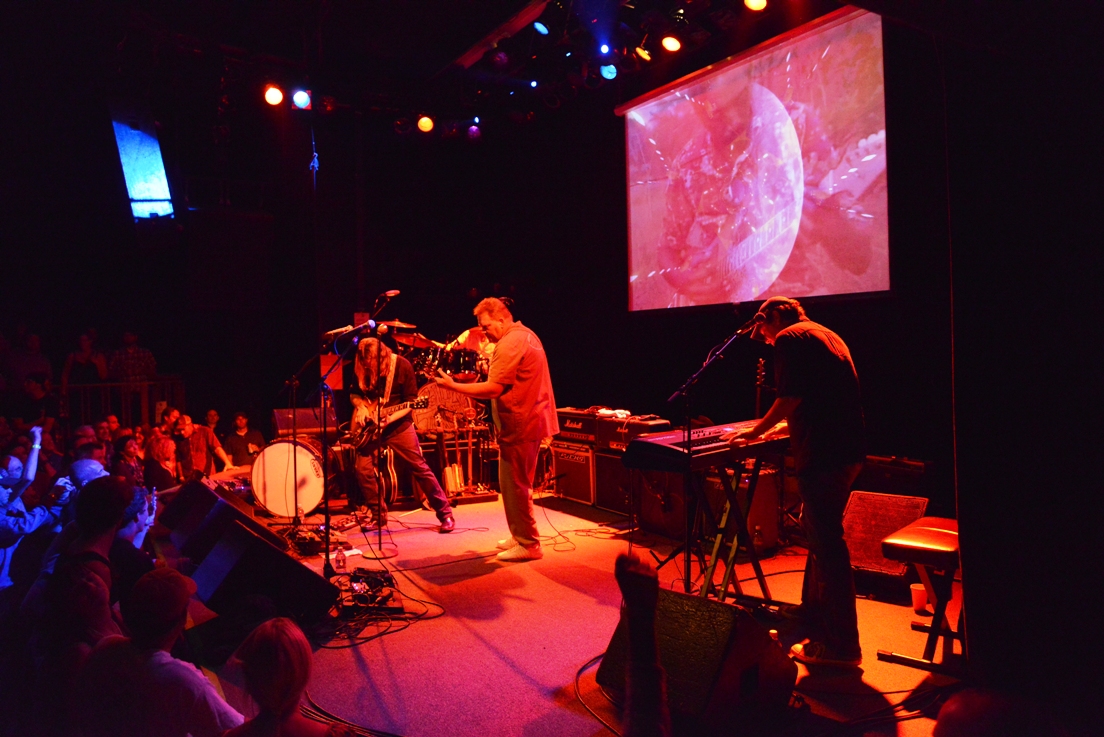 Free-flowing jams that would have made Duane Allman's eyes twinkle, repetitive rhythms of midnight causeway rides through dank bayou air, whimsical fingerings like colored autumn leaves falling on piano keys. For me it was all a seduction to the sweet by and by. And when the flood of reverie came for me (strolling with my lover on a muggy Louisiana night, an old blind man singing heartache to the empty corner of Bourbon and Dumaine…) I laid back with a smile and let that lonesome old river come and carry me away.