After a 3-year hiatus, the OC Music Festival (OCMF), announces the schedule for the popular weekend music and camping festival held at Irvine Lake in Orange, CA May 4-6th.  Expanding from a two (2) day (Friday & Saturday) event to a three (3) event (Friday, Saturday & Sunday) for 2018, the OC Music Festival will feature the best jam and improvisational bands from Southern California on two stages.
2018 OC Music Festival Line-Up
CUBENSIS (Grateful Dead Experience)
GrooveSession
The Higgs
Jerry's Middle Finger
Marble Blue
Wheeland Brothers
WTFB
Simpkin Project
The Higgs
Jerry's Middle Finger
Rose's Pawn Shop
Strawberry Moon
The Great Divide (Phish Tribute)
Hempstring Orchestra
Brett Davis & the Blues Night Band
Grampas Grass
Alpine Camp
Quactus
Exciteable Boys
SpiralEye
OC Music JamStars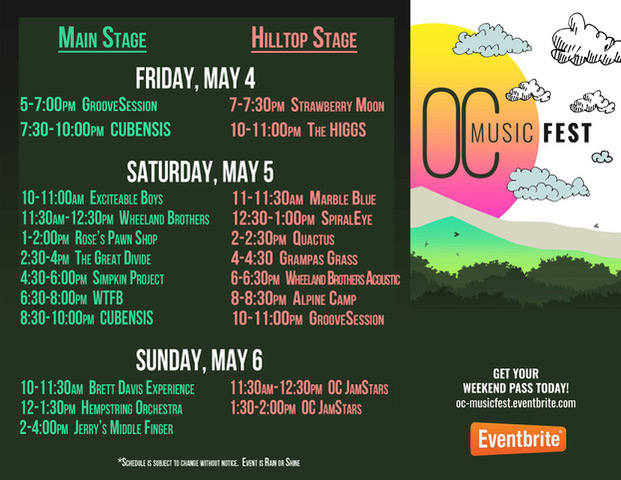 The new location, Lakeview Park, is adjacent to the previous long-time home of the OCMF.  Lakeview Park offers a natural tiered grass amphitheater, on site camping with a view of the main stage and ample parking.
About the OCMF: A Weekend Music Festival at beautiful Irvine Lake in Orange, CA. The OC Music Festival was the brainchild of Ted Tesoriero as an opportunity to showcase the musical talent of the jamband scene of Southern California...an area that, at the time, was lacking in this type of event. Produced by Tesoriero and his company, DJE Sound & Lighting, the OC Music Festival has grown over the years from a small local event to a three-day weekend music festival and campout featuring some of the best improvisational bands on the West Coast.