The beauty of the Grateful Dead legacy extends far past the demise of the original line-up that sadly ended with the death of Jerry Garcia in 1995. The Grateful Dead created a dedicated community, or rather a counterculture, based on music and family values that have since refused to give up and let go. Fans staggered hard on the day that Garcia passed, and wondered where the so many lives that were perpetuated by the legendary band would end up after that fateful day. But when something as large as the Dead community develops, it's comparative to standing in front of a freight train with you hand up, in terms of trying to stop it.
The remaining musicians carried on, as Garcia would have wanted, in various forms including The Other Ones, Phil & Friends, The Dead, and Furthur, bringing new musicians on board, playing songs that were retired for years, incorporating new covers and debuting new tunes. True passion never dies, though often changes form in order to survive.
Dark Star Orchestra is another one of these necessary GD perpetuations. The Chicago based GD tribute band took an interesting angle that appeals to Deadheads and supplies a demand. DSO recreates GD shows, song for song, even going so far as to use similar equipment that the Dead used for a particular time period. Fans can see a live show played pretty damn close to the way the actual show was originally played by the Dead. Intermingled with their recreations are random nights of original sets with songs of their choosing, one of which was played on Saturday at the Boulder Theater.
The show came in hard with Help on the Way>Slipknot>Franklins Tower (the Slipknot segue-way was HOT), and as the show was an original song list, it was loaded with gems. Heads were treated to a Rubin and Cherise to kick off second set, which was a very rare showing in the Grateful Dead's live repertoire, and in general, always well received. Cats Under the Stars, the title track off Garcia's 1978 solo record, led in to Cumberland Blues to close first set.
Jeff Mattson, of Zen Tricksters fame, who replaced John Kadlecik in 2009 on lead guitar and vocals, lead the band through a healthy jam of Dark Star into a speedy version of Eyes of the World and on to Playin' in the Band before heading into Drums and Space. Mattson not only plays like Jerry, but also resembles him with his movements and mannerisms. During Ramble On Rose in the first set, singing "Take you to the leader of the band," emotions were surely stirred among the audience, as veteran Deadheads were reminded of seeing Garcia singing this line, and likely held back tears of remembrance as they simultaneously celebrated hearing Mattson so professionally belt out the lyrics.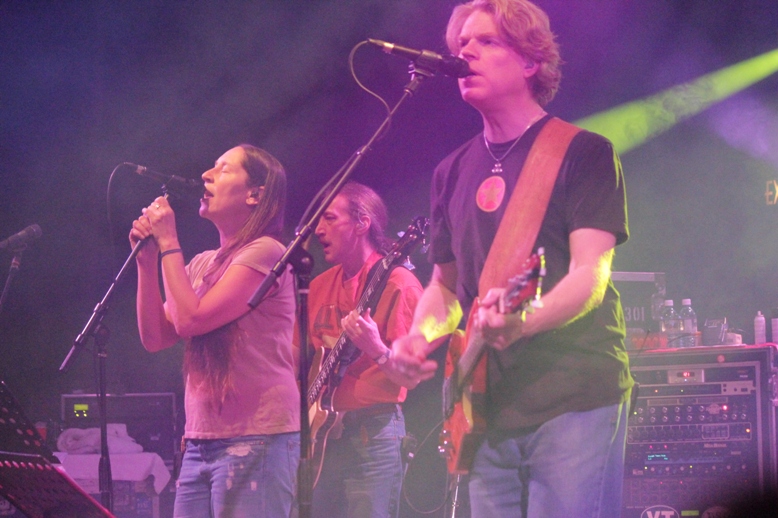 Friday night in Boulder brought out a vast array of Dead fans, young and old, dressed in everything from their old-skool hippy best to more contemporary hipster fashion. The air was thick with ganja and the dancing shoes were on. Veterans of countless shows along side younger fans who had never experienced the original Grateful Dead grooved together as if a time machine had transported them back in time.
Rob Eaton played the Bobby (Weir) part to the T on an incredible Lazy Lightning >Supplication, complete with all of Weir's quirky head bobbing and physical idiosyncrasies, and again took the helm on Greatest Story Ever Told in set two. Lisa Mackey sang beautiful back up vocals and twirled just like Donna Jean Godchaux would have, while Rob Koritz and Dino English held down the double drummer duties, and provided the rhythm along with Kevin Rosen on bass.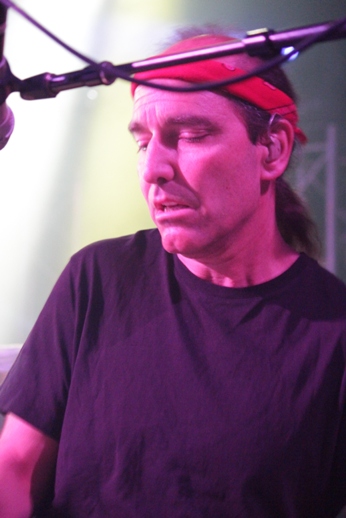 A notable rarity was Mackey's vocals on a cover of Bob Dylan's Chimes of Freedom which was originally played by the Dead about four times back in 1987. A stellar, sentimental If I Had the World to Give emerged from Space and rolled strong through Hey Jude> Dear Mr. Fantasy, Shakedown > Playin' Reprise. Rob Barraco, a veteran of Dead family spin-off bands, really delivered on keys all night long, and went above and beyond the call of duty on vocals for the Jude/Fantasy.
DSO really turned it on with an obvious passion for the music of the Grateful Dead, and a set list comprised of amazing renditions from a spectrum of eras of the Dead's music. There is a great matrix recording of this show on Archive.org with low crowd noise, check it here.
--
Set One: Help On the Way>Slipknot>Franklin's Tower, Lazy Lightning>Supplication, Ramble On Rose, Jack Straw, Chimes of Freedom, Cats Under the Stars, Cumberland Blues
Set Two: Rubin and Cherise, Greatest Story Ever Told, Dark Star, Eyes of the World, Playin' In the Band > Drums/Space > If I Had the World to Give, Hey Jude > Dear Mr. Fantasy, Shakedown Street, Playin' Reprise
E: Forever Young