The second day of the 10,000 Lakes Festival at the Soo Pass Ranch in Detroit Lakes, MN, dawned sunny and not as hot as the opener.  Festivalgoers crawled out of their tents relatively early to take showers and start their day with caffeine. A coffee vender was doing a brisk business.
It was then that I realized that I just can't cover all of the shows I want to see and still report live to readers. I sent Eric my photographer to shoot a number of acts and to give me a blow by blow at our morning meeting. I also sent my husband Ron to follow his musical tastes. Ron and Eric are both musicians so I trust their takes on the bands they see.  We only argue a little over taste.
I started the day doing an interview with the festival Chaplains. That may sound odd at a music festival, but these folks work not only the 10,000 Lakes Festival but the blockbuster country show, WE Fest, also hosted by the Soo Pass Ranch. The Chaplains help wherever they are needed, rather like the Psychedelic Rangers of festivals decades ago.  While I was in their camp, they found sunscreen for someone, got extra coffee cups for the Medics, and had given a ride to two guys, struggling with a huge camera case.  Riding on golf carts as do other festival workers, including production and security, the Chaplains pass their smiles through all of the five campgrounds. They also walk through the concert bowl, talking to people and listening to the music.
When I first met Janet Huntley and her husband "Bo" (Ralph) at the first 10,000 Lakes Festival, they said that they had never heard this kind of music before. Janet had remarked also about the crowd in their festival clothes (not just tie-dyed tees, but gypsy skirts—even on some guys, Renaissance dresses, sarongs, and fairy wings), blowing bubbles and playing Frisbee and hackysack.  "They're like children," she had said, "but very well behaved children."
The Huntleys are part of a team of 35 chaplains at the fest. They are certified pastors, with several volunteers, who give people a simple medical assist or help with domestic disputes. One of the biggest services they do is crowd control when someone has an accident such as slipping in the mud. They just circle the person and ask onlookers to give the EMT's room to work.  The Chaplains also help when someone has had too much sun or has had too much to drink. They don't judge and definitely don't preach. "We're not here to street vend," Janet Huntley said.  They certainly are a kinder face to see than security if you're having words with your partner or you're suffering from too much partying.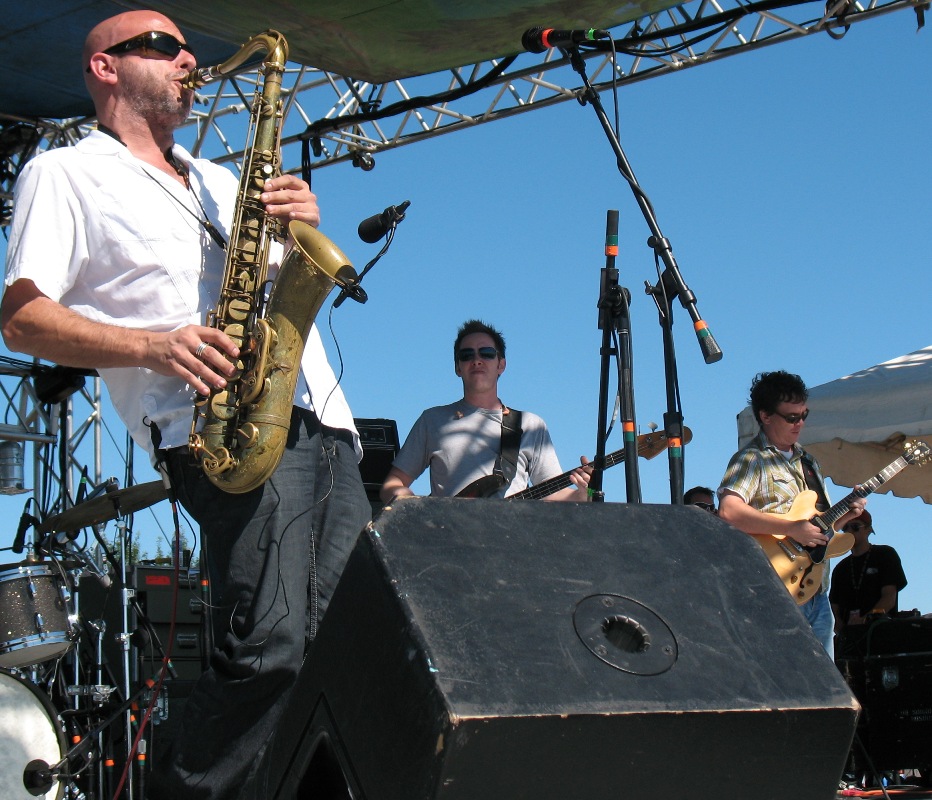 From my visit with the Chaplains in their camp, I came down to the VIP Chill Tent to eat lunch. I found Tim Sparks entertaining diners with his eclectic guitar work that ranged from jazz numbers to Eastern European lilts. Meal entertainment is a perk with VIP but the other campgrounds also have entertainment tents where campers can listen to good music. The VIP Chill Tent and the campground acoustic stages offer opportunities for solo musicians or emerging bands who want to have their music heard by festivalgoers. Some bands just want to share their music for more than the set they did on the Saloon Stage.
The Saloon Stage kicked off the first full day of the festival with Super American Happy Fun Good Time Jamband, striking that signature "Shakedown Street" theme that was repeated by several other bands throughout the day and into the evening.  Hunab, from Iowa City, IA, followed, bring their fusion of jam and rock, with the spice of reggae.
However, it was Dubconscious that showed fans what modern reggae is, combining dub with reggae. They are hoping to do more loops and samples in their live shows and in their next album. This band had good players and vocals, but it was their message of peace and brotherhood that had listeners nodding to.
I had to miss the jazz fusion of Polydypsia and the soulful groove Fresh Heir at the Saloon and rockers Particle at the Barn Stage in order to see Galactic. This five-piece always produces a great show. These guys are so talented they can handle any genre from jazz, funk, blues, and even klesmer.
I broke for dinner at the Chill Tent and was pleasantly surprised to see Unity, plus a new face or two, entertaining. This time the band was slowing down the tempo to help our digestion, gifting us with roots reggae, some classics and some originals. Dan Hamrin, who works this festival, sat in with djembe and ashiko, adding his beats to Chunk on congas and bongos. Their newest band member, Diamond, from Nigeria, did auxiliary percussion and lent his distinctive vocals. Unity cranked it up to the energy of dancehall when Dweezil Zappa started his set, part of his Zappa Plays Zappa tour.
Dweezil invited Ray White, a longtime guitarist with his father's band, to join him on stage.  Dweezil played guitar while someone else took the Frank Zappa vocals. The set was pure Zappa, a twisted mix of great rock and Monty Python.  At the end of the set, Dweezil asked everyone to sing "Happy Birthday" to his daughter Zola who was a year old that day. He was taping it to play back for her.
Against Zappa, Stealin' Strings played in the Saloon. They have a bent bluegrass mix.
I did catch the last bit of the Burnin' Smyrnans full-tilt jams before Bump set up. A flat projection screen was set up above the Saloon door so that those spilling out onto the benches outside could see the band. While I was waiting for Bump, I took in the view from the Saloon Stage. It was breathtaking at night.  Someone had erected a soft sculpture of white trumpet tubes that were individually lit. They ran through a spectrum of colors I was able to see the Main Stage where Umphrey's McGee was dipping into their vast repertoire. Umphrey's started out in outer space, the place we last saw them at the 2006 10,000 Lakes Festival. Quickly, though, they moved into that rich combination of genres that we have all come to love. Umphrey's also supplied a full out light show with smoke and colored spots.
When Bump, a band from Detroit, came on stage, they were playing to a handful. But as they continued, their audience built. This was definitely not the same band I saw two years ago. Back then, they were a pop rock band that was tight and had good harmonies. Somewhere in the past two years, they turned into a monster jazz groove band, writing their own stuff and delivering it with finesse and sweet, sweet vocals.
As I toddled off to bed, I caught the great bluegrass of Cornmeal at the Barn Stage and the amazing jams that only the Disco Biscuits could produce. I missed the White Iron Band doing its southern rock at the Saloon Stage and Moses Mayes who closed out the night there at 3 am. Moses Mayes is this incredible band from Winnipeg that combines rock with Grant Paley's turntable.  Great stuff!