While official Summer of Love 50th anniversary festivities for San Francisco are still mired in licensing/permit negotiations, Dead & Company's return engagement to the Bay Area on June 3 was a magnet for 1967-ish apparel, attitudes, smokeables, and music – the concert's first set featured "Viola Lee Blues," the closing tune on The Grateful Dead's 1967 self-titled debut.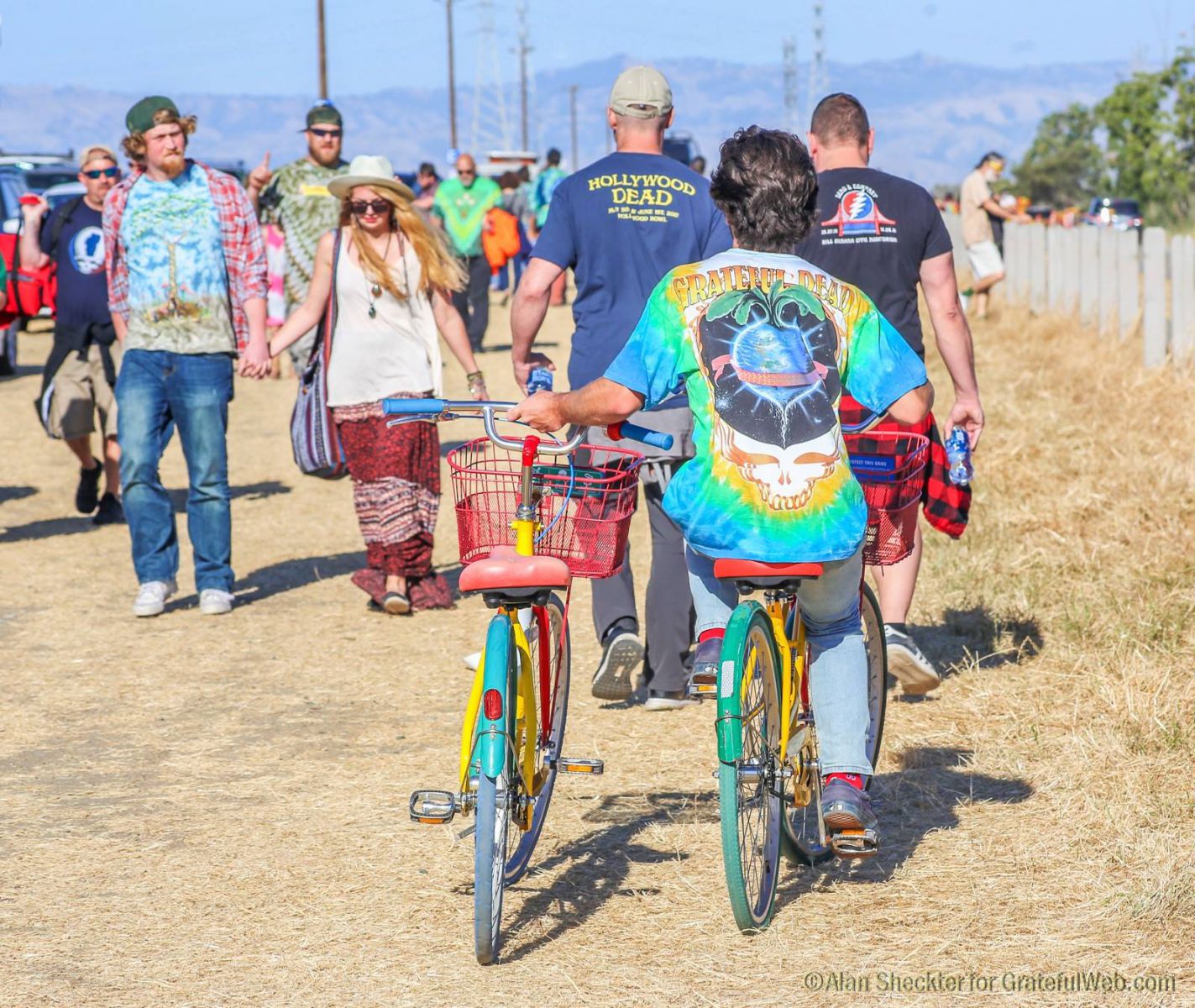 The jumbo Shoreline Amphitheatre, which holds more than 20,000 patrons, was full to the brim as tickets even for the massive lawn were a rare commodity, judging by the more than usual "Cash for your extras!" being bellowed by many folks with their optimistic "miracle" index fingers held high.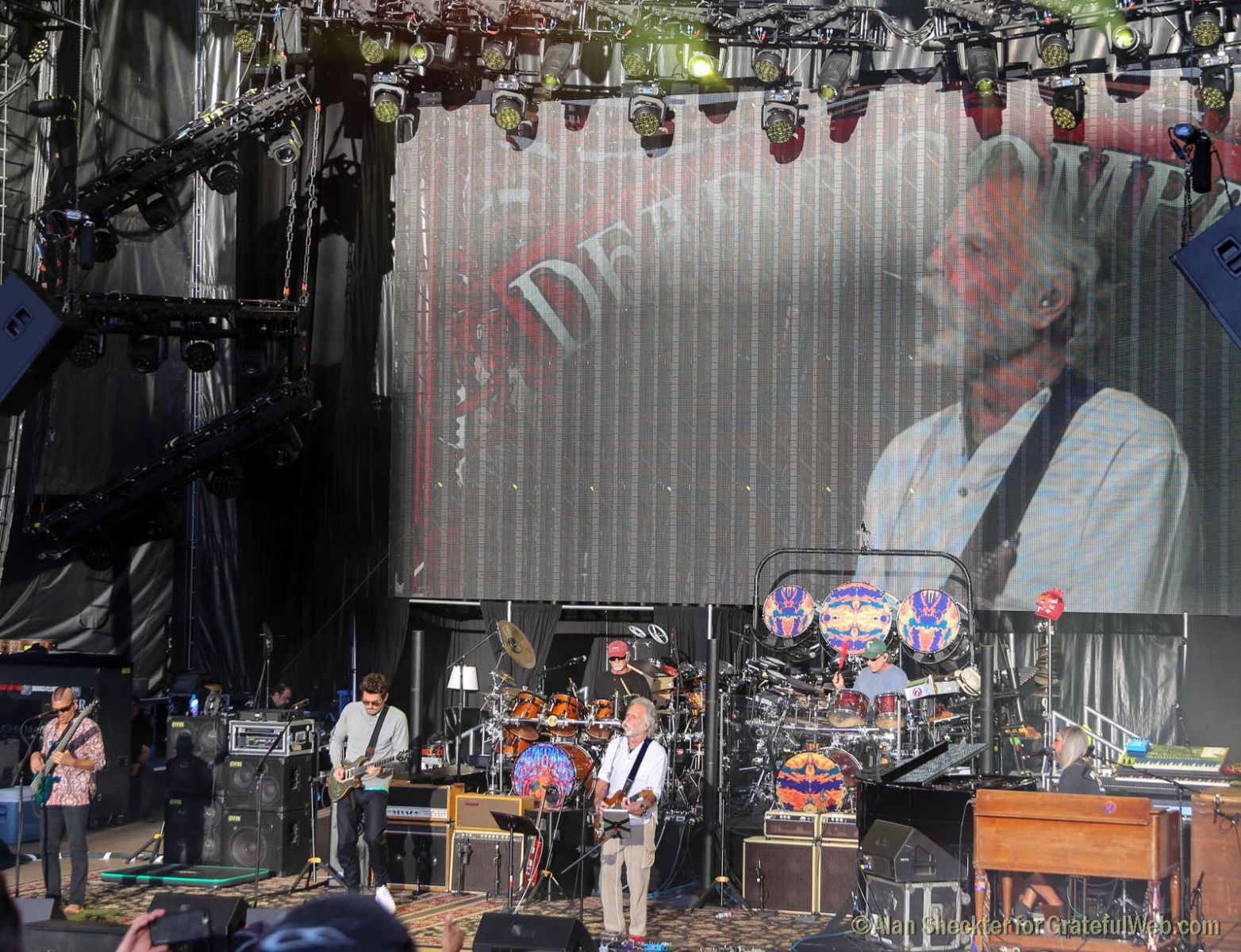 At about 7:15 p.m., with the mild day's waning sun rays beaming directly onto the stage, Grateful Dead core members Bob Weir, Bill Kreutzmann, and Mickey Hart, as well as their esteemed "Company" – John Mayer, Oteil Burbridge, and Jeff Chimenti – commenced with a 15-minute "Playin' in the Band." That song's magic aurally wafted over the assemblage, nicely allowing musicians and attendees both to get centered and fall into a give-and-take unison of music distribution and appreciation. As did their Grateful Dead forbearers, these Dead & Company players deliver an intoxicating potpourri of of blues, jazz, rock, and soul jams into their collective brew.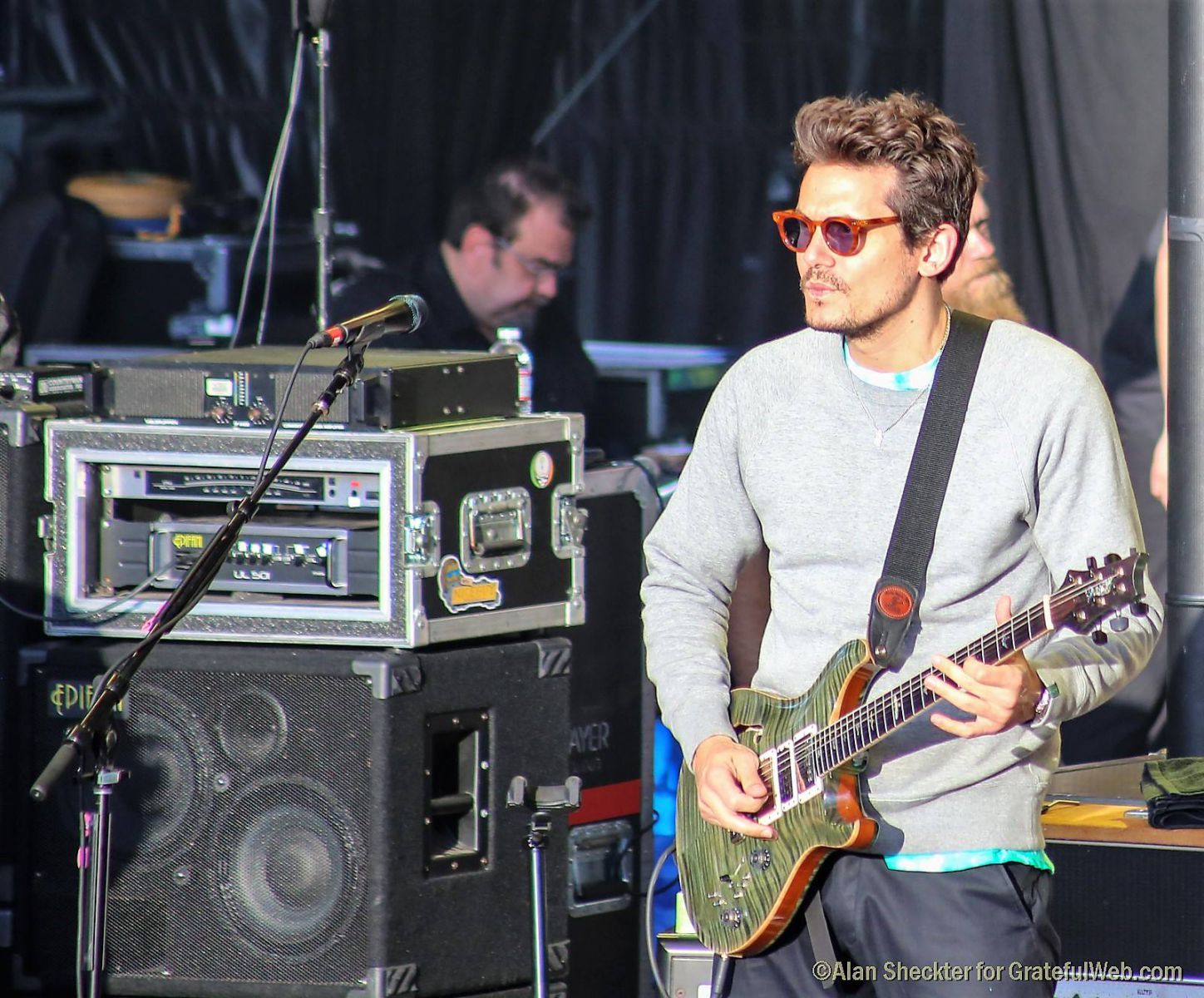 Throughout, Dead & Company generally paced their songs slower than the old Grateful Dead versions, but with power and volume that turned each piece of music into a big production. The first set was a powerhouse, with the inclusion of the aforementioned "Playin' in the Band" and "Viola Lee Blues" as well as a fully stretched out "Here Come Sunshine" and "One More Saturday Night" as a jubilant ode to rock 'n' roll set closer. Most of the second set, with Mayer passionately by bouncing up and down during "China Cat" at the outset, was sublime.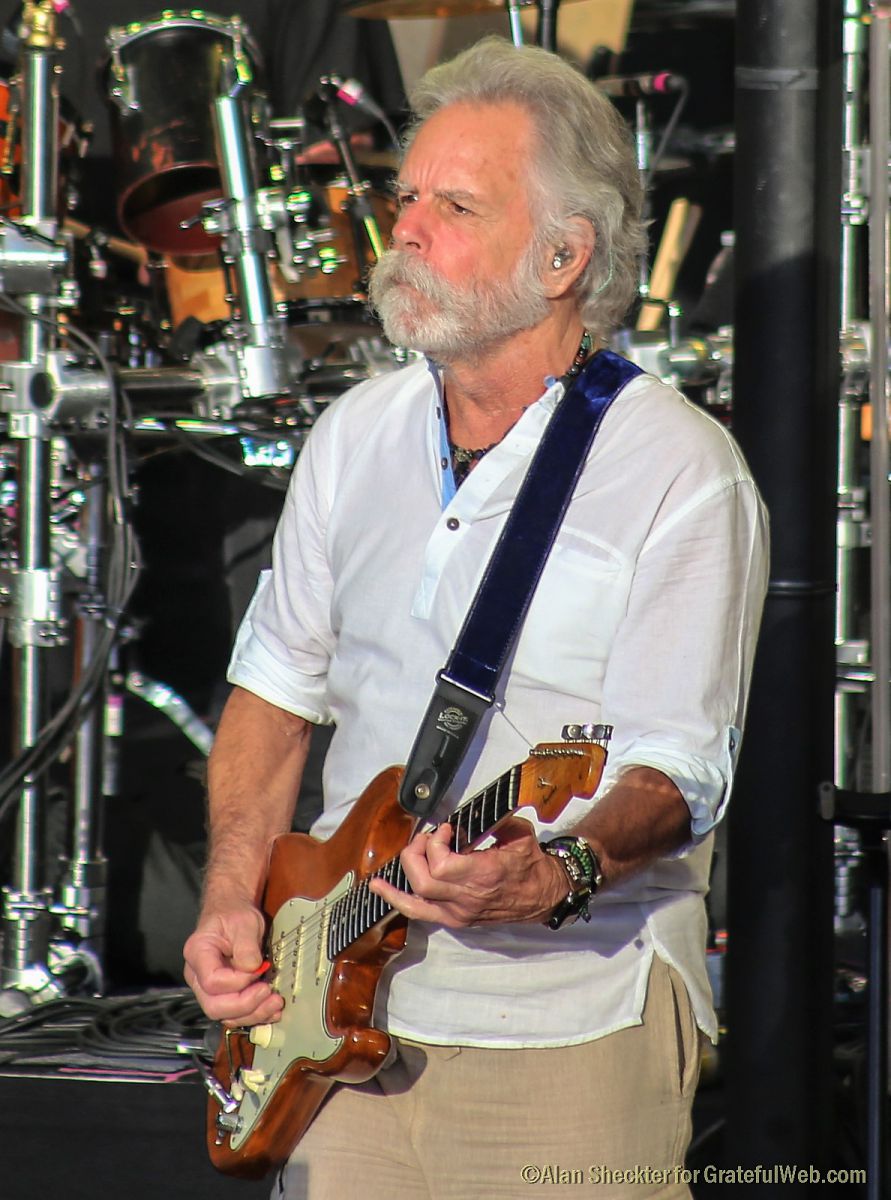 Weir reliably provided competence and vibrancy on second guitar and vocals, often displaying an admirable openness to slightly revising and tweaking old songs to keep them fresh. And co-front-man Mayer, the A-list popster-turned Dead-esque-sidekick, still surprised many with his short-in-years-but-long-in-authenticity Grateful Dead acumen, providing searing, improvisational lead guitar work in addition to many turns at the mic. Longtime RatDog and other post-Grateful-Dead-bands keyboard stalwart Chimenti supplied expert accompaniments that were always just right, and threw in some super solo flourishes throughout the night (piano on "Eyes of the World," Hammond B3 organ on "Deal," for instance).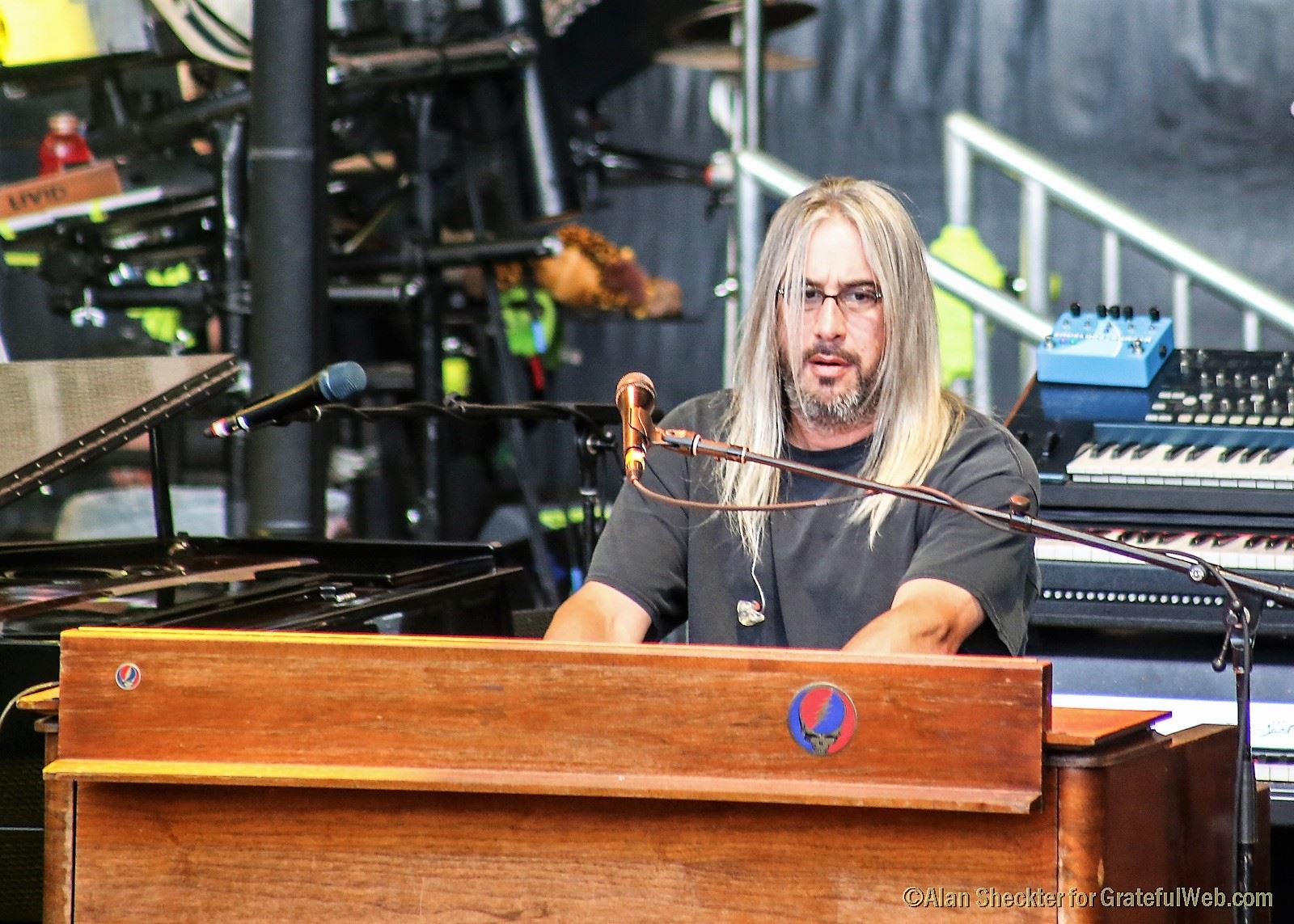 But the top story of the evening belonged to bassist Oteil Burbridge, whose career includes long stints with the Allman Brothers Band, Aquarium Rescue Unit, and others. After a powerful, crowd-pleasing second-set opener of "China Cat" and "I Know You Rider," Burbridge moved up to his mic and led a tender version of "China Doll" that visibly thrilled the crowd. It was his first turn ever as lead vocalist with Dead & Company. This was the second time the band ever performed the poignant song, with Weir taking lead in a November 2015 version in Buffalo, NY. A friend pointed out that three of Burbridge's mentors passed away in 2017 – Col. Bruce Hampton, Gregg Allman, and Butch Trucks – which might have led to the discernibly emotional vocal performance.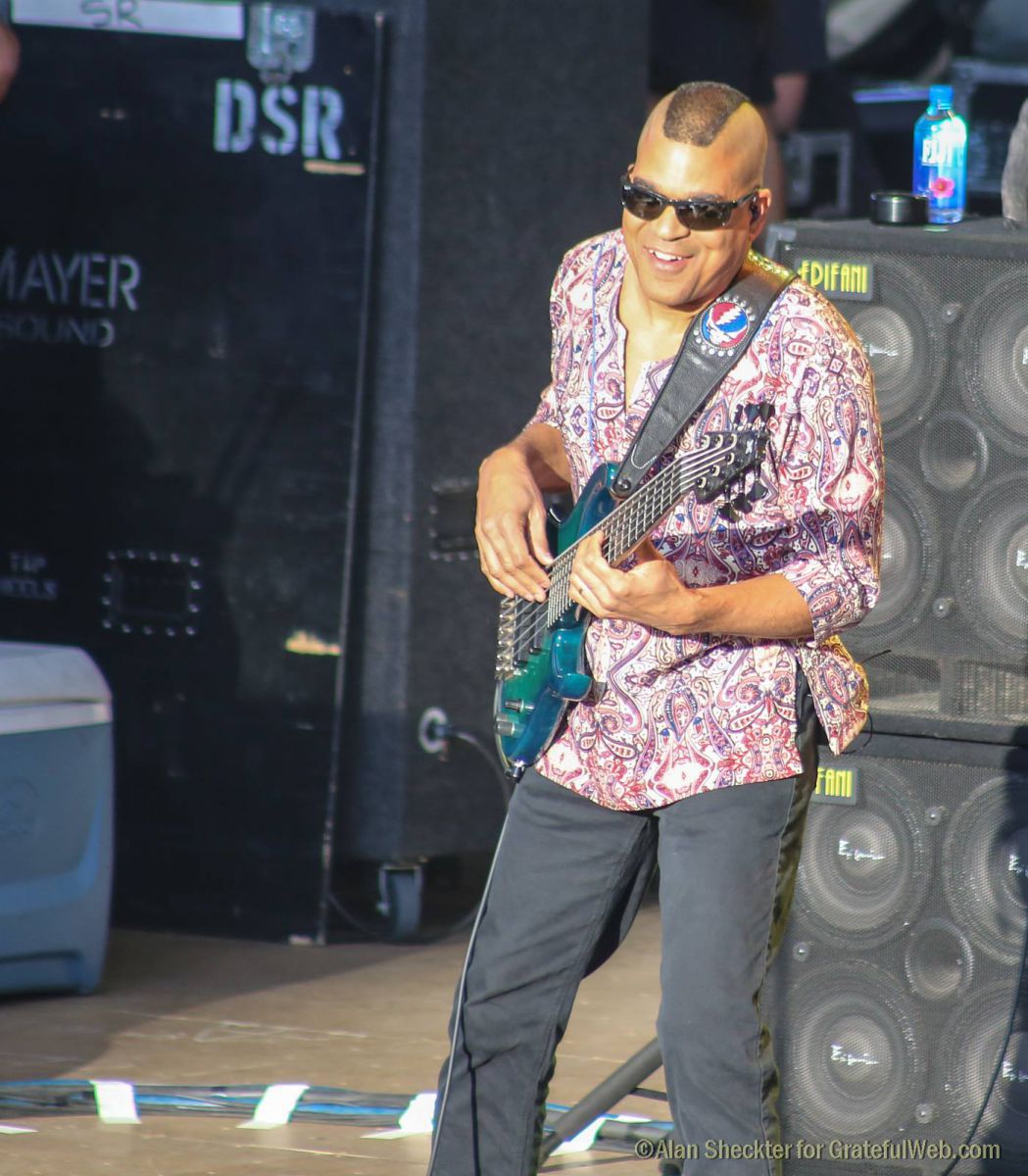 Trusty, legendary drummers Kreutzmann and Hart, whose mere presence adds to the distinct Grateful Dead brand, were in lock-step with the rest of the band from start to finish. Many noticed an unusual occurrence during the post-drums "Space" portion of the second set, as Hart kicked with gusto his percussive Beam and waved his arms about. It's unclear whether it was just Hart being Hart, doing anything to coax unusual sounds out of his equipment, or whether, as some asserted, that he was angry that the rest of the band came out too soon during the portion of the show in which he usually has more time to shine.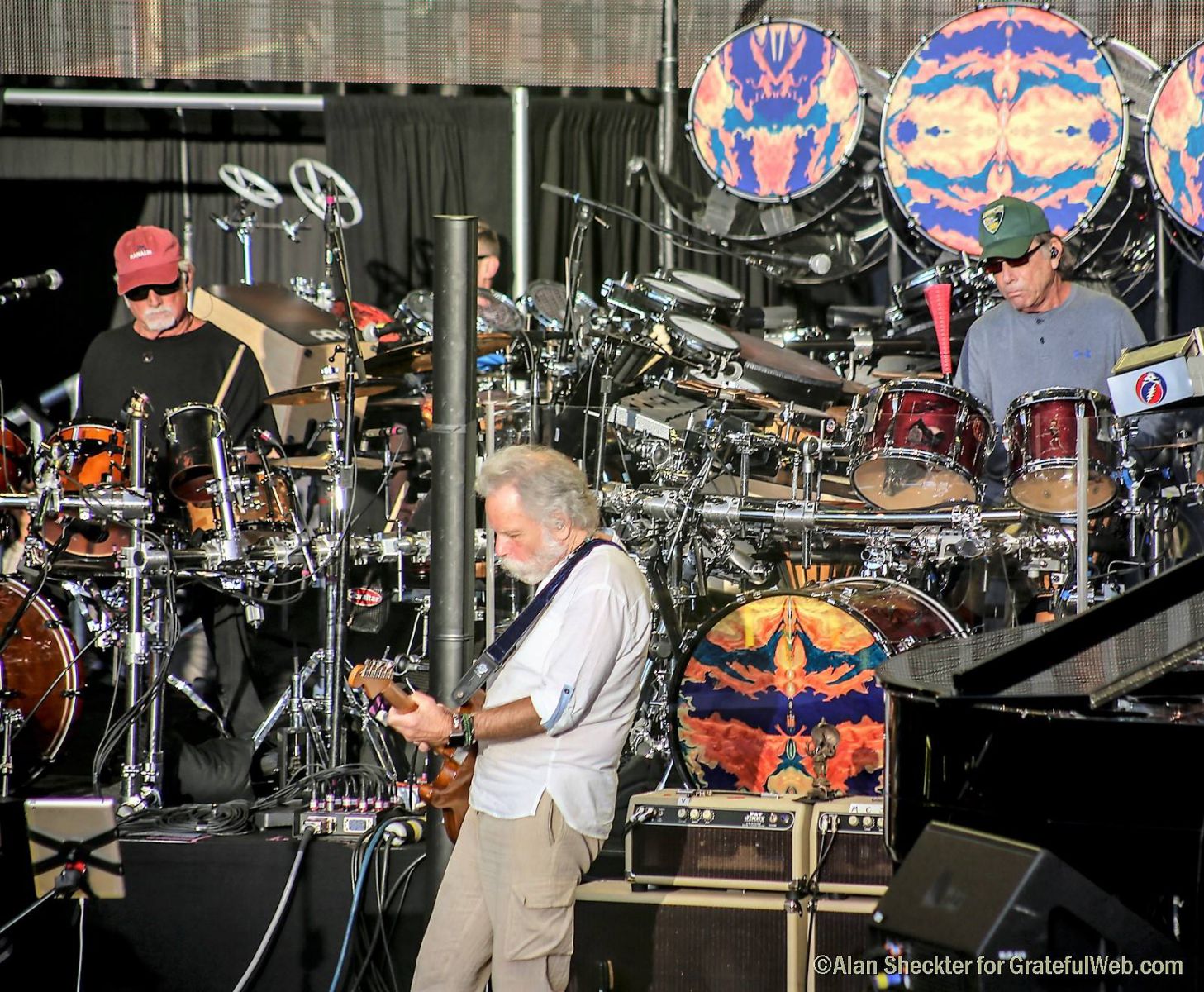 Technology certainly played a role in the gestalt of the show. The crisp clarity of the sound – even in this large amphitheater – combined with state-of-the-art lights and visuals, including brilliant artful animations, added to the experience. This was especially true during the drum-duet when, in addition of the pounding rhythmic vibrations felt in one's chest, dissolving video effects amid psychedelic fractals and blazing, flashing blue lights were tremendous.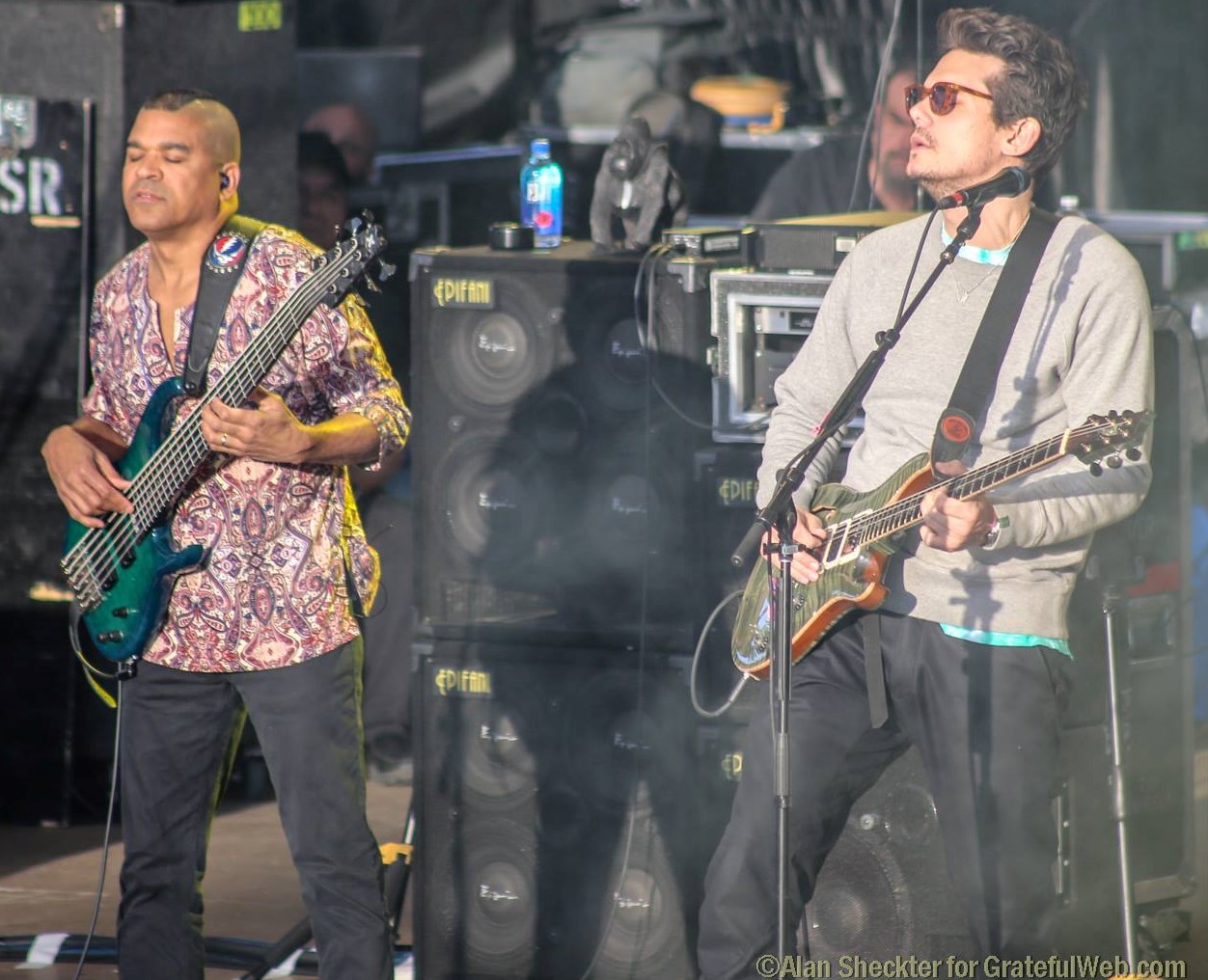 Those who heard some John Coltrane in the midst of the second-set jam that led into "The Wheel" were not hallucinating. Well, not about that anyway. After returning to the stage after "Drums" and "Space," Weir, Mayer, Chimenti, and Burbridge put forth a hornless but reverent interpretation of the "Acknowledgement" portion of John Coltrane's iconic 1965 album, "A Love Supreme," with Chimenti channeling McCoy Tyner's original piano work.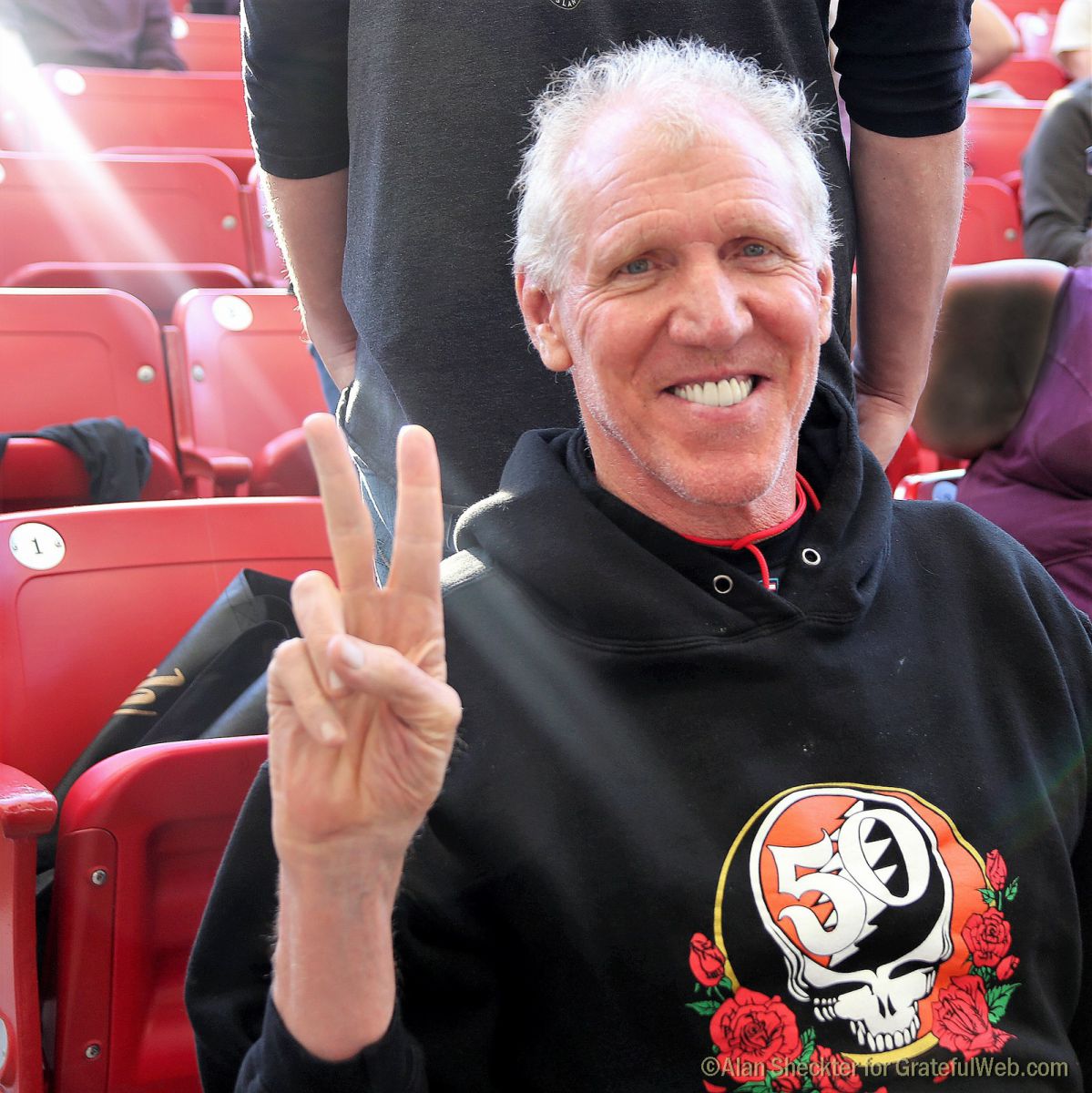 The end of a slow-tempo but moving version of "The Wheel" included a new reggae-flavored twist, with Weir and Mayer repeating over and over the lyric, "(Won't you try just) a little bit more, a little bit more, a little bit more?" The slow-paced but potent "Good Lovin'" set ender, a song that dates back to 1966, the year before the Summer of Love, had the house rocking, and the "Black Muddy River" encore was a lovely, heartfelt send-off.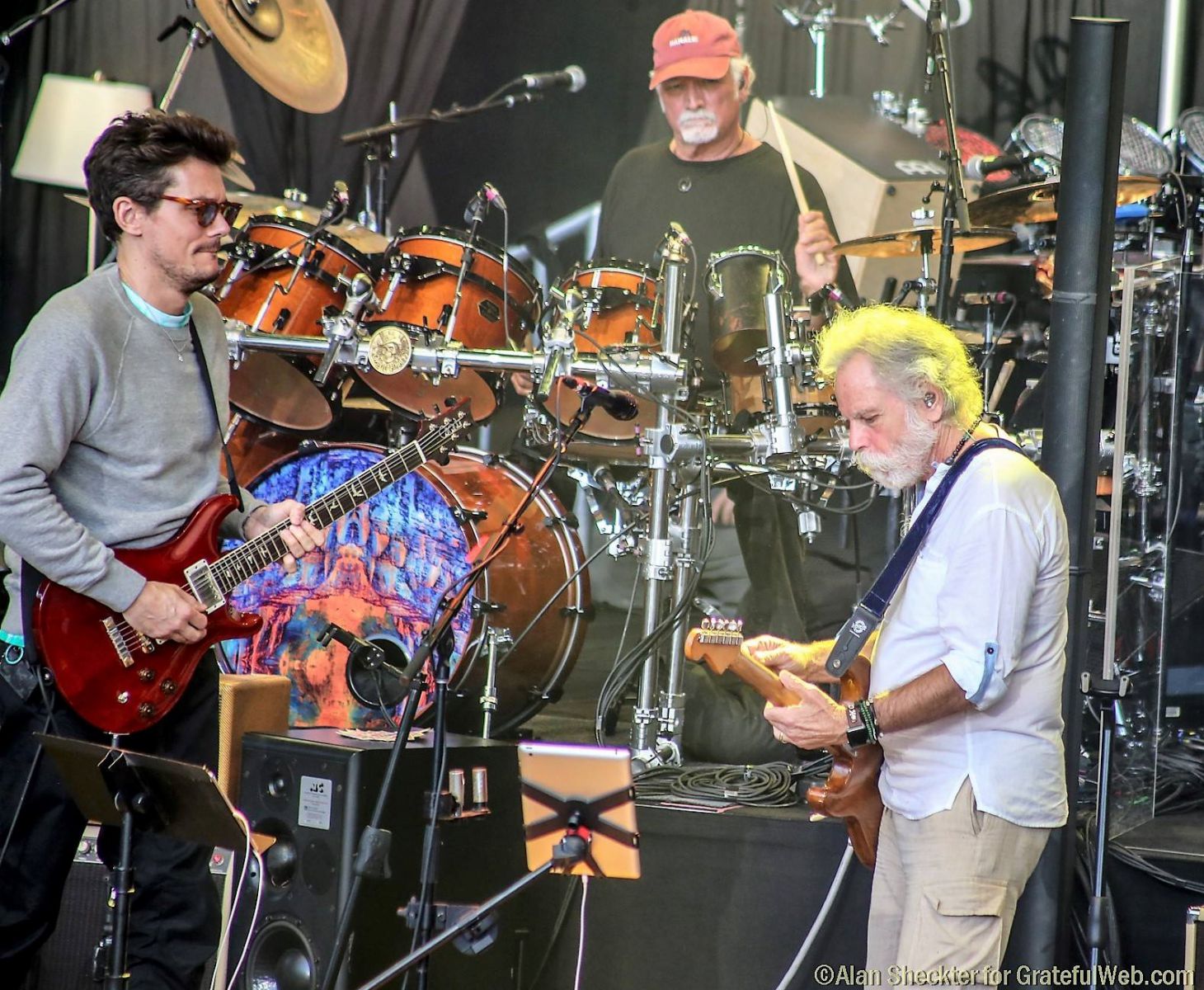 As has been common during their 20-month existence, Dead & Company comparisons to The Grateful Dead are obligatory. The original band, which grew organically out of the mid-'60s San Francisco-area music scene, included of course Jerry Garcia, whose way with lyrics and lead guitar licks had a unique, engaging je ne sais quoi that was easy to "get." With Garcia, the once and forever Grateful Dead icon at the helm, onstage subtleties and moments of vulnerability were a distinctive and engaging component. Only "China Doll" produced that particular unscrupulous vibe on this night. Which isn't to say that Dead & Company's more powerful approach is dubious or bad.
More thoughts and recollections from the Dead & Company show, June 3, 2017:
Iconic Grateful Dead phrases still audibly strike a chord with many in the audience. Such examples were, "Drink all day and rock all night," "Bound to cover just a little more ground," "If he catches up to me, I'll spend my life in jail," "I wish I was a headlight on a northbound train," and "Just a little nervous from a fall."
On a Chamber of Commerce-weather day in the South Bay Area, low 70s by day and upper 50s by night, the pre-show scene was vibrant, with early arrivers carrying on the communal, bohemian spirit of their elders, including the presence of music, food, crafts, and respectful revelry.
Hart, during "Me & My Uncle" and on into "Friend of the Devil" got some nice rhythmic tones by clacking together the heels of a pair of women's flats.
"Looks Like Rain" as the penultimate song in the second set was a disappointing choice. I typically laud this band's willingness of moving songs about from their spots at Grateful Dead shows, but not this song, in this spot.
The venerable Shoreline Amphitheatre was designed by concert impresario Bill Graham, a name that incurs, "Who?" to some of the young staff, lamented the venue's Media Relations Coordinator who has been on staff there since the '80s.
Out in the Participation Row area of the amphitheater, which included several socially conscious nonprofit tables, the San Francisco-based BIG FUN Circus and Santa Cruz-based Samba Stilt Circus combined to provide a Kesey-like carnival presence, augmented with a flute-accompanied drum circle.
This being the band's fifth show on the tour, it is commendable that they hadn't repeated any songs during the previous four shows and even on this night, they only did three repeats and that was from the first show, in Las Vegas on May 27.