Rolling into Chicago on a Saturday night, there was a hazy fog blanketing the city. Lake Michigan was rolling side by tide towards the shore and people were still out on the lakefront despite the weather donning ponchos or umbrellas. Seemed like 20-minute intervals when the fog would get too heavy with precipitation and turn into a downpour. The friendly confines turned into the people's ivy-covered park on the day Dead & Company came to town. There was no opposing team, just a real good time waiting inside.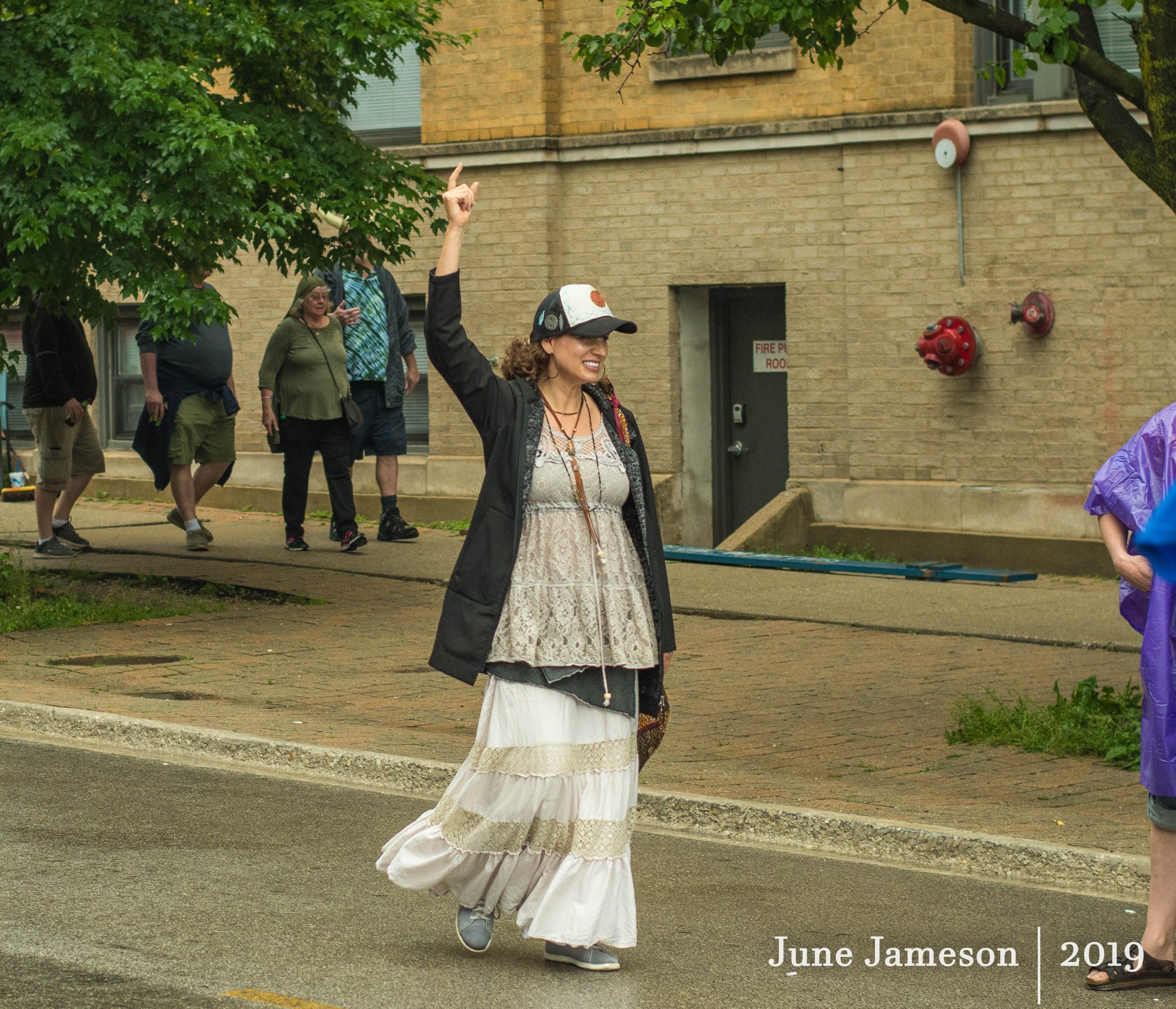 Strangers were tugging strangers under cover from the rain. We all made room for each other under awnings and overhangs just hanging out through the worst of it. Local Chicago favorites, Mr. Blotto, played for the folks filtering in. So close to going in for the show, the hazy fog rolled low with scents of skunk and sage in the air like anticipation personified. As the lights went on and the rain filtered away, it was a magical moment of smoke, fog and steam to keep on moving forward to the show. Nobody seemed to really care, which was which, they just kept moving. Entering the park had this castle-like feel as though we had all just slain the dragon outside. Victory tasted like Old Style and only cost $11 a can. A little wear for the weather, it was purifying electric once you entered in thru the gates.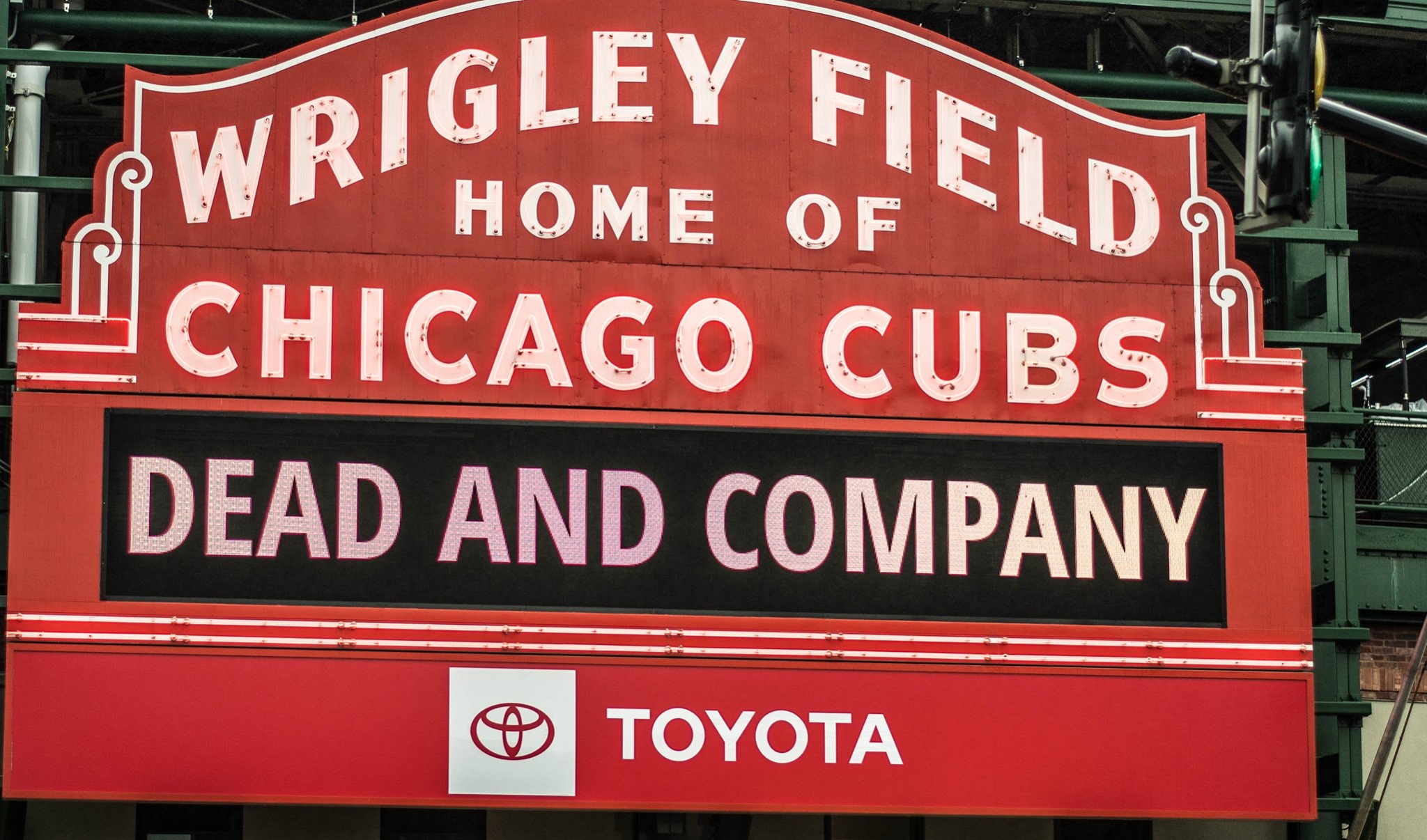 This Father's Day weekend in Chicago probably saw about 40,000 attendees, but I would imagine even more considering seats on the field would add to the 40k capacity crowds in the stands. There is a driving force that brings out the old family of yesteryear when Dead & Co come to town. It's funny, no matter how far an elastic heart stretches, when the Dead come to town, it snaps right back into orbit for those same steps, patterns, and colors. There is a safety in the swinging scene of Dead & Company. The set & setting of being in Wrigley Field, listening to prophetic music, sharing time with the Dad in your life is magnetic. Majestic. Mirrored for full mentoring, for what we get is also what we give back. May we all enjoy the father fortitude energy inside us, there is a potency inside us all - even if you can't spend time with dear ol' dad this year.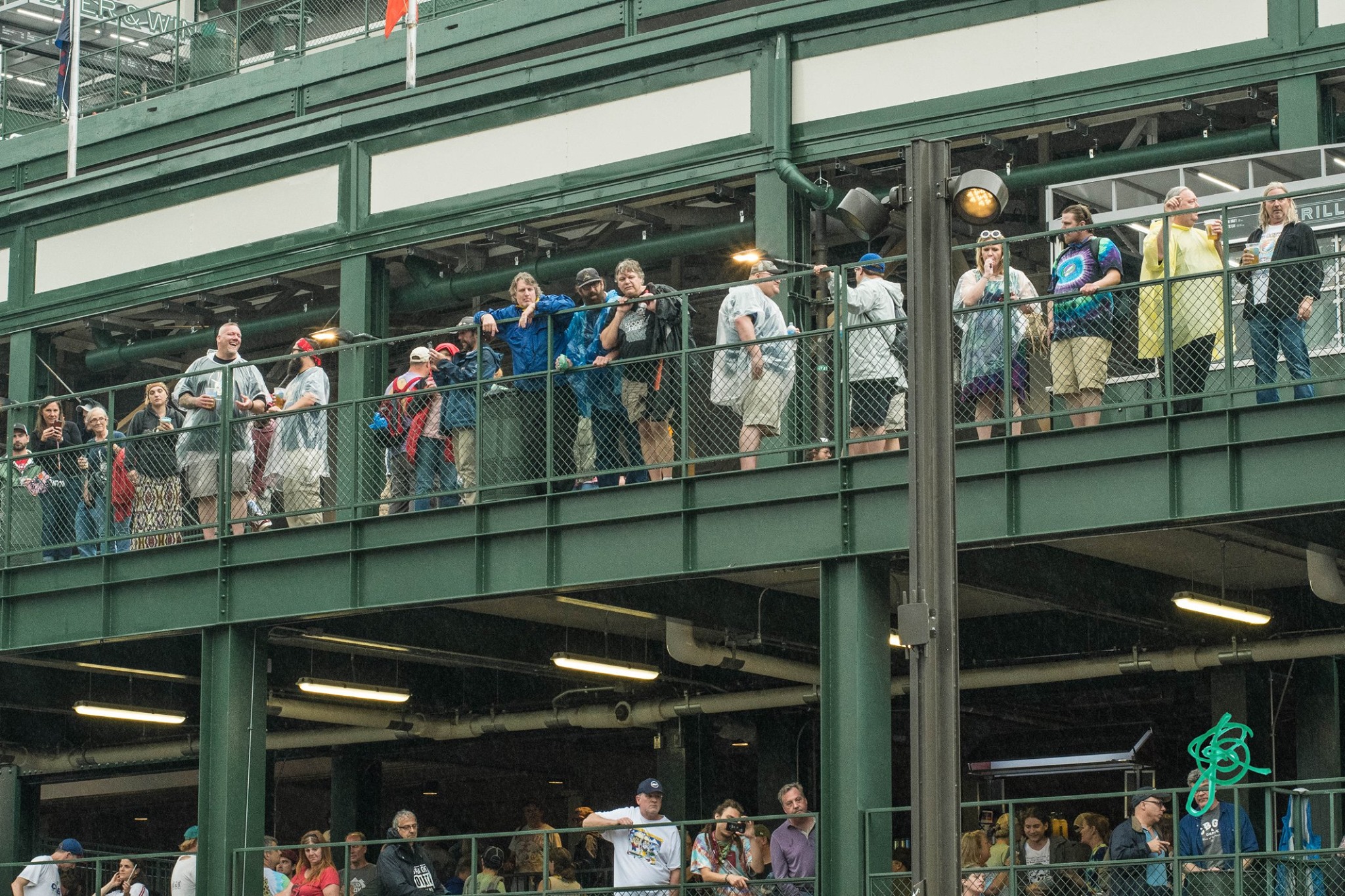 The weather gave the a-ok that it would indeed stop raining as showtime rolled around. Dead & Company rolled onto the stage a little after 7 pm and opened with a full spectacular Terrapin Station. Seeing Bobby Weir looking good out in front of the rhythm devils, Mickey Hart, and Bill Kreutzmann, as John Mayer's smooth vocals with a slight scratch sang out, "Let my inspiration flow…" was a fairy tale come true, the storybook beginning to an alluring Saturday night in Chicago show. "The storyteller makes no choice; soon you will not hear his voice. His job is to shed light and not to master."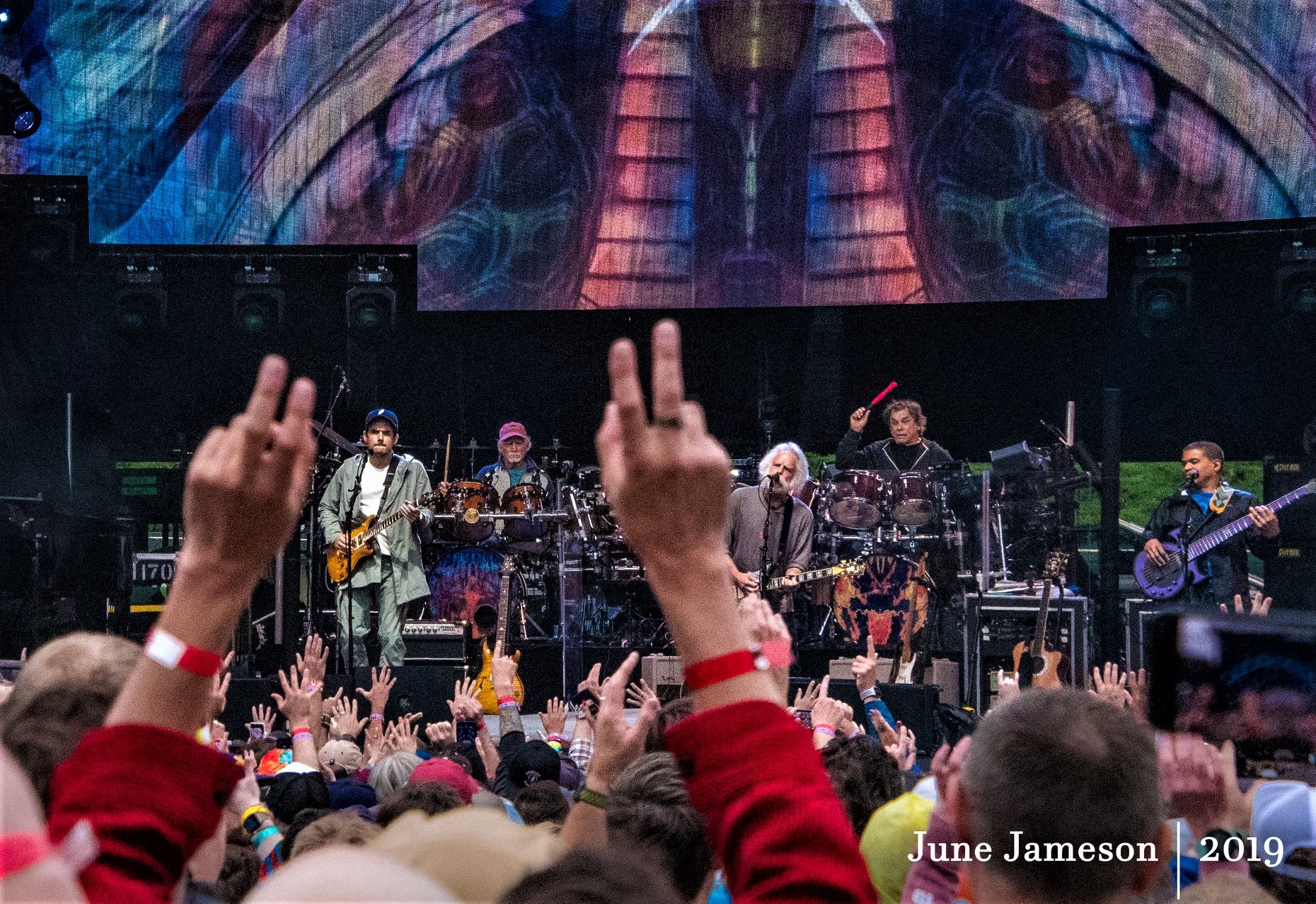 After a steady bob was fathered in and the audience was giving the band all their love, Bob Weir stepped up to the mic for that deep soulful Terrapin release. The groove was soaked in the story as the crowd began to dry off from rain. After that opener, they made the crowd dance with a little Sugar Magnolia. Chimenti & Mayer were having fun as they interacted musically. The energy between the two of them is spirited and fun. John Mayer's lead guitar was bright and bubbly, "Head's all empty, and I don't care!" Bobby was ripping into the chorus with an almost 'Gimme Some Lovin' sort of shred. So glad you made it. Whatever was said about Mayer joining the band is old news by now, but it is worth saying that he brings such light to the stage, a wonderland of a body, if you will. While he will never have the history and the path of members of the Grateful Dead, they all share the flow of inspiration. John Mayer may never have the Workingman's Blues, but he is most definitely one of us.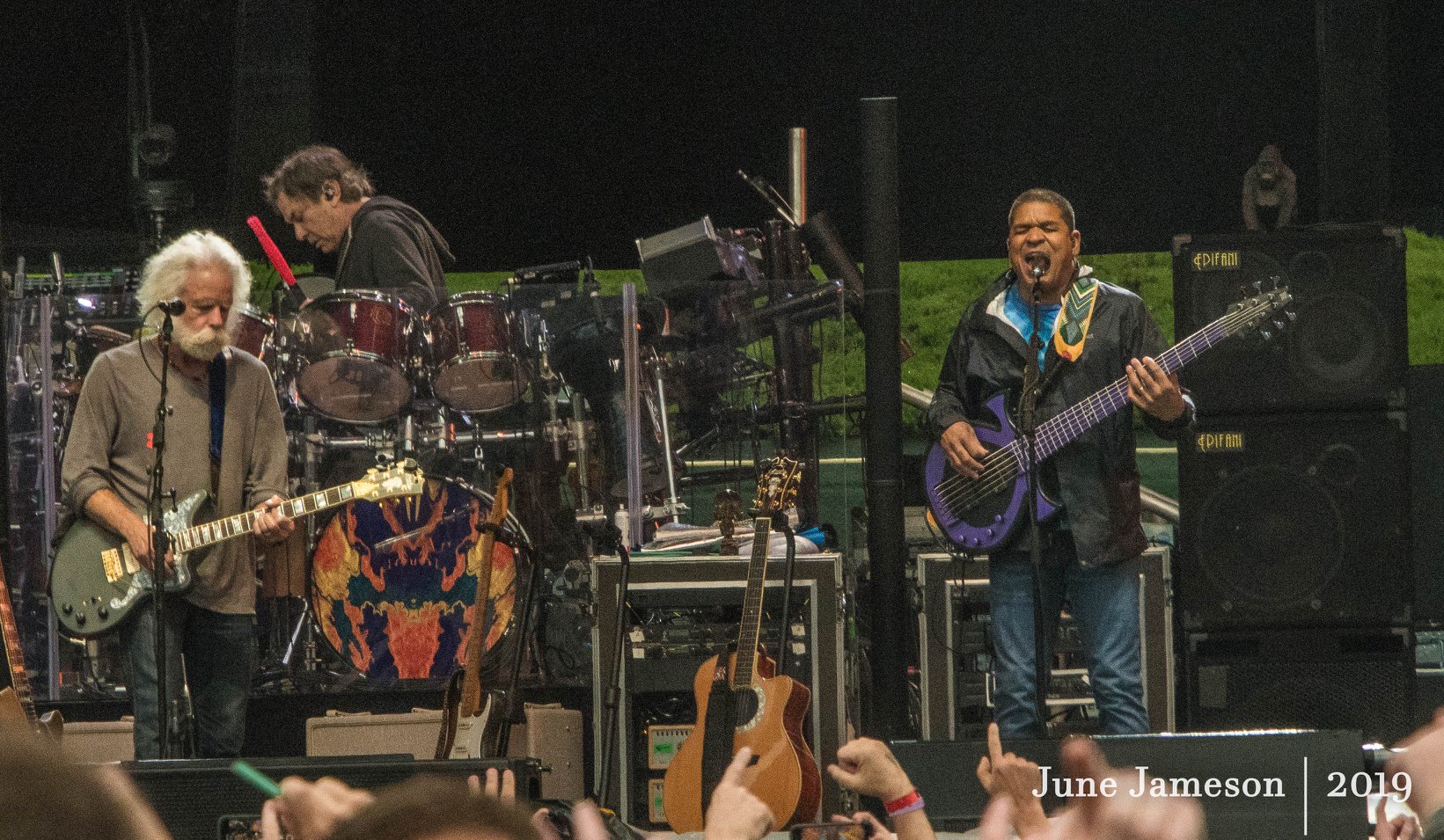 But let's talk about Oteil. Let Oteil Sing! Oteil's modulus bass guitar strummed out High Time, and it hit me in the feels. Another one of those prophetic songs with chilling lyrics, I was lost in a glaze of musical transcendence when I looked up to see those words were being sung by Oteil! He languished in every syllable giving High Time a height that swung that song out of the ballpark. "Nothing is for certain; it could always go wrong. Come in when it's raining, go on out when it's done. We could have us a high time, living the good life, well I know."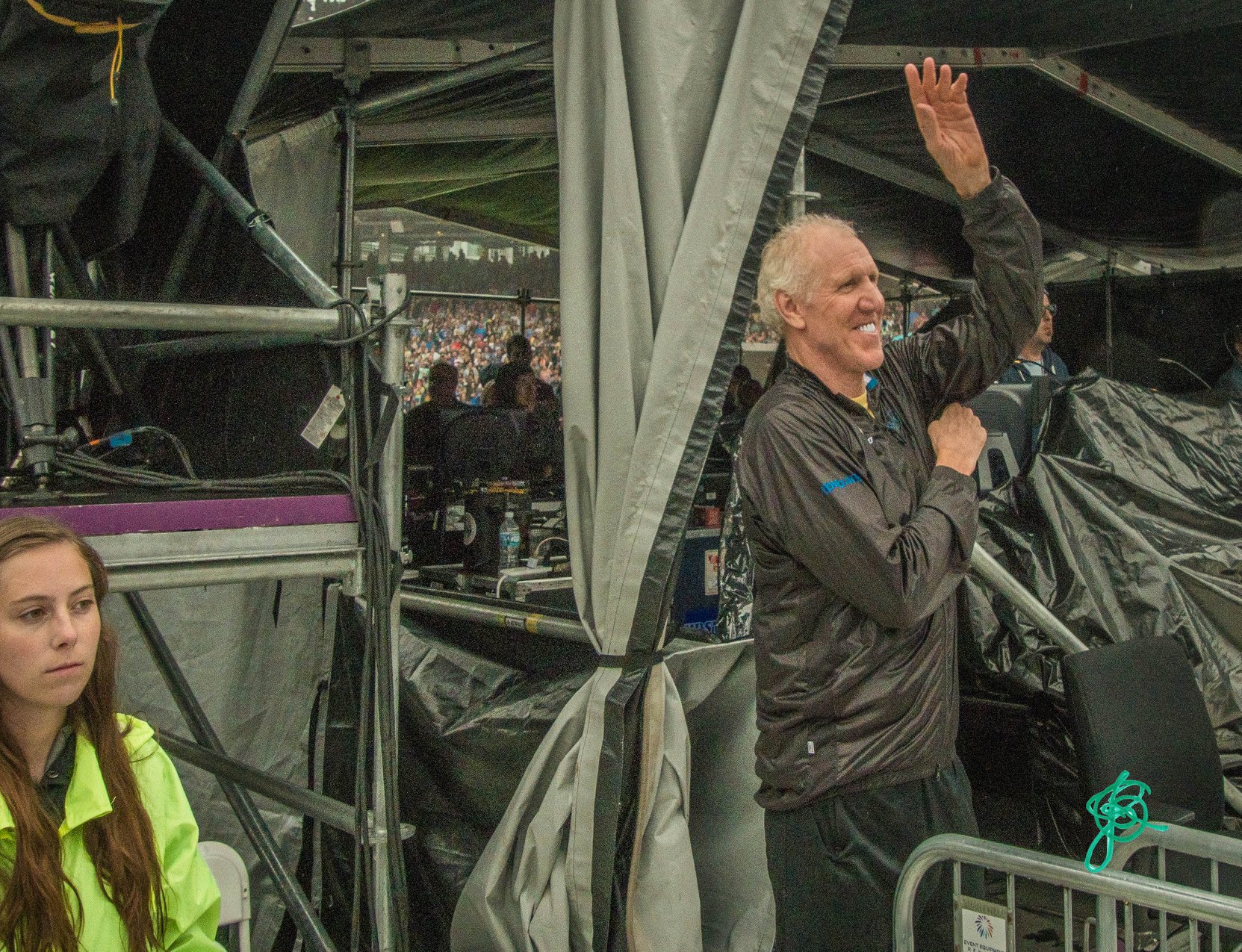 That was the precipice of the first set, the highest of high times when the band launched back into bubbly reprise getting back to the up-tempo swing of Friend of the Devil and a Bertha that brought our heart rates back up. In the safest neighborhood of Chicago, we all sang the lyrics to this best-loved classic tune. It was seven songs in so it seemed we were due for a set break soon, but not before they brought the tempo up to a crescendo with Turn on Your Lovelight as the 1st set closer. We had been treated to a pumped-up version of Mr. Charlie and lil' Mama Tried shuffle. The ballpark lights came on and set break shone the light on us.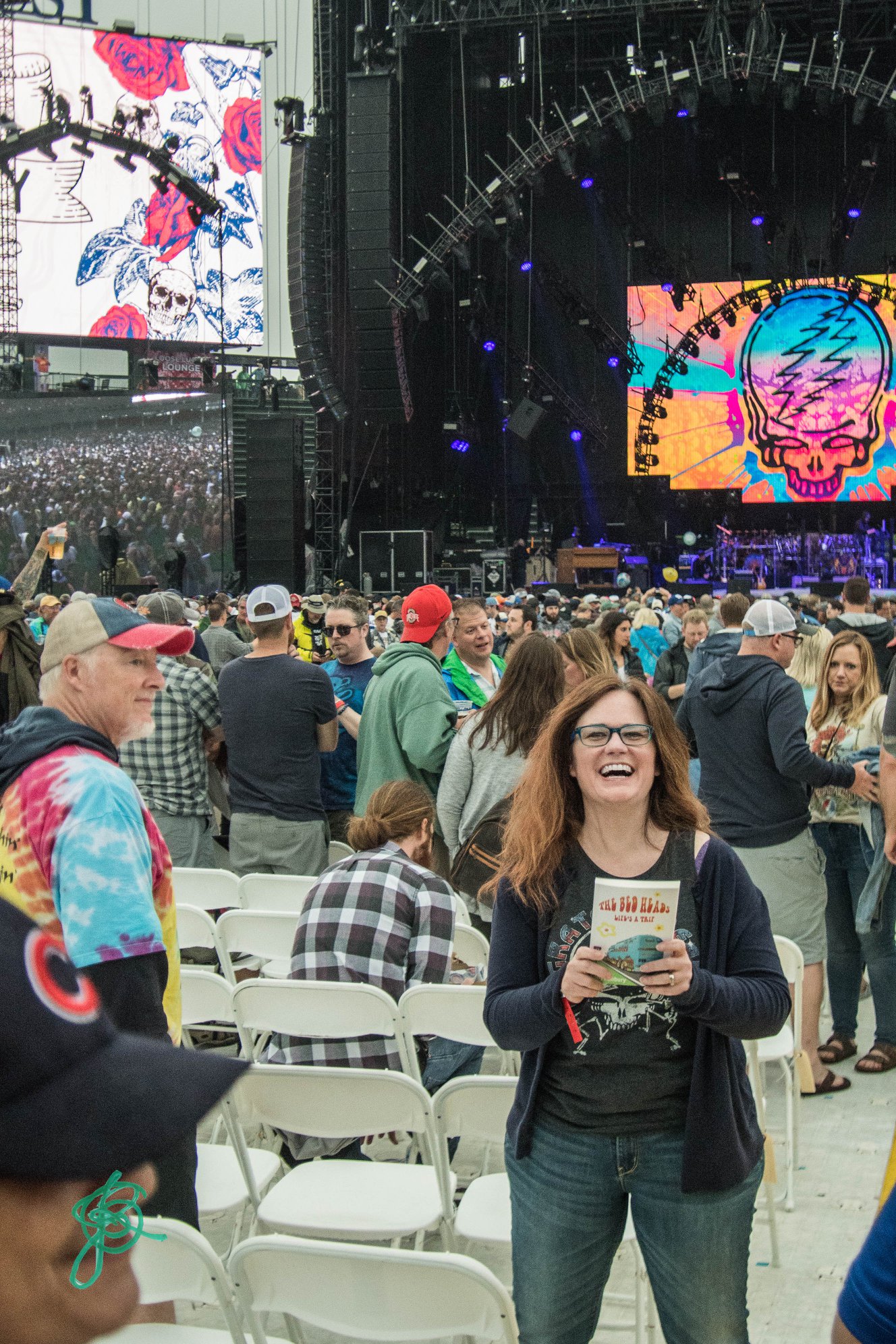 Ya gotta love set break at a Dead show. Songs are discussed at length, the nostalgia waxing of times gone by. The nerves of finding seats and getting in with your provisions safely are gone. There is nothing left to do but smile smile smile! Walking around Wrigley Field is a joy unto itself. Personally, I met three new friends and even made plans to hang out later. Did I just become an extravert? We're going to the after-hours! It was such a treat from real life where you hardly get eye contact, let alone a hug and a getting to know you chat. Dead & Co is the kind of "real life" I can dig. Who's going on tour? I need a friend with a bus.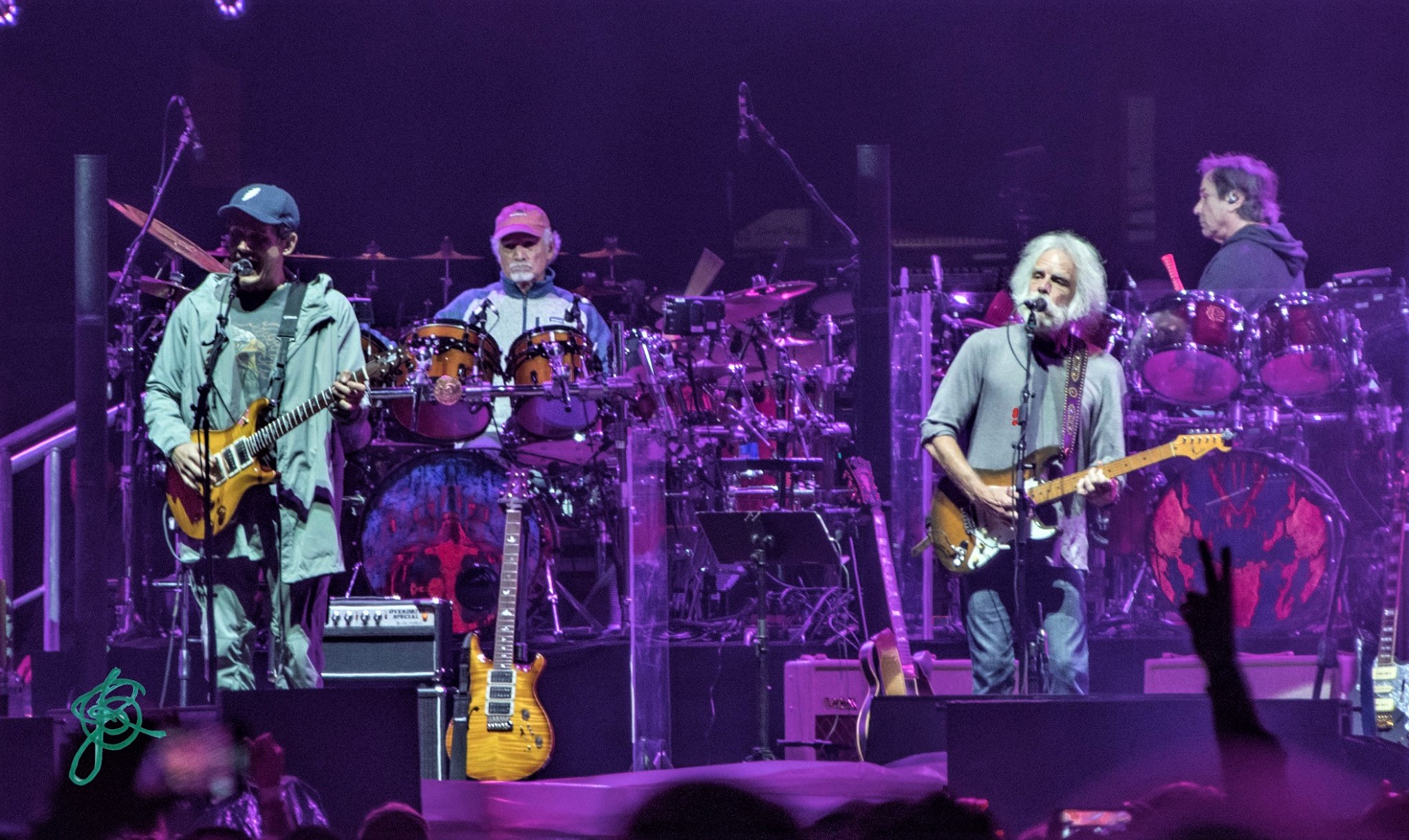 Lights faded, and we rushed back to our seats. For the scorekeepers out there, the Dead have not opened with Spanish Jam since 1977, but that magic in the air had a second set opener of Spanish Jam in store for Wrigley Field on June 15th, 2019. That pa-diddle of snare drum led the groove as things got weird. I was reminded of once seeing Bob Weir solo, and I felt like they put something in the water. Too much reading about The Electric Kool-Aid Acid Test has always made me wonder if it could happen again, with me there, but really, it's already in the music. These grooves leak into your ear and rewire your brain to tie-dye frequency. What an opener! Weir-d indeed.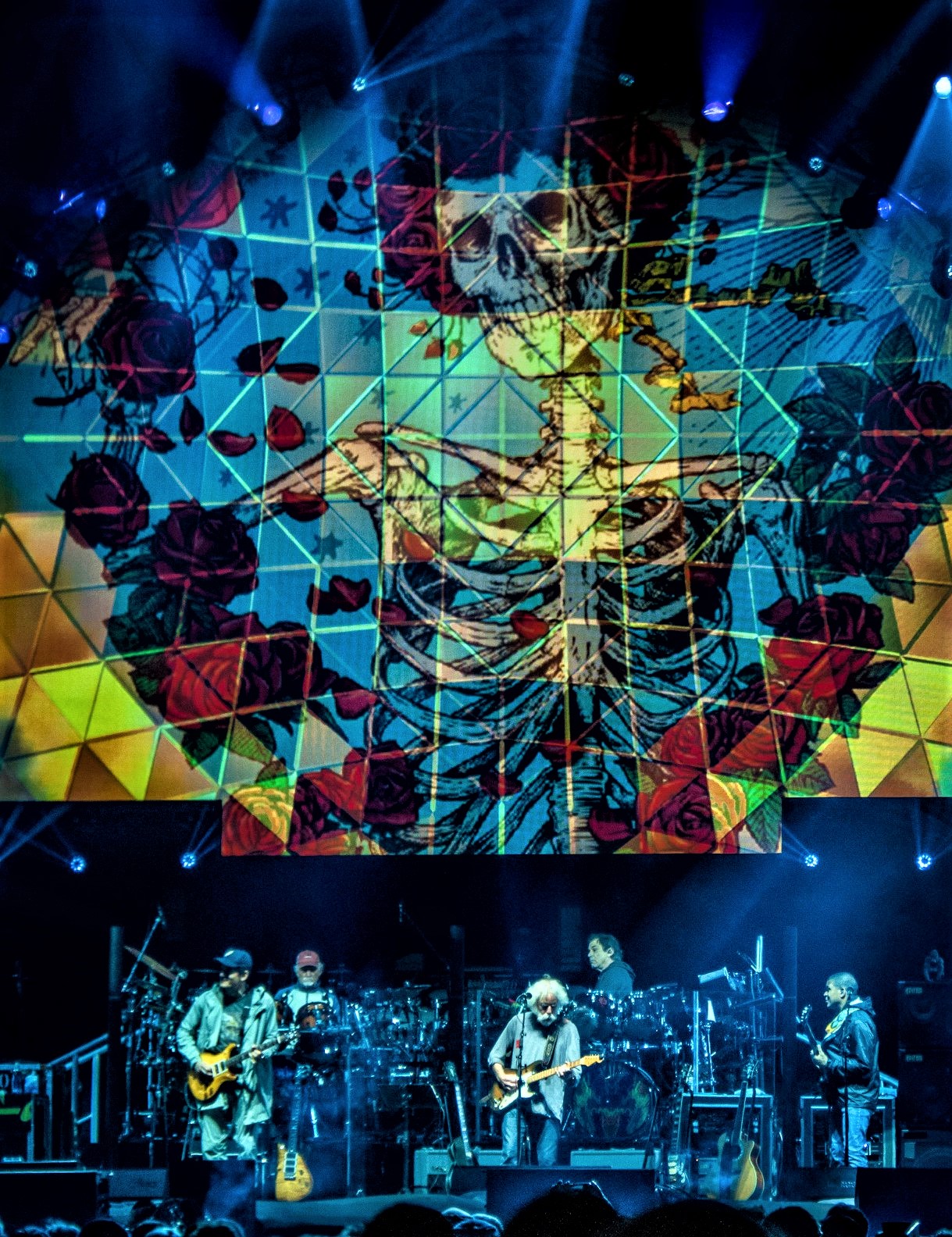 By this time the stage lights were in full effect, the show had loaded us up with projections and effects taking the crowd for a wild ride. Could it be an illusion? The crowd was so into it, the cycle engaged sequence as we lifted off for Scarlet Begonias. Bobby's vocals had this growl to it, something to really sink your teeth into resounded through the stadium. "Once in a while, you get shown the light in the strangest of places if you look at it right… look at it right… look at it right!"
"One way or another, this darkness has got to give."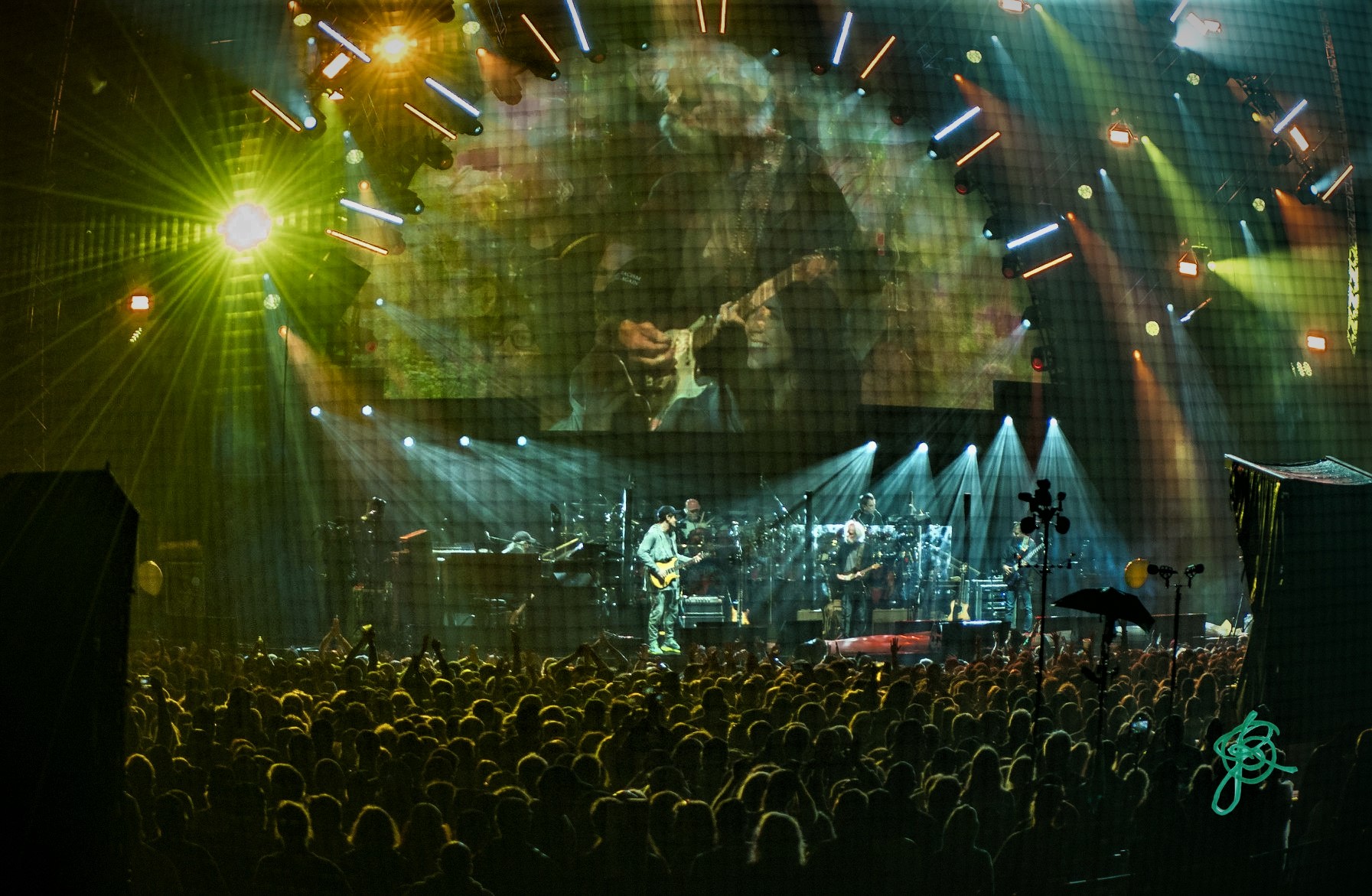 Was this New Speedway Boogie actually a wizard's spell? I swear the darkness gave way to this crazy bright ethereal light for the rest of the night. Perhaps lovelights had actually been engaged, and we were all radiating with the inner light we cloak during 9-5 life. This smoky, sultry song permeated Wrigley with a not-so-subtle scent of the forthcoming legalization of marijuana for the state of Illinois. "Who can deny it's not just a change in style."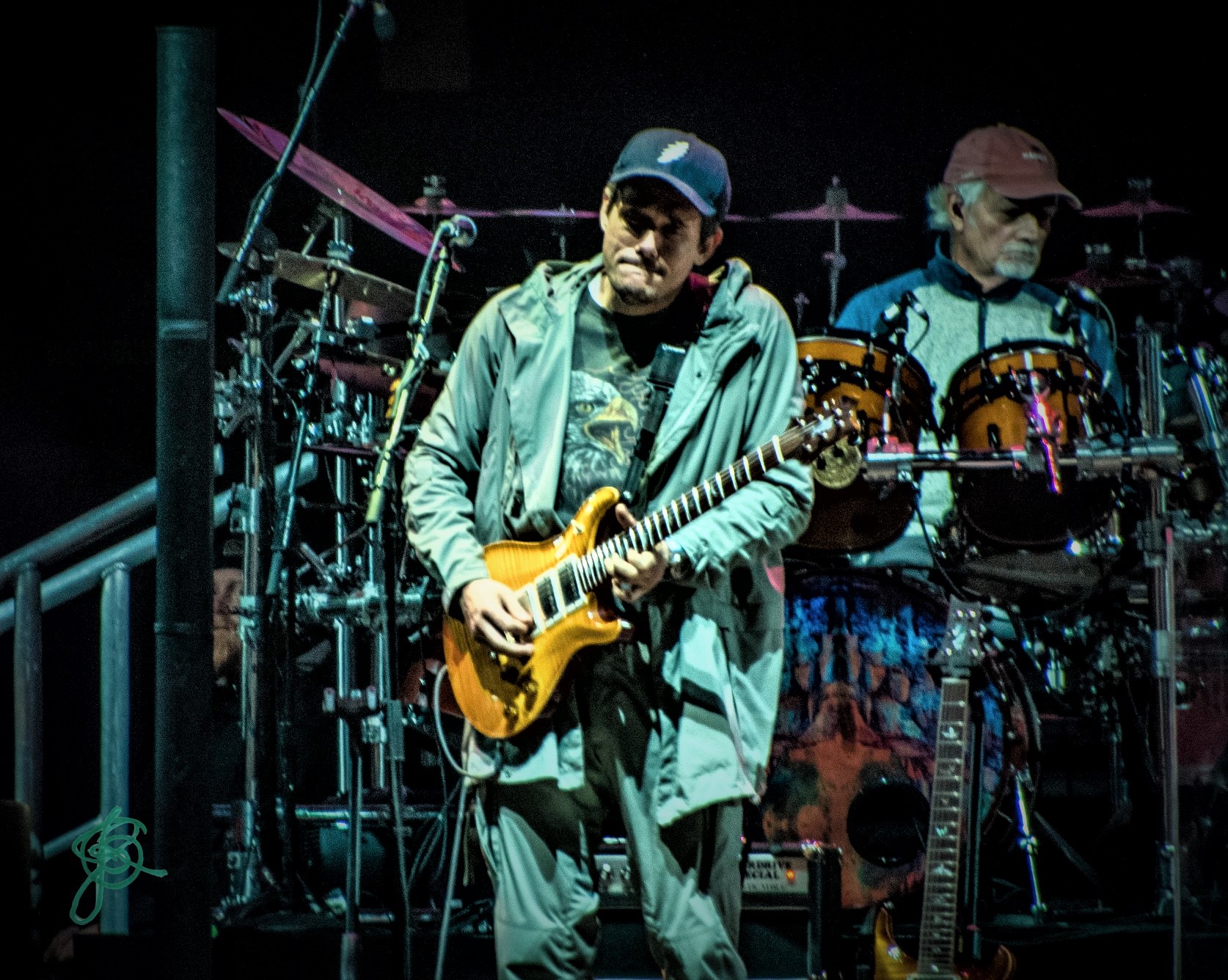 At this point, they took the groove out for a drive along Lake Shore Drive and gave Wrigley fans a Help on the Way> Slipknot> Franklin's Tower trio. The low buzz of "Help Slip Frank, alright alright!" set across the stadium. To hear a crowd of tens of thousands of people echo back "Roll away the dew!" was a choral incantation worth the ticket price alone! That was the signal for my nerves to kick back in, what could top this? It all seemed so great, so abundant; it was a little overwhelming. I headed back a bit towards the gate but was stunned into submission by Drums/ Space. I found a solid place to sit in the stands and melted my face watching Oteil, Billy, and Mickey. At one-point, Mickey pulled out his bowing techniques making a synth-pop new wave song from percussion alone. It's intriguing, to say the least, a journey from the seats to the sky and all you have to do is be there.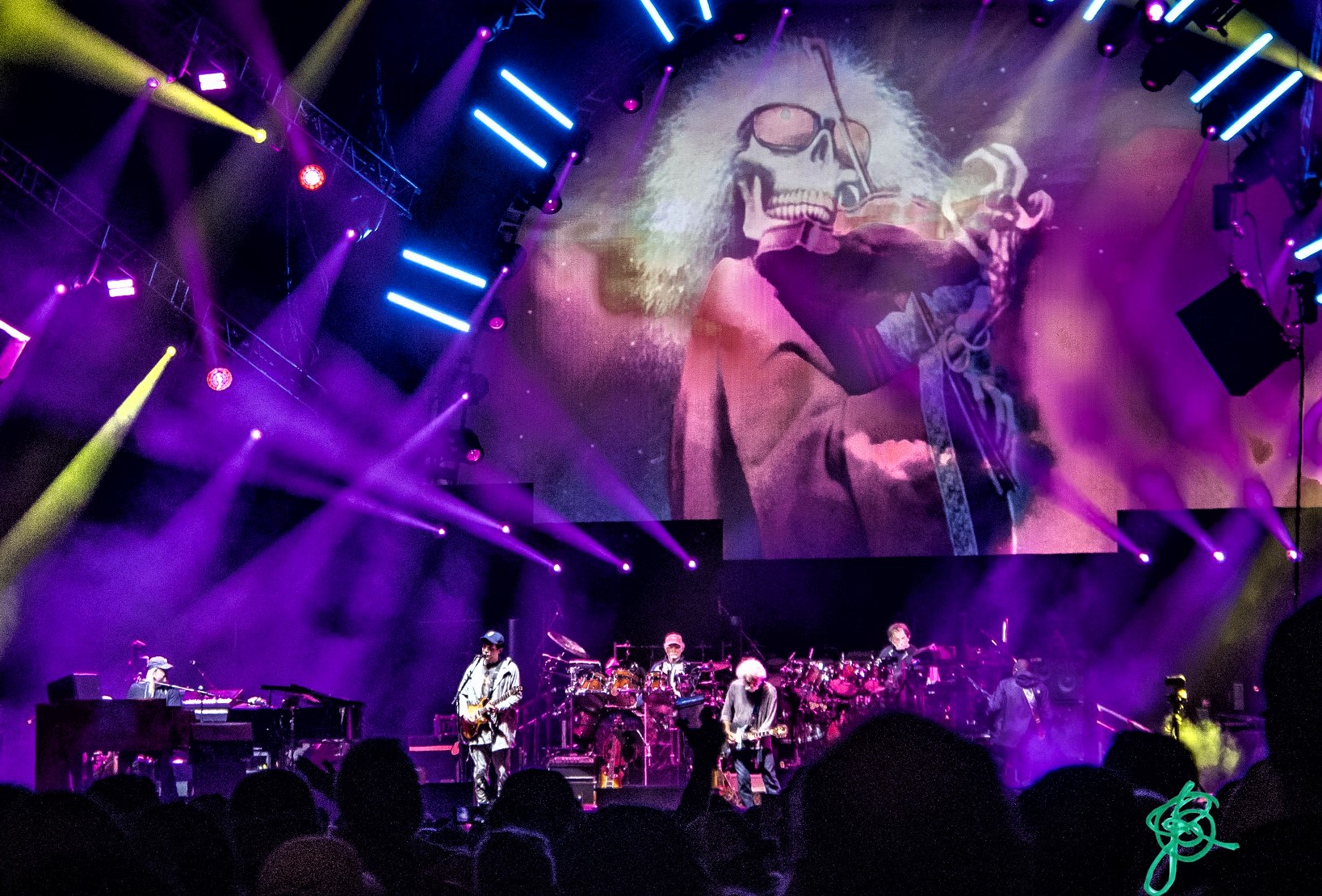 I was glad to have planted in a solid spot. I was lucky enough to see good friends that held me down to the ground because this set would have launched me into outer space without their grounding compassion and extra spaces for all my stuff. It was like being at the drive-in as kids. We had all we needed, mother earth below, father sky above, and an amazing show to take in with every sense we could muster. Third eyes count, right? The Other One v.2> Standing on the Moon unfolded before our eyes, and even in all this abundance, the true joy was in the simplicity. This spectacular show was just as wonderful as the warm embraces of old friends. "Standing on the Moon, but I'd rather be with you."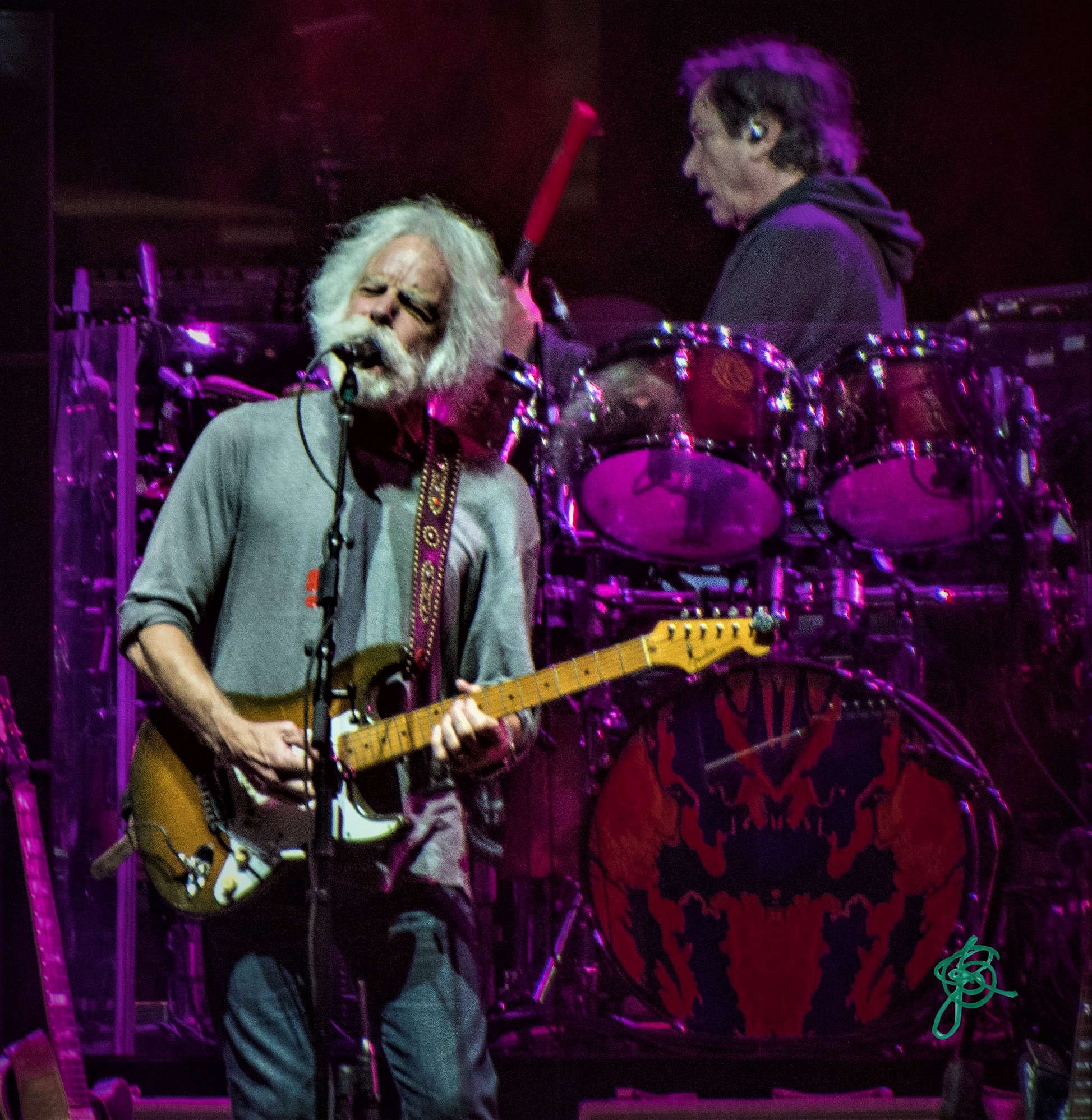 Grateful and blessed I think most jaws dropped when they came back for the encore and the acoustic strum of Ripple sung out. Goosebumps. "If my words do glow with the gold of sunshine…" I guess that is the haze still floating through downtown Chicago... "Ripple in still water, when there is no pebble tossed, nor wind to blow..."
The massive crowd swayed back and forth in a massive group hug sent to the band on stage.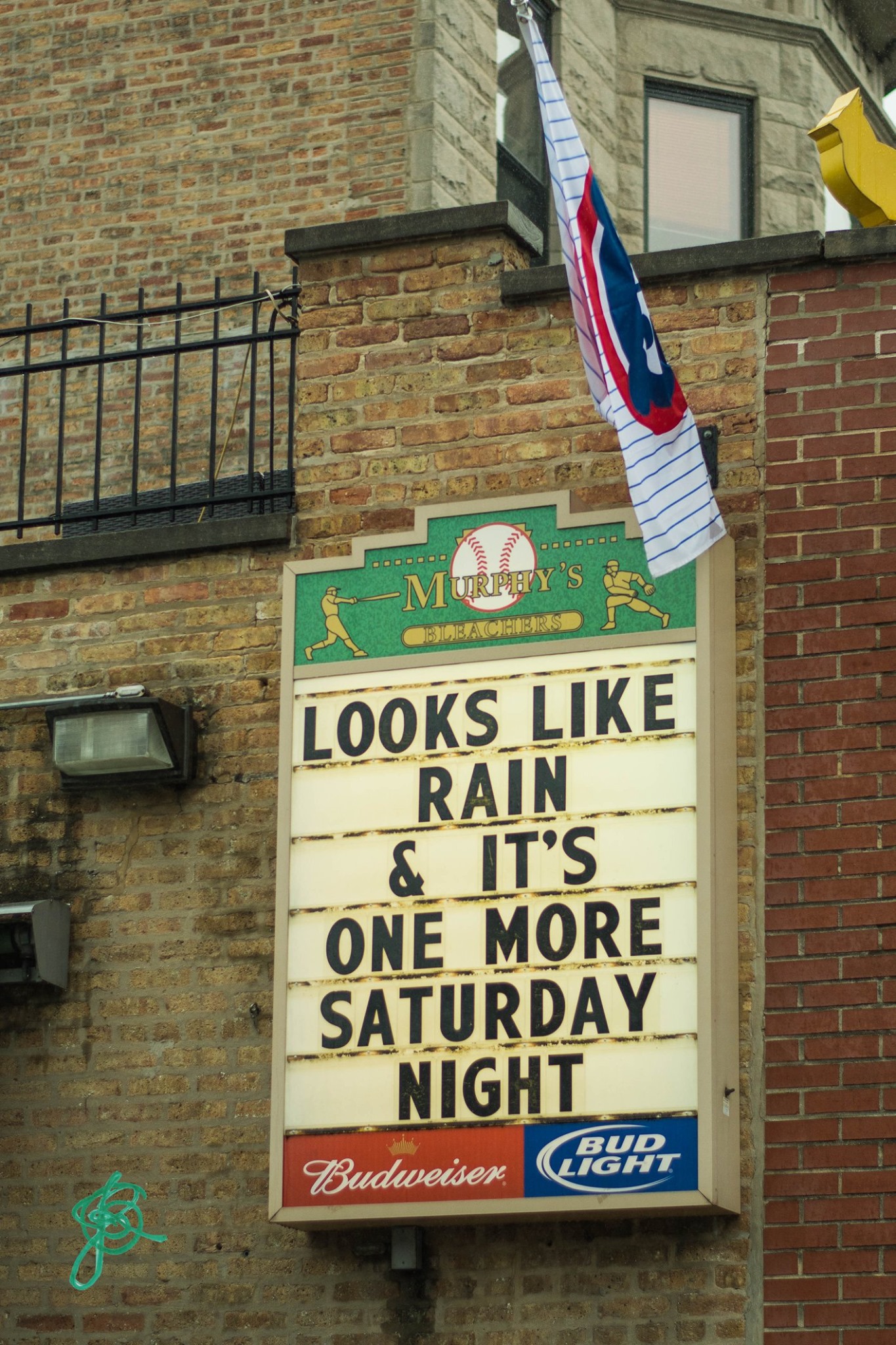 Bobby brought out the hat, looking like Indiana Jones, and they ripped into ONE MORE SATURDAY NIGHT!!! The expression of joy went well beyond the music. An entropy of enunciation and freedom compelled us all into the city night as the show let out. We were not without knowing that life can be hard, but it is for these glimpses of supreme satisfaction that make it all worth it. We marched out triumphantly as hierophants blessed by the wildness of becoming what we are meant to be, naturally and without enduring of betrayal of false hopes. "Some rise, some fall, some climb, to get to Terrapin."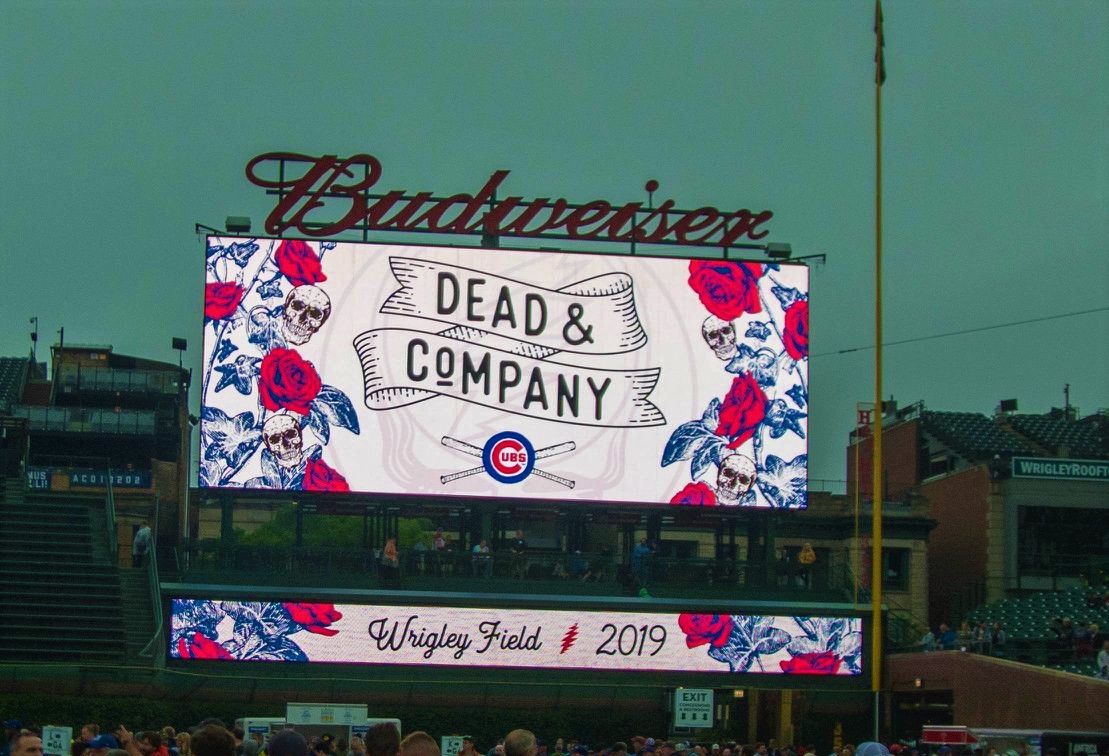 I wonder what the Fat Man would have thought of all this. Dead & Co are pretty fat cats these days, but it seems thoughtful and therefore deserving. While the Chicago Cubs were playing in L.A. Anthony Rizzo hit a double in the 9th inning to come back and win the game. The rain delay had proved successful for us all! We slipped across the street to the Cubby Bear to catch one of the plethoras of after party shows. One more Saturday night on the town, Grateful String Band kept that party jumping. One show at a time, the juice was worth the squeeze, or the drenched coats were worth a ringing as it were, for a Chicago show at Wrigley Field on the night before Father's Day, 2019.