Dogs In A Pile is thrilled to announce the release of their second studio album, Bloom. The LP contains 9 tracks, including their latest single, "All The Same," and first-time studio versions of fan favorites like "Fenway," "Bent Strange," and "Trunk Rum." Listen here.
Watch "Today" music video
Listen to "Fenway" (live ft. Ryan Dempsey - Twiddle)
Listen to "Hesitate" > "Appleseed" (live)
Following their recent Jam Cruise appearance, the group has now embarked on their Winter Rescue Tour with shows across the Midwest, the East Coast, and Colorado. As part of the Winter Rescue Tour, DIAP has partnered with an animal shelter in each region to donate $1 from every ticket sold to animals in need.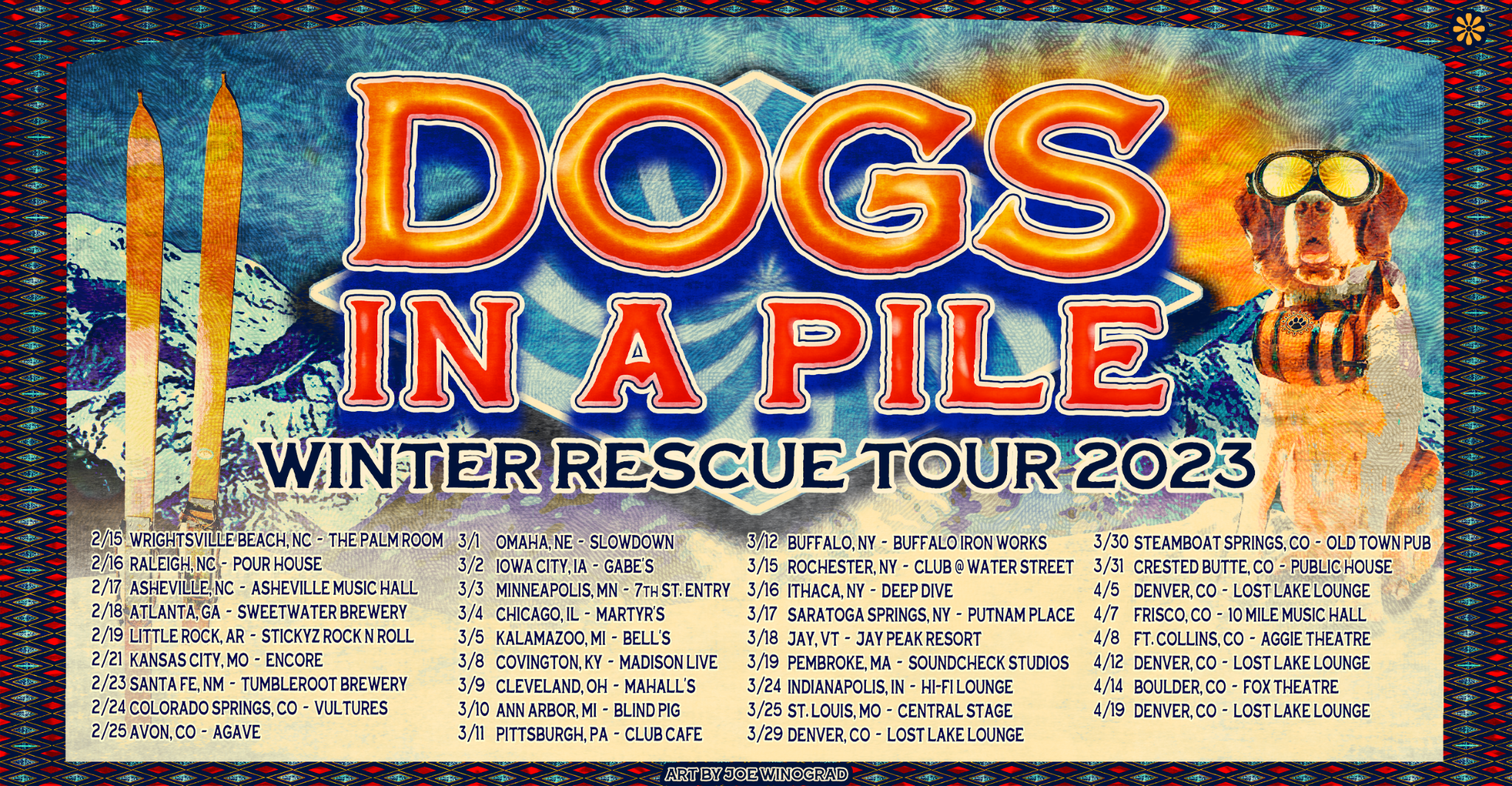 Bloom, co-written and produced by Chris Pappas, marks the first album release since the Dogs' 2021 debut, Not Your Average Beagle. The band's sophomore record is a seamless fusion of genres, tightly packed into a collection that's sure to attract music lovers of many tastes– jam, reggae, synth rock, funk & more.
Dogs In A Pile has seen astronomical growth over the past year, boasting accolades from iconic names like Rolling Stone magazine and photographer Jay Blakesburg. The Dogs will join forces with the Disco Biscuits in Reykjavik, Iceland in May, kicking off what promises to be a jam-packed festival season. The band is scheduled to perform Skull & Roses in Ventura, CA; Dark Star Jubilee in Thornville, OH; Summer Camp Music Fest in Chillicothe, IL; Electric Forest in Rothbury, MI; Hog Farm Hideaway in Laytonville, CA; Peach Fest in Scranton, PA…& MORE.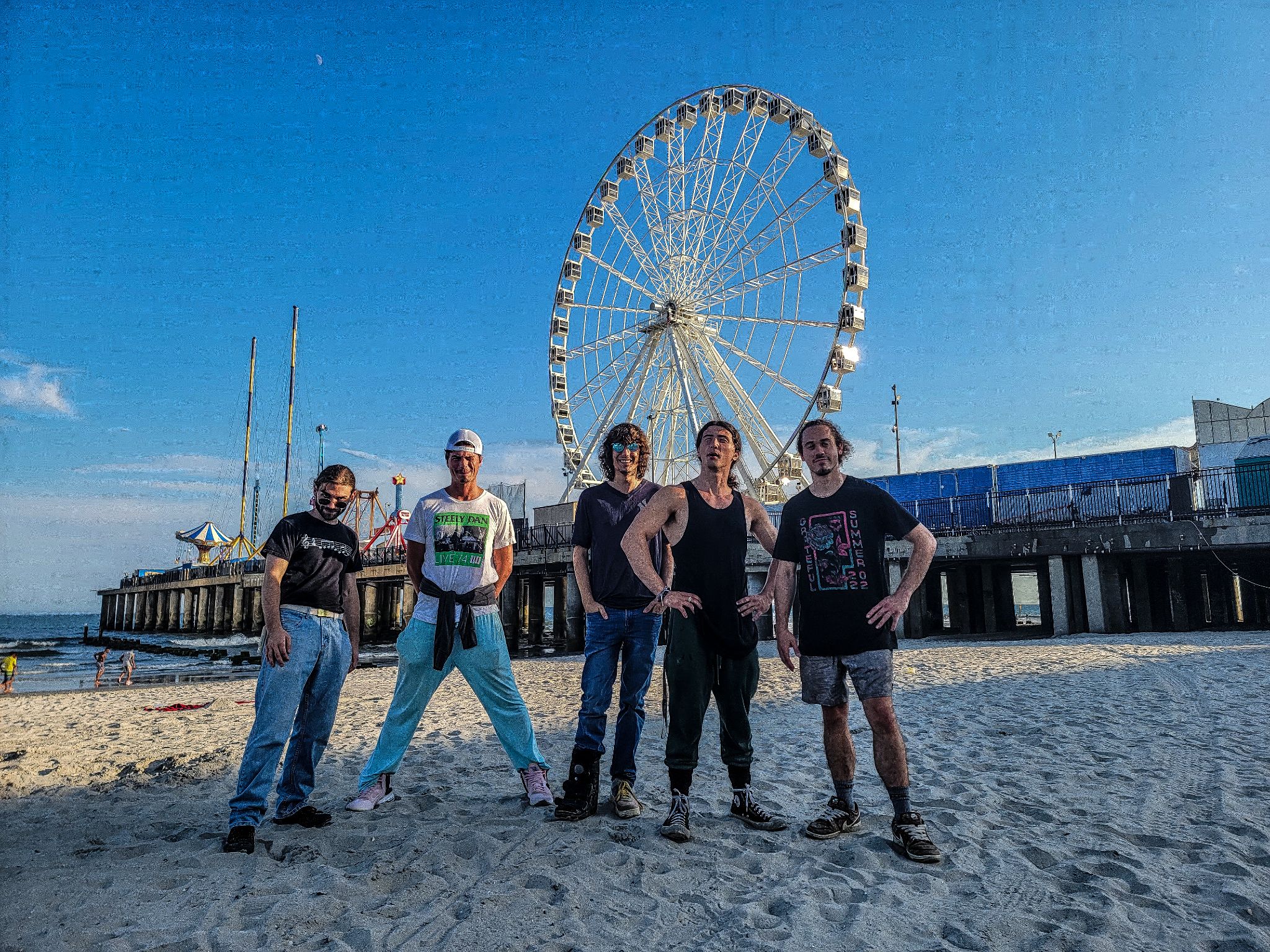 Bio: The sandy shores of Asbury Park, New Jersey are hallowed ground in the northeast; the rolling waves have ushered generations of venerated musicians to worldwide acclaim. Dogs in a Pile, an eclectic quintet, has emerged as the heir apparent to the town's rich musical legacy. Merging funk, jazz, and rock & roll with psychedelia, the group presents a completely original vibe built on kaleidoscopic soundscapes eerily reminiscent of the days of yesteryear.
The Dogs employ a unified approach to performance and songwriting, crafting aural mosaics through adept instrumentation and humble precocity. As avid storytellers, they draw inspiration from personal experiences, balancing life's foibles with ever-present youthful sanguinity.
Dogs began when Philadelphia University of the Arts guitar gun-slinger Jimmy Law began playing with young Joe Babick (drums), a student at the Count Basie Theater program in Red Bank, NJ. Lightning struck when they were introduced to Berklee School of Music student and bass player Sam Lucid, who immediately suggested fellow Berklee student and keyboard player Jeremy Kaplan. The addition of fellow Berklee student Brian Murray (guitar) in 2019 made for the quintessential final piece in the Dogs' puzzle.