Fast-rising jam band Dogs In A Pile (DIAP) will end their highly successful 2023 playing two gigs at Putnam Place in Saratoga Springs, NY on December 30 and 31. The run will mark the Dogs' first time playing headlining shows across the New Year's Eve holiday.
DIAP fittingly chose the Upstate New York region for this special occasion as it has become a second home of sorts to the band over their formative years. This year alone, they've sold out headlining nights in Rochester and Ithaca, have played several festivals in the area (Memorial Meltdown, Rye Bread, Catskill Mountain Jubilee and ADK Fest) and will return to Putnam Place after selling out the 500-capacity space for one show back in March.
Reaching new heights in 2023, the Dogs started off the year strong – playing their first Jam Cruise, releasing their second studio album "Bloom", traversing the country for a 36-date Winter Tour and proving their nation-wide reach with sold out headlining gigs in Chicago and Pittsburgh. The aforementioned Winter Tour included a Colorado residency with four sell out Denver shows. They also supported The Disco Biscuits for two consecutive nights at the prestigious Capitol Theatre and in Iceland – DIAP's international debut.
Spring kicked off festival season with stops at Legend Valley for Dark Star Jubilee's 10th anniversary and at Three Sisters Park in Illinois for their return to Summer Camp. An 11-date West Coast swing ensued thereafter, with first time visits in big markets San Diego and Portland, both of which resulted in sell outs. As well as introducing themselves to newfound fanbases in Los Angeles and Seattle. June brought a pair of marquee festivals to their slate, with Jeff Arevalo from Goose sitting in during the band's Electric Forest set followed by a 7000-person attended slot at The Peach Music Festival – their largest show to date.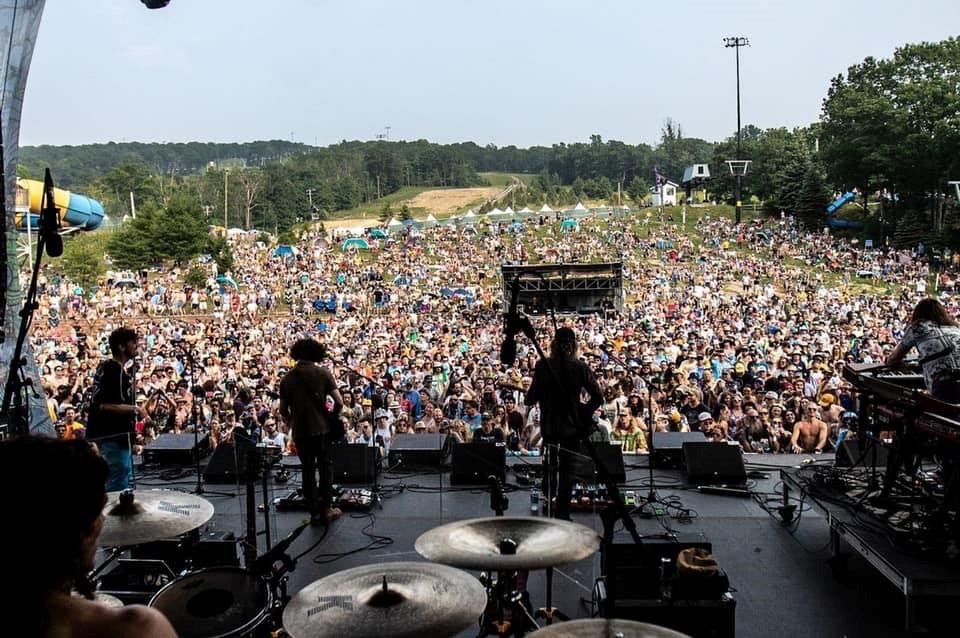 Forming in 2019 and hailing from Asbury Park, NJ – Dogs In A Pile is comprised of Berklee alumni and Billy Joel scholarship recipient Jeremy Kaplan (keyboardist), Berklee alumni Brian Murray (guitarist) and Sam Lucid (bassist) and long-time Jersey Shore musicians Jimmy Law (guitarist) and Joey Babick (drums). Law and Babick have both been playing locally since the young age of 11. The five-piece group met as a result of long-standing familial connections and a mutual love for improvisational music.
The Dogs have been known to put on high-octane shows that heavily rely on their musical communication, cohesiveness and chemistry as a playing unit. Starting as local sensations, the quintet have rapidly gained buzz in the jam band community and now have a sizeable catalog of live concert recordings available on streaming platforms such as nugs.net and Bandcamp.
The band has built a significant following by maintaining a vigorous touring schedule that has consistently expanded on a national level. In this time, they've continued to exponentially grow their rabid fanbase affectionately known as "The Dog Pound". They've also shared the bill in support of highly-regarded industry staples Pigeons Playing Ping Pong, Twiddle, The Disco Biscuits and Keller Williams. All while catching eyes and ears playing an eclectic catalog of tunes that merge funk, jazz, rock and roll and psychedelia to create a completely original sound.
The New Jersey rockers will take on a 41-date Fall Tour starting this week in Madison, WI at the High Noon Saloon on September 6.
To view all tour dates and learn more, visit dogs-tour.com.
DOGS IN A PILE TOUR DATES
9/6 - Madison, WI - High Noon Saloon
9/7 - Chicago, IL - Lincoln Hall
9/8 - Urbana, IL - Canopy Club%
9/9 -Nashville, TN - The Basement East
9/10 - High Point, NC - COHAB.SPACE
9/16 - Greenfield, MA -Wormtown Festival
9/22 - Lafayette, NY - Tumble Down
9/27 - Columbus, OH - The Summit Music Hall
9/28 - Ferndale, MI - The Magic Bag
9/29 - Pittsburgh, PA - Mr. Smalls Theatre
9/30 - State College, PA - The State Theatre
10/5 - South Burlington, VT - Higher Ground
10/6 - Trumansburg, NY - NY Harvest Festival
10/7 - Cambridge, MA - The Sinclair
10/8 - Darlington, MD - The Ramble Festival
10/12 - Virginia Beach, VA - Elevation 27
10/13 - Richmond, VA - The Broadberry
10/14 - Charlottesville, VA - The Southern Café and Music Hall
10/20 - Brooklyn, NY - Music Hall of Williamsburg
10/21 - Philadelphia, PA - Brooklyn Bowl Philadelphia
10/29 - New Orleans, LA - Tipitina's**
10/31 - Austin, TX - Historic Scoot Inn**
11/1 - Dallas, TX - Granada Theater**
11/2 -Fayetteville, AR -George's Majestic Lounge**
11/4 - Denver, CO - The Mission Ballroom**
11/5 - Salt Lake City, UT - Commonwealth Room**
11/8 - Bozeman, MT -The Elm**
11/9 - Boise, ID - Knitting Factory**
11/10 - Seattle, WA - Neptune Theatre**
11/11 - Portland, OR - Crystal Ballroom**
11/12 - Arcata, CA - Van Duzer Theatre**
11/14 - Bend, OR - Midtown Ballroom**
11/15 - San Francisco, CA - Regency Ballroom**
11/17 - Los Angeles, CA - Troubadour**
11/18 - San Diego, CA - Observatory North**
11/19 - Tempe, AZ - Marquee Theatre**
11/29 - Harrisburg, PA - Midtown Arts Center%
12/2 - Louisville, KY - Mercury Ballroom%
12/7 - Roanoke, VA - 5 Points Music Sanctuary
12/8 - Raleigh, NC - The Pour House Music Hall
12/9 - TBA – TBA
12/30 & 12/31 - Saratoga Springs, NY - Putnam Place
% w/ Andy Frasco & The U.N.
** w/ Pigeons Playing Ping Pong