Since 2003, Los Angeles based post-rockers El Ten Eleven have been creating some of the most unique music around. The duo, composed of bassist/guitarist Kristian Dunn and drummer Tim Fogarty, combines elements of pop, electronic, rock, and dance music into soundscapes that often defy description. Their purely instrumental music, weaved together through a combination of heavily effected, looped bass lines under guitar and synthesizer melodies, moves smoothly through eclectic musical landscapes, kept together by tight and heavy drum work. That such a big sound comes from only two musicians is at times hard to fathom.
These guys put on one Hell of a show. Hopefully nearing the release of their fifth studio album, (Dunn remarked on stage that, having been recorded, it should come out "sometime") the energy of creation was in the air. The stage set up was epic. The band played amongst tracer lights, fog, and L.E.D. panels, in front of a video-projection backdrop that displayed assorted psychedelic nonsense such as Cosmonauts in space, snow falling, and robots blowing up, not to mention the clips of a toddler banging on pots and pans.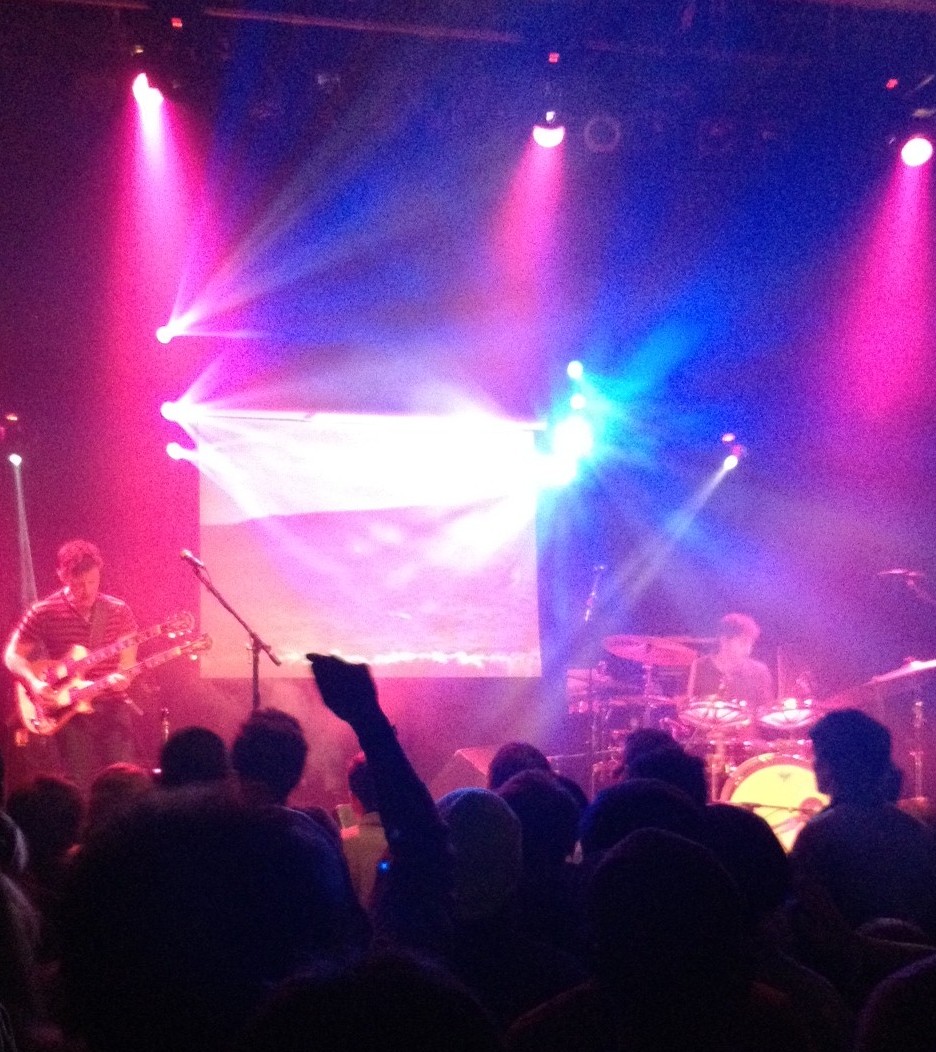 From their more mellow opening tune, they dropped into a fearless rendition of "Jumping Frenchman of Maine," off their 2008 release, These Promises Are Being Videotaped. This, being a well known and quite bouncy tune, set the audience into a veritable wildfire on and off the dance floor. One kid in particular, sporting a messy beard and an awesomely retro Superman t-shirt, sent his arms flailing forward in enthusiastic prayer.
Witnessing these guys put their music together is quite an experience. Somehow, through all the blindingly fast pedal stomping and knob turning, Dunn still finds adequate time to shake his ass like a maniac. The man even breaks out a bass bow to make eerie overtones cascade over the bed of expertly created loops. Meanwhile Fogarty, displaying a more laid back stage presence, lays down synth lines, on top of electric drums, on top of acoustic drums "like a boss." Dunn told us, about halfway through the set, "this is all live, no click tracks, no laptops, no midi." What, do you want a piece of cake? Okay, you probably deserve it.
Anyways, they played two brand new songs, which was quite a treat for all--especially the tune entitled "Transitions." I would say it was the high point of the show. My mind was pretty blown. Dunn warned us that it may take two attempts, and it did, but they handled the retry with such professionalism and finesse that it just ended up being wonderful to hear the intro bass line twice.
El Ten Eleven is a fantastic group. The energy they display on stage makes the show a lively experience for everyone involved. I even noticed a security guard nodding his head while chastising some guy who through his drink into the air. Granted, many of their songs have the tendency to sound very similar, but their overall groove is so unique that gripes like that cease to matter.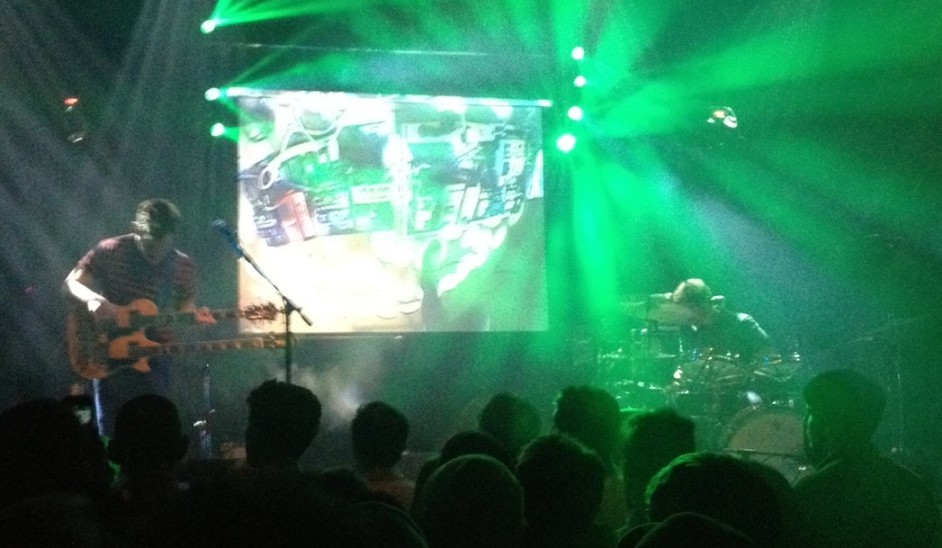 Go see this band, buy their new album when it comes out, and join the hipsters on the dance floor. It's well worth your time. While any group that can almost fill the Fox Theatre on a Wednesday night deserve some kudos, these guys deserve a lot of kudos. And cake.
Highlights: "Jumping Frenchman of Maine," "Anxiety is Cheap," "My Only Swerving," and "Transitions."