Three-time Grammy-winning singer, songwriter, musician and activist Fantastic Negrito (neé Xavier Dphrepaulezz) is unafraid to call it like it is—to deliver the painful truth to our ears and let it soak into our eyes. Today, Fantastic Negrito delivers "They Go Low," the fourth and final pre-release single off his forthcoming visual album White Jesus Black Problems, out June 3 via Storefront Records. White Jesus Black Problems is based on the true story of Negrito's seventh-generation white Scottish grandmother (Grandma Gallimore), an indentured servant, living in a common-law marriage with his seventh-generation African American enslaved grandfather (Grandfather Courage); in open defiance of the racist, separatist laws of 1750s colonial Virginia.
    
"They Go Low" serves as an anti-anthem; a hymn, not of praise, but of condemnation of the American ruling class, the highest bidders who value money over everything else. This song is meant to be sung out loud, as a collective body—serving as an anthem for the disenfranchised, the socio-economically burdened, and really anyone outside of the 1% of white America. "They Go Low" opens up with a tinny upright piano that is almost reminiscent of a silent film, matching the cinematic character of the song's intro and the project at large. The track is carried by a blend of old-school Americana sounds with a small, almost imperceptible hint of synth-pop in the drums. When the chorus hits, you are flooded with gang vocals spread wide and sung in unison as a gospel rock organ comes in and fills out the harmonic space. All of this combined with the song's major key modulation and the repetitive lyric "they go low / low low low" feels like a real come to Jesus moment. Negrito's vocals are full of anger throughout the verses, but switch to a sickly sweet tone in the chorus, further emphasizing the sarcastic, saccharine condemnation that "They Go Low" is sneaking to its listeners like a note being passed under the table.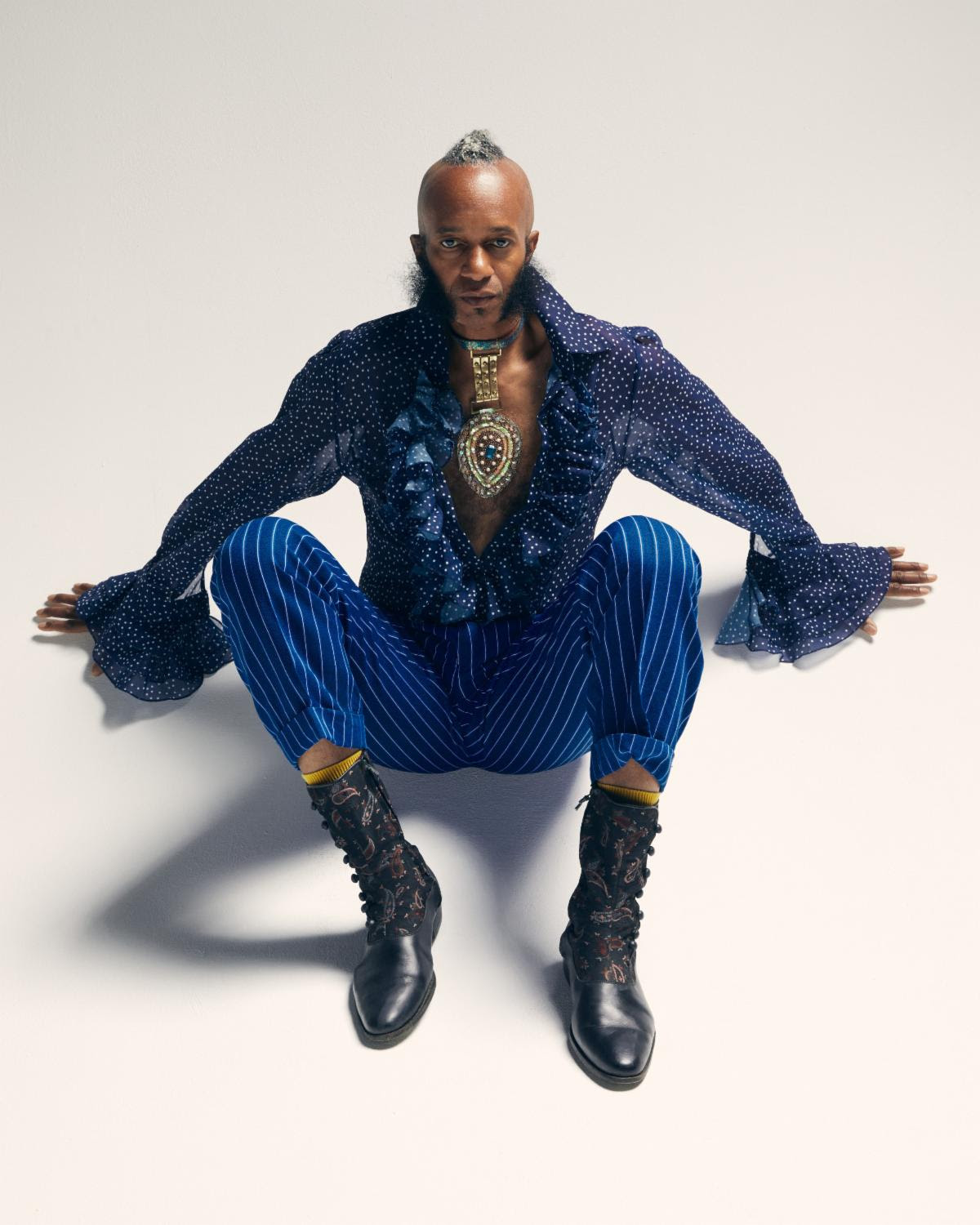 Each of the song's verses serves as a tableau about individuals in the neighborhood that Negrito is observing who want more, but are trapped within the confines of the wasteland of no-opportunity that they were born into. Not unlike Childish Gambino's "This is America," "They Go Low" utilizes African American sonic templates to happily and dancily condemn something unforgivable. "They Go Low" is a criticism of the 1%, but it is ultimately a happy-sounding track in a kind of tongue-in-cheek way. Negrito is joyfully singing and screaming out his message to the oppressors: countless people who deserved more are trapped here and it's your fault.
Watch the music video for "They Go Low" HERE
Fantastic Negrito on "They Go Low" – "When the 1% are making their deals, we're not at the table. We're on the menu, so to speak. Especially when I was making the film, I wanted to be sure that I was telling the story of those oppressors, those high bidders. They go low. Low enough to sell your grandmother, low enough to enslave people, low enough to keep poor whites out of work. When people worship money, there's no limit to how low they'll go."
Alongside the announcement of White Jesus Black Problems in February, Fantastic Negrito shared the album's lead single "Highest Bidder," a track tackling themes of racism, capitalism, and the meaning of freedom itself via African rhythms and Delta blues. The announcement and single were met with praise from NPR All Songs Considered, Pitchfork, Billboard, Spin, American Songwriter, Consequence, San Francisco Chronicle, and more! (See early highlights below)
Watch the music video for "Highest Bidder" HERE
Watch the music video for "Oh Betty" HERE
Watch the music video for "Trudoo" HERE
Last month, Fantastic Negrito announced a string of shows, including Bottlerock Festival, Electric Forest, and the Hollywood Bowl Jazz Fest. Find out more about Fantastic Negrito's tour dates here: LINK (Full tour routing below)
Pre-Order White Jesus Black Problems HERE
Listen to They Go Low HERE
Listen to Trudoo HERE
Listen to Oh Betty HERE
Listen to Highest Bidder HERE
Tour Dates
May 21 - Pure Imagination Festival in Prescott, AZ
May 27 - BottleRock Festival in Napa, CA
June 10 - UC Theatre in Berkeley, CA
June 14 - Aladdin Theatre in Portland, OR
June 15 - Neptune Theatre in Seattle, WA
June 17 - Sound of Music Festival in Burlington, ONT (Canada)
June 18 - BRIC Celebrate Brooklyn! in Brooklyn, NY
June 20 - Sinclair - Boston, MA
June 21 - Ardmore Music Hall - Philadelphia, PA
June 22 - 930 Club in Washington DC
June 24 - Electric Forest Festival in Rothbury, MI
June 25 - Hollywood Bowl Jazz Fest in Los Angeles, CA
Aug 13 - Craig Ranch Amphitheater in Las Vegas, NV (One Nation Under A Groove Tour w/ George Clinton and Parliament Funkadelic)
Sept 9-11 - Bristol Rhythm & Roots Reunion in Bristol, TN
White Jesus Black Problems tracklist
1. Venomous Dogma
2. Highest Bidder
3. Mayor of Wasteland
4. They Go Low
5. Nibbadip
6. Oh Betty
7. You Don't Belong Here
8. Man With No Name
9. You Better Have A Gun
10. Trudoo
11. In My Head
12. Register of Free Negroes
13. Virginia Soil