On May 15th, the band Hawk, led by the American artist David Hawkins, will release its highly-anticipated new album, Fly, featuring the all-star lineup of Pete Thomas (Elvis Costello, Johnny Cash, Elliot Smith) on drums, Ken Stringfellow (The Posies, R.E.M., Big Star) on bass, vocals, keyboards, synths and guitar, keyboardist Morgan Fisher (Mott the Hoople, Queen, Yoko Ono) and Hawk and Be guitarist Aaron Bakker. Hawkins, also leader of the orchestral folk-rock band Be, is an acclaimed abstract painter and co-founder of the avant-garde 'happening' group The Black Mountain Collective.
Fly is the follow-up to Hawk's acclaimed albums Bomb Pop, I'm On Fire, Princess America (which featured a cameo in voice and word by Lawrence Ferlinghetti) and college-radio sensation Rock n Roll. "Somehow I ended up in one of the best bands in the world," laughs Hawkins when talking recently about the band, "I'm really grateful. To have these guys playing with me is like a dream. I can finally capture the songs the way I hear them in my head." Hawkins and Stringfellow have been recording together steadily since 2016 when they collaborated on the second Be album, You, and Stringfellow has now played on over a hundred of Hawkins' songs. "He's such a great player," Hawkins says, "and musically we're right in sync. It's been such a blast. We've already recorded a ton of material." The legendary Elvis Costello drummer Pete Thomas joined Hawk in 2017 before the Bomb Pop sessions, along with Gary Louris of The Jayhawks, and the press-coined 'power pop supergroup' moniker stuck. Already surrounded by some of his musical heroes, Hawkins welcomed another hero, Morgan Fisher, to the group on keyboards last year. Fisher, of Mott the Hoople & Queen fame, recorded his parts in Tokyo in between tour dates with Mott the Hoople.
A true international effort, Fly was recorded all around the world, including at 'Dave's Room', the late David Bianco's studio in L.A., (Bob Dylan, Tom Petty, AC/DC, LL Cool J), Wonder Valley Sky, Hawkins' secluded off-grid retreat deep in the California desert near Joshua Tree, Hawk Studios in Venice, CA, Ken Stringfellow's studio in Tours, France, as well as at Fisher's Morgan Salon in Tokyo and Mars Studio in Seattle. Louris was busy recording the new Jayhawks album at the time, so he doesn't appear on Fly, but he has already recorded some vocals for Hawkins' upcoming 3rd Be album, slated for an early 2021 release. Hawkins mixed Fly with his longtime collaborator Mike Hagler (Wilco, My Morning Jacket) at Kingsize Sound Labs in Chicago, and Hagler mastered the album.
Fly comes on the heels of Hawk's 2018 critically-acclaimed album, Bomb Pop, which was called "amazing" by Blurt Magazine in a full feature spread on the band and declared it "one of the year's brightest records." No Depression Magazine said "The upbeat, richly textured Bomb Pop delivers 10 impossible-to-resist bursts of pure ear candy" and The Big Takeover said Hawk brings "the crunch of AC/DC, the swagger of the Stones, and the melodies of Tom Petty." Hawk quickly blew up locally, with the Chicago Sun- Times praising them for "Digging into the rich musical vein of the past from Woody Guthrie and Bob Dylan to Hank Williams and Robert Johnson. Hawk's music pulses with an infectious rock-pop beat, clever, meditative lyrics and finely honed melodies." Chicago powerhouse radio station WXRT and German Public Radio were other early champions, and Spanish bellwether Paisajes Eléctricos Magazine said that "Hawk honors the best tradition of the genre, with very powerful songs in the vein of the Rolling Stones of the Seventies."
Now living in Venice, California, Hawkins grew up in Central Illinois, not far from where Michael Stipe and Jeff Tweedy went to high school, both of who would influence him greatly. A Dylan disciple from a young age, a pivotal moment was hearing REMs "Murmur" for the first time. REM in turn led him to the band that became his greatest influence; The Velvet Underground. "The VU changed my life", Hawkins said recently in an interview, "much like Dylan and the Beatles and Stones had earlier. The range of emotion, the darkness and beauty intermingled, the dissonance...they made everything else pale in comparison." As Hawk's sound evolved, the harder rock influence of the Rolling Stones and AC/DC combined with those and other Power Pop and Garage Rock influences to solidify the band's now trademark sound.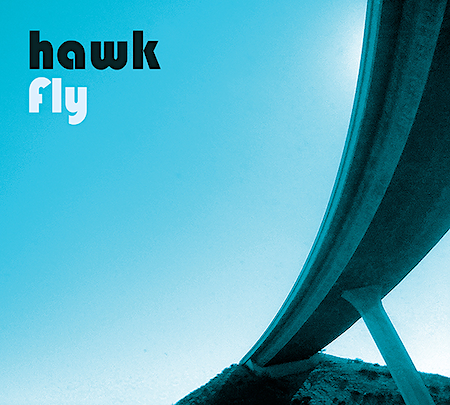 Fly charges out of the gate with the album's first single, the hard and sweet power pop confection of "This Is It", which hits like a rocking outtake from REM's Monster, with Hawkins' melodic counter-melodies snaking through slamming chords and sweet jangling guitar, hooking the listener with its infectious melody that sticks in the head long after the first listen. This is irresistible power pop for the new millennium; familiar yet singular. The hard-charging "I Still Want You" kicks off with driving drums and acoustic guitar and ignites at the choruses with layers of fiery Hüsker Dü-esque power chords and Hawkins' yearning vocals of lost love. "What's Your Name" recalls Fun House-era Stooges or the New York Dolls in its hard-glam crunch and Pete Thomas' brutal drumming, which is showcased throughout the album like a rhythmic centerpiece. From the first razor chords of "I Believe In You," with its undeniable rhythm, one hears traces of everything from The Jam to Ray Charles' 50s swing (in Morgan Fisher's ecstatic piano lines) to the pristine pre-rock pop of The Wrecking Crew with Hawkins' mantric vocals and Stringfellow's searing rock lead guitar lines converging into a tight and impactful piece that Hawkins penned as an encouragement to his daughter. The rocking "She's An Angel" draws on Bob Dylan's 'thin wild mercury sound' in this ode to an elusive real-life Goddess, with Fisher's driving piano, Stringfellow's screaming guitar and Pete Thomas' pounding beat adding an urgency to this emotional ode to Desire.
"You Are The One I Want" kicks off the second half of the album with an infectious New Order-meets-The Cure vibe that leads straight to the dancefloor, with its incessant rhythm, Hawkins' devotional lyrics, soaring high 80s guitar runs and Stringfellow's ethereal synth lines, coalescing to a powerful climax. The triumphant opening chords of "Truth to Power" ring out with urgency in this anthem for a new revolution, recalling early CSNY or The Grateful Dead in its call for unity and justice. It is a song truly of the moment and you can hear the weight of the times and a resilient idealism in Hawkins' voice. On "Sick Of This Town," the idealism gives way to anger and disgust at the rise of Fascism in the US. Melding doo-doo-doo bubblegum pop with hard-hitting punk vibes, Hawk again combines disparate elements into a unique and powerful punch that is as thought-provoking as it is toe-tapping. The mesmerizing "Everstill" is a dreamy VU-inspired song that speaks to eternal love in a beautiful metaphoric poesy and signals the beginning of the end of the album with its lush backing vocals and a lilting Vox organ, and makes way for the stunning climax of "Lost Our Way," a sprawling psychedelic paean to the chaos of the current moment and fear for the future in a heartfelt sonic cry, spoken from father to daughter. This is an extremely powerful and poignant song cycle that takes the listener through a whole range of human emotions; joy, sorrow, yearning, fear, triumph, despair, and hope, and it will likely reverberate for decades to come.