Stella Prince's melodies are genuine and from the heart, and her evocative and accessible tunes delve deep into your spirit. Her poetic lyrics, in tandem with the atmospheric sounds of her vocals, acoustic guitar, and musical compositions, appeal to a diverse, multi-generational audience.
Stella's musical influences span decades—from country and folk music's renowned voices of Judy Garland, Karen Carpenter, Patsy Cline, Emmylou Harris, and Dolly Parton; to the pop icon Taylor Swift. Think Country Press writes, "Imagine the perfect mixture of Joan Baez, Joni Mitchell, and Judy Collins all packed into one young musician."
Stella has a wonderfully distinctive voice as well as a fascinating backstory. Born and raised in Woodstock, NY, Stella, who is nearing the end of her teenage years, was immersed in music from an early age as the only child of creative parents (a painter/photographer and a writer). She graduated highschool at age 15 (during the beginning of the pandemic in 2020) and earned her two-year associates degree—with a focus on music—at age 16. She started releasing singles in 2021 and moved to Nashville with her family towards the start of this year.
Stella says in an interview with Stereotype Co, "I think the pandemic actually pushed me positively to focus entirely on my career, and nothing else but my career. I've always known my whole life that this is what I was meant to do. When I was four, I told my parents I was ready for a manager and that I was determined to begin that day."
Stella says her latest single "Dear Future Me" [independently released Oct 13] is, "written from a place of sadness, wondering if there is any possible chance that in the future I will lose the insecurities I grew up with. I wonder if I'll ever be confident, and not filled with doubt, and worry. Who knows what my future self will do, and what I'll think of her."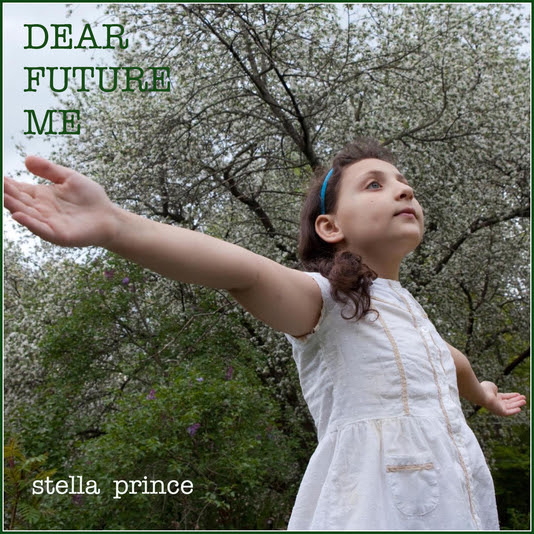 "'Dear Future Me' [is] a song that immediately brings to mind the softer ballads of Dolly Parton. Through her poignant lyrics and truly standout vocals, Prince gives an old soul sound that feels wise beyond her years," writes Glide Magazine in their exclusive premiere of the song. "What sets this apart is… going for something that feels simultaneously classic and fresh. The lovely touch of piano and twangy pedal steel give the song a sense of timelessness, and there is an excitement to the song as a whole that makes you eager to hear how Prince will progress as she continues to find her footing."  
Self-produced, Stella recorded a handful of songs "live" at the legendary Sound Stage Studios with sound engineer Kameron Luchterhand. She had the honor of working with Nashville-based pedal steel guitarist, Grammy-winning record producer, and educator Steve Fishell [Dolly Parton, John Prine, Mavis Staples]. "No one sings like Stella Prince," says Fishell. "I was transported the first time I heard her and I bet you will be too."
This experience was Stella's first time recording with a full band which, along with Prince and Fishell, includes some talented Nashville players: Ben Garrett (keys, guitar), PJ Schreiner (drums), Mike Dunton (electric guitar), and Father Phillip (bass). "Dear Future Me" is one of the results of that session. There are still a few unreleased songs which will be out in 2024.
The first song to emerge from those recordings, "Two Faced," was released in early August and quickly rose to the position of #2 "Most Added" on the NACC Folk Charts. "Two Faced" is being played on BBC Radio Scotland with Iain Anderson as well as BBC Radio Ulster's Country show with Ralph McLean. This is wonderful because, next week she embarks on a 12-show tour throughout England commencing October 21 in London, then through to Bristol, York, and everything in between, and finishing in Filely on November 6.
In May 2023, Stella started an all-female Folk/Americana showcase, Stella & Friends, presented by Change The Conversation —an organization that fights gender inequality in the music business— which takes place once a month at The Underdog in East Nashville. Stella & Friends was also selected to be a part of AmericanaFest 2023 and marked her debut performance at the event. Nashville Scene recommended the showcase and Nashville Noise listed it sas a "Showcase You Can't Miss."
Stella & Friends traveled to New York's The Bitter End and Rockwood Music Hall in late September and while in the state, Stella interviewed on WFDU's "Folk Music Notebook" and WIOX's "Folk Odyssey." In September she also performed on WDVX's Blue Plate Special in Knoxville and was interviewed by WERU in Maine and WICN/Massachusetts Public Radio.
Previous singles include: 2021's "The Rain Might Fall," "Scared," "Before You Leave," and "Alone for the Holidays." 2022 offered three new songs: "Crying on a Saturday Night," "Eighteen," and "Closing Doors."  
"Closing Doors" was produced by Professor Louie [The Band], who commented in Mix Magazine, "Stella has a voice and sensibility well beyond her years, and can draw listeners in with her vulnerable lyrics and captivating vocals… I'm looking forward to seeing her have a lasting impact with her songs on the Folk/Americana musical landscape."
"My big goal is for someone to listen to my songs and think, 'That's exactly how I feel…' Stella explains. "I want them to resonate with everyone, every generation, every issue: loneliness, fear, all of that."
Kind Words about Stella Prince
"With the release of her eighth ethereal single 'Two Faced,' folk phenom Stella Prince has solidified her place among the genre's rising stars… the tune's soul-stirring lyrics coupled with Prince's shimmering vocals aim for the heart." —MusicFestNews, Dalia Jakubauskas, Song Premiere: "Two Faced"
"Singer/songwriter Stella Prince has amassed an impressive array of credits in a short period of time… The maturity in both the vocals and lyrics is also a reflection of the influences of veteran folk and pop performers on Prince, who has been a fan of veteran artists from the start." —The Tennessee Tribune, Ron Wynn
"The urgency of Prince's lyrics is nearly palpable in her singular voice, which effortlessly recalls the measured melodies of classic folk. Even on the highest notes, Prince's voice holds a softness and lightness. Over careful and striking guitar lines, she all but lulls you into a trance. It's a unique and memorable sound that's led her to critical acclaim." —NYS Music, Hattie Lindert
"For the seventeen-year-old Stella Prince there's the added angst of having missed out on a big part of those transition years, as she explained to Americana UK: 'I feel like I lost half of my teenage years to the pandemic… My whole generation lost so much time growing up. So now that we're adults, it just doesn't feel real. We're all scared of growing up.' These tentative feelings and half-realised fears are captured in the direct 'Eighteen'."  —Americana UK, Jonathan Aird, Song Premiere: "Eighteen" (July 2022)
"The first thing you'll notice is Prince's uncanny vocal tones sending chills down your spine. From that very instant, you'll be hooked. 'Why am I here, still crying on a Saturday night?' is a very relatable sentiment, and the easy acoustic guitar buoyed by the fiddle accompaniment winds up delivering a very memorable and catchy package." —Americana Highways, Melissa Clarke, Song Premiere: "Crying On A Saturday Night" (March 2022)
For more information, a full list of tour dates, and further updates, please visit, www.stellaprincemusic.com, www.facebook.com/stellaprincemusicofficial, www.instagram.com/stellaprincemusic, and watch her music videos at www.youtube.com/@stellaprincemusic.