Wicked Cool Productions announces Rock N Roll Resort v2: A Psybient Soiree on March 30 – April 1, 2012, an exclusive 4-day, 3-night, 24-hour multi-media experience at the historical Kutsher's Country Club in New York's gorgeous Catskill Mountains.  Rock N Roll Resort v2: A Psybient Soiree is a unique event created by fans for fans, and aims to a sonic, visual and intellectual voyage promising to be a full resort takeover and immersion into the world of "psytrance" and "psychill" with live performances and DJ sets. This intimate festival concept will also feature collaborative live art, spoken word, merchandise vendors, workshops, activities, theme nights, cyberistic euphoria, and renegade sets to round out the weekend celebration. Pre-sale weekend packages including catered meal plans and day-tripper tickets go on sale starting February 3, 2012 at the brand new interactive website: http://rocknrollresort.com/v2.

The trendsetting artists in residence currently include: Shpongle Presents the Masquerade, Conspirator, Hallucinogen LIVE, Ott, visual artists Alex Grey & Allyson Grey, Nadis Warriors, Phutureprimitive, Brothers Past x2, Bird of Prey, Dopapod, BioDiesel, BangBang, Cosmic Dust Bunnies, Jeff Bujak, The Manhattan Project, Dirty Paris, lespecial, Psylab, Viral Sound, Mun, RedShift, Digital Storm, DJ Jamin, Dr. Masgnosis, and filmmaker Mitch Schultz with researcher Dr. Rick Strassman presenting on "The Spirit Molecule." Even more renegade sets and surprise collaborations are expected throughout the weekend.

Kutsher's Country Club is the last of the Borscht Belt grand resorts destination steeped in history. Recently celebrating the documentary release of "Welcome to Kutsher's: The Last Catskills Resort" directed by Caroline Laskow & Ian Rosenberg, it portrays Kutsher's as an iconic destination for the alternative vacation seeker for decades. The film was premiered at the New York Jewish Film Festival at Lincoln Center, and won "BEST DOCUMENTARY Audience Award" at the Miami Jewish Film Fest 2012. As recently as 2008 - 2010, Kutsher's has hosted many amazing concerts including The Flaming Lips, Iggy & the Stooges, Sonic Youth, My Bloody Valentine, and Animal Collective, and from the 1940's to the early 80's, it was the place to catch the best comedians of the times from Red Buttons, Jackie Mason, and Buddy Hacket to Andy Kaufman, Billy Crystal, and Jerry Seinfeld.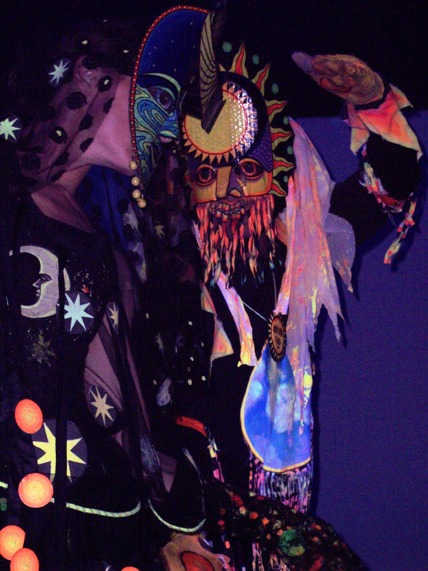 Rock N Roll Resort v2: A Psybient Soiree is the first stop on Shpongle Presents the Masquerade Spring tour and will mark the unveiling of the new production expanding the visual expression of the multi-dimensional auditory experience. Fans will be treated to two Friday night sets from Simon Posford with Hallucinogen LIVE and the DJ set Shpongle Presents the Masquerade. Live painting by the Greys during Shpongle Presents the Masquerade on Friday and onstage with Ott on Saturday promises to embellish the already mind-blowing sensory adventure. Add to that the genre crushing Conspirator performing two headlining sets and screenings of the documentary, "DMT: The Spirit Molecule" along with Q&A's and "A Spirit Symposium" with the film's creator Mitch Schultz and author and researcher, Dr. Rick Strassman, and A Psybient Soiree has synthesized a full weekend immersion into music, the spirit, and the divine.

ABOUT SHPONGLE PRESENTS THE MASQUERADE AND HALLUCINOGEN
DJ/Producer Simon Posford (the driving force behind Shpongle) has a new experience in store for 2012. Shpongle Presents the Masquerade is a revolution in the development of the visual expression of the multi-dimensional auditory experience. Hallucinogen aka Simon Posford is a pioneer of electronic music and founder of the psy-trance scene. With the release of his first album, "Twisted", which reached Number 27 in the French album charts, a genre was born. There are many words to describe modern electronic music but none that come close to the wealth of emotion and experience that comes from listening to a Posford tune. For more information, visit:  www.faceboook.com/shpongle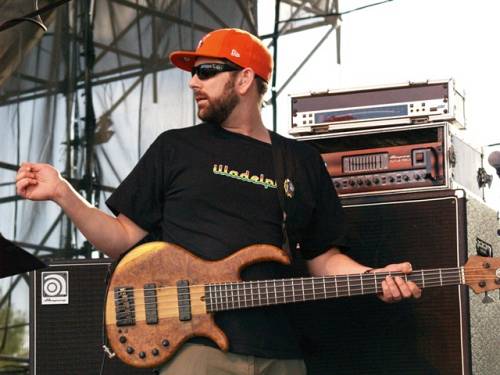 ABOUT CONSPIRATOR
Formed in 2004 by Aron Magner and Marc Brownstein (The Disco Biscuits' keyboardist and bass player) along with New York producer DJ Omen, Conspirator has taken on many forms through the years. With the recent addition of virtuoso guitarist Chris Michetti and stalwart drummers Darren Shearer (the New Deal) and Mike Greenfield (Lotus), Conspirator has reached a new level. As a full band, the music is hitting new highs, and with the addition of an arsenal of new material, crowds across the nation have begun to catch on. Conspirator can no longer be considered merely a side-project, but must be looked at entirely as its own entity. Coming off of break-out performances at Ultra Music Festival and Nocturnal Festival, Conspirator has begun to catch the eye of electronic music aficionados everywhere. Refusing to be pigeon-holed into one genre, they explore the many realms of electronic music, effortlessly slipping between house, dub-step, drum and bass, and electro. www.conspiratorband.com

ABOUT OTT
Ott was doomed to be a teenager in the cultural wasteland that was the mid-1980′s provincial England. They hatched a plan to remix half a dozen or so classic Hallucinogen trance tracks and release them as dub mixes – slower, fatter and more chillout friendly. In 2002 the album "Hallucinogen in Dub" was released via Twisted Records to universal acclaim.  The next few years passed in a whirl of gigs, remixes [Shpongle, Entheogenic, Tripswitch] and collaborative projects – "Umberloid" with friend and multi-instrumentalist Chris Barker, and "Gargoyles" with Simon Posford [Hallucinogen, Shpongle]. During this time Ott travelled the world, got married, welcomed his daughter Daisy to the world and wrote his third album "Skylon" – which was released on Twisted Records in early 2008." For more information, visit: www.ottsonic.net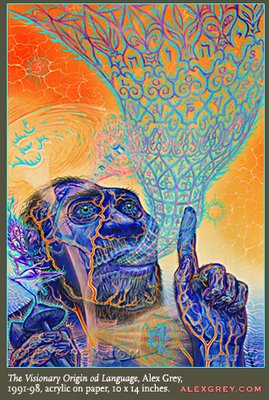 ABOUT ALEX GREY & ALLYSON GREY
To Alex Grey, art is a spiritual practice. The themes of death and transcendence weave throughout his artworks, from the earliest drawings to later performances, paintings and sculpture. His inspirational book, The Mission of Art, traces the evolution of human consciousness through art history, exploring the role of an artist's intention and conscience, and reflecting on the creative process as a spiritual path. At the Boston Museum School he met his wife, the artist, Allyson Rymland Grey. During this period he had a series of entheogenically induced mystical experiences that transformed his agnostic existentialism to a radical transcendentalism. Allyson shares a parallel mysticism: "Intending to create spiritual art, I feel naturally attracted to abstraction and to a written sacred language. Every known religion reveres its holy writing. Sacred writing of all faiths, however, come into conflict through human interpretation as the written word defines the differences of philosophy and traditions, when truely the basis of all religion is unity and infinite love." Alex Grey was an instructor in Artistic Anatomy and Figure Sculpture for ten years at New York University, and now teaches courses in Visionary Art with Allyson at The Open Center in New York City, Naropa Institute in Boulder, Colorado, the California Institute of Integral Studies and Omega Institute in Rhinebeck, New York. Together they founded The Chapel of Sacred Mirrors, CoSM, a long-term exhibition of works of transformative art, described as a sanctuary for seeing ourselves and the world as reflections of the divine. For more information, visit: www.alexgrey.com and allysongrey.com

ABOUT ROCK N ROLL RESORT
Rock n Roll Resort is a unique, intimate music experience designed by fans for fans and quickly becoming the ultimate, music destination event for die hard live music junkies and avid fans. A sonic, visual and intellectual voyage promising to be a full resort takeover wherever it lands, Rock n Roll Resort explores different music themes and resorts throughout the Northeast and beyond. Woven throughout each experience is 24 hours of multiple indoor live music stages, incredible visual art installations, poolside cocktails, spiritual exploration, fun activities and workshops, eclectic food and an amazing music lineup all within the walls of a VIP resort.  Guests have exclusive use of the resort during this weekend only. Pack your suitcases and leave your tents at home as the next Rock n Roll Resort invades your town soon. Locations, performing artists and theme vary with each event. It's a "takeover" not to be missed! For more information visit: rocknrollresort.com and facebook.com/rocknrollresort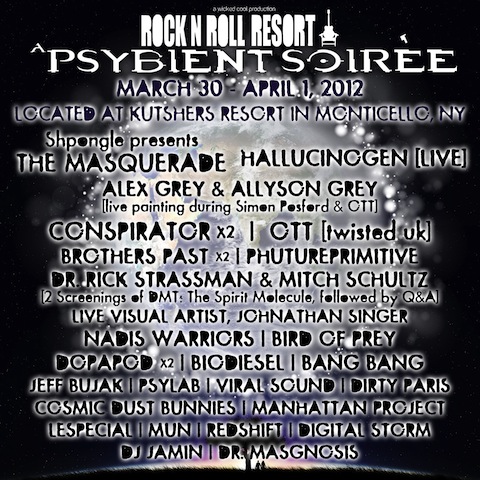 ABOUT KUTSHER'S COUNTRY CLUB
Founded in 1907, Kutsher's Country Club is rich with history and mystique and boasts an impressive past lineup of musicians, comedians, and sports figures. Serving as inspiration for the movie "Dirty Dancing" and the current documentary, "Welcome to Kutsher's: The Last Catskills Resort," Kutsher's conjures up iconic images of entertainment filled weekend getaways for the adventurous at heart. As recently as 2008 to 2010, Kutsher's played host to the Flaming Lips, Iggy & the Stooges, Sonic Youth, My Bloody Valentine, and Animal Collective to name just a few bands, and from the 1940's to the early 80's, Kutsher's was the place to catch the best comedians of the times, from Alan King, Red Buttons, Jackie Mason, and Buddy Hacket to Andy Kaufman, Billy Crystal, and Jerry Seinfeld. The famed host, Milton Kutsher, made Kutsher's home to legendary Celtics coach Red Auerbach and Hall of Famer Wilt Chamberlain, while also providing training facilities for Muhammad Ali, Leon Spinks, and Floyd Patterson. Family hospitality, great food, sports and recreation, and all inclusive room, board, and entertainment packages made Kutsher's the place to be for decades. As the last resort of its kind, Kutsher's has tenaciously remained connected with alternative vacationers interested in the full resort experience. Art deco design, fabulous entertainment venues like the poolside "Deep End Lounge" and the retro "Stardust Room," the 18-hole golf course, and 1500 sprawling acres make Kutsher's a one-of-a-kind vacation destination.