Canadian Bob Masse, who has recently been designing posters and t-shirts for LebowskiFest, Playboy's recent Bunny series and Phil Lesh & Bob Weir's Furthur, is himself very Lebowski. In fact, he calls himself 'The Dude' of the art world. Having designed posters for and been a friend of major artists since the early 60s, before many of them were major artists, he's earned whatever title he chooses. The names read like a history of rock: The Doors, The Grateful Dead, Bob Dylan, Jimi Hendrix, Janis Joplin, Cream, Canned Heat, through today with the Red Hot Chili Peppers, Alanis Morissette, Bob Dylan with Paul Simon and many, many more.
Recently featured in Chicago's Rotofugi Gallery's Playboy exhibit and an Art Defining Music exhibit at Nashville's Estel Gallery, (which also included Wes Freed, John Langford, Willie Nelson's son, Jacob Micah and others). He fell into his life's work in the 50s. An art student, he was asked to find a venue and create a free concert poster as a class project.
BM: I started getting carried away.  I was in my 20s, going back-stage; so I kept going to the Beat coffee houses and doing free work. They loved me. (laughter)
BM: Then Beat melded into Folk and I was meeting people like Ian and Sylvia, Jefferson Airplane. Then Bob Dylan made folk electric and it went that way. I just went along with the music.
Masse said that, in addition to making posters he did all sorts of other things for bands. He worked the door, helped load equipment, worked concessions. He also, (because he was the one who had a van), went to pick people up when they arrived, sometimes to meeting them at the border.
BM: It was a circus trying to get through a lot of the time.  The Dead, for example, were dressed all wild, smelled like patchouli. We had to assure the guards that they'd be leaving again in a few days.
BM: I did a poster for Bob Dylan and spelled his name Dylon. It wasn't a huge deal because not that many people even knew who was. At the time, no one knew who the Grateful Dead, Janis Joplin,  Jimi Hendrix or any of those people were.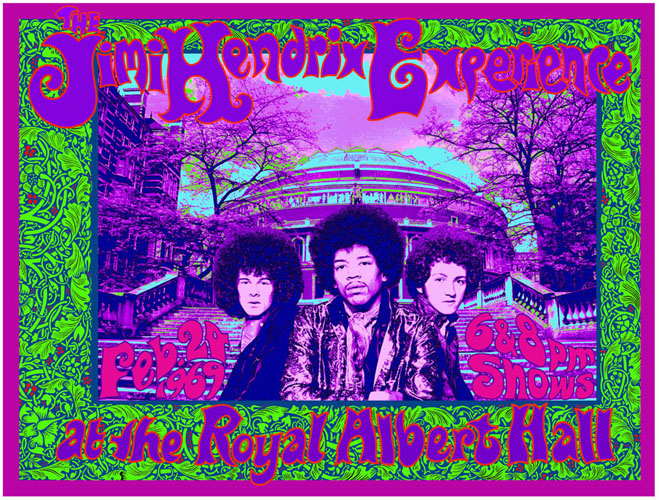 Throughout the early to mid 60s, an art movement was building in San Francisco. Masse described going there every two months ago, staying with the Grateful Dead in their Haight Ashbury home:
BM: At first the scene there was idyllic. It was quite amazing." He said. "Everyone was friendly. Everyone talked to one another on the street. There were beautiful posters everywhere. I had a hell of a time.
BM: Unfortunately, it was also short-lived. It lasted from 1964 till about 66. Then a progressive decline set in. Every time I went back more kids had left home and turned up there. The town was full of basically homeless adolescents from the Midwest.
BM: They started panhandling and it wasn't so much fun walking down the street. You can't live on nothing, it all falls apart. You get in these situations where you want well, food.
BM: Drugs started affecting everything more. I mean, you're doing all these drugs and where do you get the money for the drugs? People started getting aggressive.
Masse ultimately relocated to California but for Laurel Canyon over Haight Ashbury.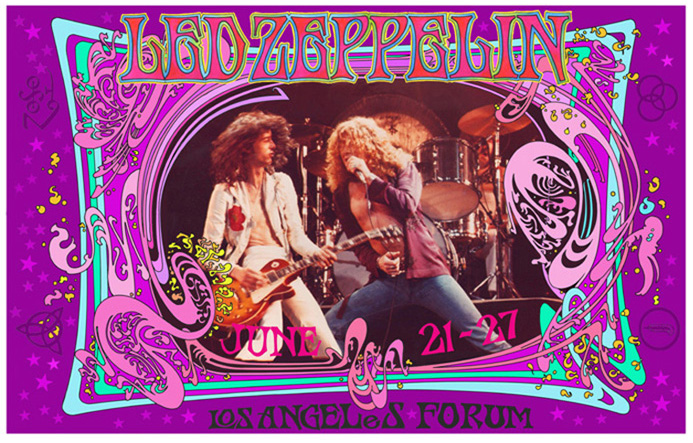 BM: I went down to do a cover for Warner Brothers. It was the first time I got to watch an album being recorded and was really exciting. When I got there, they told me there was someone else from Canada they wanted me to meet. Here comes skinny blonde, all teeth with two guys. At the time it was no big deal; nonetheless, it was Joni Mitchell, David Cassidy and Graham Nash.
Warner Brothers loved his work, offered him more and he moved nto the garage behind Erol Flynn's house, where Flynn's daughter still lived; (he later lived above the legendary Whiskey a Go-Go). Frank Zappa and Stevie Nicks were among his neighbors and a house previously owned by Harry Houdini was just down the street.
BM: It was a fabulous place." He said. "At night you could hear everyone playing music as you walked up to the canyon, all very low key.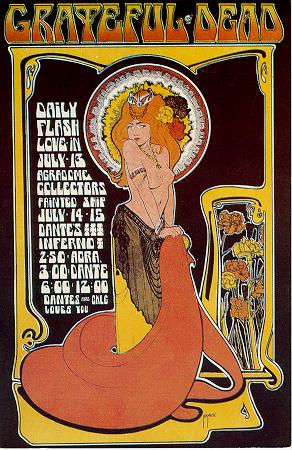 BM: There was a renaissance going on that mirrored itself in the Hippie movement. Art mixed with psychedelic drugs, the colors were bright instead of organic. It's similar to the parallel group of young, rebellious guys, the Impressionists. They would quietly go into their little studio, paint away at something, then go drink absinthe.
Masse's main influence in San Francisco was fellow rock artist, Stanley Mouse, (designer of the famous Grateful Dead skeleton with roses, among many other iconic works). Mouse's work frequently also reflects Art Nouveau.
GW: Why Art Nouveau?
BM: Art that looked to the past fit in well with the music, the folkiness of everything." Masse said. "I did steamboat gambling type pieces, woodcut lettering. The revival started, in Nevada's Red Dog Saloon; a place laden with Old West history.
BM: The art of the turn of the century is my greatest love. In part, I saw posters as a way to turn people on to Mucha, to Art Nouveau. I mixed the style with psychedelic lettering, creating a new mixture.
BM: One way of creating art is to modify, to make a thing something else. Elvis, for example; he was a stylist, taking little bits from here and there and combining them to make Rock and Roll.  I'm also a populist.  I'd rather have thousands of people enjoy my art than a few. For me, posters were a perfect vehicle.
BM: Artists then were really gave artists the chance to do their thing. That's why, for example, you have a Led Zeppelin cover with an avocado on it. I could do whatever I wanted and put the band name on it. My world was built on music but most of the time I was just playing around.
BM: Nowadays, art can be put everywhere so there's an enormous amount going on around it but it's not enough just to have talent, you have to figure out what to do with it.