If Bob Weir and Waylon Jennings had a love child, it would be Daniel Donato. His epic faces and jittery jumping style is heavily influenced by jam but remains his own flavor and unique style through and through. He calls himself Cosmic Country and he has released his first solo album, A Young Man's Country.  At age 25, Daniel Donato has been busking and paying his dues for almost a decade already.  After hearing his version of Fire on the Mountain, Grateful Web had to catch up with this young jammer.
GW: You ready to talk about your new album?
DD: Oh my gosh! Absolutely! Did you have a good weekend?
GW: I did actually, how about you?
DD: Yeah we are having a fantastic time. Tennessee is about to head into fall which is my favorite time to be alive.
GW: Right? Do you have any leaves changing down there yet?
DD: We do in some parts of the city. It happens gradually. I've been here since I was 8 years old, I am 25 now. We've moved all around the city so you'll see southern parts start to change sooner than the northern parts.
GW: Nothing like that here yet. We're in that last stretch of Indian summer still. I don't know that I could live in Nashville. I used to visit every summer and I love it to pieces but it's so hot!
DD: So hot! I think it's in my blood now. It's all I ever knew but you're out in Colorado, is that correct?
GW: Well yes, Grateful Web is based out of Boulder, CO but I actually live in the Chicagoland area.
DD: Oh! Well that's even nicer honestly.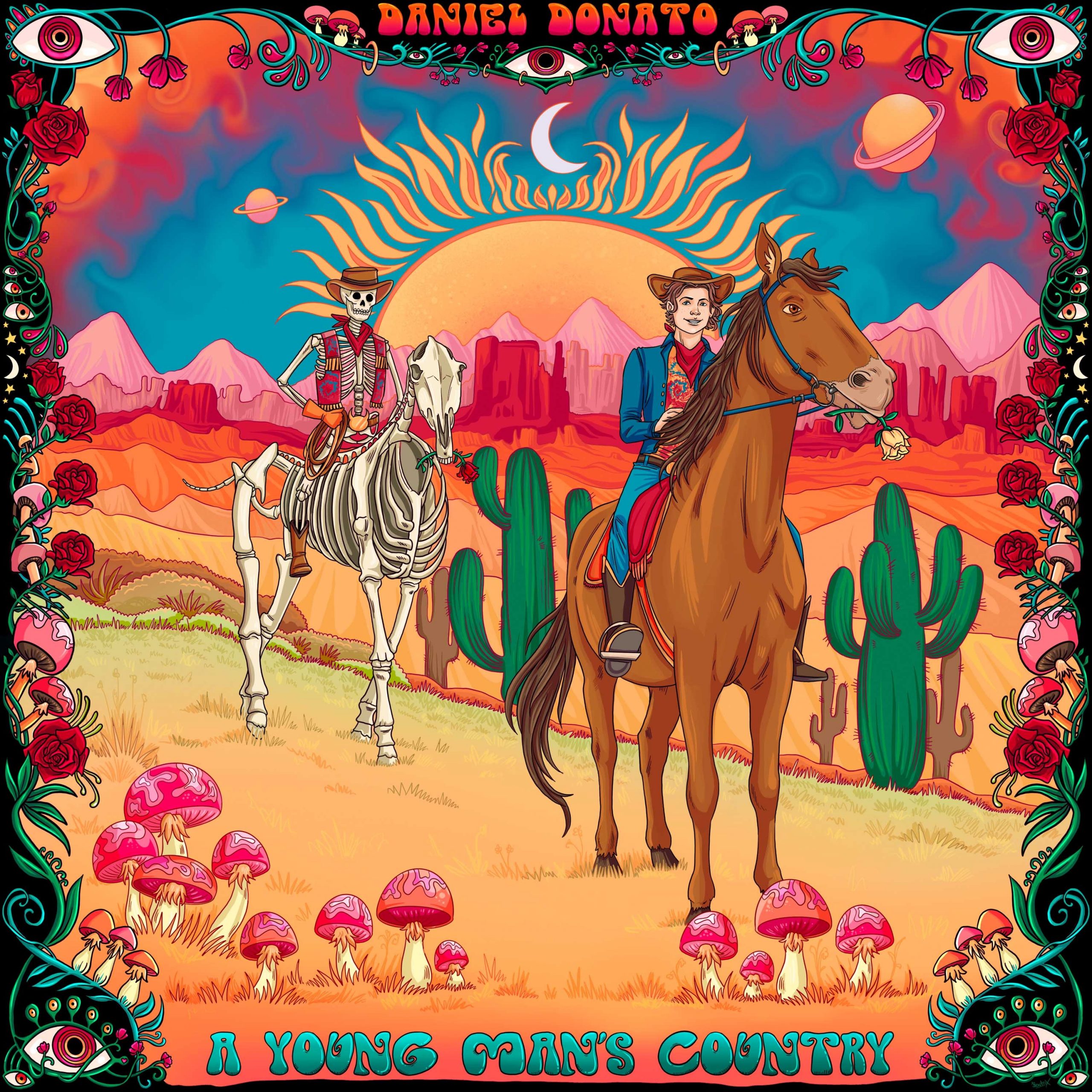 GW: Yeah, I'm okay with it. So this album! We've got 11 songs, 3 covers and 8 originals. I know that in your attempts to break into the music business, you busked a lot. No doubt you have played countless covers. How did it feel to put your original material out into the world?
DD: Absolutely wonderful! I didn't want to do it without covers though. The generation we are in now, everyone who is coming up now tips the hat to their heroes. It felt very natural to do that because these are songs that I've already been playing for a decade-plus.
GW: So then how did you choose the covers that you did? The Fire on the Mountain is pure fire. Ain't Living Long Like This is spot on to Waylon Jennings, Angel from Montgomery is more rodeo, less angel, which gave the listeners a taste of what your "Cosmic Country" is all about. But how did you choose these 3 songs?
DD: Yeah, so I think a lot of what happens in music is.. I know this sound cliché, but it's where music chooses you. One of the first times I ever busked on the street, somebody came up to me and asked if I knew any John Prine songs. I was 14. I didn't really know who John Prine was.
GW: Well yeah, east of the Mississippi, it's not as common. He is the Bob Dylan of the west.
DD: Right?! Exactly. So he came up to me and put his phone to my ear and he was playing the song, Angel from Montgomery. I was 14 and I had no idea about the lyrical content but there was something about it that just instantly spoke to me. It always has. I've been playing that song since before I even knew who John Prine was! I've allowed it to evolve over the years, playing it rigorously on stage, and so that is why that song made it onto that collection of music. It's just as original to me as my original songs are, even though I didn't write it. With Fire On the Mountain, the way that I've always worked in the music business is that it's very fan-driven. In Nashville, a lot of artists are not very fan-driven. They're very industry-driven. Those are two wildly different things which is super ironic and funny. If you look at it in the right light, you think it'd be that the industry would want to give the fans what they like and want all the time but that is not the case here. Cosmic Country shows are composed of fans who love the Grateful Dead so whenever we play that song, even in Europe, people just love it. They always say that was a highlight of the show for them. That was me just really wanting to give the fans what they have told me they truly loved.
GW: I found it fascinating that over the scope of 11 songs you have a nice little 3-minute song and then of course Fire on the Mountain, I was very pleased that it was at least 9 minutes long. That was awesome!
DD: I tried to… the way that I want a Daniel Donato album to be is cosmic AND country. I want to give people songs like Justice and Luck of the Draw, the country singles that they love. Somebody tosses you the aux cord. They say what song have you been listening to? You only have such a short amount of time to show somebody something.  That's what those song live for but for the people that love to get cosmic and ya know, stare at the vinyl album and lose themselves, we have songs for those people as well.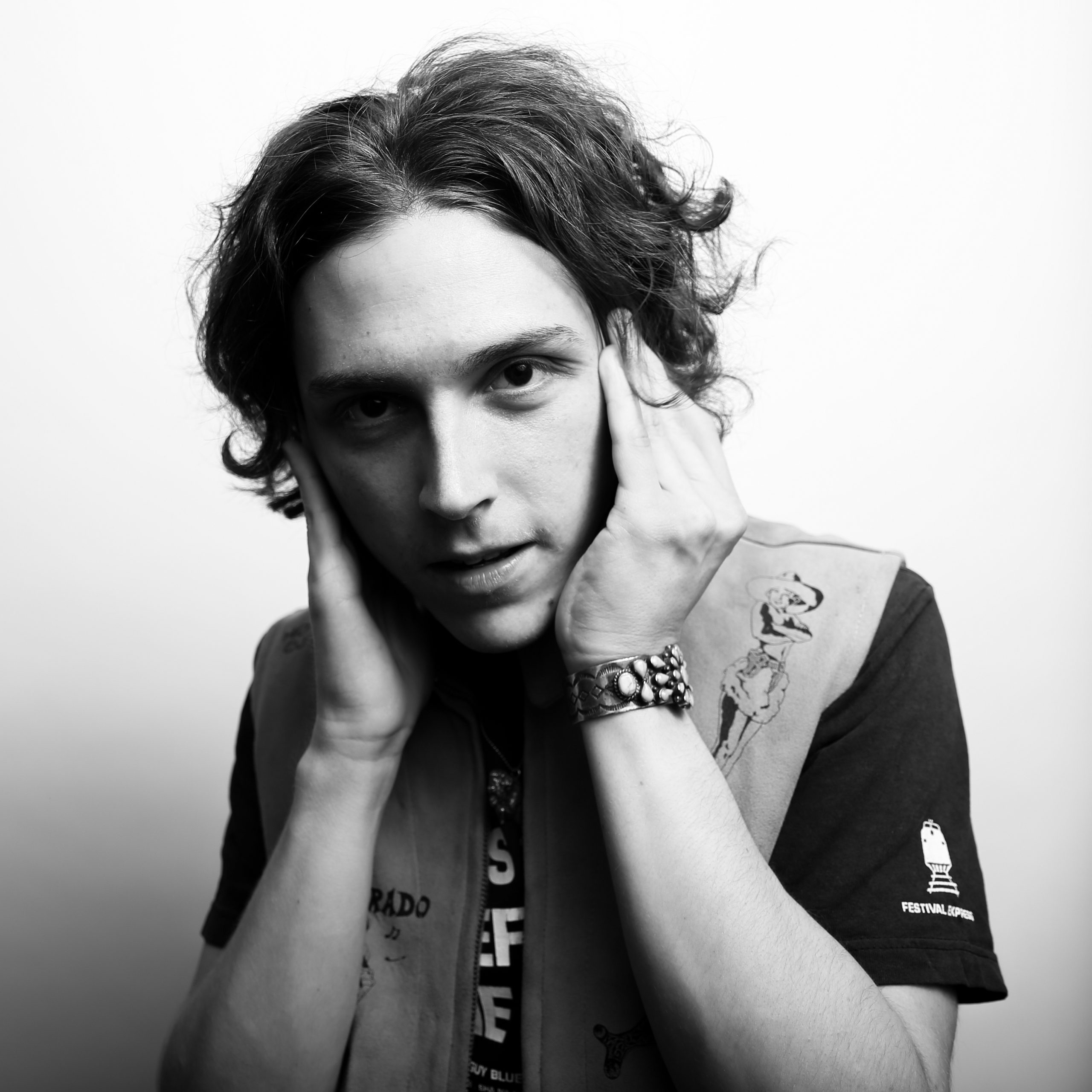 GW: Speaking of vinyl, Record Store Day is doing the 26th of each month or roundabout that… Any hot vinyls that you are currently looking for? Why was it so important to put your album A Young Man's Country on vinyl?
DD: I think the best thing that people can do during this time, well one of them, not just one, is to really find out who their fan base is. I wanted to offer something to the people that have been big fans of what I am doing, an opportunity to get even closer to the Cosmic Country circle. We have a thing called The Cosmic Country Club which is part of our fan base
GW: giggles That is hilarious
DD:  Yeah, right? You know, kinda modeled after all the country clubs that I've been going to in Nashville. I guarantee I'm the only person wearing a tye-dye at that country club. So yeah, us doing the vinyls was for 2 reasons. We had to make money from the album. And then #2, I had to prove to myself that an independent artist can connect to their fan base at a scale that is comparable to those that are on a label, whether that label is larger or smaller. We did a 500 unit pre-sale, preorder campaign, and we fulfilled that! We oversold! Coming out on Record Store Day we will announce that we are going to do more vinyl. Personally, the vinyls I am looking for – I am really sincerely heavily into The Workingman's Dead right now. I'm rediscovering that album in a while new way so… I already have older copies of it but I'd like to buy a new, remastered nice copy.
GW: Heck yes! I just got myself a decent pressing of Shakedown Street this past weekend.
DD: Oh my gosh!
GW: It's kinda hard to find clean copies of the Dead on vinyl out there. You can find some Grateful Dead in some stores but that pristine fresh press…
DD: Nothing comes close!
GW: So speaking of immortalizing your music on wax.. How did it feel to be immortalized as a cartoon? The music video for your song Justice is so cool!
DD: Thank you! I think it was really funny how the Grateful Dead's most commercial piece, most commercial asset, was the Touch of Grey music video. My parents growing up in Jersey, not being into the Dead at all… well my Mom was but my Dad got into the Dead through that music video. So I really study those things in a way where a musician might not normally. You realize that if you can create something that is not human, but is humanizing, that you can give to your fan base something like a cartoon, they can relate to you in a different way. It's odd; I don't get how that works but the Touch of Grey music video is such a great example as to why I did that. One of my dear friends and heroes is Orville Peck. I don't know if you're familiar with him at all. We toured with him last year and he was on my podcast. Something that we talked about a lot is the idea of creating an identity that truly is you that you can give to your fans. It's that ideology combined with a Touch of Grey approach that led to that video. Again, it's just telling the story of what Cosmic Country is in video format.
GW: I love the moonlight. Of course, you have your signature hair.
DD: giggles Signature hair! I love that!
GW: Well I was cracking up looking at the cowboy boots. I have yet to see you perform live so I equated those cowboy boots with you being from Nashville. But that hair! Anybody who has seen you on YouTube or any of your many platforms would recognize that crazy hair of yours!
DD: Thank you! That's kind.
GW: Can you tell us about the teacher that gifted you 200 Grateful Dead bootlegs? Let's give a shout out to those impactful teachers and educators working very hard these days.
DD: We really should. Mr. Ragland. He really was a fantastic mentor. He told me every day, just leading through example; you HAVE to show up to work. You HAVE to show up to work prepared, positive, and with a plan. He had the 3 P's.  I have the 3 P's now that I talk about in my podcast: Patience, Positivity, and Persistence. It is these things I have learned through a couple people in my life.  Mr. Ragland showed up to work every day in a suit, earlier than anybody else. One day after class, in the middle of class, he was a dramatic, dominant figure. I was just enthralled with whatever he was talking about. In the middle of a presentation, he just stopped one day. He pointed at me. 'Donato, see me after class.'
GW: Ooooh!
DD: So class finishes the first period of the day at 8:15 am. He goes, I need you to take these binders here and never bring them back to me. Ok?! What's this all about? He goes, don't look at them until you get to your car later. I get to my car and I see this CD with red sharpie markers and it says Dick's Picks Vol. 1. What is THIS?! I didn't know what that was. So here I was everyday driving to Nashville from Spring Hill, TN to go play shows at night, bout a 45-minute drive. I popped that CD in and I lose my mind. To hear the song Big River… We were playing some of those songs: Big River, El Paso, Mama Tried, all of these songs in our set in the country band I was playing with. No one in the band ever knew that the Dead did those songs. So I instantly knew, Oh my God the Dead are covering Marty Robbins! They're covering Johnny Cash! Woah! They're doing Big River into other songs… of THEIRS! They are mixing covers with their own original songs! You can hear the inspiration from country in their own music. That, for me, conceptually, looking back at it now… Cosmic Country started to enter into my thought process of what this could actually be.
GW: Absolutely. Your tune, Forgotten Days, that is 3 minutes of pure poetry. You've probably been working on this album longer than the quarantine has been happening but reflecting on that song and the quarantine, do you think that this time of the world's history, this year 2020, will be forgotten time?
DD: Oh gosh! I don't think it will be. I really don't. I think it will be a heavily remembered time. At least that is how it will be for me. I think what 2020 reveals to everybody is that life is a single-player game, in a large way. In terms of being able to handle the problems that life throws your way, it really comes down to your own mental process and being able to sharpen that sword the way that only YOU can. I have actually never thought about it that way. I love that question!
GW: Thank you! How does it feel different for you? I mean, there is a lot more live streaming and a lot less live playing.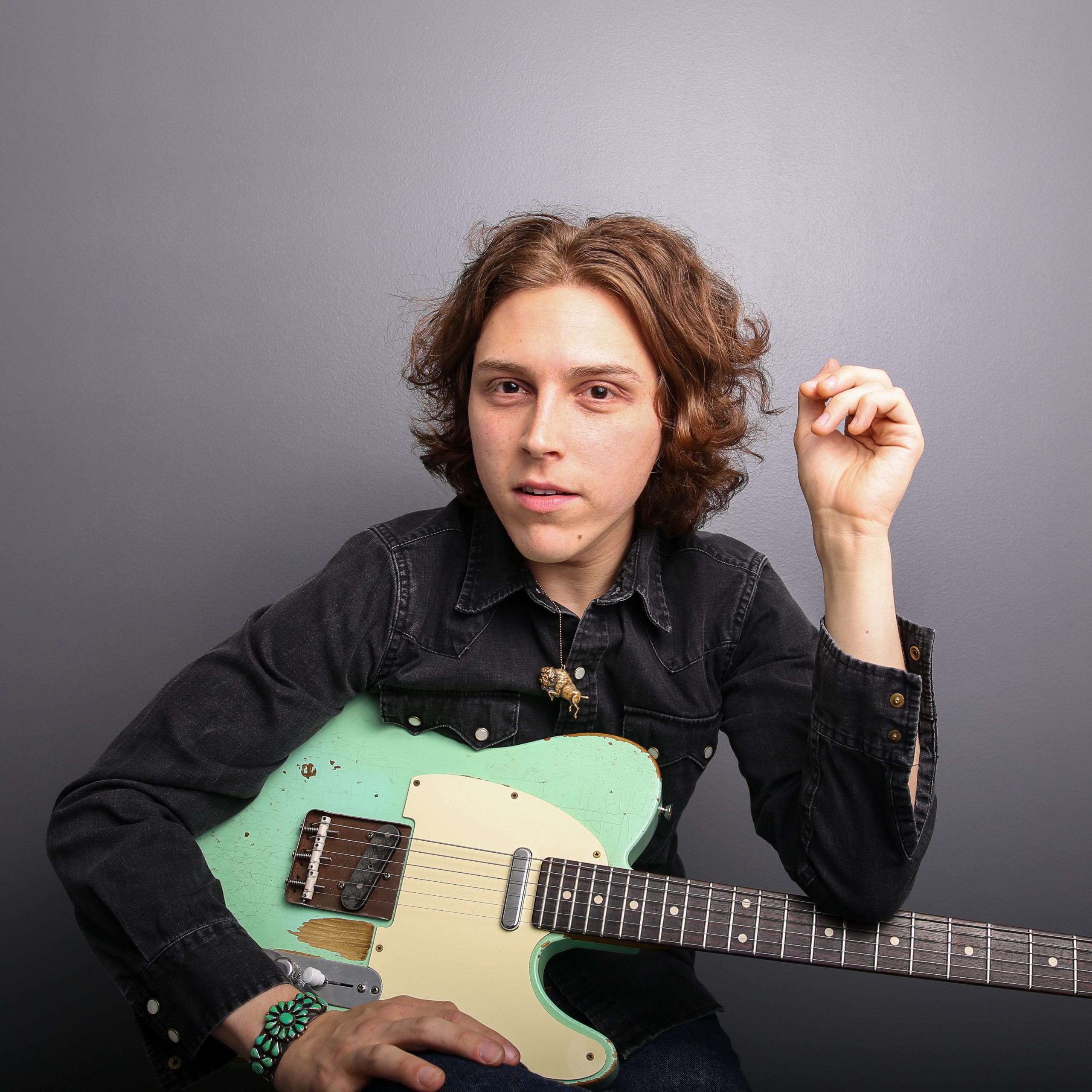 DD: It's just a genuinely changing time. I'm really into the concept of simulation theory, in a way that is not very serious but I think about it all the time. I really do think that this is some form of changing of scene here. I see it most reflected in my sister who is 9 years old. She is from a different planet than I was, and I was born in 1995. I showed her a CD the other day and she did not know what it was. She listens to songs in 30 seconds. I'm not saying these things are good or bad but…
GW: Tik Tok!
DD:  Tik Tok, exactly! She loves the Grateful Dead though. The thing that this year is showing me is that whatever is truthful, vibrating from a place of truth… If you are a creator – you are putting things out into the world. If you stay diligent to that, that can stand the test of time from humans that are born into different realities at any given decade. Why would she love the Grateful Dead but not love, um… N'Sync? Maybe because the Grateful Dead were trying to be timeless. They were coming from a place of only honesty. Maybe that is something that only travels from decade to decade. You know, the iPhone4 was something I had 6 years ago. Who knows what the iPhone is going to be in 15 years. All these technologies are always changing but something about the truth is unchanging and it affects us. This year has shown me that everything around you can change. The bottom can fall out. All your stocks can loose their value. All your tours can get canceled but if you can stay truthful, that is something that will not change.
GW: That was beautiful. I love that. That is awesome.
DD: Thank you!
GW: So when did you start your podcast?
DD: I think a little under a year now. It's almost a year into doing it and my God, I love doing it so much.
GW: The quarantine forced my hand and I am now signed up for Twitch. I just discovered that platform.
DD: Oh my gosh! Wow!
GW: New platforms! New media! Who is your favorite guest that you have had so far?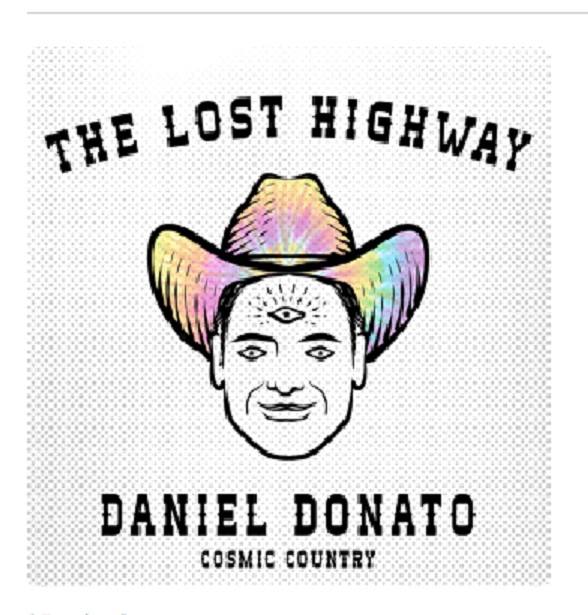 DD: My favorite guest, I say this in the most honest way possible, is the last guest that I had on. It really is that kind of a thing because each guest comes from different places and lives so you know… I have had heroes of mine on, John Osborne from Brothers Osborne, Joe Bonamassa, a guitar artist legend. I've also had CEOs on there, people who own businesses in Nashville where I started playing for tips at. Somehow always staying positive and always asking the right questions to people, I was able to meet people that own and operate 7 businesses down in Nashville that almost account for half of the tourist revenue that the city sees here. Everyone from different walks of life, I try to get on there. I've learned more from that podcast than I have from probably any other one-on-one connection I've had in my life.
GW: Definitely. Do you check out Andy Frasco at all?
DD: I love Andy Frasco! That guy is just pure fun!
GW: I think you two have similar live wire energy. That can't stand still, jittery rambunctiousness energy.
DD: I would love to meet him, I truly would. He is such a character. I love his dance parties.
GW: Right?! Definitely. Ha Ha Ha Besides Bob Weir, who would you dream of having on your podcast in the future?
DD: Oh My Gawd Bob Weir!
GW: Bwahaha That seemed like a given. You are the love child of Bob Weir and Waylon Jennings.
DD: Oh My Gawd, that's my… Bob Weir is my favorite! Most guitar players think Jerry is my hero, but Jerry is just in the air… You can't not be influenced by Jerry. But Bob truly is my hero, as in just how to be a hero in life. He absolutely is a hero. If you think of what the archetype of what a hero is he actually is that. Disney should make a movie based on Bob Weir.
GW: What a Long Strange Trip by Disney?
DD: Oh My Gawd! eruption of giggles So it would be, "It's a Small World goes into What a Long Strange Trip…"
GW: With glasses, you put on to stimulate the hallucinogenic experience? Bwahahahah
DD: Right?! Haha! I think I would love to get Billy Strings on my podcast next. Billy is doing exactly what I would love to be doing.
GW: Selling out the Ryman?
DD: Selling out the Ryman is my 100% goal right now. I am realizing more and more what a crazy thing that is to say because the Ryman isn't even open for shows.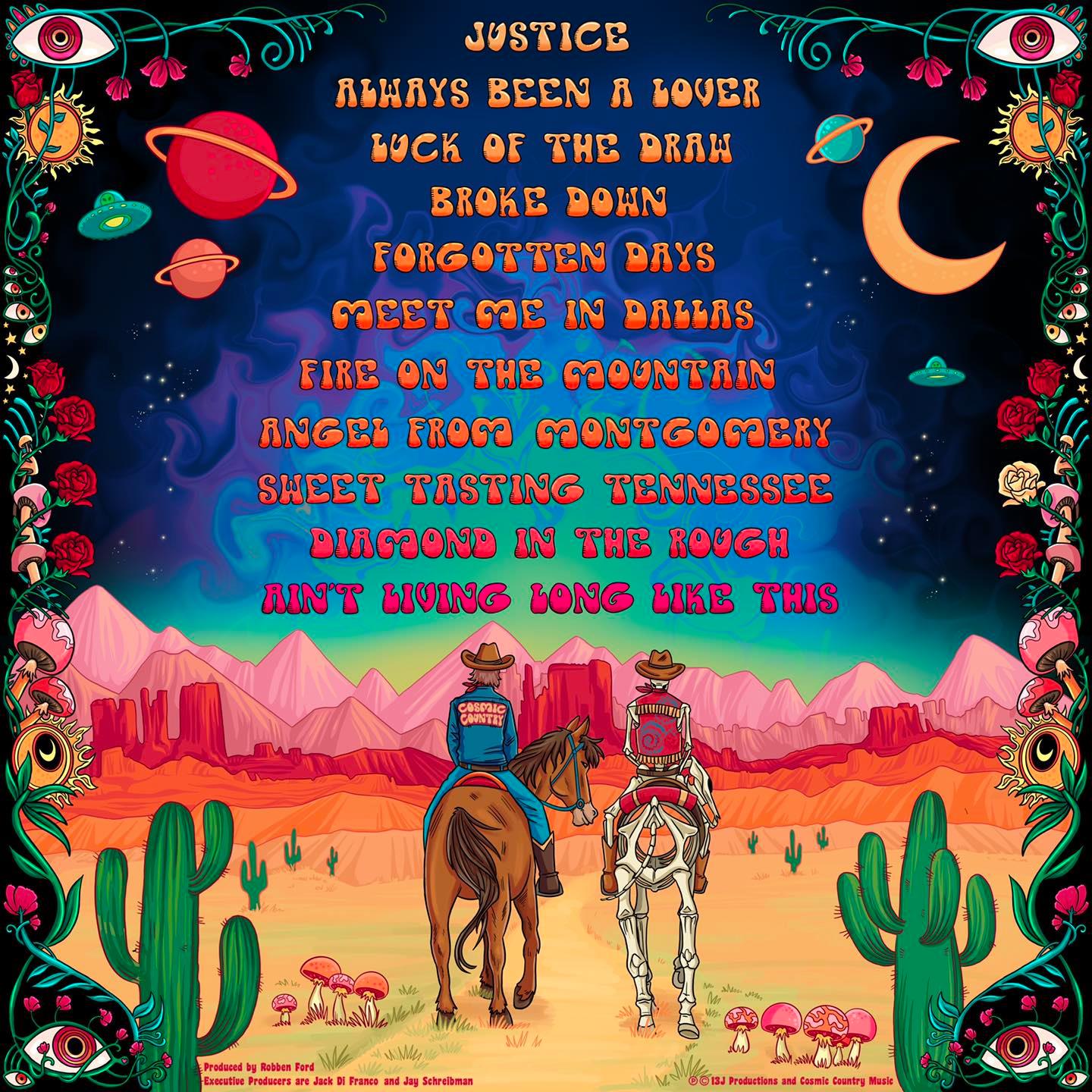 GW: That's why I was saying before, you've been busking and playing shows since you were 16? How does that translate to the vibes you get playing for an audience as opposed to not having that audience? How does that feel for you?
DD: Very very crazy. I can't even… The way I can articulate isn't as much as it feels. It's insanely hard to put it into words. It feels like the first day of school. When I go and try to live stream something for people, I try to tell them what we've been up to and how we changed, but it's not the same thing as the human connection. I'm really excited to see where this takes the touring industry in terms of people who live in areas where there is not a major market – places where bands don't go and tour. In 2-3 years, the guy that is in Cedar Falls, IA, the tour that he wants to go see is only going to make it to Illinois. Maybe rather than go make the drive, he can have a really fantastic live streaming experience that would be just as comparable to a real live show experience, to some degree. I can see that happening. I really would love for touring to get back into shape though.
GW: I'm not sure how quite to phrase this. I just interviewed Bronwyn Keith Hynes down in Nashville
DD: Oh yes!
GW: Then you mention Billy Strings. You've got Molly Tuttle, yourself… There is this wonderful young generation that is coming up. Can you say anything about being a part of that during this crazy time? This up and coming makes you realize that it has been a while since we've seen youthful jammers.
DD: Oh my gosh I love that! It think there is something in the air! If you read Malcolm Gladwell's book Outliers, he talks about how in time in history, there is large amounts of change that happen in small parts of the population, geographically and statistically. The Beatles. 4 guys living in Liverpool at that one point in time. Steve Jobs and Bill Gates going to the University of Michigan at the same time. Plus young Wozniak. It's like…?! Oh my God, what is going on there? Obviously not to the same degree of change in society but there definitely is a large pocket of… what is the term? I want to say Renaissance.
GW: Renaissance is a fabulous word for it.
DD: I really think it is that. I think Dave Cobb might have started it. He might have been the guy to pop the cap on it. Sturgill, Chris Stapleton, Jason Isbell. Now give that 5 years to cook and simmer. Now you've got a bunch of people in their mid to early 20s making music that is heavily jam-based, coming from a place of truth. It's so beautiful. I'm just honored to be included in the same category. That is beautiful.
GW: Yeah! Tomorrow I get to have a chat with Marcus King.
DD: Aw yeah, Marcus is insane! That guy is just born with it, insane.
GW: I think he is 26 years old?
DD: I think he is younger than me actually. I think he is 24.
GW: That is crazy! Ha ha
DD: Yeah yeah, it's legitimately insane. It's absolutely wild.
GW: Awesome. Well yes, I think the jam gem of your album is Brokedown. I think our Grateful Web readers would love that tune. Or Meet me in Dallas at that 4.5-minute mark when you hit that coda and go berzerk. It's got a lot of jam to it with a guitar solo that would rival any Trey Anastasio solo.  I know people are gonna love it. I love country but not pop-country. You are not like the new pop-country tunes. You've got that old outlaw vibe. I appreciate the renaissance of country you are bringing to us!
DD: I cannot thank you enough. That phrase that you just mentioned is my literal goal. I hope to turn people on to country that might not have necessarily felt very welcome, not with what the industry was putting out. I'm just trying to do things in a way that feels truthful and when you say something like that… It feels just as special to me as a Jerry Garcia solo! Truly.
GW: I love that! Thank YOU That is all I got for you today.
DD: I appreciate it sincerely. If I can be of service in any way in the future, please let me know.
GW: Absolutely! Once we get back to live touring, I will be at your show.