Gone Gone Beyond hosts curated listening parties. There are no words, it's simply dropping into this moment, synching the breath, releasing any tension, and arriving together full of gratitude and filled with music! Gone Gone Beyond will be kicking off the vanguard Sacred Rose Festival's inaugural year and that sounds like freedom found within harmony!
Harmony being tunes like Coast, Canyons, or Little Moon by Gone Gone Beyond. It has been a year since Grateful Web got to catch up with GGB. Danny Musengo dialed in and this is what he had to say.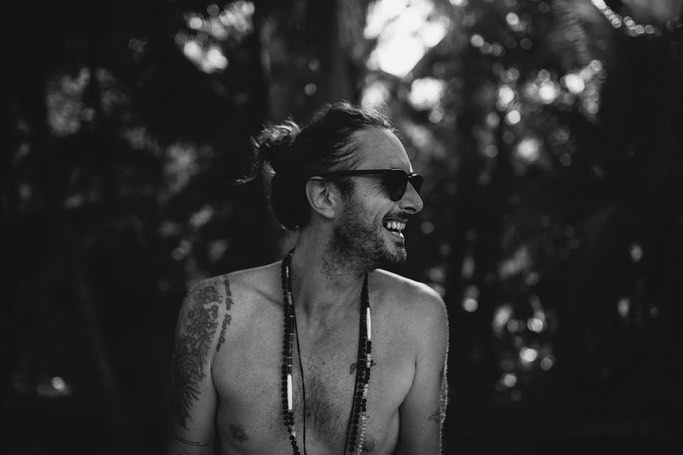 DM: Oh my gosh, it's been a year since we spoke last! I remember that and I am getting all the love! It's here again. We should do this every year! It's great to get to talk to you again!
GW: Yes definitely! You guys are coming to my city! I get to see you live in person at Sacred Rose Fest! I'm so excited to see that you guys will be kicking off this inaugural festival. We will get to meet in person. It's going to be so fabulous. That wasn't on our radar a year ago. How has the last year been for you?
DM: Unbelievably eventful! My world and all of our worlds have changed so much in the last year! It was a year ago that our album, 2030 came out. I bought an 85 Land Cruiser and put a bed in the back. When the record got released, I just started driving around the country from town to town.
GW: Didn't you say that you are originally from Iowa? I'm here in Central Illinois!
DM: I was right thru there! One of the big stops I wanted to make was to see Mark Twain's hometown in Missouri. Florida Missouri and then to Hannibal, MO then I had to do the whole Ferris Bueller's Day Off tour. The John Hughes neighborhood is amazing. I spent a few days there just looking at all the houses. It's so beautiful, I love it!
GW: In your Land Cruiser home. 85 Landcruiser, that's amazing.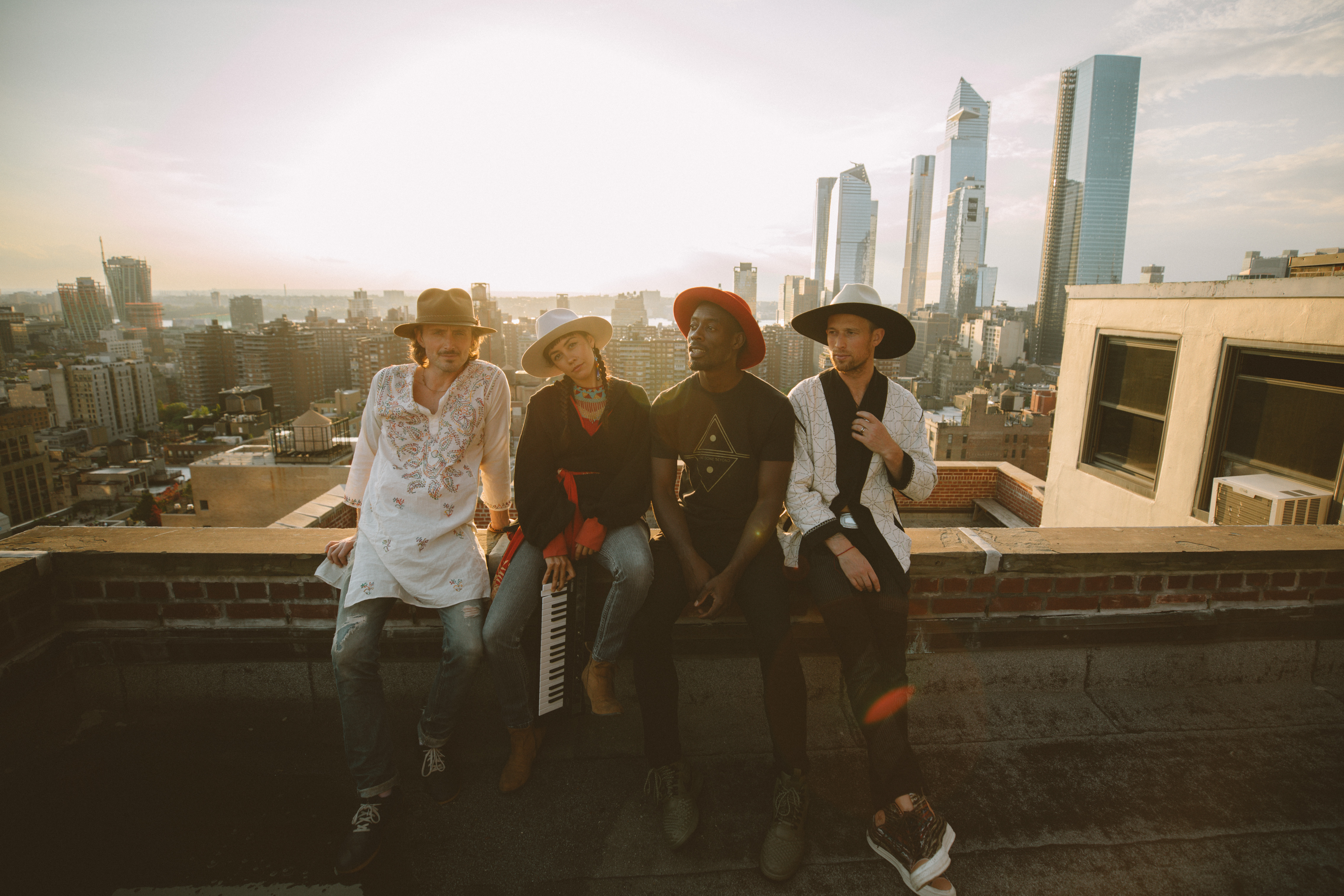 DM: I lived in it for a while but I am happy to be currently living in an actual home now. That changed. But the record, 2030, people started listening to it for 3, 4, 7 months before COVID lifted and we were able to go out again. Then Trevor Hall called and it turns out he was one of those people that had been listening to the record! He listened to the record over and over again and reached out asking us to support him on tour. Those were our first shows for this record. It was wonderful. It really kicked us off in a big way.
GW: I see that you got to play Red Rocks! That was something we talked about a year ago. You said you'd be playing music but you didn't know where or when.
DM: Totally! Red Rocks was obviously one of our big goals. It was everything we dreamed about. It was an amazing end to the tour. Trevor was so amazing to us in general. Now we have joined Ineffable Music who manages Trevor as well. We will be touring with Trevor for the rest of his tour in August and Novemeber on the West Coast. 
GW: That's huge! How has it been to road test your songs now that you have bigger audiences and bigger venues?
DM: Speaking personally, it has been a dream come true. You write something under a tree… somewhere in the country, just a thought in your head. Then you go to the other side of the country and see a kid singing it. It's totally psychedelic! It's totally magic! I don't know how to explain it but it really is beautiful experience, I think, for all of us.
GW: Well yes, I saw that you released not only the lyrics to your songs but also the chords and progressions. I'd imagine that would foster even more folks able to sing your tunes and play them! That is awesome.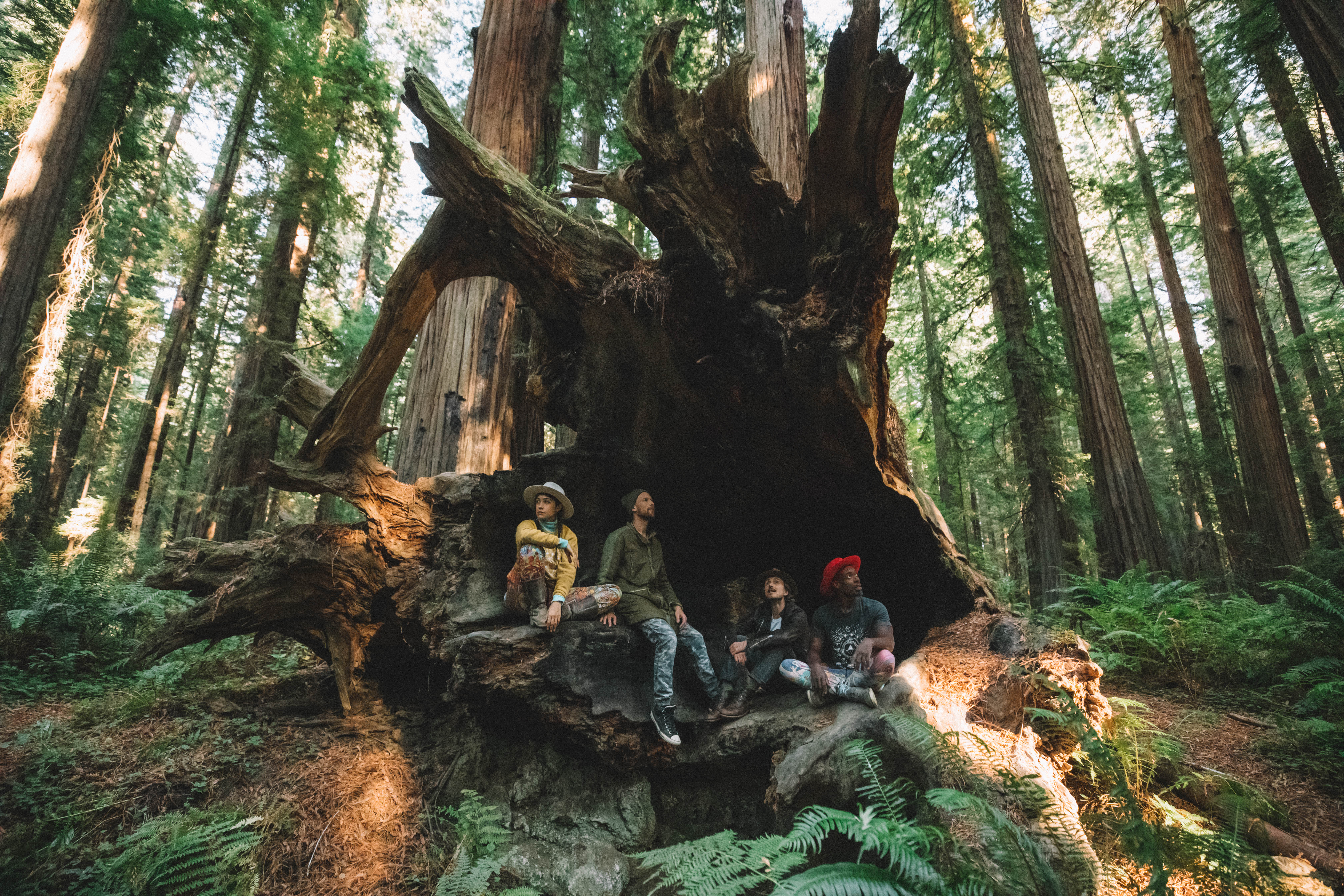 DM: I have to give Eugene Music a shout out. Gene joined us at our first show with Trevor in Florida, just himself and four friends. He has a beautiful voice. He is a budding singer, he would sing Gone Gone Beyond songs. He traveled with us the entire tour all the way to Red Rocks singing our songs outside the shows, singing all night. We love it! We just love it. 
GW: Oh yes! That is awesome!
DM: It really is. It is all in the spirit of the Grateful Dead. It's always been in the back of our minds, the kind of communal musical experience that the Grateful Dead has created. It a north star for us, so to see that happen right out the gate was very cool.
GW: Well yes, it is one thing to record your music and share it like the tapers of the Grateful Dead caravan did. It's quite interesting to release the how to's of your music and say have at it! Now that is going to conjur some magic!
DM: Yeah!
GW: All those individual interpretations of your thought under a tree…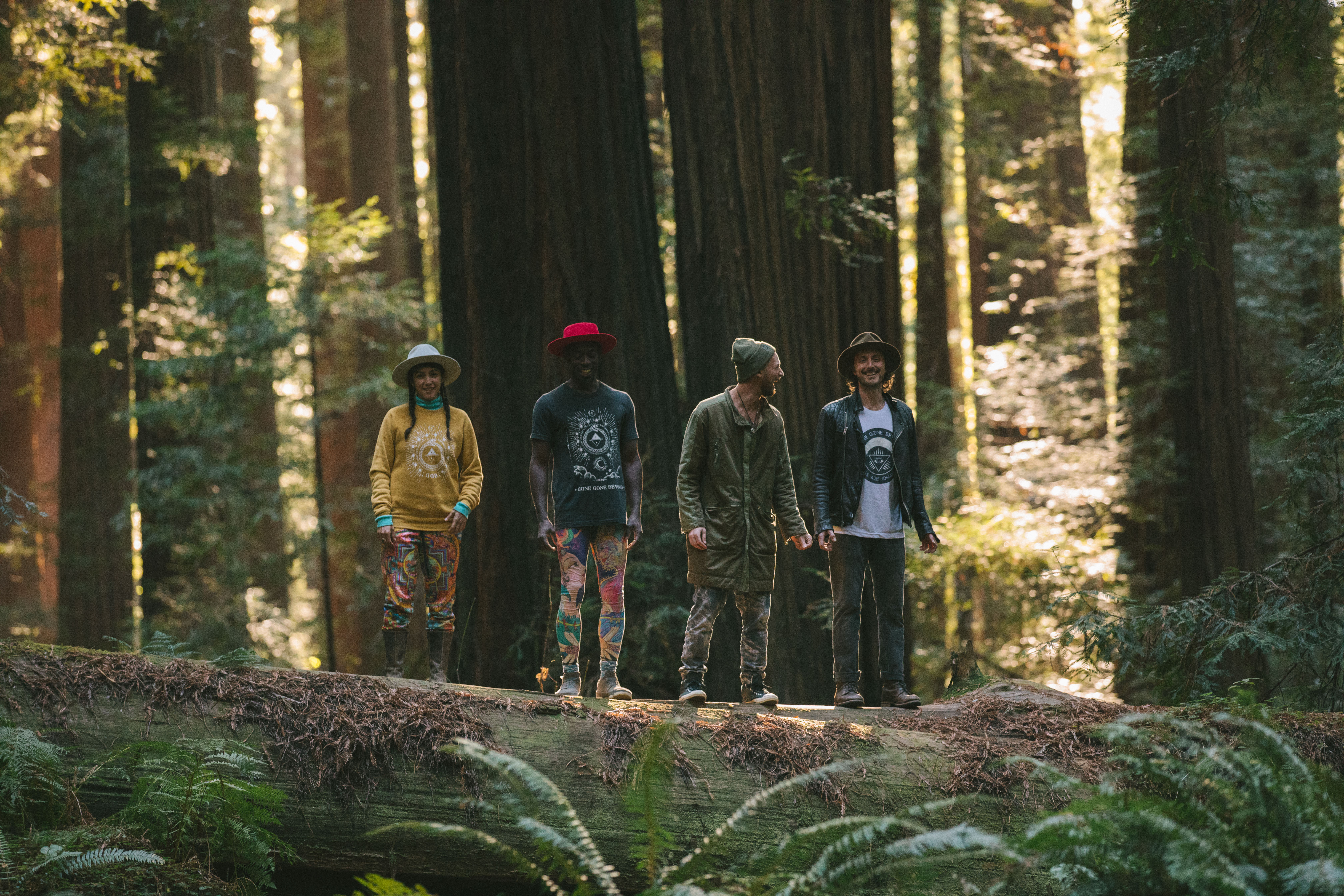 DM: Totally. We just got a copy of Another Earth in Bachata. I think I am saying that right but Mel would be upset with me if I didn't. It's a Bojana remix of our song, Another Earth. It is so cool! We love it. We will love it! We are digging on the people that take the time to take the songs and reinterpret them. They are making the songs their own.
GW: Not to be preemptive, but I remember you saying you all were sitting on a lot of unreleased music. Is there some new music you will be dropping on us this summer?
DM: As far as this article goes, I think I am allowed to say that loosely, Trevor and us have a song we did together. We are hoping to have a Trevor Hall song. Perhaps before the end of tour we will release that? We have been in the recording studio with Trevor so that will probably be the next thing we release. It'll be nice to sing it on tour and have that moment on stage. I recently moved back to Topanga Canyon, where we recorded the last record, to be closer to David (Block). I think we will start recording these songs over the summer and into the fall. I know of no specific release date but we are definitely back in the studio now.
GW: That is wonderful!
DM: Oh gosh, thank you
GW: Well I don't have many other questions until I see you live and in person on Firday August 26th!
DM: I know! I know!
GW: You are such a facilitator of freedom. This being the inaugural first time ever festival with Berg at the helm, this will be the heart of the city for the weekend. I think it will be just alive with all this beautiful energy. You're just so organic and awakening. I am so excited to see you jump start this thing. For me, your tune Coast has been a gracious restart for me in terms of the fear and panic we've all been living in for the past 2 years.
DM: It's beautiful, thank you. Sacred Rose will be sacred and beautiful! We are huge fans of some of the bands on this line up. We are really excited and it is nice to know that we have been spreading to places that come from this sort of conscious scene or whatever you'd call it. We just played for the Ram Dass Foundation and we've been working closely with the Kiss the Ground Soil Health Solutions. It's the documentary on Netflix with Woody Harrleson. Now we can see that our music is spreading not just to West Coast Festivals but all over the country, people are digging the vibe because it's children and elderly and whatever. It gets everybody to come enjoy the show. It is starting to seep into mainstream and I just love that. It's a whole community and I think that is a good thing.
GW: Kiss the Ground? Can you tell us more about working with that? Woody Harrelson?
DM: Woody is the narrator for this documentary called Kiss the Ground. He gets involved with an actual foundation, a nonprofit called Kiss the Ground. Rylan, who runs the foundation, just had us on a show last week for fundraising efforts. I will send you a link actually. Is this your personal cell phone #? I'll send it when we hang up. It's really all about soil health and regenerative farming in America. The 2024 farm bill is coming up and they really want to make sure that soil health is a big part of that bill. You live in the Midwest, I am from Iowa, you understand. It's an issue near and dear to my heart, personally. The dust happens, the soil gets unhealthy from the farming methods that lots of farmers use. It's not great right now. There are easy and profitable ways to help. It's a win-win solution for the soil. It's exciting stuff!
GW: Well yes, Woody Harrleson has gotten involved in a lot of our Midwest environmental issues - water restoration and the like. It's amazing all the things he has been able to touch and lend his voice to! I have one other question for you. Are you still doing the music videos of you playing and harmonizing in beautiful natural places? I loved the pandemic videos you were putting out where you played from these beautiful naturescapes.
DM: We did a few of them right when the record was coming out last year which was really fun because we got to travel to these beautiful places. It was a great way to kick off the record. As far as video though, we have not been shooting a ton of video since then. The name of the game right now is just to play shows play shows play shows. We want to get out there and play live as much as we can. I think and hope on the next legs of these tours that we will bring a person along to do more social media and capture more footage. We will be playing a lot of the new material in the bus as well as working on material with Trevor.
GW: Oh yeah! The magic of live music! Most definitely.
DM: One Hundred Percent! I think we will get a lot more to come this summer.
GW: Well I cannot wait to see you live and in person kicking off the inaugural Sacred Rose Fest in Bridgeview, IL on Friday August 26th.
DM: I can't wait to meet you live in person as well. Finally! Shoot me a text and let's connect.
GW: Will do! That sounds perfect. Thank you so much for your time today Danny! Thank you for the tunes too.