The Flusters, hailing from nearby Palm Desert, CA, made their Joshua Tree Music Festival debut on October 10, 2019, with their post-sundown set on the Boogaloo Stage.  Their live performance offers a bit of a time warp, from the black suits and two-toned shoes to the surf guitar meets 80's synth blend, The Flusters offer a live music experience unlike anything you will have seen before, a kind of vintage psychedelic sock-hop synth party.  Lead signer Dougie VanSant Jr. sells the show with his charisma and engagement with the crowd while being surrounded by critical contributors Danny White (Guitar/Vox), Mario Estrada (Bass/Vox), and Daniel Perry (Drums).  Their Joshua Tree performance also included their producer, Will Sturgeon, on keys, and helped get the festival off on the right foot. 
GW: To start off, maybe you guys give a little bit of background on how you guys got together, who you guys formed.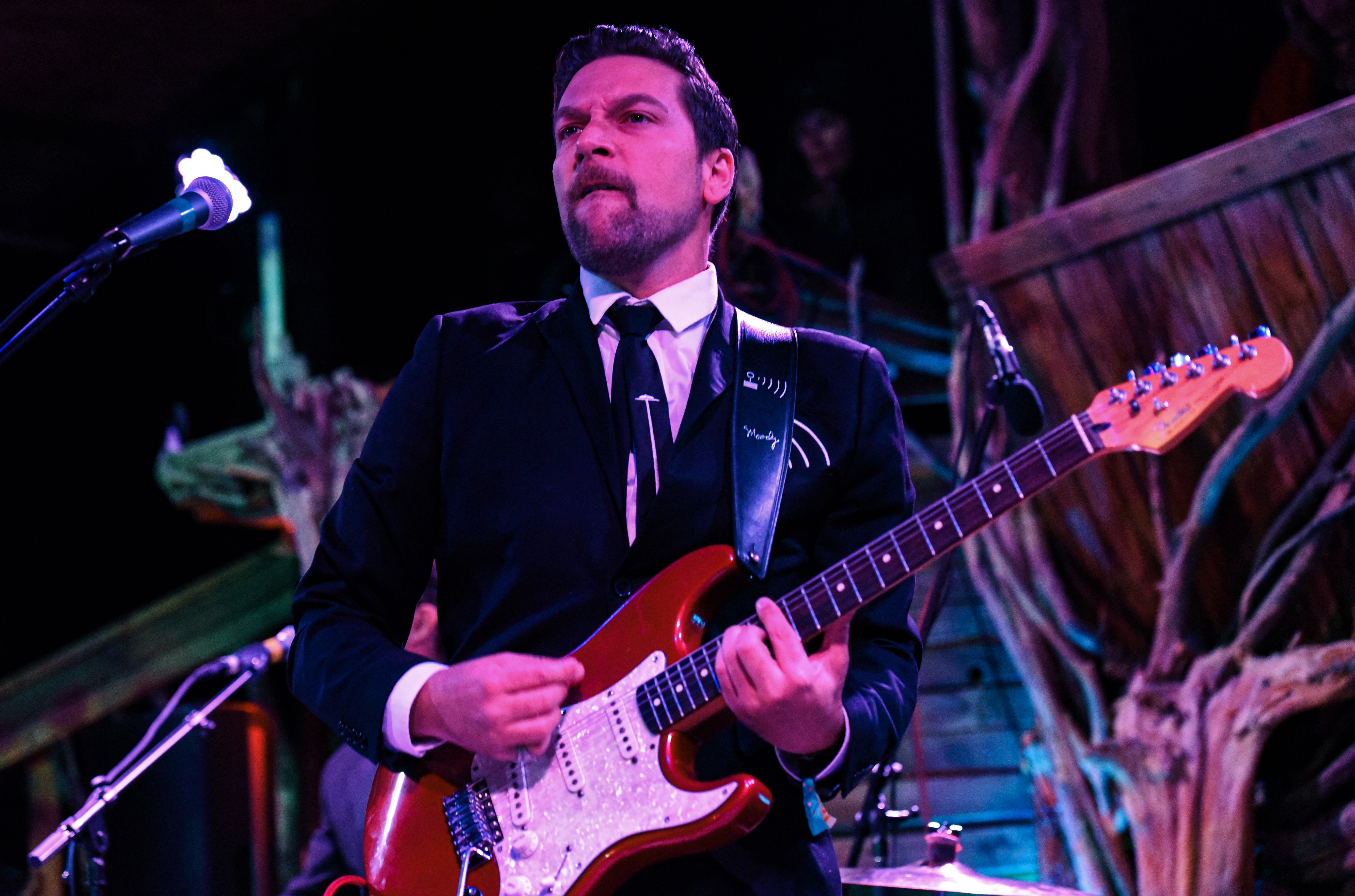 Dougie VanSant: The month was November, the year was 2015.  Danny and I here met at a musical event we were both playing separately at and decided to get together to put together a couple of songs I had rattling around for years prior but hadn't done anything with.  Long story short we formed The Flusters with the core four (Dougie, Danny, Mario, and Daniel), well core five but we'll get into that a little bit later, but the core four was formed soon after that in 2016 and we've been the same lineup ever since.  Tonight we present the core five to include our keyboard player and co-producer who is present on all of the tracks on Dreamsurf.
GW: In terms of musical influences, what external musical influences do you feel you bring into your sound. 
DVS:  It started with what we like to call our touchtone song, you know Tito and Tarauntula is the band that was featured in From Dusk Till Dawn, that vampire band that's in the scene with Selma Hayek's famous snake dance, and I remember seeing that and thinking that I want to be in a smoky, sultry, surfy sounding band one day.  Danny and I got together and started putting those types of licks together, so to make a long story short, in the very beginning, it starts with Elvis, Roy Orbison, and Dick Dale.  Danny can tell you a bit more about our connection with Dick Dale.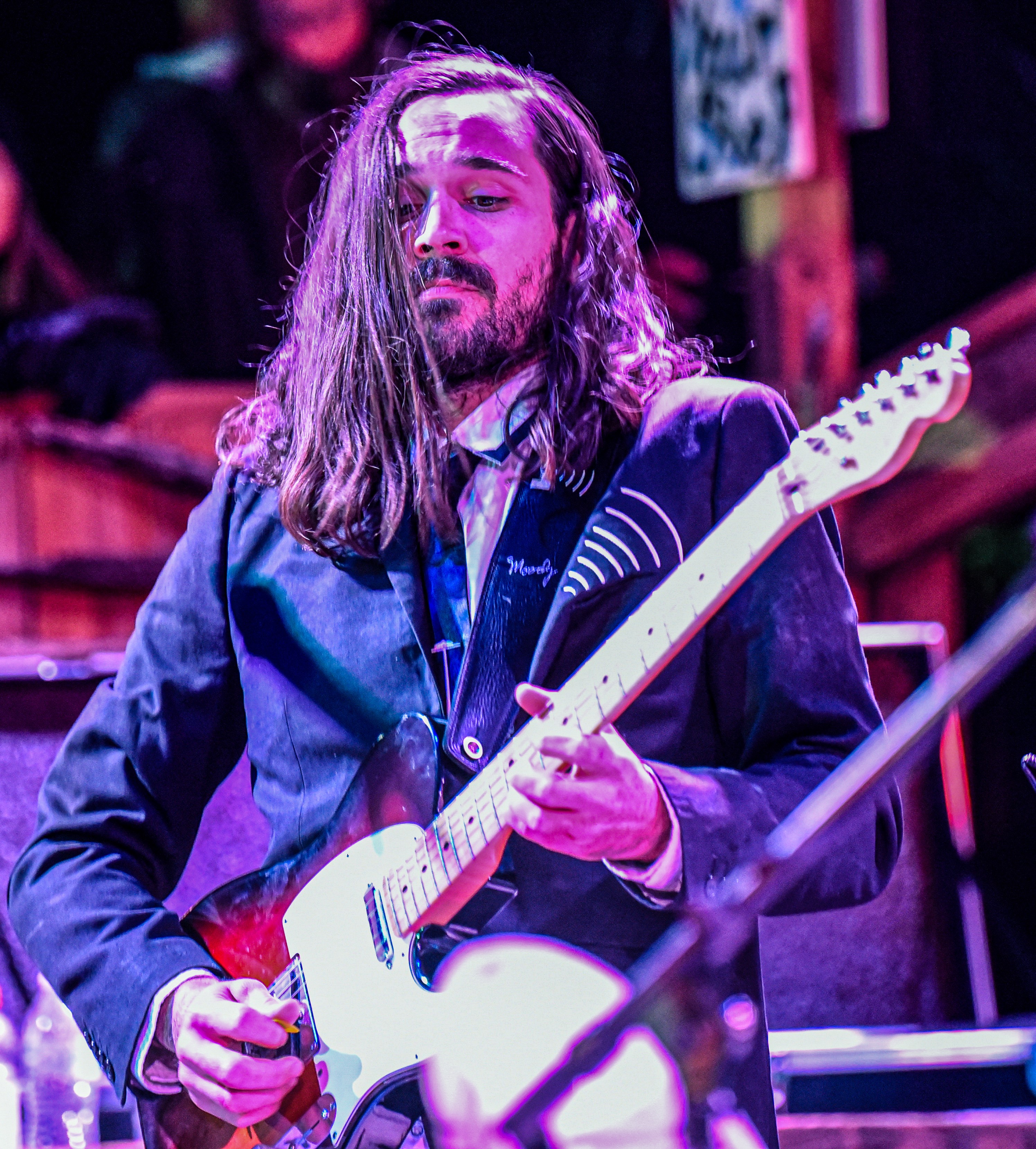 Danny White: Yeah so it started with getting invited out to a Dick Dale show at The Coach House in San Juan Capistrano and we got to meet him and talk to him.  I stayed in touch with him and he needed a roadie to change strings and shine his guitar and stuff like that, so I got to spend a little more than a month with them on the road.  I had zero experience with this west coast surf thing; I'm from Mississippi so I grew up playing blues and gospel, so I had to really reformat what I did. 
DVS:  It goes from Dick Dale and Roy Orbison and that whole era of the first phase of rock and roll.  Then it goes into our love of the Pixies, The Smiths, Tears for Fears.  So it goes through an indie-rock type filter.  We'll have songs that sound like Band of Horses, or something more melodic/folk kind of stuff.  Will brings in his influence as well from writing all the keys parts of the sound.
Will Sturgeon: I'm influenced by the Flusters, it's kind of a positive feedback loop.[laughs]  I come from a more producorial standpoint, so I'm focused on trying to basically take what the Flusters are doing and try to enhance it where and when I can, when it's needed.  I can't remember the last time I played keys with you guys live, probably Coachella.  Moving forward with the Flusters sound, they're getting a lot more into synth-heavy stuff which aligns well with what I'm getting into.  I've got a really great Juno 60 synth that really adds a nice sparkle on the songs.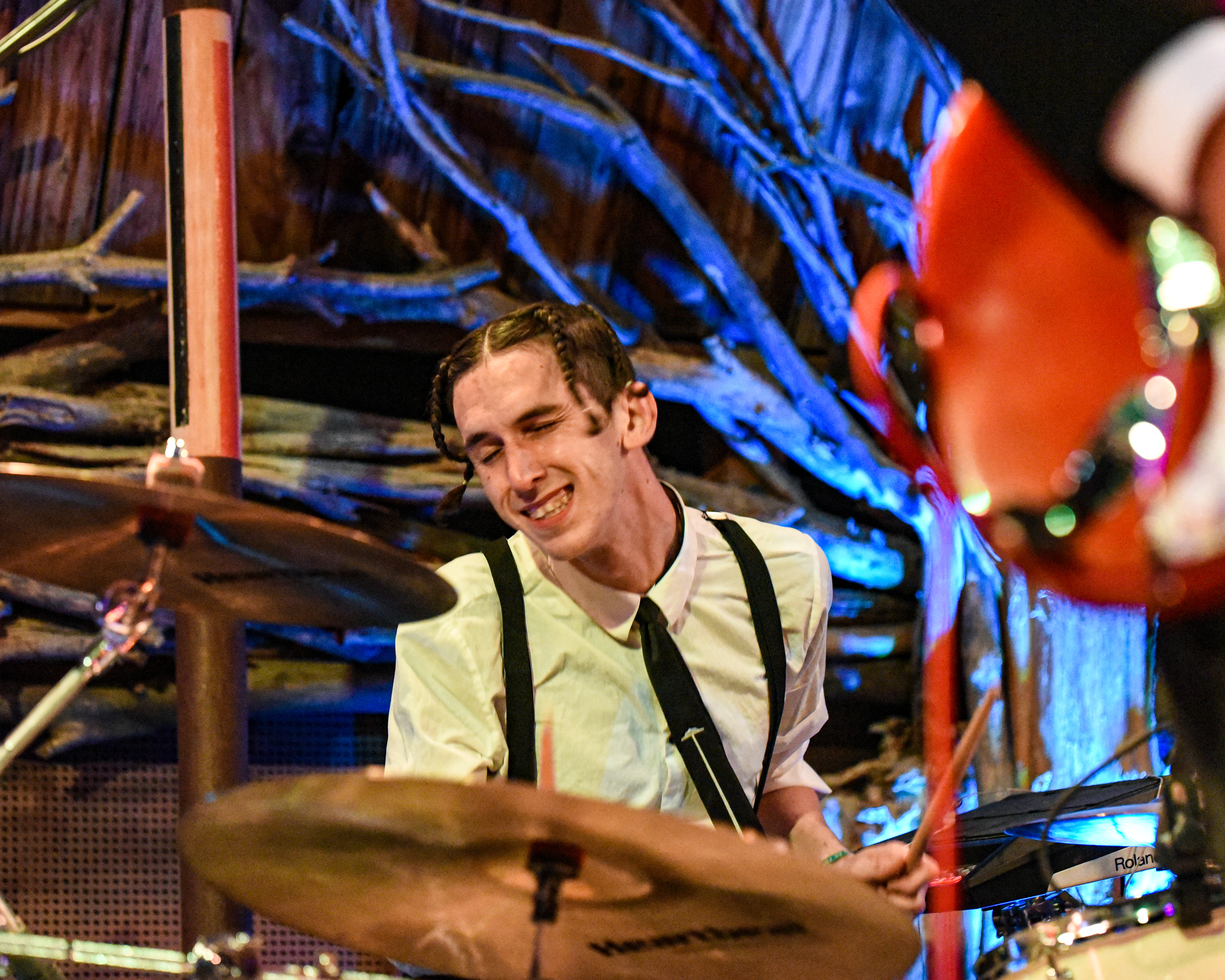 GW: What is the dynamic of the creation of a song; is there a typical flow or is it a collaborative effort?
DVS:  It's interesting that you ask that question because, as you listen to Dreamsurf, you start to hear this very palpable progression.  As I said earlier when we started I had these songs I had rattling around in my head so I had these skeletons of songs to start with and us working together to not only flush those songs out but flush out what we wanted to sound like as a band.  It allowed us to start with a clean slate to identify what is it we want to say and how do we want to say it.  In the middle of Dreamsurf you'll start to see a little bit of a change in the sound and the progression.  At that point, the Flusters sound was developed after the first EP that was released, and Dreamsurf was a collection of the first songs we wrote as a band.  So it included our EP, a previously released single, with 6 new tracks that were never released before.  And through that, you see, as the songs go on, more input and more influence from all members.  Now, more than ever, with our new single When We Were Young in 2020, and some other songs that we're going to play tonight that are unrecorded and unreleased, you'll see that happening a lot more, with input from each member.  Much more of a group effort in songwriting, keep growing and changing as a group.  We're lucky enough to be growing and changing in the same direction.
GW: What do you guys have on the horizon in terms of upcoming tours or festival performances, or anything along those lines.
DVS:  It's funny how this whole concept came together when it did and more importantly where it did.  It happened in a place where all things vintage are really celebrated.  Palm Springs is not just poolside parties and things, but it has this whole modernism-vintage playground of Hollywood, Sinatra-Marilyn Monroe-esque feel to it.  We fit really well there because we have a sound that is a nod to that era, with the black suits and the two-toned shoes and the vintage-sounding music.  We very lucky to be offered a lot of high-caliber corporate-like parties.  Our next one is a rooftop party the Kimpton for Palm Spring's Modernism fall preview party.  We played at the Palm Springs Airspace Museum for a bunch of Geologists; we're doing an event at the Palm Springs Convention center for 2,000 educators, so we get to do a lot of cool things indie bands don't typically get to do.  We also have a music video releasing, for the final track of our album Dreamsurf "When Will Then Be Now".  That's releasing on Oct 22; it is the highest budget thing we've ever done and was all shot out at the Salton Sea.  That will be done with a release show at Hotel Café in Los Angeles.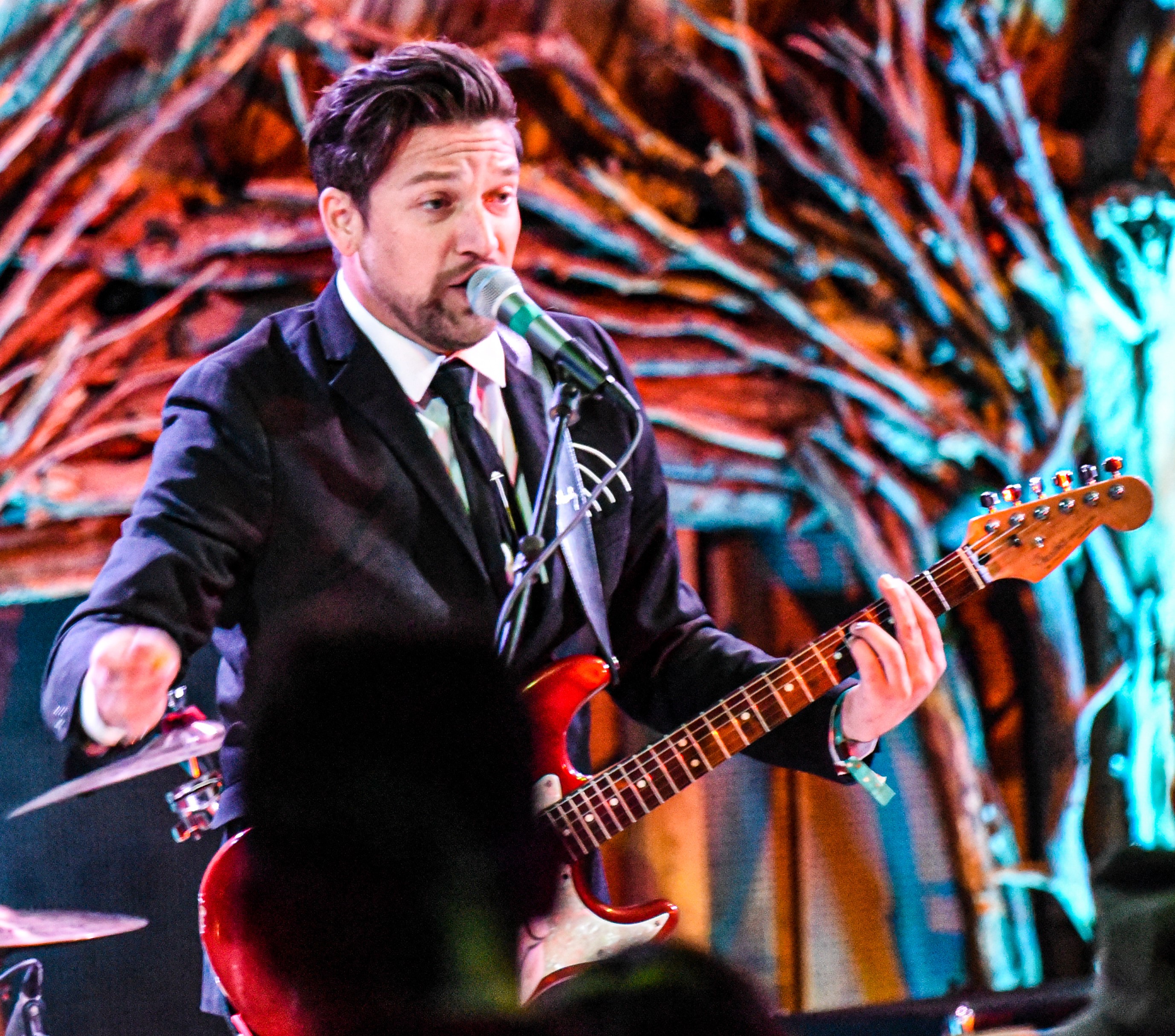 GW: What do you guys see for The Flusters in 2020 musically?
DW: A New Album, a new look, a new sound.  Like Will mentioned earlier more synth-heavy stuff.
DVS: A concept of ours is that we are very heavily influenced by paranormal phenomena, UFO phenomena, time travel theory, things like this.  We have this interest in the weird, you know, the unexplained.  It's no surprise we would take our sound and push it to the far corners, we have so many influences and such a strong core sound that we can venture out into these corners comfortably and keep that Flusters sound.  Think surf licks over 80's synth music.  It's also largely unchartered, we've brothered up enough to the point that we know wherever we go together it's going to be good.
Check out their newest video release for "When Will Then Be Now" (https://youtu.be/PdMt53OV3n4) and their latest album Dreamsurf (http://www.theflusters.com/music.html).