Artistic expression generally knows no bounds, and given Fritz Michel's array of experience, that's clearly the case. Born in France and based in NYC, he's made his mark as an accomplished actor who's shared his skills in film, television, and the stage. And now, as evidenced by his new single and video for "Look Out (Botticelli Girl)," Michel's ambitions have expanded to include making music that's articulate, intelligent and instantly accessible. Check out the new music video for "Look Out (Botticelli Girl)," premiered today:
Like his previous singles "Darker Now," "King of Corona" and "Stardust" – all of which accumulated thousands of hits on YouTube and Spotify – "Look Out" embraces a pure pop sound, similar in stance to Belle & Sebastian, Badfinger, and Big Star, with a flair for melodious melodies and a certain lyrical largess.
But as we learned in our exclusive interview below, Michel is also a big fan of the Grateful Dead, calling the band one of his biggest creative inspirations. Read on to hear more about this love of the Dead, his run in with Jerry Garcia in the early 90s, and his plans for the coming year.
GW: You have such an interesting background, not only in music but in theater and film. Who are some of your biggest creative inspirations, and how have your past collaborations outside of music informed your songwriting?
Fritz: Thanks. I'm so glad to be chatting here on Grateful Web as I've listened to Jerry Garcia's music forever! For me, his honest, singular sound really speaks to the adventure of this life. I saw him play dozens of times with the Grateful Dead, JGB, and even some of his acoustic shows. Amazingly, one night in the early 1990s outside a Broadway theater during intermission, I found myself standing around with Jerry having a cigarette. We were both in the audience and I'd seen the Dead at Madison Square Garden the night before! I didn't say anything as I figured he could use a little space on his night off. He was just such a presence.
Garcia's "Mission in the Rain," for example, perfectly expresses some forlorn dark San Francisco night. And I'll add that John Kahn was a fantastic bass player and I've heard it said that he chose many cover songs that made up the JGB repertoire.
I play the bass and learning jazz taught me about improvisation, harmony, melody, and structure. I'm thinking about Stanley Turrentine's classics "Sugar" or "Sister Sanctified" here. My jazz band experience might be my most foundational musical collaboration.
And, you're right that my film/theater collaborations inform my music. One of my first gigs singing professionally was in a rock and roll version of "Fiddler on the Roof" set in Montreal that I did at La Mama, ETC in the East Village!
Right now, I'm in a theater space shooting the "Look Out" music video. Jim Berry, the director, and I have made short films, written film scripts, and even published a graphic novel together over the years. This time around, we are using all analog special effects like shadow puppets, slide projectors, and lighting tricks!
Having worked a lot outside of music, I approach songwriting with the audience and story in mind. I'm always thinking about what is visual in music. Another big influence is David Bowie. His theatricality was out of sight
GW: Tell us about "Look Out." What was the inspiration behind this particular track?
Fritz: "Look Out (Botticelli Girl)" reflects on cherished moments that linger in memory. You want to hang on those moments, but you don't have much choice in life but to look out and go farther. I wanted some uplifting energy that's born from moving through an intense shared experience be it painful or jubilant.
GW: What is the significance of the song title?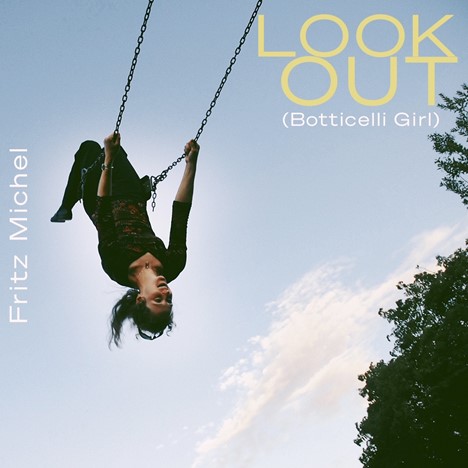 Fritz: As to the title, I'm from New York City where we're all together all the time on crowded streets but I'm also touching on mythology. I studied art history in college. A great painting like a Botticelli are full of clues and I hope the song speaks to that. Maybe there's also a warning in the title. Life changes unlike a painting.
GW: What is your songwriting process like? How do you feed your imagination?
Fritz: I've found the songwriting process works best as some shared journey like filmmaking or staging a play. You search for lyrics and themes as with a script. Colors and sounds emerge as you experiment with chords and progressions. The technical elements, rehearsal, and collaboration hopefully lead to something that connects with an audience. It's a lifetime of listening and then letting go and staying in the moment. Connecting the story with an audience drives the process and that's also challenge of live performance.
I took up songwriting almost out of necessity when the pandemic exploded and put the brakes on performing live. I met producer Tosh Sheridan through my teacher jazz guitarist Tony Romano. Tosh is also an amazing guitarist (check out his slide work on "Look Out")! We recorded "Look Out (Botticelli Girl)" at Tosh's studio in Long Island City so it's got that New York energy. Tosh and I also collaborated on my other releases "King of Corona", "Stardust", and "Darker Now" so I'm grateful for that collaboration.
GW: Have any of the other performers and artists you've met given you any words of advice that you've particularly taken to heart?
Fritz: I'd say I feed my imagination through learning. Self-knowledge teaches you what's possible. Songwriting requires lots of practice. A director once told me "Don't play what happens. Play what's possible." Playwright David Mamet tells actors not act and just speak the words honestly. I think same holds true for singing and songwriting. Wisdom is elusive and mysterious!
GW: What's next for you this year?
Fritz: In the year ahead, I'm excited to play all my new songs live and finish up my EP. The pandemic's been such a brutal, strange time for performing artists. All of us really. I miss hugs.I miss shaking hands. Since I also like quiet, lockdown proved a creatively fertile time for me. Finding our way back to each other needs tending. Simple things like upcoming summer travel plans to see all my first cousins for the first time in almost two years take on new resonance. We all have our stories to share.
Visit Fritz Michel on Spotify at https://open.spotify.com/artist/5AAiYL7lm6zZPXwO5d3fe1?si=u2jQgK_bRUe4Ks2AI-Dk6w&nd=1