Possessing a voice as cool and crystalline as an Alpine stream, Natalie Cressman is a rising singer/songwriter and trombonist who draws inspiration from a vast array of deep and powerful musical currents. She released her 5th album in April 2019, this time in collaboration with Brazilian composer, guitarist and vocalist Ian Faquini. Drawing from impressionism, jazz, and the great Brazilian songwriting tradition, Setting Rays of Summer is a ten-track collection of original material featuring compositions in three different languages: Portuguese, English and French. With the warm instrumentation of acoustic guitar and trombone alongside two-part vocal harmonies hugging the Brazilian-accented Portuguese, Cressman & Faquini weave their musical voices together to create a fully orchestrated sound befitting a much larger ensemble.
Steadily evolving in many directions, the 29-year-old Cressman has already put down deep roots in several overlapping scenes. A prodigiously talented New York City-based trombonist, she's spent the past ten years touring the jam band circuit as a horn player and vocalist with Phish's Trey Anastasio. Deeply versed in Latin jazz, post-bop, pop, and Brazilian music, Cressman can also be found collaborating with some of the most illustrious figures in rock, funk, jazz and beyond, which have included Phish, Big Gigantic, Carlos Santana, Escort, Wycliffe Gordon, Nicholas Payton, Anat Cohen, The Motet, and Umphrey's McGee. Grateful Web recently caught up with Natalie Cressman.
GW: What drew you to be a musician?
NC: I grew up following my parents to their gigs and watching them perform at a range of venues with a variety of musical groups, and what struck me from an early age was the joy and the sense of community in their music scene. It was evident that my parents were working hard, but equally clear that they were doing what they love. Couple that with the feeling of being on a team, collaborating and cross-pollinating ideas with like-minded creative people, and it really seemed like there was no better job out there. I feel like I got into music for all the less glamorous reasons, which is probably why I've been able to keep going despite any ups and downs, because at my core I'm just doing what I love to do.
GW: Why did you chose trombone?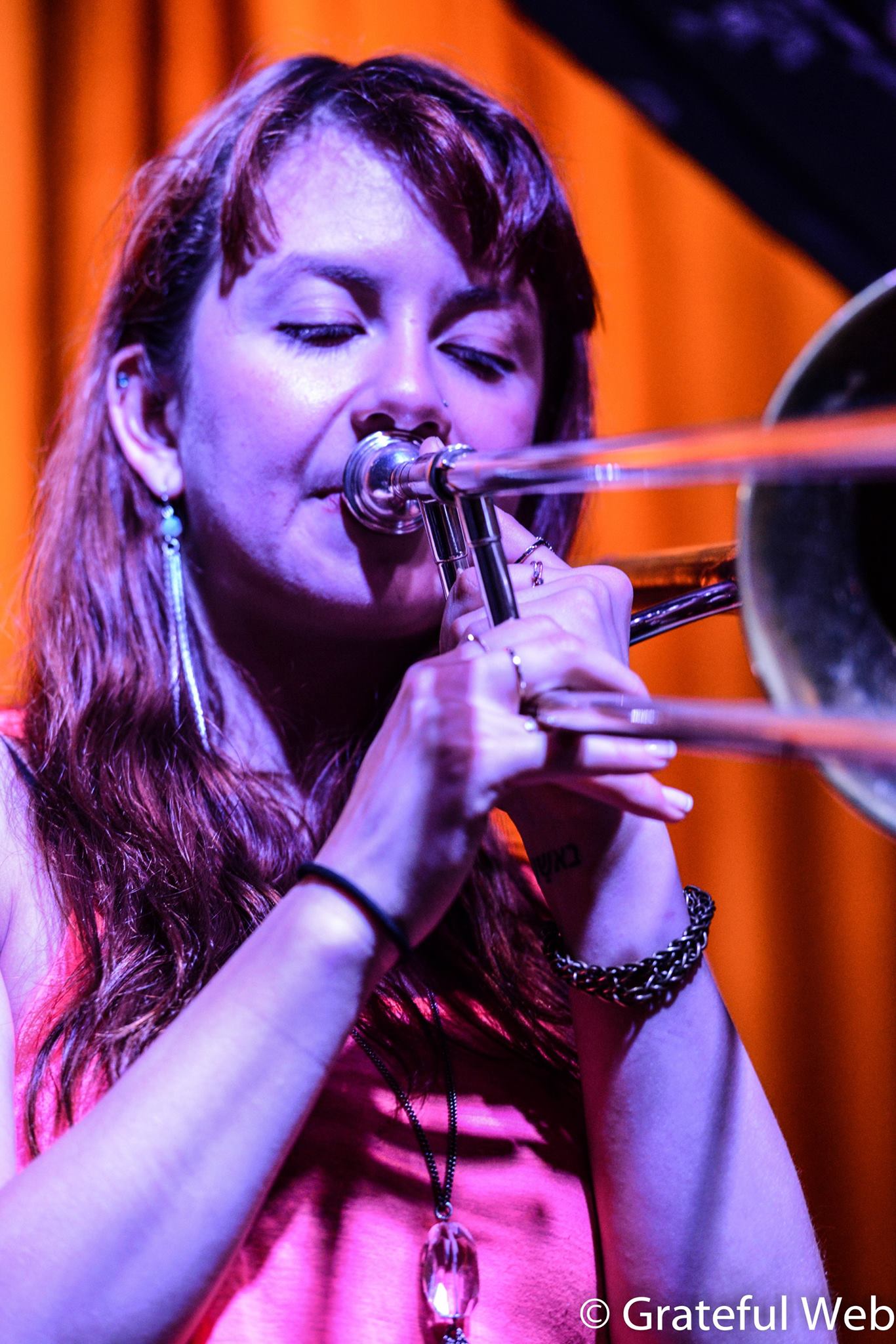 NC: I heard some great trombone players growing up: first and foremost my dad, Jeff Cressman, who was my first inspiration, but other folks who mentored me in the SF Bay Area such as Wayne Wallace and Marty Weiner. To me it wasn't a nerdy band instrument because I heard all of these guys rip exciting solos over Afro-Cuban grooves. I was riveted by how the trombone could be this raucous voice projecting over a hard-driving salsa band one minute and the sweet and haunting lament on a jazz ballad the next. To me it's the instrument that most closely models the human voice, so there was this emotional pull to bring that expressiveness to the instrument wherever possible.
GW: Why do you think people crave music?
NC: I know that I reach for music when I'm happy, sad, and everything in between. It has the ability to heal, to soothe, and to provide an outlet for feelings that sometimes are difficult to put into words. So I think people crave that emotional release, and that music can also be a powerful form of memory, able to transport you back to a different time, be it the concert where you first heard the song or the feelings and memories surrounding the general time in your life when that music was around you. Experiencing a song or band for the first time can be so exciting, and re-experiencing it can be powerfully nostalgic as well.
GW: What makes live music so special?
NC: Live music is so special because it's the most potent way to experience music, which to me is at its heart a universal language that cuts across all geographic and societal barriers. I think that's partly why we feel this unifying effect of attending a concert or sharing music in a space with other people. At a live show you are experiencing something in the moment that will never be played exactly the same way ever again, and the people you share that experience with in effect become connected to you. It can feel downright magical, and often impossible to fully put into words.
GW: What was the most impactful concert you have seen and what made it so impactful?
NC: Seeing Stevie Wonder live had a deep impact on me musically and emotionally. There are some artists who embody the healing power of music so fully it just makes you weep. We were in Pensacola, Florida, and I had just finished a set with Trey Anastasio on the opposite side of the festival grounds, and I literally ran over to catch his set. His performance was mind-blowing, embodying sheer excellence across the band and dripping with musicality, but what really got me was when he cut off the band and started talking about his mom and how she came from nothing and how hard she worked just to survive in the Jim Crow South and he started crying, and I swear that the entire audience burst into tears with him. That emotional release was incredibly powerful, and it seemed like for one moment, everyone could see eye to eye, overwhelmed with love and sympathy. If we could only harness that unity, bottle it, and feed it to our world leaders, I think we could fix all of the world's problems. And that's why I truly feel music can be a healing force, a force for change, and is all the more inspiring to me for the good it can bring to the individual and to society as a whole.
GW: What song or album had the most profound effect on you, either personally or as a musician?
NC: Joni Mitchell's Blue album really changed the way I think about songwriting. There's a certain earnestness in the way she lays her emotions bare in the lyrics that I find really brave. The power of her vulnerability allows and invites the listener to also be vulnerable, to unpack emotions deeply tucked away, and either release them or have a safe place to experience them, with Joni's voice as company. In this day and age the music business has become very flashy, and the emotions represented in popular music are generally on a much shallower spectrum, so the nakedness and depth of vulnerability on Blue really floored me and showed me a different path. Also, the way she musically expresses her pain and her sorrow to me is the pinnacle of pairing words perfectly to the music. I strive to bring that to my own songs and when I write lyrics for other composers. What I am saying has to not only fit but enhance the musical content. It doesn't matter how poetic or smart a phrase is, it has to sound good and mesh perfectly in the context of the music or it's not worth keeping.
GW: What do you hope to achieve with your music?
NC: I hope that the music I put out into the world can be a force of healing, that I can bring joy into people's lives through what I express musically. I've always said that if I play a show and only 5 people come, but those 5 people are touched by the music, then I have nothing to be disappointed about. I'm not making music to appeal commercially or get to the top of the charts - unfortunately, with the type of songs I write and the style of music I create that's a bit of a pipe dream - but I can say that I feel truly valued when I play a show and several members of the audience are moved to tears, which is starting to happen more and more. It means I'm helping people feel their emotions and be more introspective, which I truly think leads to better mental health and more empathy across humanity. I also hope to inspire girls and young women to write music and play trombone, and to help create a more inviting music scene for women to feel more welcome in.