What do the Hawaiian Islands, white knights, and tin foil hats have in common? Individually, they are immediately something to be curious about. In combination, they represent the boundless imagination and artistry of eclectic musical legend, Todd Rundgren. Rundgren himself is an individual whose life is something to be curious about. Thankfully, he recently released his autobiography, The Individualist: Digressions, Dreams and Dissertations, which documents his life through his 50th birthday. While his prolific career as songwriter, guitarist, and producer spans five decades, he's not showing any signs of slowing down. He's following his book release with a tour and is a nominee for the Rock and Roll Hall of Fame, class of 2019 with other progressive artists like Stevie Nicks, Devo and Roxy Music. Based on my recent conversation with him, Rundgren's autobiography is his first, but it may not be his last.
GW: Congratulations on being nominated into the Rock and Roll Hall of Fame. What are your thoughts about being nominated?
TR: I try not to think about it, it's a mysterious process. Things that I don't have control over or things that I can't predict, I don't invest a lot of time in thinking about it.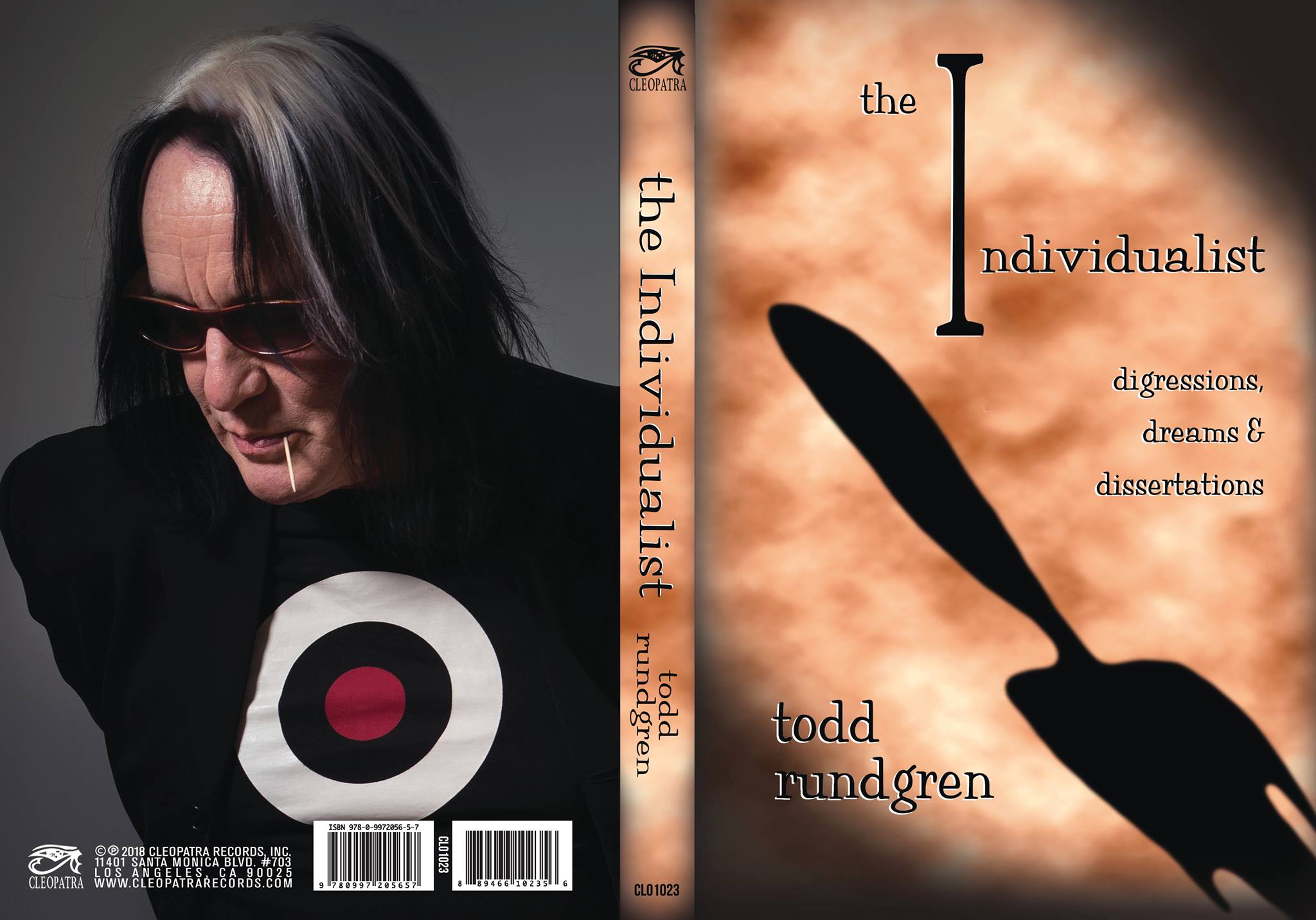 GW: In preparing for this interview, I thought back to your White Knight concert last year at Count Basie Theatre in Red Bank. The music, the production, the audience, there was so much energy. What's in store for us when we see you at your "Individualist" tour?
TR: It won't be exactly like that because that was a theatricalization. I guess I'm trying to do something that satisfies both the fan's desire to hear a lot of the more familiar material, which is appropriate to the release of the book. It covers the first 50 years of my life; therefore, it covers the period of my music that is most familiar to people. It's not just going to be a concert where I'll play a whole bunch of songs and talk about the book a little. I'm still trying to figure out the right balance. I have about 45 songs that I have to further shorten that list down. I'll probably come up with several melodies, probably compress three or four songs down to one, to save time, and we're trying to figure out a way to do some Q&A from city to city without it interrupting the musical moment because still, it's supposed to be a substantial musical presentation.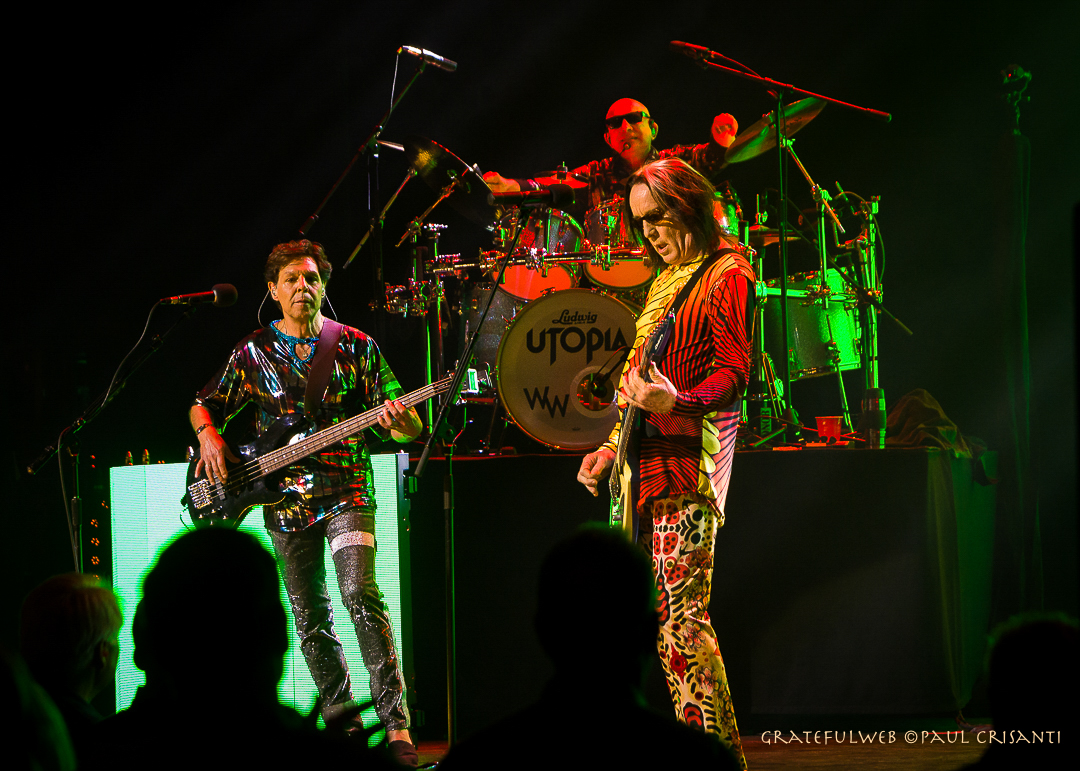 GW: It doesn't sound like you'll be playing "Tin Foil Hat."
TR: (Chuckle). That was written after the first 50 years. I suppose it's artificial because I can play anything, I want, but I decided no music that was created after 1998.
GW: I'm looking forward to reading your autobiography, The Individualist. You've done so much after 50 though, why a hard stop at 50?
TR: The book stops at my 50th birthday so my concert will be paralleling that period. The music business changed a lot after 1998, so a lot of my releases, many in the 1990s were independently produced and distributed. I didn't have record deals after that. The whole way I made records, promoted the music, the amount of time I spent on the road, changed considerably after that period. There isn't as much production work that would have kept me in the studio. Things changed in a lot of ways that made it appropriate to cover the first 50 years.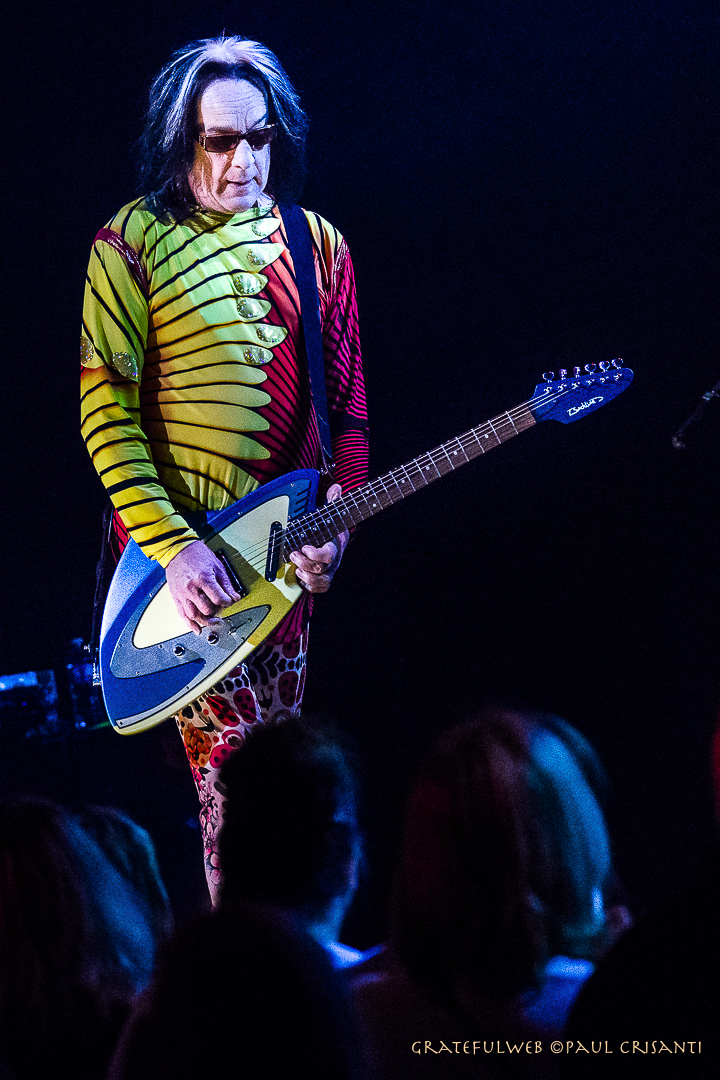 GW: There's something about your voice, it's compelling despite the type of song you're singing. Was it your ability to sing that propelled you into music initially or perhaps you played a musical instrument or were influenced by a family member?
TR: When I first started out, I didn't have confidence to be frontman, I didn't work on my voice, I never had singing lessons. I sang in choir in junior high, I considered myself a baritone at the time. I learned a little from that, the fundamentals. With my first band, Nazz, I was a background singer. In the second record, I started singing ballads which were mostly vocals which were then replaced by the real lead singer. I sang in the studio when I first started making solo records; I had no experience singing live. When I had to go out after the first album, and put together a band and perform in various places, I couldn't get through the first 15 minutes without blowing my voice out, and these sets were only 40 minutes. Sometimes you had to do two sets a night. I didn't understand what you were supposed to do; I was just making sure I hit the notes. Then I started focusing on the singing. I did a lot of listening to other singers. I spent a lot of time listening to Stevie Wonder's album, "Signed, Sealed, Delivered," there was so much impression on the voice that you could hear the breath he was taking, I realized I was singing from the wrong part of my body. I didn't realize singing from the diaphragm; the stomach is what was needed to have enough power to start doing what you needed to do with your voice. I started changing the way I sang. It took years to have the full effect. Ultimately, it's resulted in my ability to be able to sing for two hours and not lose my voice.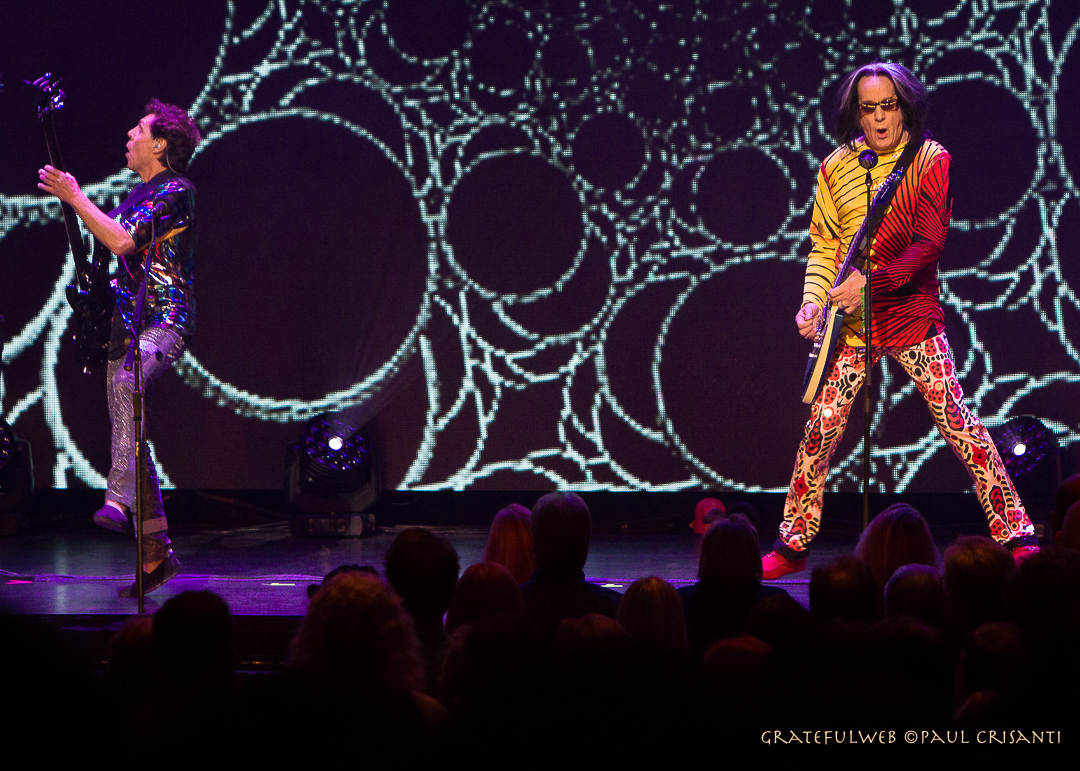 GW: That's a long time considering you're doing more than just singing on stage when you perform.
TR: There's a lot of moving around in the show like White Knight. Contrast that with the Unpredictable shows which we've been doing, we did three legs this year just sitting on a stool. I can barely walk afterward because I hadn't moved around enough. It's one of these things where I guess I feel uncomfortable standing still, I get antsy. I feel like there's distance between me and the people, the size of the theatre keeps getting larger and larger, unless I make physical move in that direction.
GW: Moving is a way to connect with your audience.
TR: That's partly it. It's not necessary in every song, especially if a ballad. It's taking the place of the guitar. It used to be I'd use the guitar as a shield, protection between me and the audience. In that sense, I got over not needing the shield but substituted joking around, to avoid being shot at, I guess.
GW: Especially if you're singing "Tinfoil Hat" and someone doesn't like it.
TR: Oh yeah!
GW: You've had a multidimensional musical career from performing on stage with bands, solo, top charting songs to producing amazing albums like Meatloaf's "Bat Out Of Hell," the Psychedelic Furs, "Forever Now," Patti Smith's, "The Wave." How are those partnerships formed, are people coming to you, is it happening organically?
TR: Historically, the old record industry, pre-2000, had a standardized way of connecting artists to producers from A&R departments where they negotiated advances, depending how much in demand, how badly artists wanted you. I was fielding a lot more work than I could handle at certain points. Not only have things changed with record labels, but also the cost of making a record has come down as the cost of equipment has come down so now anyone with a few thousand can use their laptop and mic and teach themselves how to produce. That whole thing diminished compared to how it used to be. In the last few years, I've gotten more into collaborating with other artists. There are a couple of purposes. One, it helps me to get out of my own echo chamber. I live on the island of Kauai, so it's not easy to call a session together. I do a lot of recording myself. With the advent of file-sharing services, it's made it possible to collaborate with people all over the world with ease, so I've been doing that. With the success of White Knight, I decided that until I get a better idea of what kind of album I want to do, I will continue to do collaborations. There are lots of artists with material that is unfinished. I enjoy listening to someone else's ideas, perhaps switching A and B around then writing part C. It's a fun way to make records and is also a great way to expand your audience.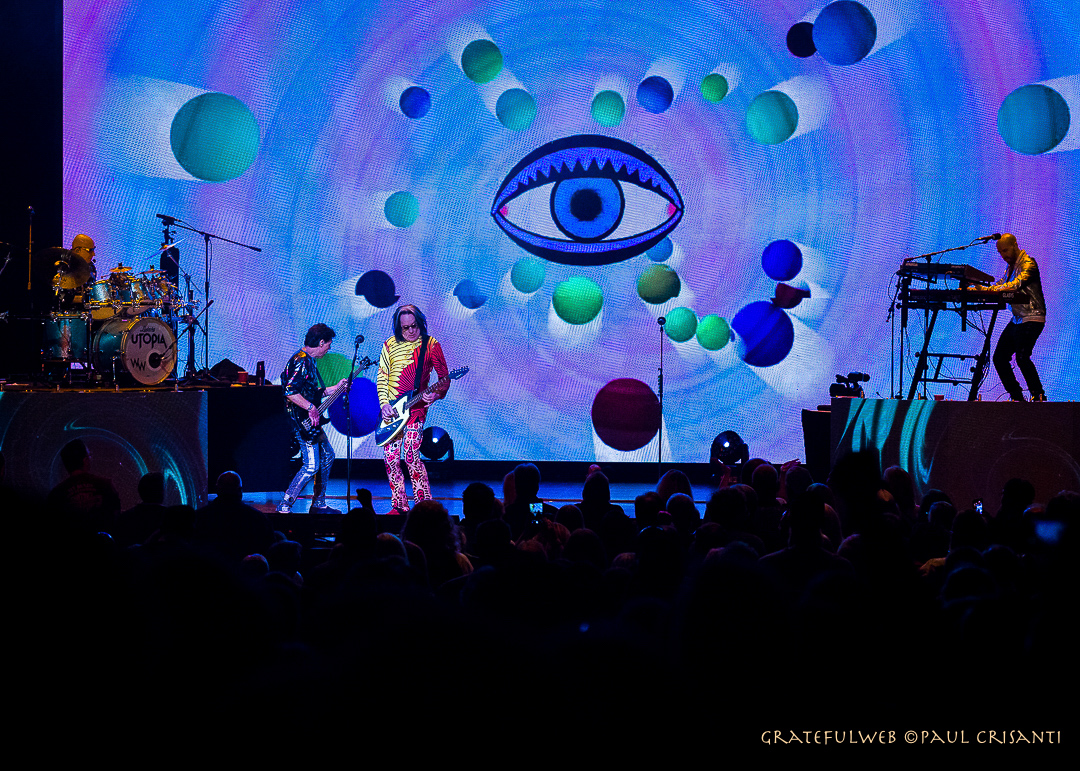 GW: Audiences would appreciate that they get the best of both worlds.
TR: Yes, and I'm exposing the artists to my audience, and I'm getting exposed to other artist's audience.
GW: You seem to be a very busy man; how do you spend your downtime or do you even have any downtime?
TR: Well, I barely leave the house when I'm at home. I walk the dogs every evening. I take them down to the beach. Otherwise, a lot of what I do is mental work. I have a show, so I have to figure out how it's going to go. I'm always reviewing possibilities and the technical requirements of those possibilities. I'm doing original work in Holland next Fall, something that's going to be done from scratch. It's not entirely me, there are other collaborators, so I'm figuring out storylines, best places to put songs. I still have a small stack of collaborations I'm working on, and I continue to add to that when I complete the others.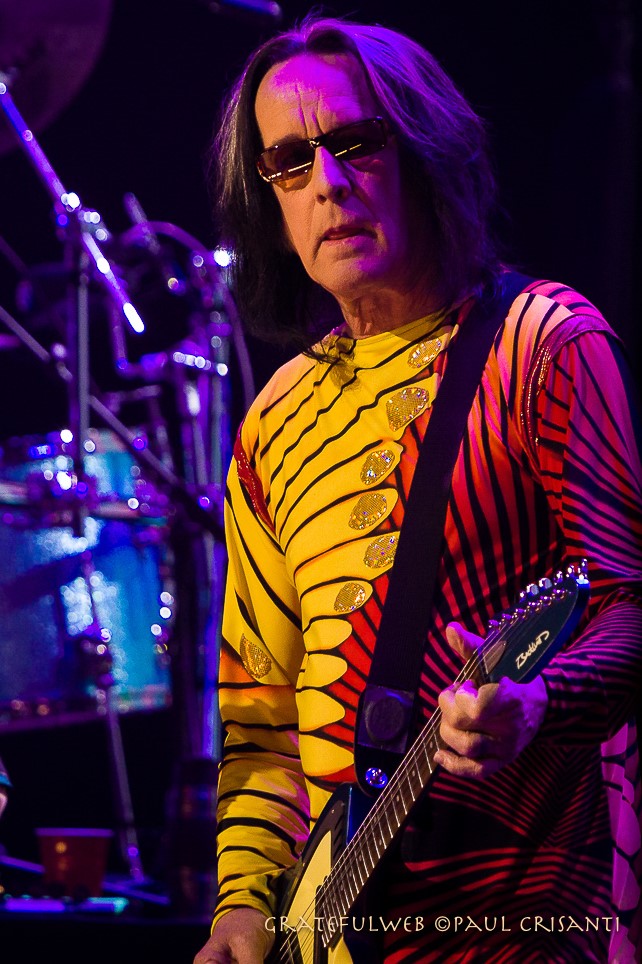 GW: It sounds like you're always thinking about music, even in your downtime.
TR: I guess in downtime I'm still thinking about music. If I'm not making it, I'm thinking about making it. I get asked to do remixes and guitar all the time. If I don't do anything for too long, I start to feel guilty that I'm not taking advantage of the time given me, so I will ultimately, inevitably, get something accomplished.
Not only will many of us become the beneficiaries of that sentiment, if we apply that mindset ourselves, we benefit. With a new year upon us, what better time to remember to take advantage of the time given us and get something accomplished.